1. Stormzy claimed the Official Chart Double for the first time in his career in January, with Own It ft. Ed Sheeran & Burna Boy (single) and Heavy Is The Head (album). No other British rapper has ever achieved this.
2. Stormzy's was the first of four Official Chart Doubles in 2020, with Eminem, Drake and Ariana Grande following suit.
3.  Also that month, Sheku Kanneh-Mason became the highest-charting cellist in Official Chart history, and the first to reach the Official Albums Chart Top 10 with his collection Elgar, which peaked at Number 8.
4. Also in January, Eminem extended his record-breaking run of consecutive Number 1 albums to ten – no other act in UK chart history has managed to land as many chart-topping albums in a row.
5. Music To Be Murdered By also claimed the biggest week of album streams seen in all of 2020.
6. In the same week, Eminem's single Godzilla topped the Official Singles Chart, giving Slim Shady his 10th UK Number 1 single, joining just seven other acts with a double figure amount of chart-toppers.
7. Godzilla's featured artist was the late Juice WRLD, who became the first act for 12 years since Eva Cassidy in December 2007 to claim a posthumous Number 1 single.
8. And Eminem wasn't done. In March, his greatest hits Curtain Call became the first rap album - and only 11th album overall - to register 400 weeks in Official Albums Chart Top 100.
9. At the end of the month, J Hus picked up the biggest week of streams for a UK artist album with his first UK chart topper Big Conspiracy.
10. In February, The Weeknd scored his first UK Number 1 single with Blinding Lights, becoming the 14th act from Canada to reach the top of the Official Singles Chart.
11. Blinding Lights spent eight non-consecutive weeks at Number 1, the most for any song in 2020.
12. Blinding Lights had three separate stints at Number 1, becoming just the seventh song to return to Number 1 twice more after being dethroned.
13. In time for Valentine's Day, Goo Goo Dolls' Iris became the 178th million-selling song in UK chart history, based on paid-for (physical and download) sales. It is the only song to pass the seven figure threshold in 2020.
14. Later that month, Green Day become the first band to have a Number 1 album in each of the last three decades (2000s, 2010s, 2020s) following the chart-topping success of Father Of All Motherf**kers. The Killers and AC/DC have since matched this.
15. Sticking with February, Billie Eilish scooped the biggest opening week ever for a Bond theme with No Time To Die when it debuted at Number 1 with 90,000 chart sales.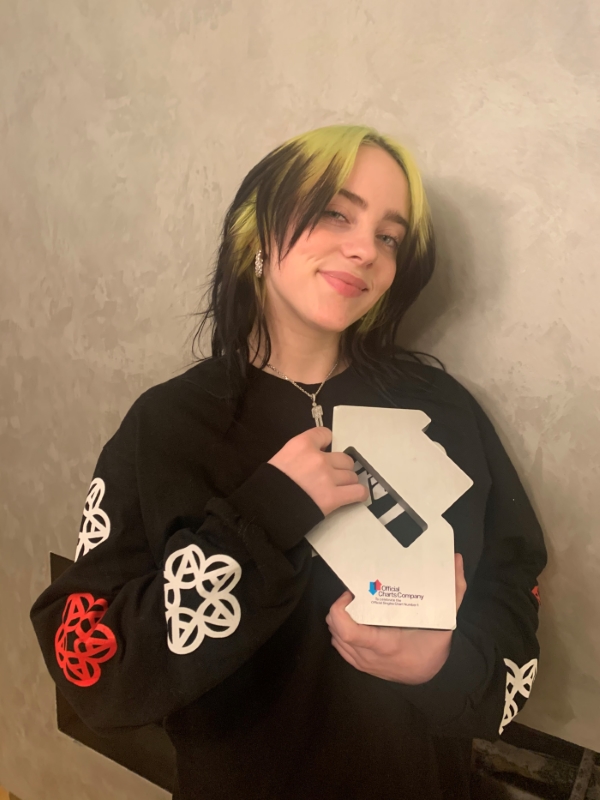 16. No Time To Die's opening week streaming tally of 10.6 million is the biggest week of streams of 2020 for a non-Christmas song.
17. With the song, Billie became the first act born in the 21st century to claim a UK Number 1 single. Jawsh 685 and 24kGoldn have since joined Billie in Y2K club.
18. 5 Seconds of Summer claimed the fastest-selling cassette album of 2020 with their fourth record CALM in April; the 12,835 tapes helping them beat Dua Lipa to Number 1.
19. That same week, Dua Lipa claimed three UK Top 10 singles at the same time. With Physical at Number 3, Don't Start Now at Number 4 and Break My Heart at Number 6, Dua became the first English female to achieve this feat since the very first Official Singles Chart nearly 68 years ago, and only fifth female in total (Taylor Swift has since become the sixth).
20. Dua's album Future Nostalgia ultimately climbed to Number 1 the following week, and with four non-consecutive weeks at the helm, it has topped the charts for more weeks than any other 2020 release.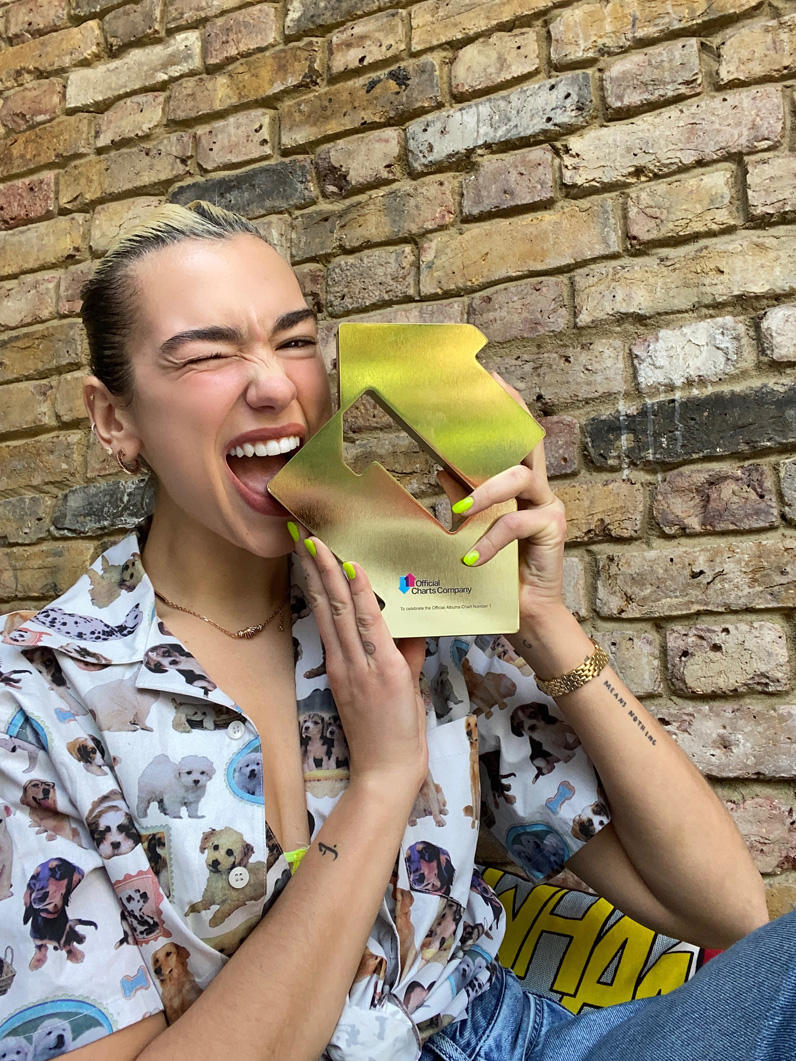 21. Don't Start Now ultimately spent 25 weeks in the Official Singles Chart Top 10, the most ever for a song by a British female solo artist.
22. It's not often two songs are concurrent record breakers, but Lewis Capaldi's Someone You Loved also claimed a longevity record in 2020. The Scotsman's first Number 1 recorded its 31st week in the Top 10 in March, the most weeks ever for a song by any British act, and the second most weeks ever behind Frankie Laine's I Believe.
23. Lewis was more than happy to take out more pages in the history books - his debut album Divinely Uninspired To A Hellish Extent spent 77 weeks in a row in the Official Albums Chart Top 10, the longest consecutive stint ever for a solo artist album.
24. In April, fundraising superstar Sir Captain Tom Moore became the oldest act to ever claim a Number 1 single, aged 99 with You'll Never Walk Alone.
25. Captain Tom turned 100 the following Thursday, becoming the first centenarian at Number 1.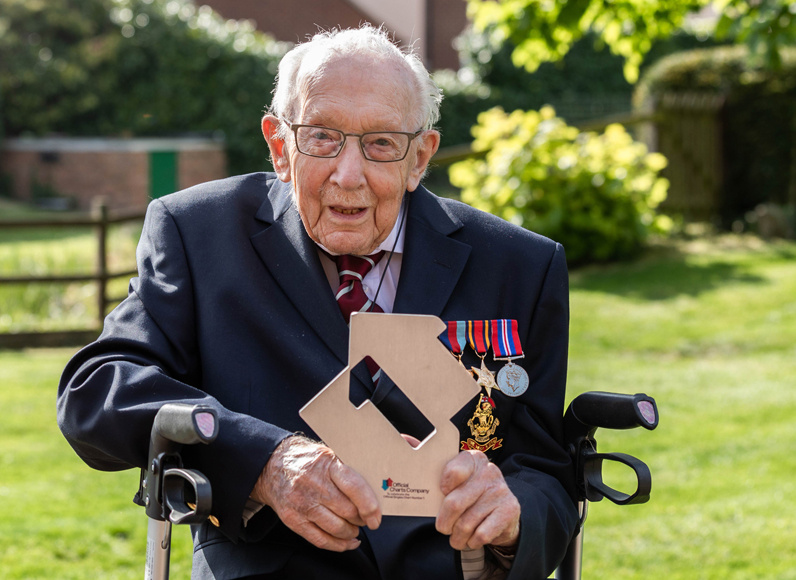 26. His collaborator on the track Michael Ball scored his first UK Number 1 single in the process, 31 years, two months and 26 days after his first Top 40 appearance. This marked the third longest gap between a debut Official Chart entry and first Number 1.
27. Michael is also one of just nine acts in 2020 to claim a Number 1 single and album in the same year, alongside Stormzy, Eminem, Juice WRLD, Lewis Capaldi, The Weeknd, Drake, Lady Gaga and Ariana Grande.
28. BBC Radio 1's Live Lounge Allstars' charity cover of Foo Fighters' Times Like These replaced Captain Tom and Michael at Number 1, the first time in six years one charity single replaced another at the top spot.
29. In May, Dame Vera Lynn became the oldest living artist to feature in the Official Singles Chart Top 100 and Albums Chart Top 40, when at the age of 103, a new version of We'll Meet Again with Katherine Jenkins peaked at Number 55, and her greatest hits 100 returned to the chart at Number 30 following VE Day. Vera passed away in June.
30. At the end of that month, BTS' Suga under his solo alias Agust D, became the first Korean soloist to impact the Official Albums Chart Top 10; his mixtape D-2 peaked at Number 7.
31. That same week, Lady Gaga and Ariana Grande's Rain On Me debuted at Number 1 on the Official Singles Chart, picking up the biggest opening week of streams ever for a female collaboration (8.1 million).
32. In June, Liam Gallagher reached Number 1 with MTV Unplugged, the first Number 1 live album in six years. 
33. Queen also sat on the Official Albums Chart throne with a live album Live Around The World in October, making 2020 the first year since 1994 to have two chart-topping live albums.
34. 2020 was kind to Queen. Their Greatest Hits - the UK's bestselling album of all time - became only the third album ever to log 900+ weeks on chart.
35. In June, Bob Dylan made history as the oldest act to ever claim a Number 1 album aged 79 years and one month with his ninth chart-topper Rough and Rowdy Ways.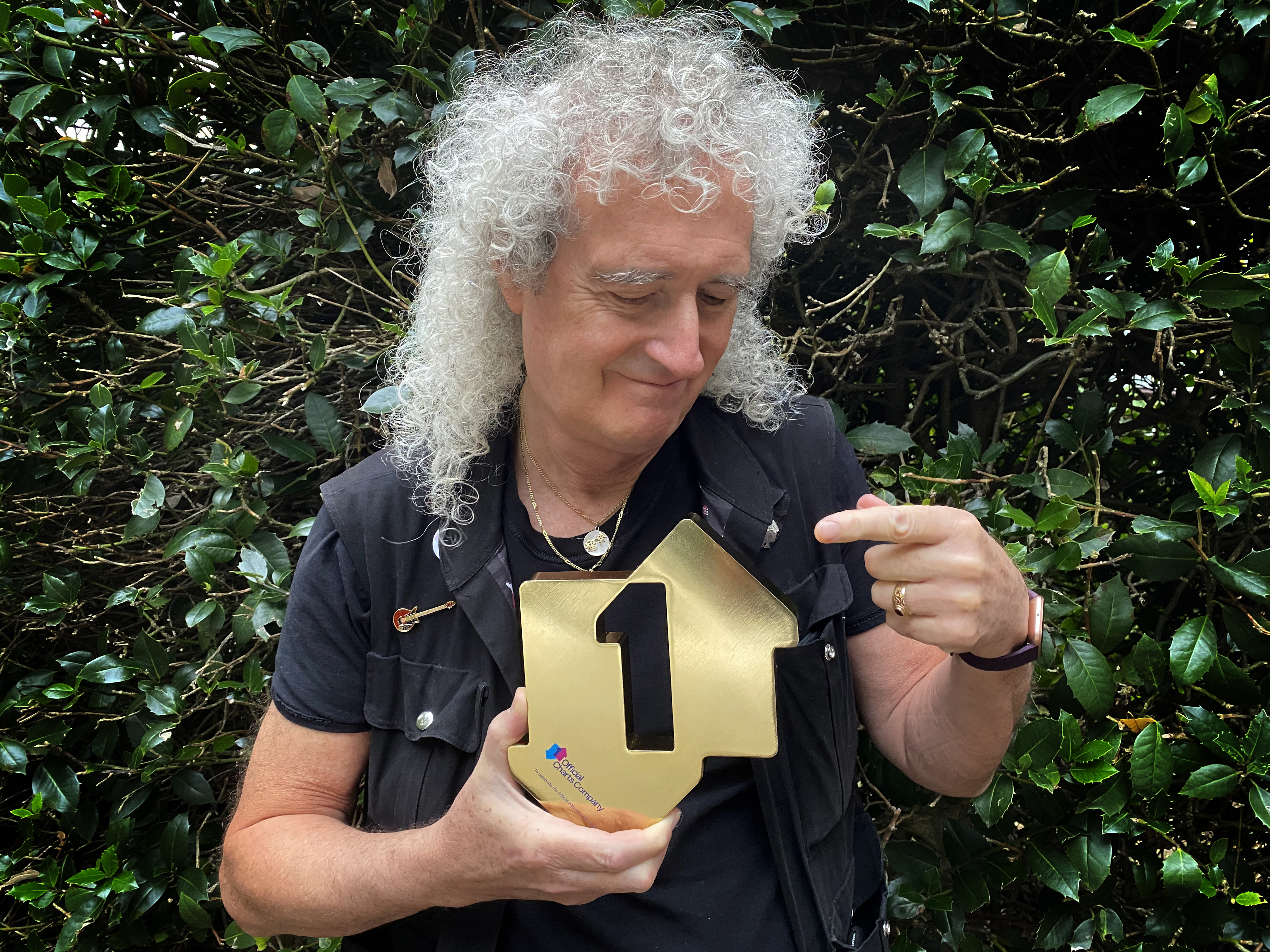 36. July saw Jawsh 685 become only the third act from New Zealand claim a UK Number 1 single with Savage Love, following Kimbra (2012) and Lorde (2013).
37. Taylor Swift's lockdown album Folklore debuted at Number 1 on the last day of the month, racking up the biggest week of album downloads in 2020 (12,152).
38. Folklore also claimed more consecutive weeks at Number 1 on the Official Albums Chart than any other album this year, with three.
39. The Killers claimed their sixth consecutive Number 1 studio album in August with Imploding The Mirage, claiming the biggest week of CD sales of 2020 in the process.
40. September saw Pop Smoke become the first solo artist to claim a posthumous Number 1 debut album in the UK with Shoot For The Stars, Aim For The Moon. 
41. The collection is also the only debut album to top the Official Albums Chart in 2020.
42. The album that it held off the top spot at Number 2 was Ava Max's Heaven & Hell, which is highest-charting debut album from a female artist. 
43. The highest-charting debut album by a British female was believe it or not, TV personality Amanda Holden; her inaugural album Songs From My Heart peaked at Number 4.
44. KSI and Sports Team hold the joint distinction of the highest-charting debut albums by British acts overall, with their respective collections Dissimulation and Deep Down Happy both peaking at Number 2. 
45. The fastest-selling vinyl album of 2020 is IDLES' Ultra Mono, which charged to Number 1 on release in September. The album shifted 15,379 copies on wax in its first seven days on sale.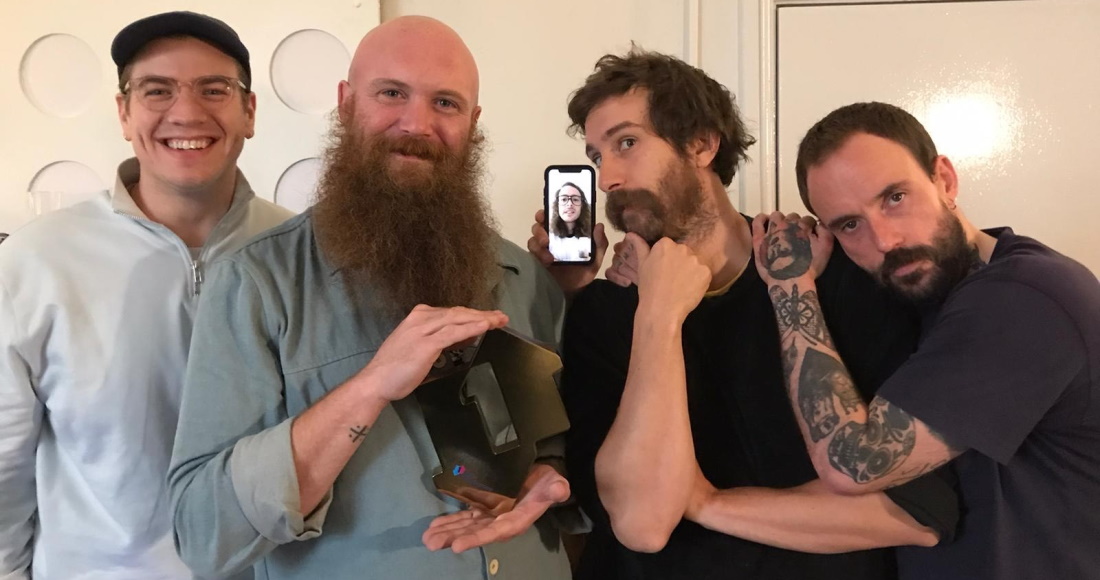 46. Irish entertainer Daniel O'Donnell claimed his landmark 40th UK Top 40 album in October with Daniel, which extended his record for claiming a Top 40 album every year since 1991.
47. Later that month, Bruce Springsteen became the first credited solo artist to claim a Number 1 album in five consecutive decades (80s, 90s, 00s, 10s, 20s) when Letter To You became his 12th UK Number 1 album.
48. 12 chart-toppers ties The Boss with Madonna in second place for the most UK Number 1 albums among solo artists, behind leaders Elvis Presley and Robbie Williams.
49. Ariana Grande scooped her seventh UK Number 1 single with Positions in the autumn, extending her record for the most songs to debut at Number 1 among female artists, to seven.
50. In November, Sir Cliff Richard set a new all-time Official Chart record by becoming the first artist ever to score a Top 5 album in eight consecutive decades.
51. The following week, Kylie Minogue collected her eighth UK Number 1 album with DISCO, making her the first credited female artist to score a Number 1 in five consecutive decades, also the same five as Bruce Springsteen (80s, 90s, 00s, 10s, 20s).
52. DISCO is also 2020's fastest-selling album by a solo artist, notching up 54,905 chart sales in its first week.
53. Charting at Number 2 behind Kylie were Little Mix. Although Confetti didn't get to Number 1, it did claim 2020's biggest sales week for a British act, tallying 49,887 chart sales.
54. Also in November, Dame Shirley Bassey became the first female artist to claim a Top 40 album in seven consecutive decades when her grand finale album I Owe It All To You charted at Number 5. 
55. Australian rock gods AC/DC scored 2020's fastest-selling album; Power Up debuted at Number 1 in November with sales of 61,979.
56. In December, Mariah Carey's All I Want For Christmas Is You finally reached Number 1 on the Official Singles Chart, 26 years after its release. It reached the summit in its 70th week in the Top 40, and set a new chart record - no other song has spent more weeks in the Official Chart Top 40 before eventually reaching Number 1 in UK chart history.
57. In doing so, AIWFCIY picked up 2020's biggest week of streams - 10.8 million.
58. Taylor Swift became the first female artist ever to have two brand-new releases reach Number 1 on the Official Albums Chart in the same calendar year when Evermore hit the top spot in December.
59. Evermore is Taylor's sixth UK Number 1 album, achieving those six in record time among female artists, eight years, surpassing Madonna's 11 years (between 1997 – 2008).
60. LadBaby ended 2020 in record-breaking style with Don't Stop Me Eatin', scoring the year's fastest-selling single to win the coveted Christmas Number 1 Number 1 spot for a third year running, matching Spice Girls and The Beatles record.