No gossip. No rumours. Just 100% official, pure pop FACT. That's what we do. It's the only thing we do.
With our finger on the beating pulse of the British record-buying, digital downloading, music streaming public - OfficialCharts.com is about what's hot now, officially.
The UK's most authoritative site, quite literally, brought to you by the Official Charts Company, the music industry-appointed creators and guardians of the UK's Official Charts, as heard and seen on BBC Radio 1, MTV, Music Week, The Sun, Daily Mail, Daily Star, NME, and many more.
This site enables a broad range of brands to reach an active, engaged and influential audience through a variety of advertising solutions and packages. These are sold for OfficialCharts.com by our advertising sales partners SKY Media and In Skin Media.
Why advertise on OfficialCharts.com?
Following a period of staggering organic traffic growth, Britain's fastest-growing music website* relaunches for 2015 on a sleek new mobile responsive platform.
Now home to 2.5 million of the biggest, most dedicated, UK chart and music fans monthly (including 1.34 million UK users), whose audience grew 12 times faster than the average entertainment news site in 2013.*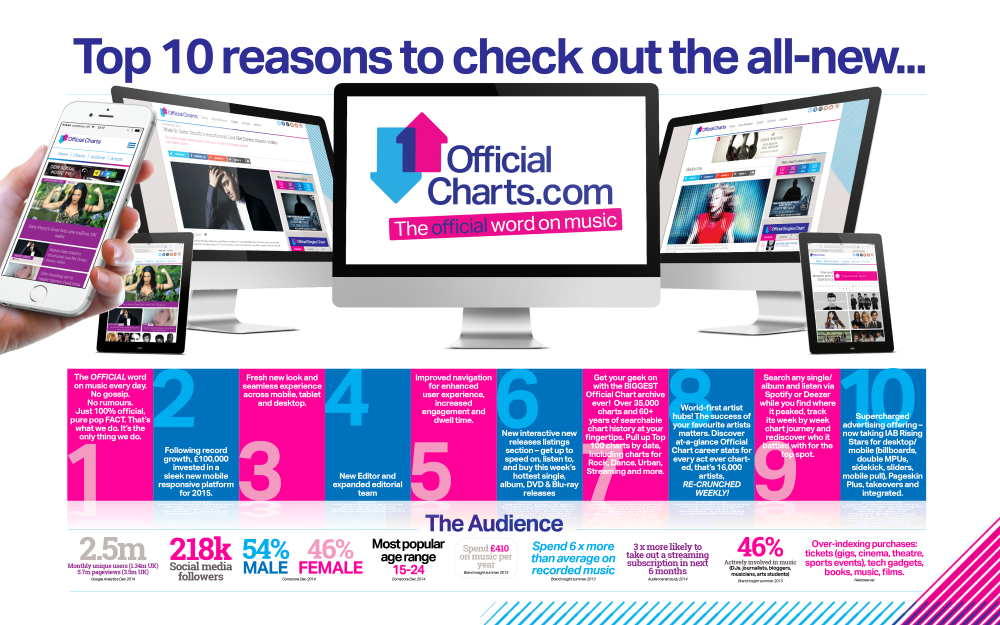 The Audience
Our users are passionate, actively engaged, high-spending music fans who value OfficialCharts.com as a trusted information resource.  54% males, 46% female, they spend £410 a year on music and splurge six times the annual average on recorded music.
Official Charts users are 3 times more likely to take out a streaming subscription in the next six months, plus 50% of users spend just under £200 a year on live music.**
For all advertising, integrated takeover campaigns, brand sponsorship and partnership queries please contact Digital Commercial Lead, David Murray. Contact: david@officialcharts.com P:+44 (0)207 620 7462
NB. *Based on analysis of top 40 biggest music and entertainment news sites in ComScore – Jan to Dec 2016. **Official Charts brand insight summer 2016.