2020 marks a record-breaking year on the Official Albums Chart, as 43 different albums made it to Number 1 - more than any other year in UK chart history, new analysis from the Official Charts Company confirms.
The number is significantly up from recent years, compared to 32 chart-toppers in 2019 and just 19 in 2018, not to mention a far cry from the early Albums Charts of the 1950s and '60s which tended to see only a handful of records enjoy the Number 1 spotlight in any given year. Back then, soundtracks such as South Pacific, The King & I, My Fair Lady and Sound Of Music would typically dominate the Number 1 slot for weeks on end, later followed by a steady stream of album releases from The Beatles which would follow a similar trajectory.

Before 2020, the biggest year previously for Number 1 albums was 2015 when a total of 39 records occupied the top spot.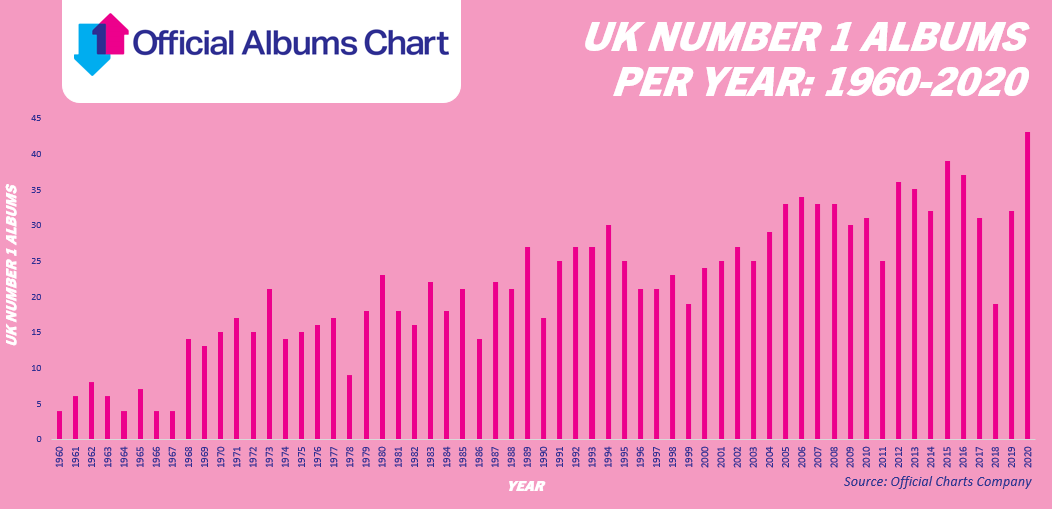 Graph: Volume of Number 1 albums per year on the UK's Official Albums Chart, based on week-ending date of each chart week.
A busy year of Number 1s occurred despite 2020's turbulent backdrop which saw many album release dates being shaken up. When the UK was first placed into lockdown in March, many artists announced they were either delaying or bringing forward their albums to offset some of the uncertainty that came hand-in-hand with a pandemic.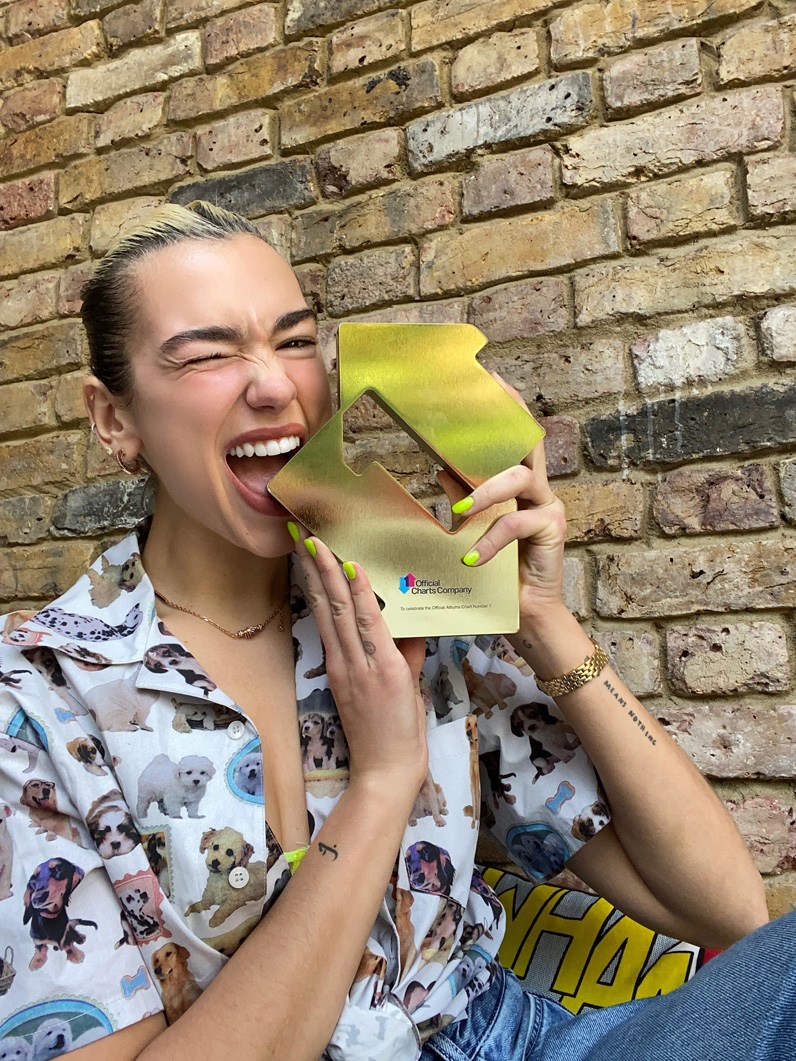 Dua Lipa with her Official Number 1 Album Award for Future Nostalgia, one of 2020's biggest new releases.
Albums affected included Lady Gaga's Chromatica (delayed by two months), Dua Lipa's Future Nostalgia (brought forward a week), and Haim's Women In Music Part III (delayed by three months); but despite the last-minute switcharounds, they each managed to successfully hit Number 1 on the Official Albums Chart. 
But as we all began to adjust to our new circumstances, so came a flurry of album releases in the latter half of the year - many of which were recorded during the lockdown. One of the most notable came from Taylor Swift, who surprise-released two albums recorded in quarantine: Folklore debuted at Number 1 in August, and its "sister record" Evermore followed in December. Another, Paul McCartney's long-awaited McCartney III, claimed this year's Christmas Number 1 album.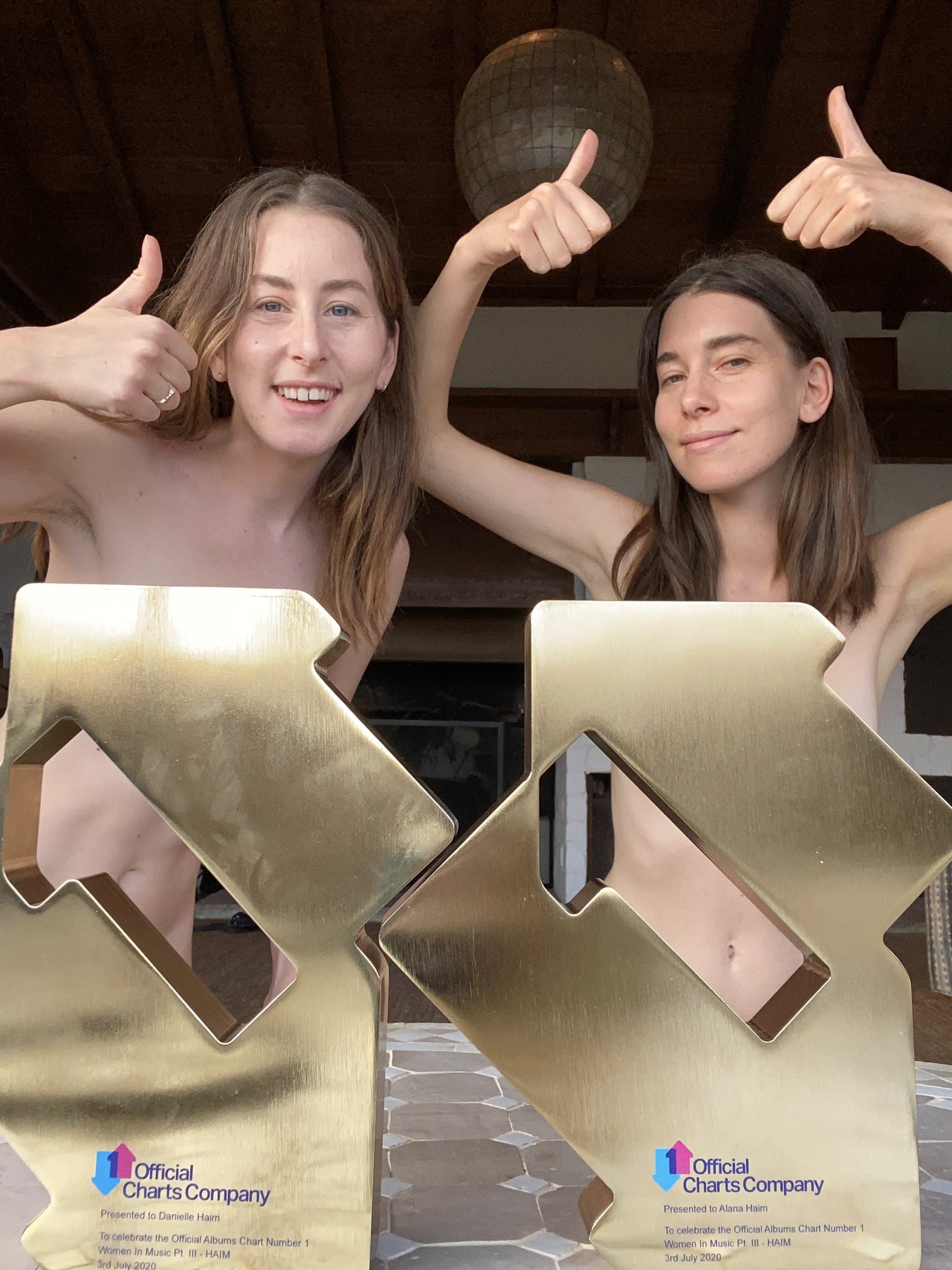 Haim with their Official Number 1 Album Awards for Women In Music Part III
2020 saw many high-stakes chart races - including KSI vs. The 1975 back in May where YouTuber-turned-rapper KSI promised to go bald if his debut album Dissimulation reached Number 1, while December saw Doncaster rocker Yungblud announce plans to melt down his Number 1 album award and turn it into safety pins for his fans as a thank you for playing their part in his journey to the top.


Independent Scottish musician Gerry Cinnamon planted his flag at the chart summit in April with The Bonny - an album released on his own record label Little Runaway. While a huge return for Doves in September saw the Manchester band land at Number 1 with their first new album in more than a decade - The Universal Want. 
Plenty of chart records were broken this year too, from Kylie Minogue with DISCO to Bruce Springsteen, as well as poignant posthumous chart-toppers from Juice Wrld and Pop Smoke.
Plus we witnessed first-time Number 1s for British rappers J Hus, Nines and Headie One, and the first collaborative release from Queen & Adam Lambert proved a hit as Live Around The World shot straight to the top in October.
Take a look back over the biggest year of Number 1s in Official Albums Chart history. 
Every Number 1 album of 2020
| | | | |
| --- | --- | --- | --- |
| DATE | TITLE | ARTIST | WKS AT NO.1 |
| 09/01/2020 | DIVINELY UNINSPIRED TO A HELLISH EXTENT | LEWIS CAPALDI | 1 |
| 16/01/2020 | HEAVY IS THE HEAD | STORMZY | 1 |
| 23/01/2020 | DIVINELY UNINSPIRED TO A HELLISH EXTENT | LEWIS CAPALDI | 1 |
| 30/01/2020 | MUSIC TO BE MURDERED BY | EMINEM | 1 |
| 06/02/2020 | BIG CONSPIRACY | J HUS | 1 |
| 13/02/2020 | FOOLISH LOVING SPACES | BLOSSOMS | 1 |
| 20/02/2020 | FATHER OF ALL... | GREEN DAY | 1 |
| 27/02/2020 | CHANGES | JUSTIN BIEBER | 1 |
| 05/03/2020 | MAP OF THE SOUL: 7 | BTS | 1 |
| 12/03/2020 | DIVINELY UNINSPIRED TO A HELLISH EXTENT | LEWIS CAPALDI | 1 |
| 19/03/2020 | MANCHESTER CALLING | PAUL HEATON & JACQUI ABBOTT | 1 |
| 26/03/2020 | HEARTBREAK WEATHER | NIALL HORAN | 1 |
| 02/04/2020 | AFTER HOURS | THE WEEKND | 1 |
| 09/04/2020 | CALM | 5 SECONDS OF SUMMER | 1 |
| 16/04/2020 | FUTURE NOSTALGIA | DUA LIPA | 2 |
| 30/04/2020 | THE BONNY | GERRY CINNAMON | 1 |
| 07/05/2020 | FUTURE NOSTALGIA | DUA LIPA | 1 |
| 14/05/2020 | DARK LANE DEMO TAPES | DRAKE | 1 |
| 21/05/2020 | FUTURE NOSTALGIA | DUA LIPA | 1 |
| 28/05/2020 | DIVINELY UNINSPIRED TO A HELLISH EXTENT | LEWIS CAPALDI | 1 |
| 04/06/2020 | NOTES ON A CONDITIONAL FORM | THE 1975 | 1 |
| 11/06/2020 | CHROMATICA | LADY GAGA | 2 |
| 25/06/2020 | MTV UNPLUGGED | LIAM GALLAGHER | 1 |
| 02/07/2020 | ROUGH AND ROWDY WAYS | BOB DYLAN | 1 |
| 09/07/2020 | WOMEN IN MUSIC PT. III | HAIM | 1 |
| 16/07/2020 | ON SUNSET | PAUL WELLER | 1 |
| 23/07/2020 | LEGENDS NEVER DIE | JUICE WRLD | 1 |
| 30/07/2020 | BRIGHTEST BLUE | ELLIE GOULDING | 1 |
| 06/08/2020 | FOLKLORE | TAYLOR SWIFT | 3 |
| 27/08/2020 | A CELEBRATION OF ENDINGS | BIFFY CLYRO | 1 |
| 03/09/2020 | IMPLODING THE MIRAGE | THE KILLERS | 1 |
| 10/09/2020 | CRABS IN A BUCKET | NINES | 1 |
| 17/09/2020 | GOATS HEAD SOUP | ROLLING STONES | 1 |
| 24/09/2020 | THE UNIVERSAL WANT | DOVES | 1 |
| 01/10/2020 | SHOOT FOR THE STARS, AIM FOR THE MOON | POP SMOKE | 1 |
| 08/10/2020 | ULTRA MONO | IDLES | 1 |
| 15/10/2020 | LIVE AROUND THE WORLD | QUEEN + ADAM LAMBERT | 1 |
| 22/10/2020 | EDNA | HEADIE ONE | 1 |
| 29/10/2020 | CHERRY BLOSSOM | THE VAMPS | 1 |
| 05/11/2020 | LETTER TO YOU | BRUCE SPRINGSTEEN | 1 |
| 12/11/2020 | POSITIONS | ARIANA GRANDE | 1 |
| 19/11/2020 | DISCO | KYLIE MINOGUE | 1 |
| 26/11/2020 | POWER UP | AC/DC | 1 |
| 03/12/2020 | TOGETHER AT CHRISTMAS | MICHAEL BALL & ALFIE BOE | 1 |
| 10/12/2020 | MUSIC PLAYED BY HUMANS | GARY BARLOW | 1 |
| 17/12/2020 | WEIRD! | YUNGBLUD | 1 |
| 24/12/2020 | EVERMORE | TAYLOR SWIFT | 1 |
| 31/12/2020 | MCCARTNEY III | PAUL MCCARTNEY | 1 |