Nines has claimed his first Number 1 on the Official Albums Chart with Crabs in a Bucket.
The London rapper and songwriter's third studio album finishes the week as both the most streamed and most downloaded collection of the week.
In an extremely close chart race that ended with 5,000 chart sales between the Top 5, Crabs in a Bucket overtook midweek leaders Metallica in the past 24 hours to finish ahead by just short of 2,000 chart sales.
Celebrating the news with OfficialCharts.com, Nines said:
"Thanks to everyone that put me in this position, I still can't believe I'm Number 1 - Finally won a golden boot!"
Today's result also marks Nines' third Top 5 album, with his previous chart peak reached by 2017 debut One Foot Out which landed at Number 4. 2018's follow-up Crop Circle debuted at Number 5.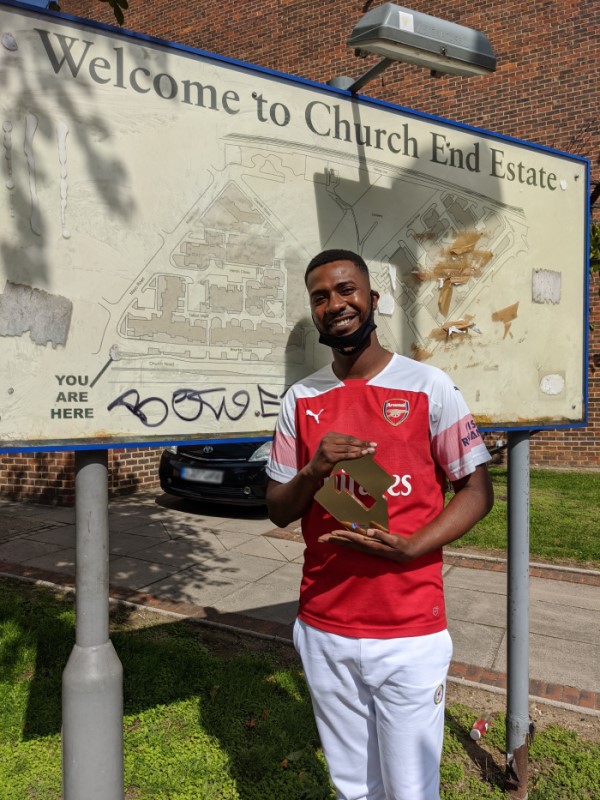 Nines with his Number 1 award for Crabs in a Bucket
At Number 2 on this week's all-new Top 5, heavy metal royalty Metallica claim their 8th Top 5 with live album S&M2, which racked up the week's highest physical tally. Jazz vocalist Gregory Porter's sixth studio album All Rise debuts at Number 3 - matching his previous chart best with 2017's Nat King Cole & Me.
Electronic duo Disclosure land at Number 4 with their third album Energy, their third Top 5 album and first studio release since 2015; while Katy Perry finishes at Number 5 with her fifth album Smile – her fourth consecutive Top 10 album.
Further down, US rock band Pvris enter at Number 14 with Use Me, just ahead of British Indie quartet The Magic Gang, whose second album Death of the Party debuts at Number 16.
Two Record Store Day releases from David Bowie are up next, with ChangesNowBowie at Number 17 and live album I'm Only Dancing (The Soul Tour '74) at 18.
Status Quo are at 28 with their best of collection The Essential, and finally, keyboardist Rick Wakeman's The Red Planet makes its Top 40 debut at Number 34 following its physical release.