2007 was a big year for the BRIT Awards, set to be the first time the ceremony was broadcast live since 1989 and the now-infamous Mick Fleetwood and Samantha Fox-hosted show, and coming from huge London music venue Earl's Court.
Brought in to banish all ghosts and keep things running smoothly was chaotic comedian Russell Brand – a brave choice for the time, really – who would go on to cause controversy for some particularly interesting comments about the Queen.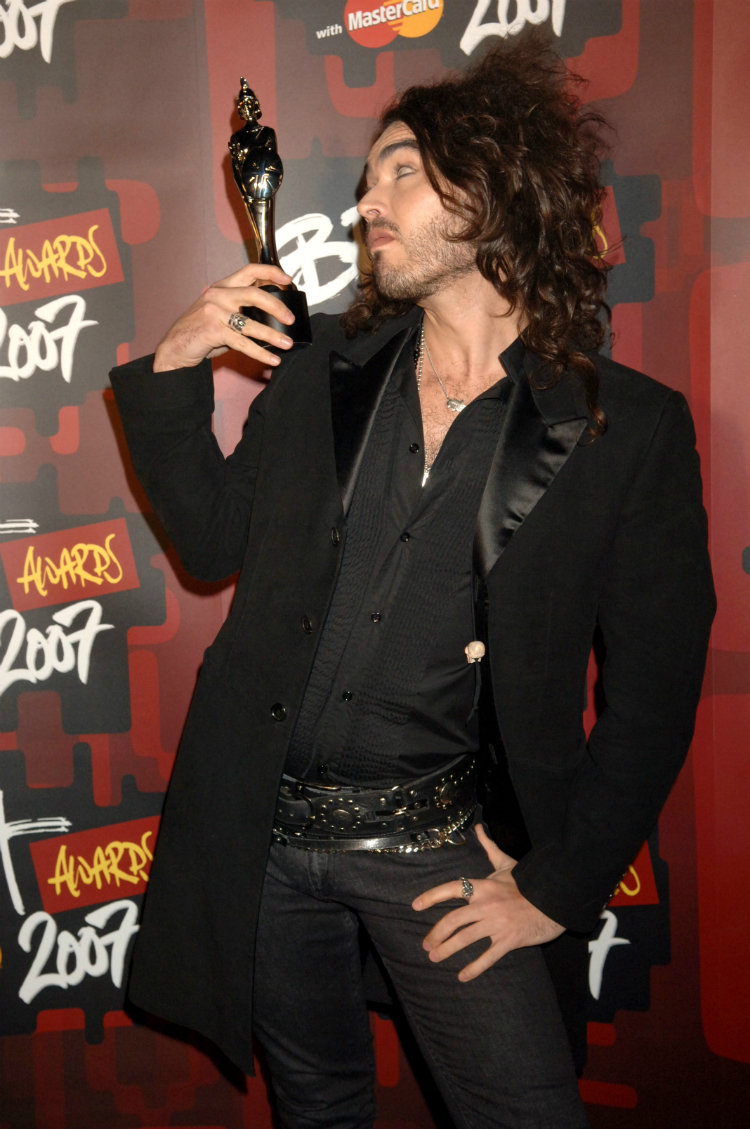 Russell gets ready to rock (and shock). Image: Richard Young/Shutterstock
Scoring the most nominations of the night was Lily Allen, with four nods in Best British Album for her debut Alright, Still, Single for her first chart-topper Smile and in the British Female and Breakthrough Act. She would, surprisingly, go home empty-handed.
Opening the show were Scissor Sisters and their huge Number 1 I Don't Feel Like Dancin', lead single from Ta-Dah!, follow-up to their mega-selling eponymous debut. Using clever trickery and some slick dance moves, the band were legs akimbo, contorting all over the stage and never missing a note.
First BRIT of the night went to Muse for Best Live Act, presented to them by Lily Allen's dad Keith, and then it was onto atmospheric performance from Snow patrol, with Chasing Cars, which is now a million-seller, despite not reaching the Top 5 in the Official Singles Chart.
Next, came the two Breakthrough Act prizes, with the British one going to the Fratellis, who had enjoyed two Top 10s in 2006 and a Number 2 album – beaten to the top by Justin Timberlake. International Breakthrough went to Orson, who have the dubious honour of having the lowest-selling Number 1 ever – back when pure sales were the only thing that contributed to the chart – with No Tomorrow.
Amy Winehouse then took to the stage to perform her huge hit Rehab. Amy's second album Back to Black was up for in the Album category and would go on to the biggest selling of 2007, and Amy herself was up for British Female. (Spoiler: she won that one.)
Joss Stone made headlines the next day (and beyond) for her unusual and unexpected transatlantic twang while she sweetly defended Robbie Williams, and presented the British Male BRIT to James Morrison, off the back of his Number 1 debut Undiscovered. International Male was all about Justin Timberlake.
The Killers performed When You Were Young, lead single from their second album Sam's Town, before DJ Jo Whiley – then in charge of Radio 1's Live Lounge – presenting British Female to Amy Winehouse in a hotly contested category. Maybe not expecting to win, Amy gave an understated thank you speech and gave a wave to her proud parents in the audience.
Nelly Furtado beat Pink, Christina, Beyoncé and Cat Power to take International Female, before Take That made their first BRITs performance in years, with their huge comeback Number 1 Patience, and then Giles from Buffy The Vampire Slayer/the Prime Minister from Little Britain aka actor Anthony Head announced Arctic Monkeys had beaten Razorlight and Kasabian to take British Group. Sadly, the Sheffield rockers, who were about to release second album favourite Worst Nightmare  could not be there in person so made their thank yous over a video link.
The Killers landed International Group AND International album in quick succession, and rock mavericks Red Hot Chili Peppers performed Dani California, before Corinne Bailey Rae – nominated for three BRITs that night – sang her only Top 10 Put Your Records On, from her chart-topping debut.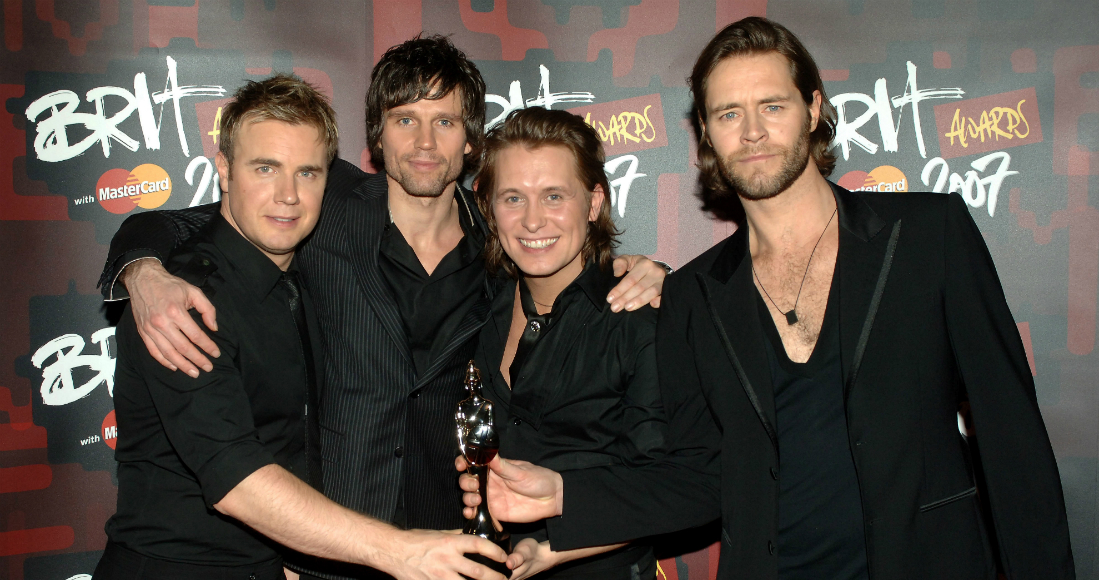 The boys were BACK! Take That took that! Image: David Fisher/Shutterstock
Best British Single was, for the first time, a live vote during the show, with some songs getting knocked out halfway through but the winner was Take That, landing their fifth BRIT Award (and their fourth in this category). Spoiler: the won it the year after too!
Actor Sean Bean, a Sheffield lad, presented the British Album of the Year, to (clue: Sheffield)… Arctic Monkeys, who popped up on video message again, this time dressed in very homemade-looking fancy dress to resemble iconic '70s disco outfit Village People.
Closing the show, and picking up the BRIT for Outstanding Contribution to Music, were Oasis. Liam and Noel were still on speaking terms then (just) and the band performed a medley of hits and fan faves including Cigarettes & Alcohol and Rock n Roll Star.
And then… it was over!
Look back at BRIT Awards winners from years gone by: 2017, 2016, 2015, 2014, 2013, 2012, 2011, 2010, 2009, 2008.
The full list of winners and nominees for the 2007 BRIT Awards:
| | | |
| --- | --- | --- |
| CATEGORY | ARTIST | SONG/ALBUM |
| British Breakthrough Act | Corinne Bailey Rae |   |
| British Breakthrough Act | James Morrison |   |
| British Breakthrough Act | Lily Allen |   |
| British Breakthrough Act | The Fratellis (WINNER) |   |
| British Breakthrough Act | The Kooks |   |
| British Female Solo Artist | Amy Winehouse (WINNER) |   |
| British Female Solo Artist | Corinne Bailey Rae |   |
| British Female Solo Artist | Jamelia |   |
| British Female Solo Artist | Lily Allen |   |
| British Female Solo Artist | Nerina Pallot |   |
| British Group | Arctic Monkeys (WINNER) |   |
| British Group | Kasabian |   |
| British Group | Muse |   |
| British Group | Razorlight |   |
| British Group | Snow Patrol |   |
| British Live Act | George Michael |   |
| British Live Act | Kasabian |   |
| British Live Act | Muse (WINNER) |   |
| British Live Act | Robbie Williams |   |
| British Live Act | The Guillemots |   |
| British Male Solo Artist | James Morrison (WINNER) |   |
| British Male Solo Artist | Jarvis Cocker |   |
| British Male Solo Artist | Lemar |   |
| British Male Solo Artist | Paulo Nutini |   |
| British Male Solo Artist | Thom Yorke |   |
| British Single | Corinne Bailey Rae | Put Your Records On |
| British Single | Leona Lewis | A Moment Like This |
| British Single | Lily Allen | Smile |
| British Single | Sandi Thom | I Wish I Was A Punk Rocker |
| British Single | Snow Patrol | Chasing Cars |
| British Single | The Kooks | She Moves In Her Own Way |
| British Single | James Morrison | You Give Me Something |
| British Single | Razorlight | America |
| British Single | Take That (WINNER) | Patience |
| British Single | The Feeling | Fill My Little World |
| British Single | Will Young | All Time Love |
| International Album | Bob Dylan | Modern Times |
| International Album | Gnarls Barkley | St Elsewhere |
| International Album | Justin Timberlake | Futuresex/Lovesounds |
| International Album | Scissor Sisters | Ta-Dah |
| International Album | The Killers (WINNER) | Sam's Town |
| International Breakthrough Act | Gnarls Barkley |   |
| International Breakthrough Act | Orson (WINNER) |   |
| International Breakthrough Act | Ray Lamontagne |   |
| International Breakthrough Act | The Raconteurs |   |
| International Breakthrough Act | Wolfmother |   |
| International Female Solo Artist | Beyonce |   |
| International Female Solo Artist | Cat Power |   |
| International Female Solo Artist | Christina Aguilera |   |
| International Female Solo Artist | Nelly Furtado (WINNER) |   |
| International Female Solo Artist | Pink |   |
| International Group | Gnarls Barkley  |   |
| International Group | Red Hot Chili Peppers |   |
| International Group | Scissor Sisters |   |
| International Group | The Flaming Lips |   |
| International Group | The Killers (WINNER) |   |
| International Male Solo Artist | Beck |   |
| International Male Solo Artist | Bob Dylan |   |
| International Male Solo Artist | Damien Rice |   |
| International Male Solo Artist | Jack Johnson |   |
| International Male Solo Artist | Justin Timberlake (WINNER) |   |
| MasterCard British Album of the Year | Amy Winehouse | Back To Black |
| MasterCard British Album of the Year | Arctic Monkeys (WINNER) | What Ever People Say I Am, That's What I'm Not |
| MasterCard British Album of the Year | Lily Allen | Alright, Still |
| MasterCard British Album of the Year | Muse | Black Holes & Revelations |
| MasterCard British Album of the Year | Snow Patrol | Eyes Open |
| Outstanding Contribution to Music | Oasis (WINNER) |   |
Article image: Richard Young/Shutterstock