Get set for the biggest chart battle of the year…only one month to go until the 2016 Official Christmas Number 1 winner is crowned on Friday December 23.
It's the most high profile and hotly contested chart race of the year, a great British tradition stretching back over 60 years. Since Al Martino topped the very first Christmas chart with Here In My Heart in 1952, other victors throughout time include the likes of Slade, Cliff Richard, a hat trick for the Spice Girls, Mr Blobby, Alexandra Burke and who could forget Rage Against The Machine's thrilling victory over the X Factor's Joe McElderry back in 2009.
Last year saw one of the greatest chart battles in history when one surprise tweet from Justin Bieber changed everything for the Lewisham and Greenwich NHS Choir, their charity single A Bridge Over You stole the festive top spot after a week-long tussle that went right down to the wire.  
MORE: Look back through every Official Christmas Number 1 ever
Reigning champ, junior doctor and singer in the Lewisham and Greenwich NHS Choir, Dr. Katie Rogerson said of this year's race: "Christmas Number 1 last year wasn't just a win for me and the choir, it was a win for the entire NHS and everyone who was in hospital over the Christmas period.
"Since winning, less than 12 months ago, we've met with Justin Bieber himself, performed on the same stage as Adele at Glastonbury, at the FA Cup final, recorded our own album, Something Inside So Strong, and lots more besides. We wish this year's victor HUGE good luck and hope for a good cause/underdog to keep the Christmas spirit going!"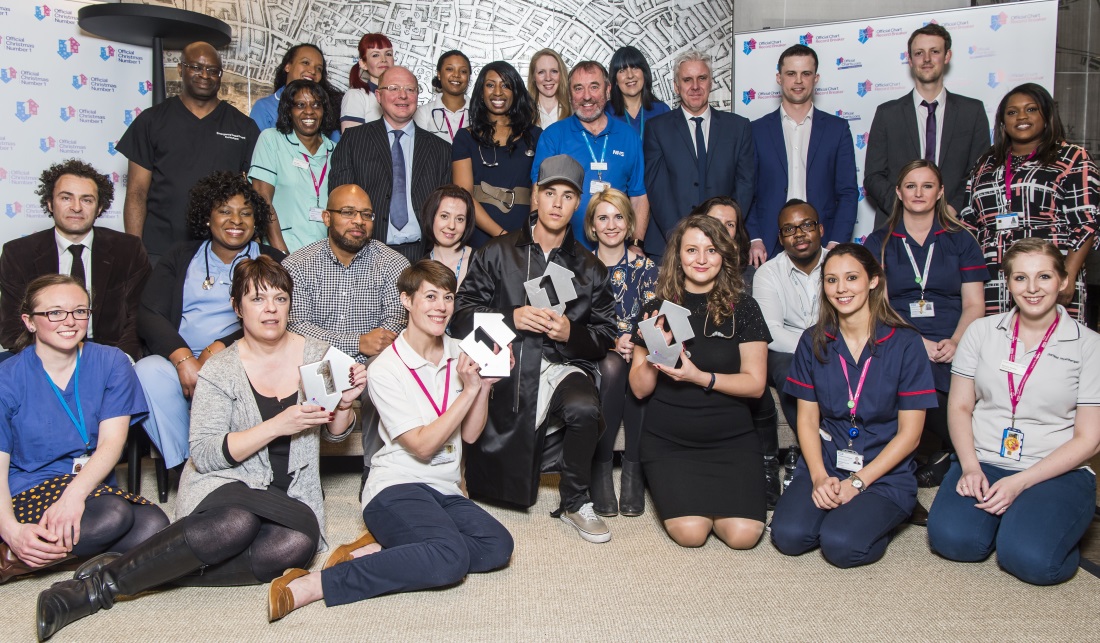 Justin Bieber and The NHS Choir celebrating their Number 1s following the Christmas Number 1 race 2015. Credit: Carsten Windhorst.
MORE: See all the latest news on this year's Official Christmas Number 1 race
Though the team behind last year's campaign have confirmed to Official Charts they won't be throwing their hat into the ring for this year's race, they are continuing their mission to boost staff morale with a brand new campaign #NHSMillion. Click here for more information and to show your support.
In 2016, the race for Christmas Number 1 remains as unpredictable as it's ever been. Here's why:
The X Factor's grip on the race has loosened
While still a contender, this year's X Factor winner is by no means a foregone conclusion for the festive chart crown. Three of the last five yuletide chart-toppers have been claimed by acts unconnected to the TV show. Plus, with this year's X Factor winner's single being made available immediately after the final on Sunday 11 December, the talent show's initial burst of sales and streams will have already happened by the time the Christmas Number 1 race starting pistol fires on Friday 16 December.
Never underestimate the power of a charity campaign
When it comes to Christmas Number 1 season, poignant charity campaigns have proven time and time again to unite Britain in backing a winning cause. Last year it was The Lewisham & Greenwich NHS Choir, while The Justice Collective soared to the top in 2012 with He Ain't Heavy, He's My Brother in aid of the Hillsborough disaster. The year before that, it was the turn of the Military Wives and Gareth Malone's Wherever You Are, which raised money for the Royal British Legion and SSAFA - and of course Band Aid secured victory three times over in '84, '89 and 2004.
Will a charity record bag the Official Christmas Number 1 again this year? Several have their eye on the prize, including Scottish rock band The King Lot ft. The Jollyboys, who are one of the early favourites with their track Wings, released in aid of The MS Society.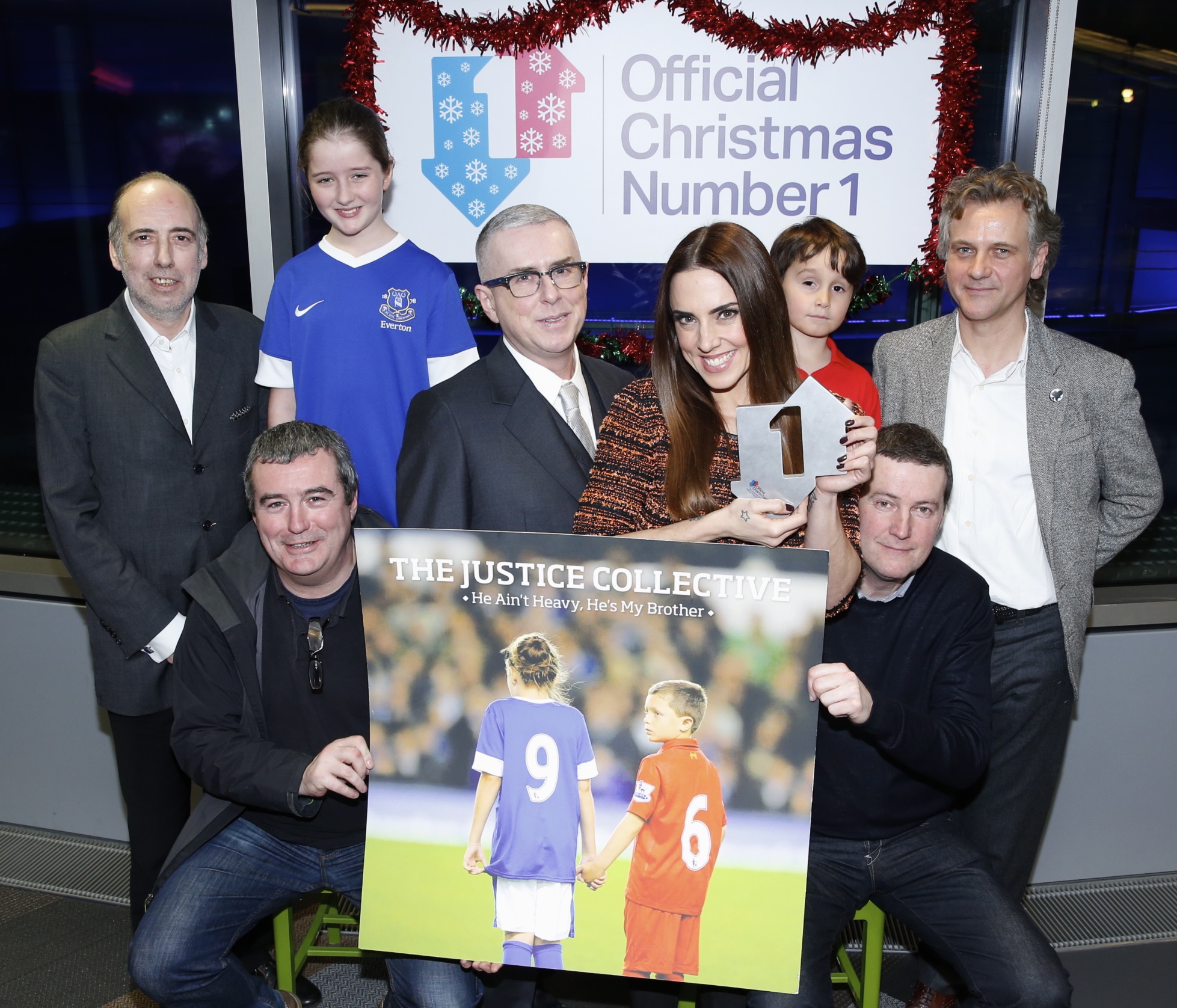 The Justice Collective celebrating their Official Christmas Number 1 in 2012
Could an internet personality gatecrash the top spot?
Just two years ago, a bizarre late challenge from online viral star The Wealdstone Raider very nearly clinched it with football anthem You Got No Fans finishing in the Top 5. Leading the internet pack this year is Salford lad James 'Shinny' Davenport, whose confidently-titled song 'Christmas Number 1', already has over 80,000 fans on Facebook as well as garnering support from local celebrities including Happy Mondays' Bez and Shameless star, Tina Malone. Plus, 20p from every download is being donated to Macmillan Cancer Support.
This year's Official Christmas Number 1 may already be lurking in the chart…
2016 has seen some dramatic shifts in how music is consumed. With streaming now being the dominant format in the singles market, and more tracks going on sale and on streaming services at the same time as hitting radio and TV, chart-topping tracks are typically now entering the chart lower down before ascending to their Number 1 peak over the course of a few weeks.
Just three songs have debuted at Number 1 this year (Zayn Malik's Pillowtalk, Major Lazer, Justin Bieber and MØ's Cold Water and Little Mix's Shout Out To My Ex), while all other chart-toppers this year so far have taken an average of over five weeks to reach the summit from the point of entering the Top 100.
Martin Talbot, Official Charts Company Chief Executive, said: "It only seems yesterday that the NHS Choir got the nod from Justin Bieber in the race for Christmas Number 1 2015 – but it is so exciting that the annual festive race is almost upon us once again. Who will be the leading contender this year will no doubt only become clear as the starting gun is about to be fired. But, one thing is for sure, the race will be fought as enthusiastically as ever. We can't wait for it to get underway!"
This year's Official Christmas Number 1 race begins Friday 16 December with the cut-off point for sales and streams to be counted toward the chart being midnight on December 22.  
The Christmas Official Chart Top 40 will be counted down on BBC Radio 1's Official Chart with Greg James on Friday, 23 December from 4pm. The full Top 100 will be revealed on OfficialCharts.com at 5:45pm.

Join the conversation now on Twitter using #XmasNo1. Visit Official Charts' Christmas Number 1 news section throughout December and follow @OfficialCharts on Twitter and Facebook for all the latest race news.

Have a listen to this year's contenders (as things stand) below; and vote in our poll at the bottom of the page for who you think has what it takes to go all the way...
The Official Christmas Number 1 Contenders 2016
Friends of Jo Cox - You Can't Always Get What You Want
In memory of late MP Jo Cox, musicians such as David Gray, KT Tunstall and Ricky Wilson have come together with the Parliament Choir and Royal Opera House Thurrock Community Chorus as Friends of Jo Cox. Their cover of The Rolling Stones' You Can't Always Get What You Want is released on December 16, with proceeds going towards the Jo Cox Foundation. More information on the single can be found here.
Just days before the race kicks off, Prime Minister Theresa May threw her support behind the song, urging everyone to download the song and waiving its VAT.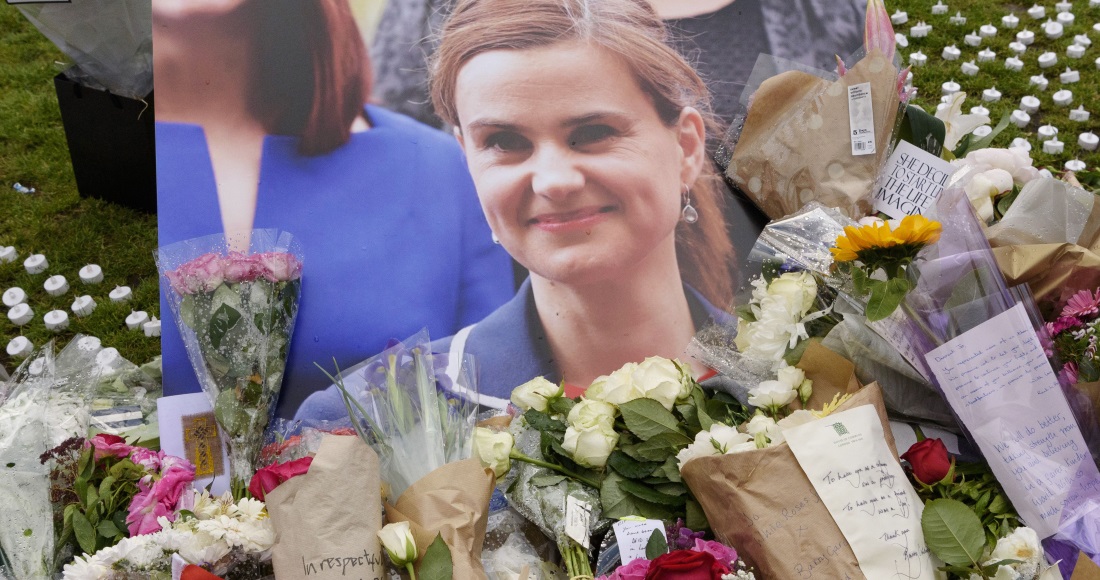 The London Hospices Choir - The Living Years
The first of many charity groups campaigning to get their track to the top of the charts for a good cause this Christmas, The London Hospices Choir are made up of patients, staff and volunteers from 18 hospices in the capital. They've covered Mike & The Mechanic's touching track The Living Years in support of the hospice network - and they even have one of the band's former co-frontmen Paul Carrack on board. Could this song replicate the success of last year's festive chart-toppers The NHS Choir?
INTERVIEW: The London Hospices Choir on their bid for Christmas Number 1
Matt Terry - When Christmas Comes Around (X Factor winner's single)
Just two out the last five Christmas Number 1s have come from X Factor winners, most recently from Ben Haenow's Something I Need in 2014. Can this year's champion Matt Terry reclaim it with his winner's single? When Christmas Comes Around is a.) an original track and b.) written by Ed Sheeran; both of which give it a real fighting chance...
Clean Bandit - Rockabye
Is this year's Official Christmas Number 1 already among us? Clean Bandit's Rockabye has been Number 1 on the Official Singles Chart for the last five weeks. Can it continue its lead all the way until the end of the year? 
James 'SHINNy' Davenport - Christmas Number 1
The power of a Facebook campaign should never be underestimated, and the big pursuit for an Xmas chart topper coming from the social network is James 'SHINNy' Davenport's single Christmas Number 1. Shinny's Facebook group has over 85,000 followers, and fans of the Salford singer can find him rallying his supporting on Facebook live - the first time this has been used in a #XmasNo1 campaign. Does this dark horse of a track in aid of Macmillan Cancer Care have what it takes to go all the way?
Taylor Swift & Zayn - I Don't Wanna Live Forever
Zaylor for #XmasNo1? The A-list duo may have thrown in a late contender for the festive top spot without even realising it with their new collaboration. Released ahead of the new Fifty Shades Darker film, can each of the singer's enormous fanbases propel this to the top?
#IDONTWANNALIVEFOREVER @taylorswift13 @FiftyShades https://t.co/29qTancSJT@AppleMusic pic.twitter.com/yxXL739E9R

— zayn (@zaynmalik) December 9, 2016
Louis Tomlinson and Steve Aoki - Just Hold On
Another song making a surprising last minute bid for the Christmas Number 1. The One Direction singer's first solo offering might not be particularly festive, but it's certainly uplifting - especially after performing it on The X Factor final as a tribute to his late mother.
Vaults - One Day I'll Fly Away
Two ghosts of John Lewis' Christmas TV advert past have reached the summit on the Official Chart; can it go all the way this year and claims the Official Christmas Number 1? The act behind this year's song - a cover of Randy Crawford's One Day I'll Fly Away - is South London trio Vaults, but the real star of the trailer itself is Buster the Boxer. Aww.
INTERVIEW: Vaults talk taking on this year's John Lewis Christmas advert
James Corden - 
The Greatest Gift for Christmas is Me
We never thought we would see James Corden as part of a Christmas Number 1 race, but that may well be the case in 2016. James has pulled himself away from his Carpool Karaoke shenanigans to lend his pipes to Sainsbury's Christmas TV campaign with a track named The Greatest Gift for Christmas is Me. Is  James about to add a Christmas Number 1 to his long (long) list of accolades?
Sir Cliff Richard - It's Better To Dream (Christmas Mix)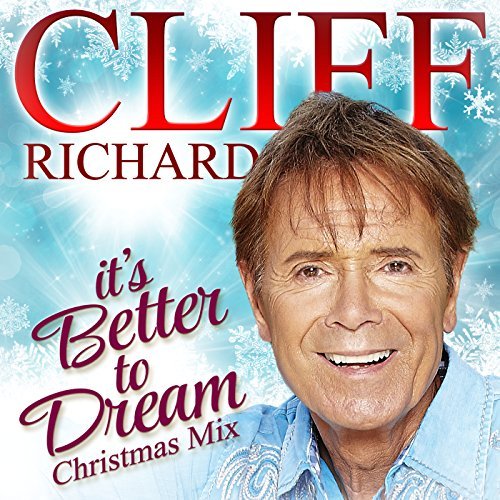 Cliff is dreaming big of this year's Christmas Number 1
Sir Cliff has a long history of releasing songs around Christmas time, and with a lot of success, landing two festive Number 1s with Mistletoe and Wine in 1988 and Saviour's Day in 1990. 26 years on, he's throwing his hat into the ring with It's Better To Dream (Christmas Mix), a re-worked version of a track on his latest album Just... Fabulous Rock 'n' Roll. 
Cliff may have a mighty task on his hands competing in the charts in 2016, but with the song also getting a special physical release in a Christmas card(!), don't rule him out just yet...
Anna Kendrick & Justin Timberlake - True Colors
Non-Christmas singles have done very well historically in the Christmas season, and this is one of the more intriguing ones that will warm your cockles. Lifted from the Trolls movie soundtrack, stars Anna Kendrick and Justin Timberlake have teamed up for a cover of Cyndi Lauper's True Colors. We'll be watching this one...
Inspiral Carpets - Saturn 5
Fans of Manchester band Inspiral Carpets have launched a campaign to get the band to the top this Christmas in honour of the band's late drummer Craig Gill, who died on November 22 at the age of 44. The group enjoyed success in the '90s with hits such including Draggin My Down and This Is How It Feels, but it's their 1994 song Saturn 5 that's the focus of the #XmasNo1 Facebook campaign, which has been set up by Gill's childhood friend, Rob McCoy. 
The King Lot feat. The Jollyboys - Wings
Scottish rock trio The King Lot are hoping to raise their profile and help charity The MS Society with their track Wings. Teaming up with local social group The Jollyboys, the song has has already gained traction across Scottish media and has an impressive music video to boot. Scotland loves it, will the rest of the UK follow suit?
Terry Wogan - The Floral Dance
Fans of the late Sir Terry Wogan have launched a campaign to claim the Christmas Number 1 for the Irish DJ following his death earlier this year. The song in question is his 1978 debut single The Floral Dance, which originally peaked at Number 21 on the Official Chart. The 'Floral Dance for Christmas Number 1' Facebook page has already picked up lots of support... could it Terry vs. Cliff for Number 1?!
Southend News Network & Annie Humphrey - Dartford Tolls
Annoyed at the charges you have to pay when travelling through Dartford Crossing, satirical news website Southend News Network have penned their frustrations into a song with Annie Humphrey of unsigned band Frog on a Rocket. Southend News Network have switched up the lyrics to Jingle Bells (yes, really) and has appeared on ITV News and BBC Radio Essex to promote the X-rated, ranty song. Could the video's 1.2 million views on Facebook convert into satire-loving sales?
Christmas Collective - Dance Tonight (It's Christmas
Norwich-based church choir network Proclaimers hadn't yet started writing their song when they announced it, but they hope it will be the first holiday-themed Christmas Number 1 since 2004. Members of the public joined in with their vocal prowess and even contributed lyrics to create a warm festive track with a strong community vibe, exactly what Christmas is all about.
Kylie Minogue - Everybody's Free (To Feel Good)
Kylie certainly knows her audience, hence this newly Yuletide-ified cover a popular 90s banger. Miss Minogue's version of Rozalla's Everybody's Free (To Feel Good) accompanied Boots' Christmas TV campaign this year, an ad celebrating all of the women who work on Christmas Day. The track features on the new Snow Queen edition of Kylie's Christmas album.
Robb Johnson and the Corbynistas - JC for PM for Me
Do you want Jeremy Corbyn to be Prime Minister and also LOVE Christmas? Well maybe you should join Robb Johnson and his Corbynistas! This bonkers track is in aid of charity Trussell Trust, who work to stop poverty and hunger in the UK, so regardless of your political stance or love of eggnog, there is a fantastic reason to show your support. Will Jez ever get into 10 Downing Street, and will JC is PM for Me sit pretty at Number 1? This is 2016 so we guess anything is possible!
More festive tracks out this year (click to play): 
Tom Zanetti - You Want Me - THe producer/DJ is currently climbing up the Official Singles Chart and has now launched a bid to get the track to Number 1 this Christmas, follow on Twitter #YouWantMeXmasNo1
Laura Mvula - Ready Or Not (this one features in the 2016 House of Fraser Christmas advert)

Faithettes - Me and My Baby (Spend Christmas With Me) (this one is swinging 60s-tastic)
The Killers - I'll Be Home For Christmas (this forms part of a compilation of all of The Killers' festive tracks over the years)
Major Lazer ft Protoje - Christmas Trees (a surprise yuletide release from Diplo and co!)
Military Wives Choirs - Home for Christmas (former Christmas Number 1 chart toppers are back, combining with another 70+ choirs)
The Pogues ft. Kirsty MacColl - Fairytale of New York (a track the re-enters the Official Singles Chart every Christmas, a Facebook campaign boosting the song's chances of success has over 20,000 followers)
Look back through every Official UK Christmas Number 1 single below: