It's beginning to look a lot like Christmas - meaning the race for the Official Christmas Number 1 is coming. The winner of the biggest chart of the year will be announced on Christmas Day itself, Friday December 25.
The Christmas Number 1 is a British institution and has been claimed by some of the world's most iconic music stars. Queen, The Beatles, Spice Girls, Cliff Richard and, ahem, Bob The Builder have all landed Christmas chart-toppers in the past.
Last year saw YouTuber and dad-blogger LadBaby claim the festive crown for a second year in a row with his second sausage roll-themed charity single, I Love Sausage Rolls - a spin on I Love Rock N' Roll - in aid of foodbank charity The Trussell Trust. He also topped the chart in 2018 with We Built This City, making him only the third act in chart history, after The Beatles and Spice Girls, to land consecutive chart Christmas Number 1s.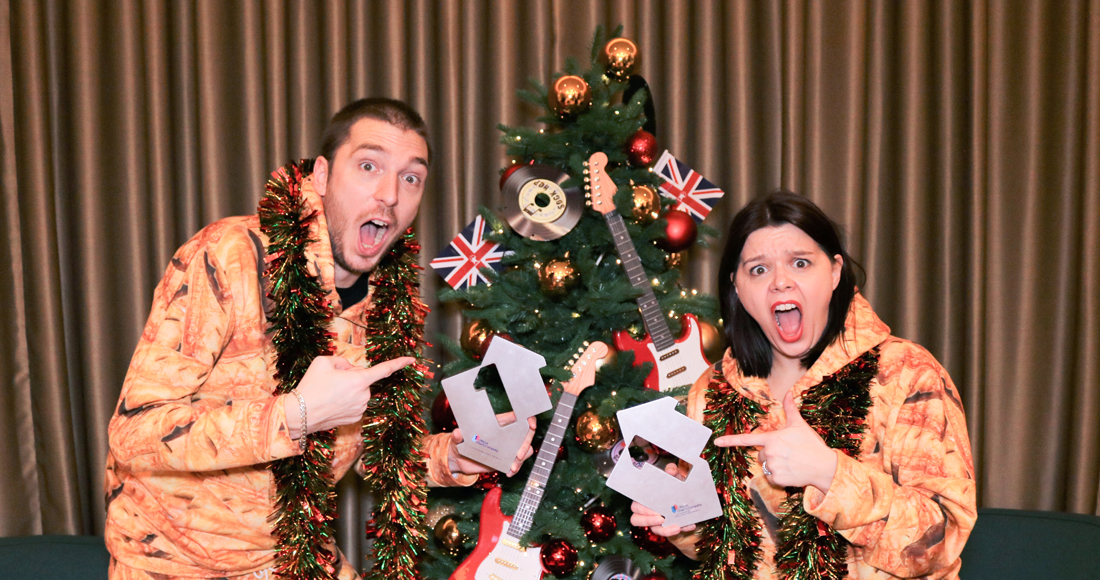 "It's the best feeling in the world - a Christmas miracle yet again!" LadBaby, real name Mark Hoyle, told us at the time. "It's going to the Trussell Trust – to the 14 million people living in poverty in the UK. Who doesn't love a sausage roll at Christmas?"
Could this year could see a festive classic bag the top spot? We recently reported that Christmas favourites have re-entered the Official Singles Chart earlier than ever before, and Mariah Carey's All I Want For Christmas Is You has reached Number 1 in the UK for the first time ever this month. 
However, they face competition from several big new releases for 2020. So who is in line as a challenger for this year's Official Christmas Number 1?
Martin Talbot, Chief Executive of the Official Charts Company, said: "After such an extraordinary year, Christmas is sure to feel more special than ever – and, of course, the Christmas Number 1 race will be one of the highlights again.
"This year's race will also feel extra special because the festive chart-topper will be announced on Christmas Day, so we are delighted to fire the starting pistol and unveil some of the key contenders.
"This year, the contenders will be aiming to wrest the Christmas Number 1 title from Ladbaby, who has taken the title for the past two years – and there are plenty of big name contenders. But, as history has always told us, only a fool would make a prediction this far out. The British public will decide."
The 2020 Official Christmas Number 1 contenders
LadBaby - Don't Stop Me Eatin'
Can LadBaby make it three festive chart-toppers in a row? The dad blogger and his family are back with another sausage roll-themed song, this time to the tune of Journey's 1982 hit Don't Stop Believin'. Once again, the release is raising money for foodbank charity The Trussell Trust, who have seen a huge rise in demand after a difficult 2020. Out now.
The K**ts - Boris Johnson Is A F**king C**t
An expletive-laden track aimed at Prime Minister Boris Johnson has been backed by Black Mirror creator Charlie Brooker and original Sex Pistols member Glen Matlock.
Justin Bieber ft. The Lewisham & Greenwich NHS Choir - Holy
Five years after Bieber helped the choir claim the 2015 Christmas Number 1, the superstar has joined forces with them on a new version of his hit single Holy. Recorded at Abbey Road studios, proceeds from the song will be split between NHS Charities Together (which represents over 230 NHS charities) and the Lewisham and Greenwich NHS Trust Charity in recognition of the extraordinary efforts of those on the medical frontline during the Coronavirus crisis. Out now.
Jess Glynne - This Christmas
Jess Glynne has recorded a cover of Donny Hathaway's This Christmas as part of Amazon's Originals series. It's already proving popular, set to enter this week's Official Singles Chart Top 100, and CD and vinyl singles will be available to purchase from December 18.
Similarly, Justin Bieber's new Amazon Original, a cover of Brenda Lee's Rockin' Around The Christmas Tree, is also shaping up to be a hit this Christmas. Last year saw Ellie Goulding's Amazon Originals track, a cover of Joni Mitchell's River, reach Number 1, so don't underestimate these.
Liam Gallagher - All You're Dreaming Of
A song that Bing Crosby would be proud of (according to Liam), All You're Dreaming Of is a track that the Oasis legend says "is perfect for this time of year, considering the year that we've all had". Billed as 'Imagine meets Wonderful Life' Liam is confident of his chances for a good chart performance; responding to a fan on Twitter who asked if it is going to Christmas Number 1, the rock legend said: "it's gonna be rite up there you gotta be in it to win it."
All You're Dreaming Of is available to stream and download now, with 12" and limited edition white 7" vinyl versions released on December 18. Proceeds of the song are going to UK charity Action For Children, who work to protect and support vulnerable children and young people across the country.
Rig Aid - It's Christmas Time, It's Time To Lash
Archie Curzons is a social media influencer, the self-proclaimed CEO of London's Clapham, and is the host of The Rig Biz podcast - a comedy show with celebrity guests packed with lashings of #banter and #ladchat. He's roped in an impressive line-up of his so-called celebrity pals/podcast guests including Danny Care, James Haskell, Jeremy Irvine, Alex Paine and Darren Gough for a Christmas single - a light-hearted song to wave off a disastrous 2020 to raise money for Restart Rugby. Out now.
A Candle for Carson
The Christmas Number 1 race is often about singles giving back to the community, and an example of that kindness this year comes from Blackburn music producers Chris Dewhurst and Andy Rose and vocalist Miranda Myles.
The three have teamed up to record and release A Candle for Carson, a tribute to three-year-old Carson Adams who sadly died in November after battling congenital heart disease, which he was born with. Carson's family are hoping to set up a charity in his name with the proceeds. Out now.
Shine A Light To Fight – Together In Electric Dreams 
Recorded by a collective of choral and orchestral musicians performing from their Somerset bedrooms during lockdown, this heart-warming rendition of of Phil Oakey and Giorgio Moroder's Together In Electric Dreams is released on December 18, in remembrance of those we have lost in the UK during the Covid-19 pandemic. The song is led by Jeremy Millington of music duo The Portraits, and social media group Shine A Light To Fight, which was set up in March as an online meeting place for those affected by Covid-19. More info here.
Ed Sheeran - Afterglow
A late challenge from an Official Chart record-breaker and former Christmas Number 1 holder - Ed Sheeran is back with his first new music since 2019's No.6 Collaborations Project. Announced less than 24 hours before its release - three days into the Christmas Number 1 race - one-off single Afterglow is an earnest acoustic track offered to fans as "a Christmas present" at the end of an exhausting year. Can Ed claim his second Christmas Number 1 with this last-minute entry?
ICU Liberty Singers - Every Breath You Take
The ICU Liberty Singers are made up of NHS Critical Care staff from all over the country, who have come together virtually to create this rendition of The Police's Every Breath You Take. Out now.
Cameron Barnes & Blythe Duff ft. The Red Hot Chilli Pipers - Fairytale of New York
Scottish actor Blythe Duff and singer Cameron Barnes have teamed up for a re-imagining of The Pogues' Fairytale Of New York to raise funds for freelance creatives and their families. Their version tells the story of single mum called Christina Chalmers – or Chrissy - who encourages her son Guy to leave Glasgow and follow in her footsteps to find fame and fortune in New York City - but it didn't work out. Out now. 
The Dancing Binmen - Boogie Round The Bins At Christmas
Three binmen from Wolverhampton - Jack Johnson, Henry Wright and Adrian Breakwell – shot to fame in the city earlier this year for dancing on their routes during the first lockdown. Now they've got their eye on the Christmas Number 1 with Boogie Round The Bins At Christmas. Money raised from the song will go to charity. Out now.
Rock Choir - Keeping The Dream Alive
The Rock Choir have joined thousands across England, Wales and Scotland to form one virtual choir to record a rendition of Keeping the Dream Alive. Led by Vikki Hewitt and creator/founder Caroline Redman Lusher, the track is to raise awareness for the Mental Health Foundation. Out now.
Russ Abbott - Atmosphere
THE ABBOT MOMENTUM BUILDS AND BUILDS, THE LATE ENTRY, THE 90TH MINUTE GOAL, THE HOLE IN ONE!!!

- This video is why it should be Christmas Number 1...

Thanks to all our followers who believe!#russabbot #atmosphere #atmosphere4no1 #christmasn01 #liamgallagher #ladbaby pic.twitter.com/BVnoEb9JaK

— Russ Abbot's Atmosphere For Christmas No1 2020 (@russ_xmasno1) December 3, 2020
Two Nottingham University student radio presenters - George Scotland and Damian Stephen - have launched a campaign to get Chester comedian Russ Abbot to Number 1 this Christmas with his 1984 single Atmosphere because, well, why not? The campaign has been endorsed by Abbot himself and Paul Chuckle. Proceeds will be donated to Mind.
More Official Christmas Chart contenders
Gemma Collins & Darren Day - Baby It's Cold Outside - can the GC land this year's Christmas Number 1 with a cover of a festive classic?
Sam Fender - Winter Song - The musician has released a stunning cover of the '70s folk track by Newcastle legends Alan Hull/Lindisfarne. Money raised from the song goes to social enterprise People Of The Streets. Out now.
Matt Lucas – Merry Christmas, Baked Potato - a seasonal continuation on from Thank You, Baked Potato, Matt's first UK Top 40 single that he released in during the first lockdown which benefitted the NHS. Out now.
Robbie Williams - Can't Stop Christmas - a feel-good tale about how we need to enjoy ourselves over our five-day Christmas bubble this year, complete with references to social distancing and Zooms.
The Celebs - Merry Christmas Everyone - a cover of Shakin' Stevens' classic featuring Sam Bailey and Good Morning Britain's Richard Arnold and Laura Tobin, released in support of the Alzheimer's Society. Out now.
Collabro - Christmas Is Here - The successful musical theatre group and winners of 2014's Britain's Got Talent will be donating 100% of profits from the download of their original Christmas single to military charity Help for Heroes.
The Kut - Waiting For Christmas grunge ballad released on December 18, raising money for the Red Cross Coronavirus Crisis Fund.
Tone Def Tony - I Got Pissed With Santa Claus - Novelty track which is giving 50% of its royalties to help those in the pub trade who a struggling this year due to Covid-19. More info here.
Raise The Woof! - The first ever Christmas single for dogs.
Christmas in Denmark Street - British punk band Spizzenergi teams up with producer Tony Visconti to release this 'punchy, festive protest anthem'.
Tune in to The Official Chart with Katie Thistleton on BBC Radio 1 on December 25 from 2-4pm to hear the Christmas Top 40 countdown and the exclusive reveal of the winner of the Official Christmas Number 1 2020. You can also catch Top Of The Pops on Christmas Day, more details of the broadcast to come. The full Top 100 Official Christmas Singles Chart and Albums Chart will be published on OfficialCharts.com from 5.45pm.