10 years ago this month, Official Charts presented its first Number 1 Award, helping artists celebrate achieving the pinnacle of UK chart success in style.
Launched in 2011 with the Official Number 1 Single Award, the first recipient was that year's Christmas Number 1, The Military Wives & Gareth Malone with Wherever You Are, presented by BBC Radio 1's Official Chart show host at the time Reggie Yates.

The Military Wives receive the very first Official Number 1 Single Award from Reggie Yates in 2011
Since then, the award has become a widely recognized emblem of success, proudly held aloft by global pop superstars, exciting breakthrough acts, rock legends, and the occasional one-hit wonder.
Its journey hasn't ended there, though: the past decade has seen several iterations of the award launched to highlight success beyond the singles chart. In 2015 a gold version of the award was launched to celebrate Number 1s on the Official Albums Chart, while this year saw the arrival of the Specialist Award, designed to spotlight the diverse range of talent hitting Number 1 on our genre and specialist charts.
The latest addition to the Number 1 Award family is the Fan Award. Unveiled in October, it is the first opportunity for the public to get their hands on a piece of UK chart history. The limited edition award was launched with The Wanted, where fans can buy replica trophies of the group's two Number 1 singles Glad You Came and All Time Low from our new online store at shop.officialcharts.com.
As the Official Charts Company gears up to celebrate 70 Years of the Official Singles Chart in 2022, we look back on one of our proudest achievements of the past decade and the chart's lifetime – the now-iconic Official Number 1 Award. Here's some highlights.
Rita Ora breaks through and delivers the UK's first ever drum & bass Number 1

In February 2012 Rita Ora teams up with DJ Fresh on her breakthrough single, and believe it or not, in doing so delivers the UK's first ever drum & bass Number 1 single with Hot Right Now. Hot Right Now was one of three consecutive Number 1 hits for Rita in 2012, the other two being R.I.P and How We Do (Party).
Viral star Psy dances to Number 1 with Gangnam Style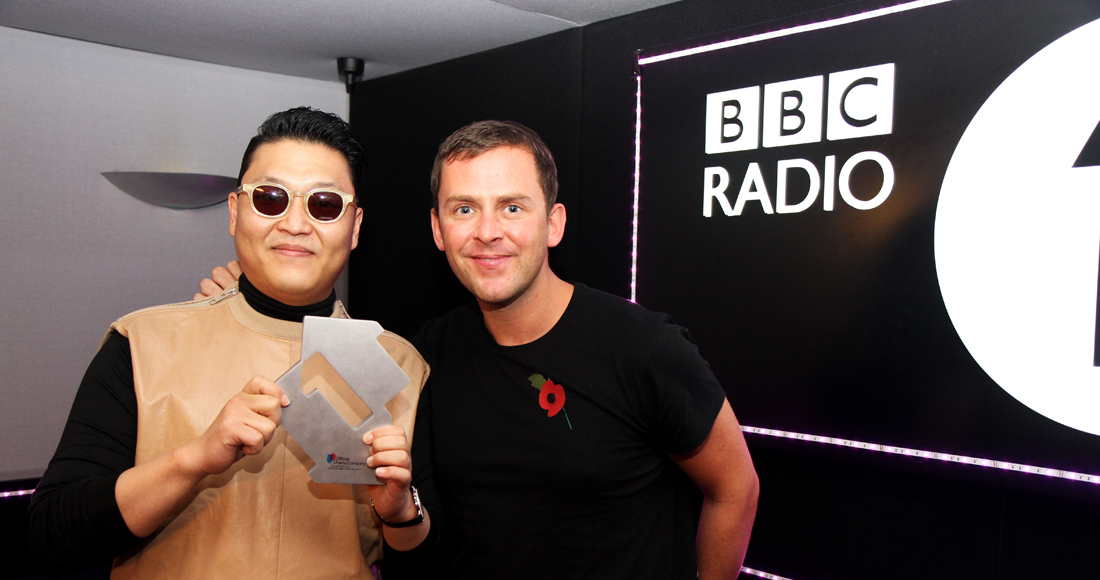 Long before the birth of TikTok dance challenges, in March 2012 South Korean viral phenomenon Psy drops into the Radio 1 studio to collect his Number 1 Award as the UK (and the rest of the world) go crazy for Gangnam Style and its iconic choreography.
Ant & Dec Rhumble to Number 1

Image credit: Mary Ruddy
Back in March 2013, Ant & Dec – sorry, PJ & Duncan - charged to the summit with Let's Get Ready To Rhumble, 19 years after its original release, thanks to a surprise performance on their ITV show Saturday Night Takeaway, joined by 2000s pop acts Blue, Atomic Kitten and 5ive.
Daft Punk finally Get Lucky with their first UK Number 1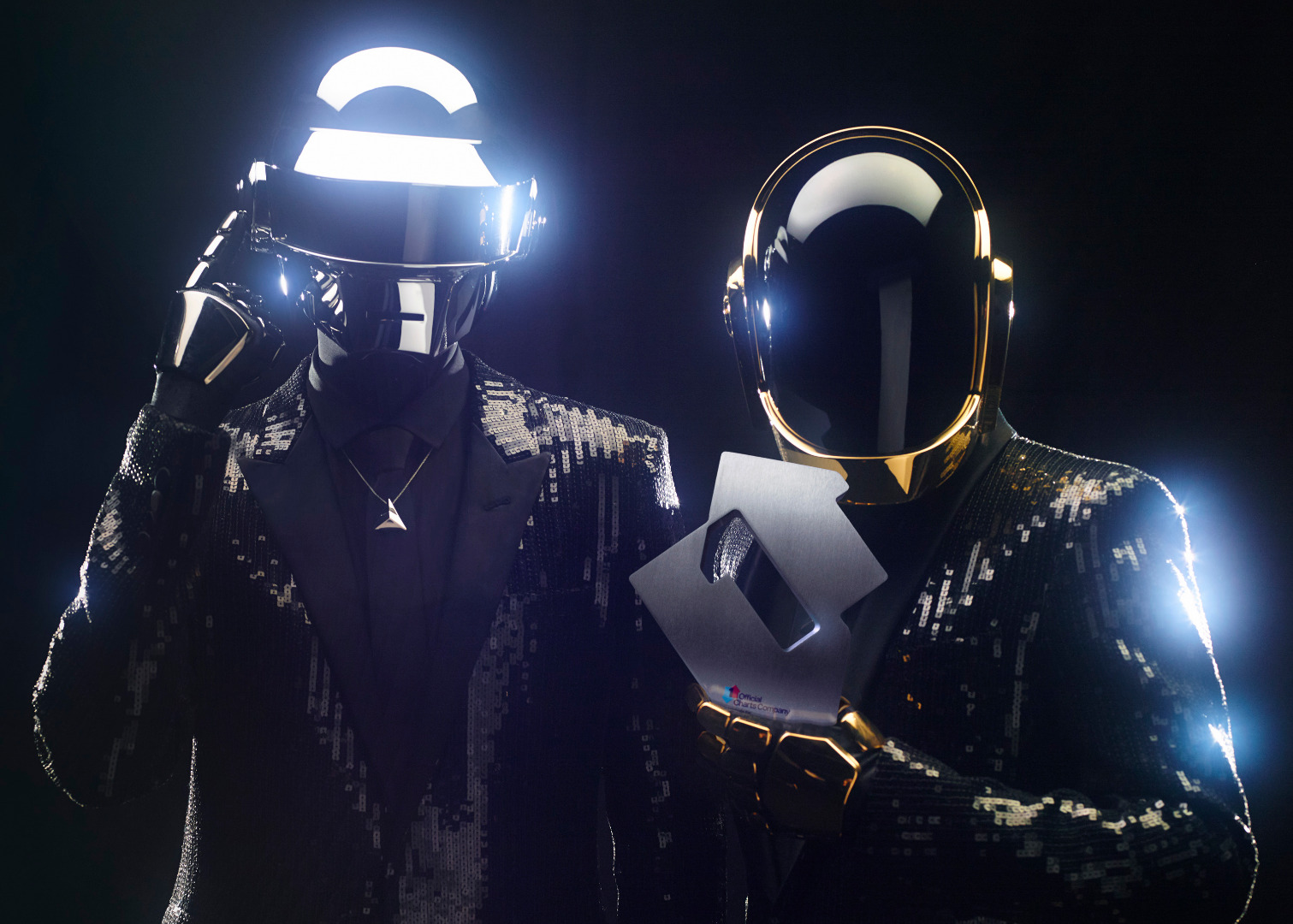 In April 2013, French robots and electo-pop wizards Daft Punk celebrated their first ever Number 1 in the UK with Get Lucky ft. Pharrell Williams and Nile Rodgers. Chart fact - Get Lucky was the first track ever to notch up one million UK streams in a week. 
Robbie Williams scores historic 1000th Number 1 album and his last Number 1 single Candy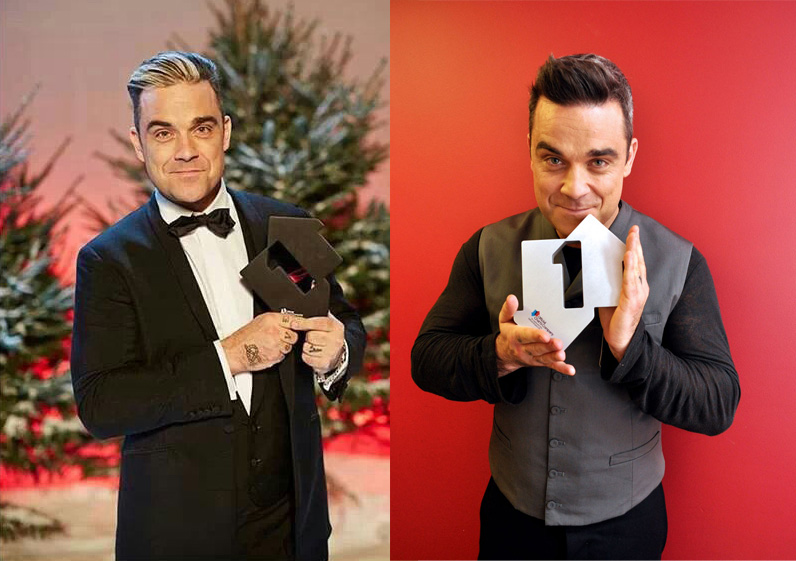 Robbie Williams is no stranger to a chart-topper, but he truly proved himself to be king of the swingers when his album Swings Both Ways became the UK's 1000th Number 1 in November 2013 – 57 years after Frank Sinatra's Songs From Swingin' Lovers became the UK's first ever albums chart leader.
While Robbie's chart success over the past decade has focused more in the albums realm, he did scoop a Number 1 single award for Candy in 2012 shortly after the Number 1 award launched; Candy was the last time Robbie topped the Official Singles Chart, he's racked up a staggering 14 Number 1 singles across his career.
Pharrell drops a hat-trick of million sellers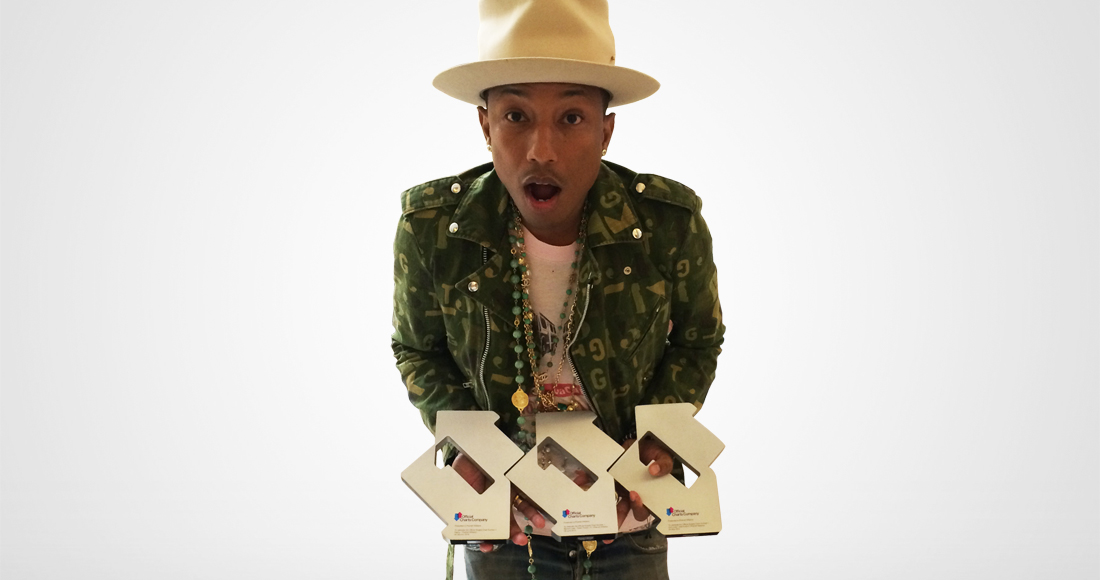 In 2014 Pharrell collects a trio of Number 1 Awards from the Official Charts Company after he becomes the first (and only) artist since The Beatles to manage three million-selling singles in the space of a year. He brought his Midas touch to Get Lucky, Blurred Lines and Happy in less than 12 months, all three crossed the hallowed 1 million sales mark.
Little Mix score massive Number 1 with Black Magic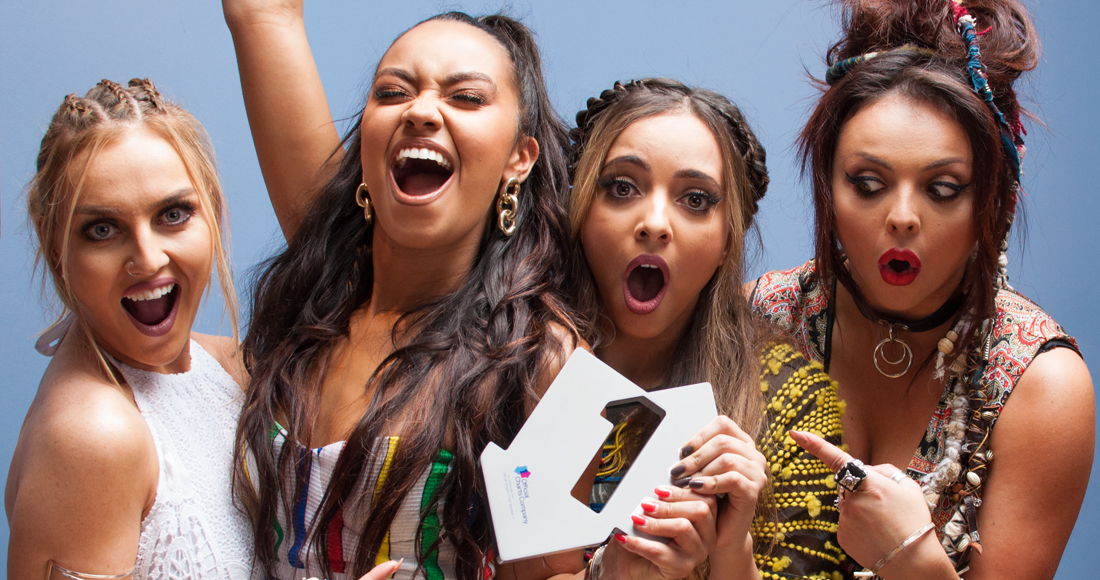 Little Mix secured their third chart-topper Black Magic in July 2015. The track scored three weeks at the summit, becoming the longest-running Number 1 single by a girl group in eight years, since Sugababes' About You Now in 2007.
July 2015: Ed Sheeran launches Official Number 1 Album award at Wembley Stadium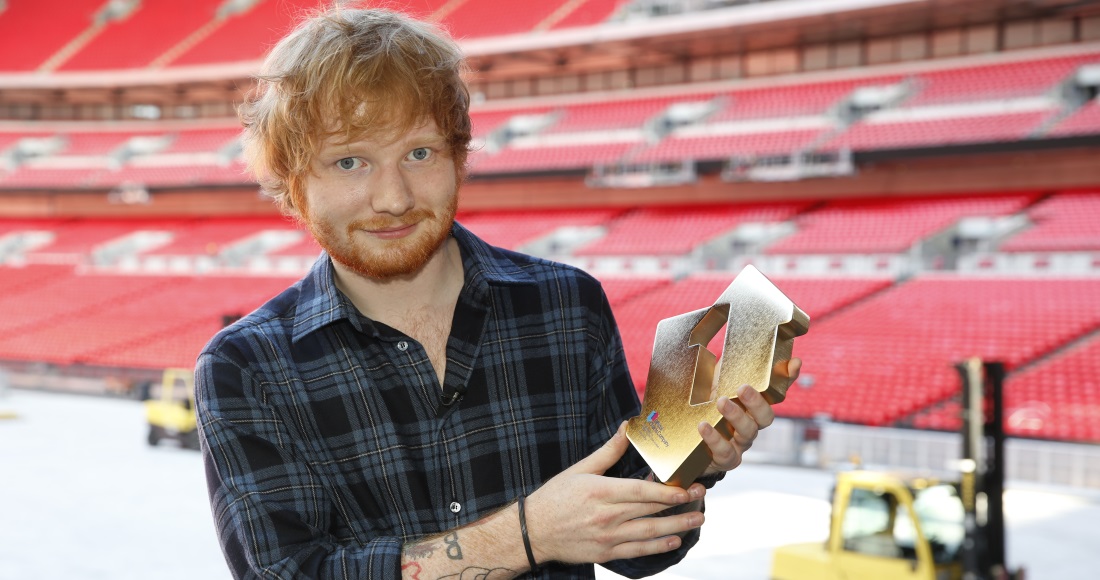 Image: Tony Attile
Ed became the first recipient of the Official Number 1 Album Award in July 2015, when his second album x returned to the top as he prepared to become the first solo artist to headline Wembley Stadium. Speaking at the time, he said: "I go to a lot of award shows and end up not really picking up anything, so every time I get one, I treasure it".
Chart first! Justin Bieber lands Number 1, 2 and 3 in the Official Singles Chart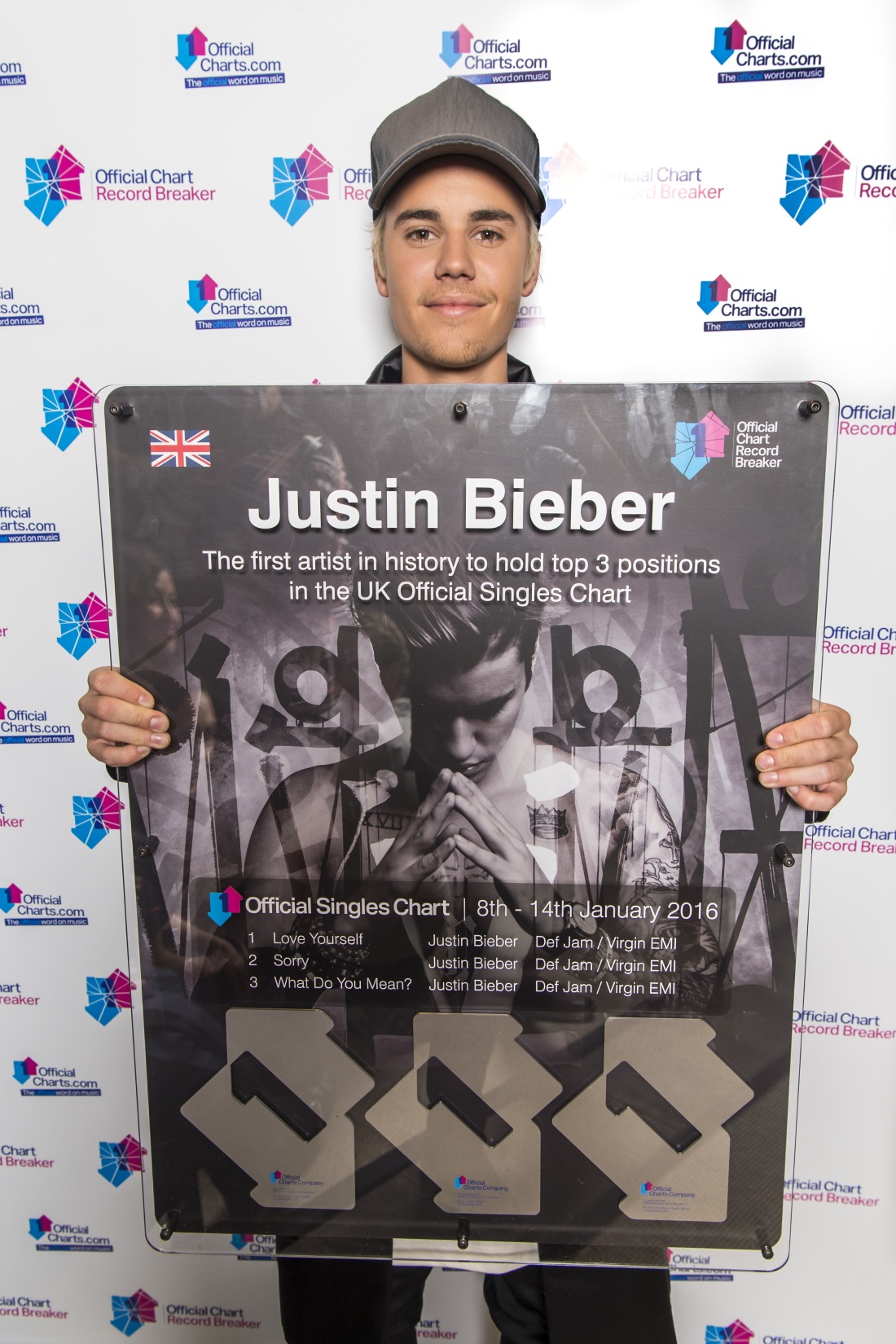 credit: Carsten Windhorst

In January 2016 Justin Bieber becomes the first artist to land all three top spots in the Official Singles Chart as Love Yourself, Sorry, and What Do You Mean? land at Numbers 1, 2 and 3 simultaneously. We presented him with the first ever Official Chart Record Breaker Award, reserved only for the most prestigious chart achievements with only a handful in existence.
Indie band Viola Beach's debut album goes to Number 1 following fatal crash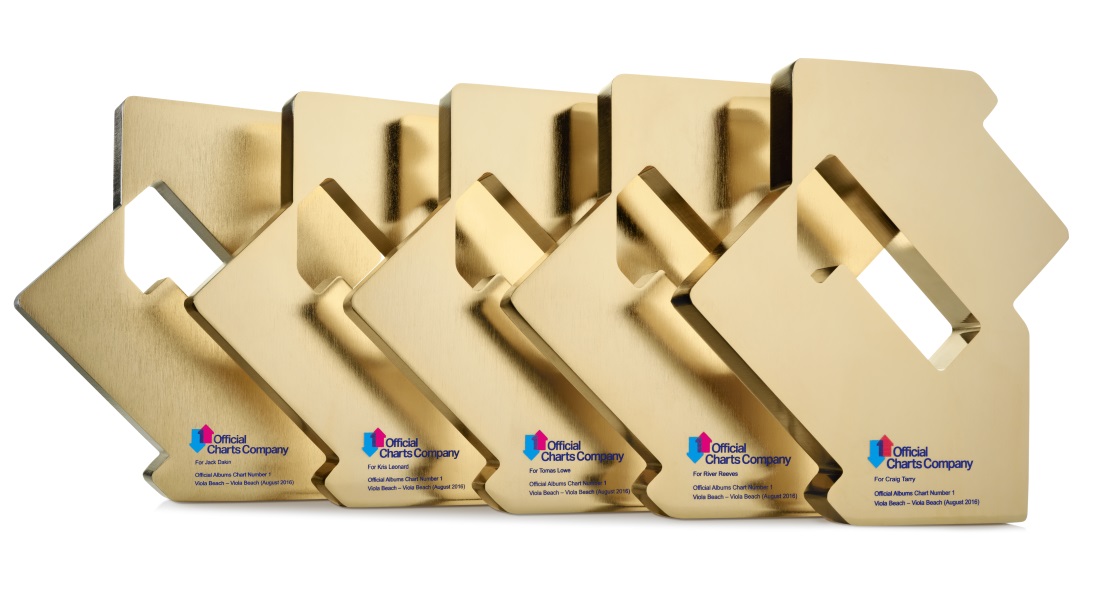 From left to right: Jack Dakin, Kris Leonard, Tomas Lowe, River Reeves, Craig Tarry.

In February 2016, four members of rising Warrington indie band Viola Beach and their manager were tragically killed when their car fell from a highway bridge into a canal in Stockholm. Their posthumous debut album, released in their memory later that summer, went straight in at Number 1. Five specially-commissioned bespoke-printed awards, recognising the Number 1 achievement of each band member and manager Craig, were given to their families.
Blossoms land Number 1 debut album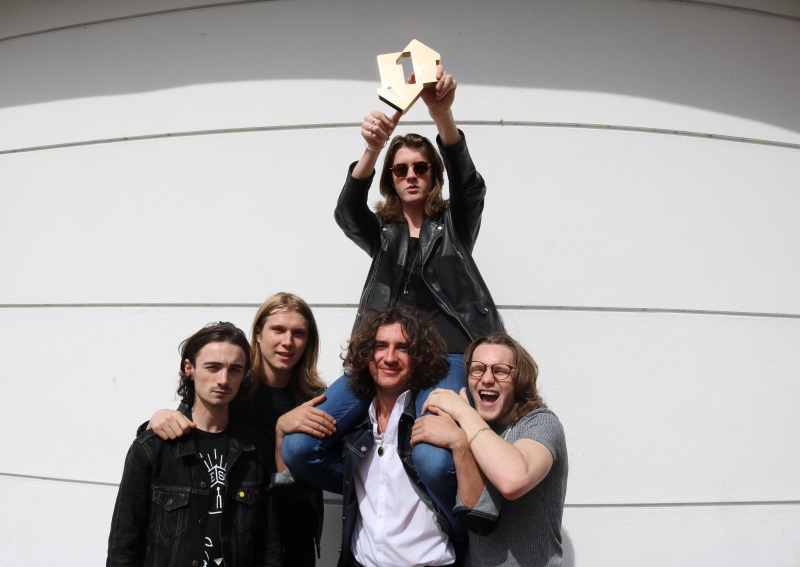 August 2016 saw fellow northern indie outfit Blossoms land a debut Number 1 album too. Speaking to OfficialCharts.com, the Stockport band said: "We're absolutely made up that the album has gone to Number 1. From the scaffolding yard to the top of the charts, who'd have thought it? Viva Stockport!"
2019 – Lewis Capaldi dominated social media feeds and the charts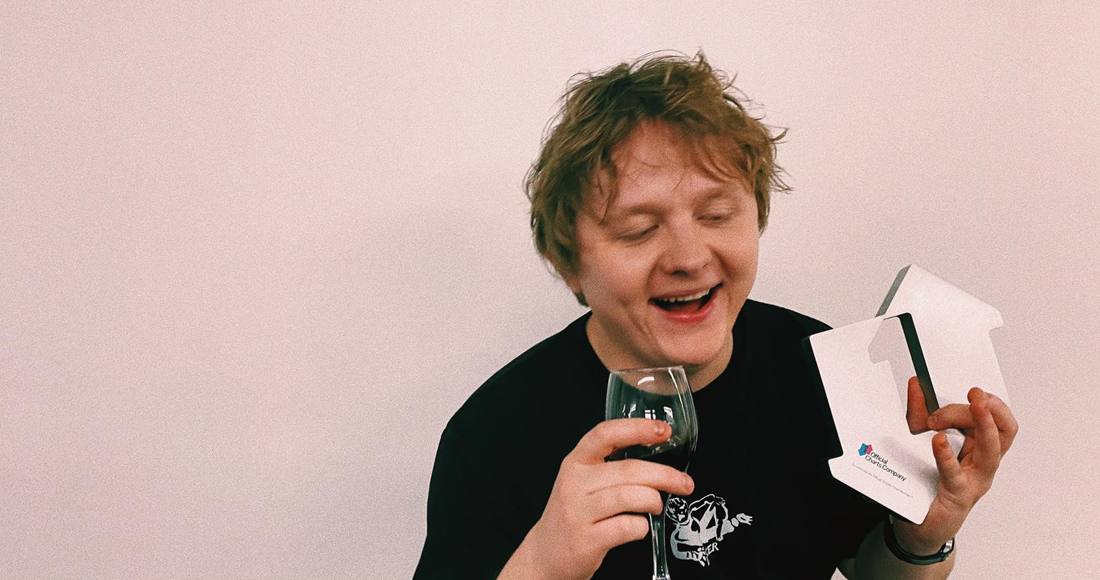 Hit songwriter and social media king Lewis Capaldi collected a batch of Number 1 Awards from the Official Charts Company, before ending the year with the UK's Official biggest album and single of 2019.

Someone You Loved has gone on to set a new record for song with the most weeks ever in the UK Top 10, while debut album Divinely Uninspired To A Hellish Extent logged more than a year consecutively on the Official Albums Chart Top 10, one of only 20 albums in chart history to do so.
Easy does it…Stormzy takes the Official Chart double in his stride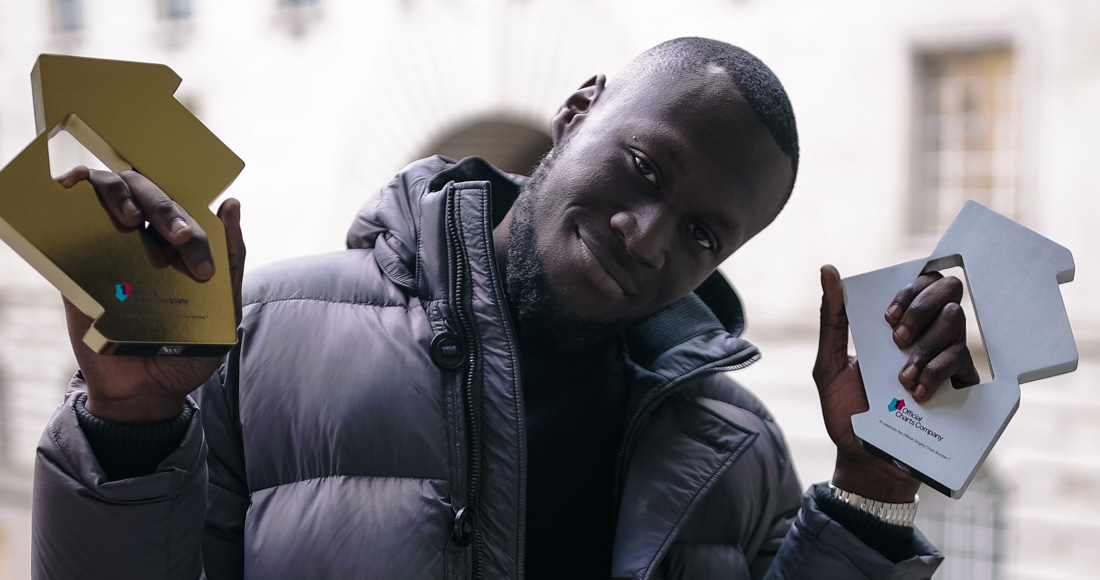 Image credit: Kaylum Dennis
In January 2020 Stormzy becomes the first UK rap solo artist to score the Official Chart double as Heavy Is The Head and Own It rule the top of the Official Albums and Singles Chart in the same week.
Captain Tom Moore becomes the oldest person ever to score a Number 1 single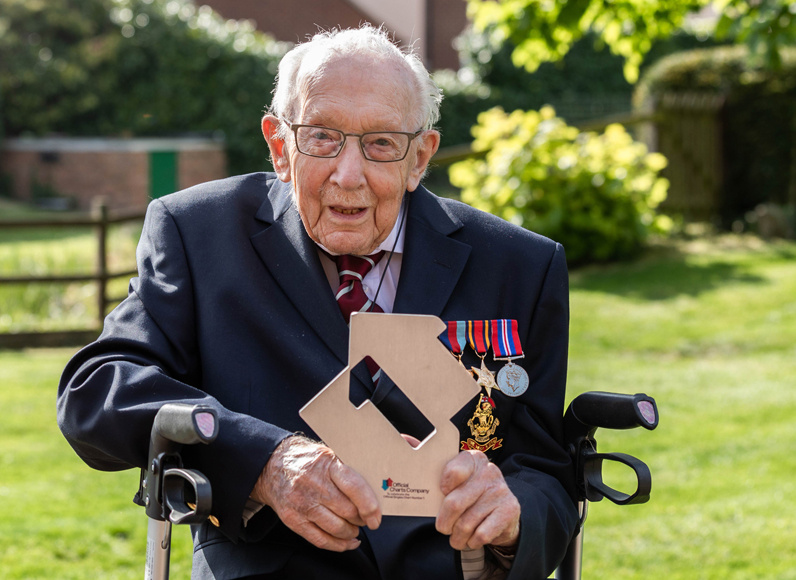 Credit: Emma Sohl | Capture The Light Photography
War veteran Captain Tom Moore joined forces with Michael Ball to record a duet of You'll Never Walk Alone to raise money for NHS Charities during the pandemic. The song went to Number 1 in April 2020 and set a new chart record – at 99 years 11 months, he was the oldest living artist ever to score a Number 1 on the Official Singles Chart. Captain Tom turned 100 during his week at the top of the chart.
Liam Gallagher: "Not bad for an unsophisticated parka monkey..."

Liam Gallagher got a taste of chart-topping solo success for a third time in June 2020 following his previous solo Number 1 albums (2017's As You Were and 2019's Why Me? Why Not.) View Liam Gallagher's Official Chart history in full here.
 
Celebrating the news, Liam said: "Nobody told me there'd be days like these, strange days indeed. Most peculiar mama. 3 number 1 albums in 3 years… not bad for an unsophisticated parka monkey. Thanks to everyone who made it happen LG x". 
Haim get their gongs out on Instagram

In summer 2020 Haim got their gongs out on social media to celebrate Women In Music Part III landing at the top of the Official Albums Chart – their second UK Number 1.
Kylie Minogue makes Official UK Chart history with Disco
November 2020 saw Kylie Minogue dance her way to an eighth Number 1 on the Official UK Albums Chart with Disco. The entry meant Kylie is the first female artist to score a Number 1 on the UK's Official Albums Chart in five consecutive decades - in the '80s, '90s, '00s, '10s and '20s.
Yungblud melts down his Number 1 Album Award!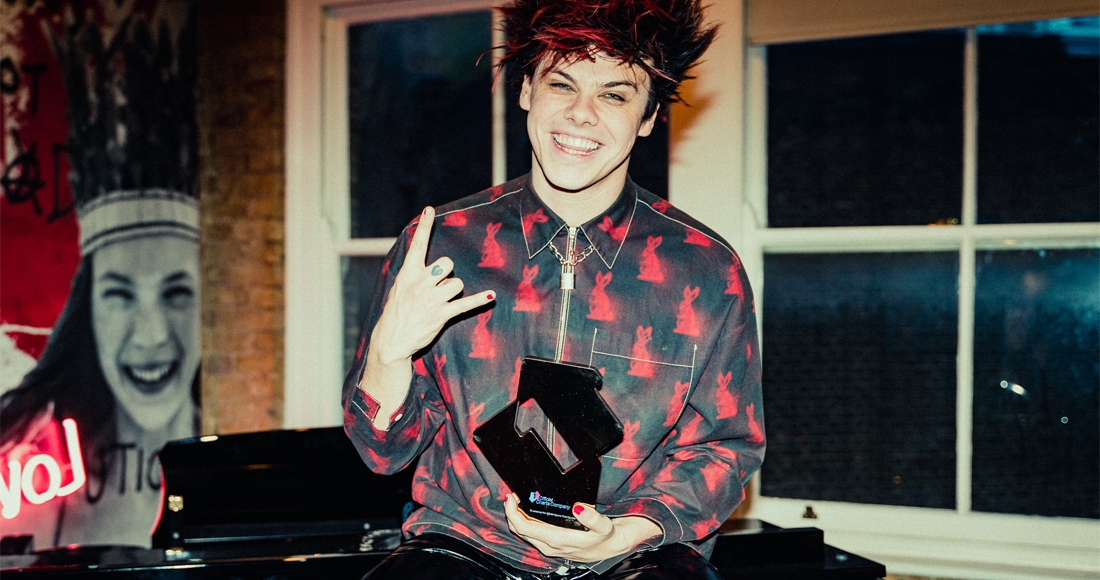 In December 2020 Doncaster's Yungblud scores his first Number 1 album with Weird and promises to turn his award into safety pins for his loyal fans who have got him here.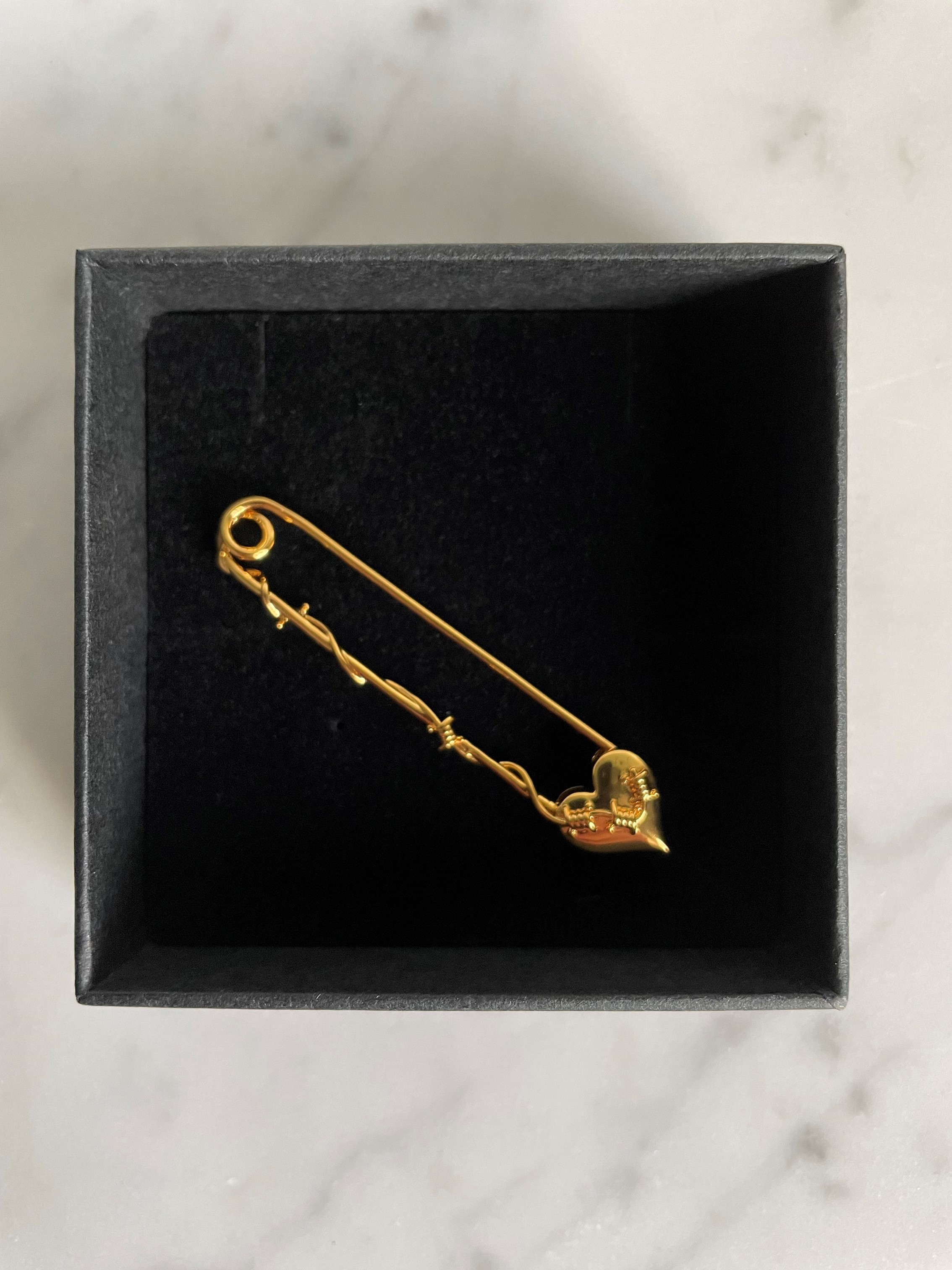 Taylor Swift bags sixth Number 1 album in record time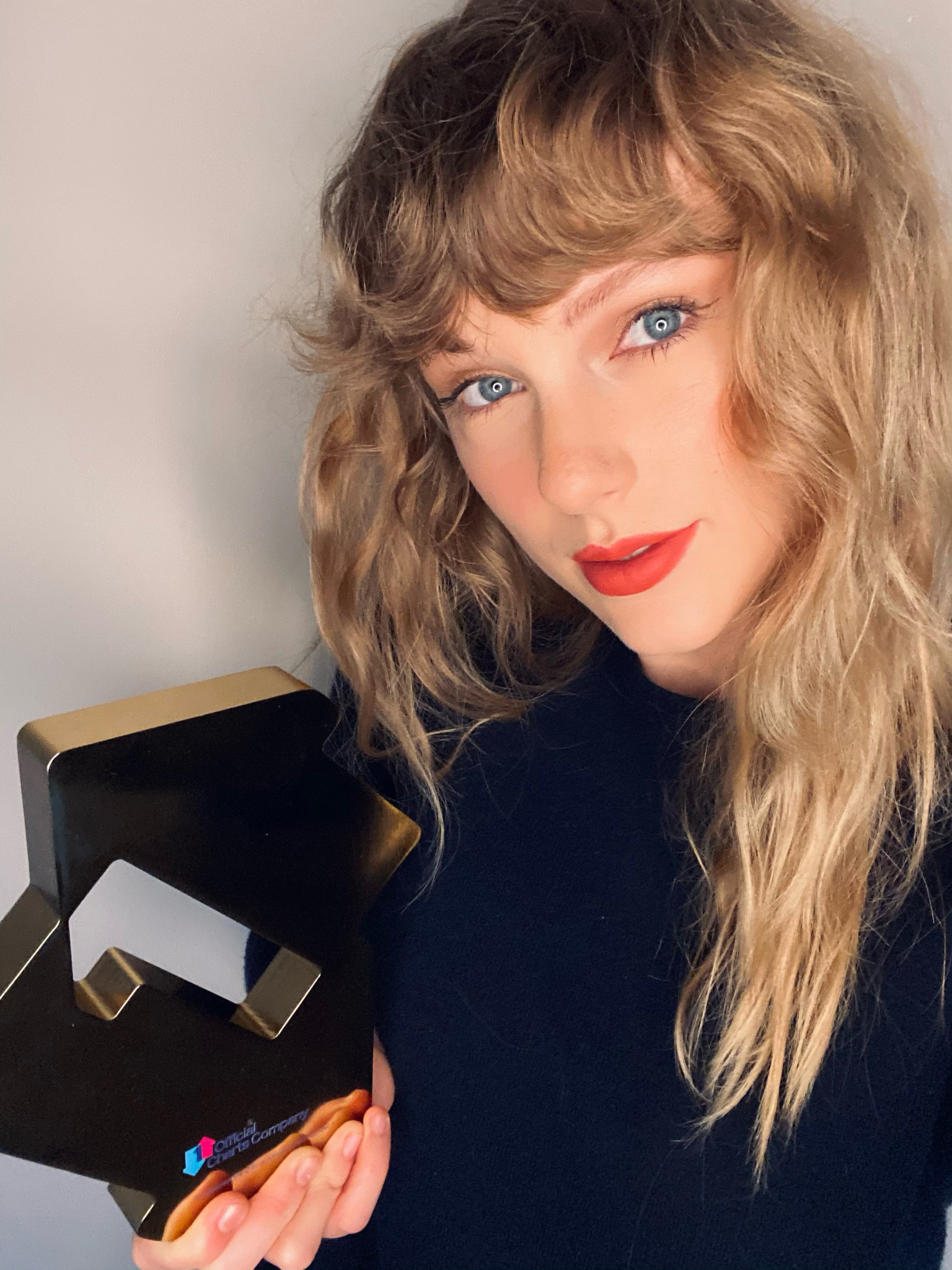 The same month, Taylor Swift bagged her sixth UK Number 1 album in record time, surpassing Madonna for fastest accumulation of six Official Albums Chart toppers, achieving the feat in eight years. Madonna previously managed it over the course of 11 years.
January 2021 – Barry Gibb earns first ever solo Number 1 album

View this post on Instagram
Bee Gees legend Barry Gibb earns his first ever solo Number 1 album in January this year with Greenfields: The Gibb Brothers' Songbook (Vol. 1). He tells OfficialCharts.com: "There is no such thing as too much heaven. I couldn't be more thrilled. The past is unpredictable. Today is unbelievable. The greatest moment of my life!
Tion Wayne & Russ Millions score first UK Drill Number 1 single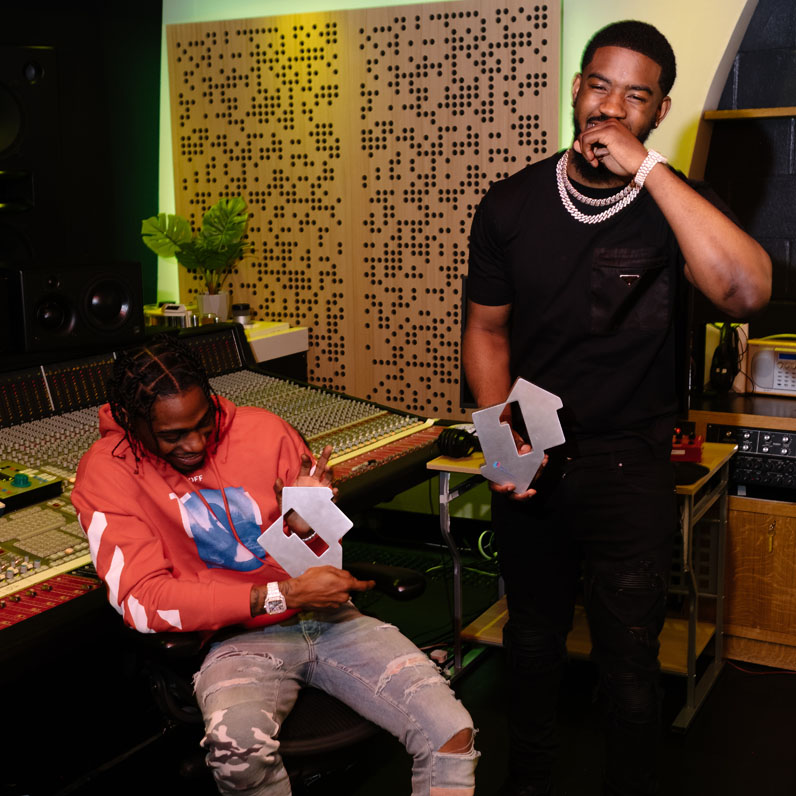 This year saw Drill music complete its journey from gritty underground sound to a chart-conquering phenomenon, led by Tion Wayne & Russ Millions' Body, which soared to Number 1 in May this year thanks in part to a remix featuring a host of UK rap talent: Bugzy Malone, Fivio Foreign, Darkoo, Buni, ArrDee, and E1 & ZT.
Olivia Rodrigo becomes youngest solo artist to do the chart double
US singer-songwriter Olivia Rodrigo secured her spot as the breakthrough star of 2021 when she scored the Official Chart Double, picking up a Number 1 Single and Album award for Good 4 U and Sour. Claiming the feat at 18 years and 3 months old, Olivia is the youngest solo artist in UK chart history to achieve the double.
KSI shows off his Number 1 album award on stage at secret show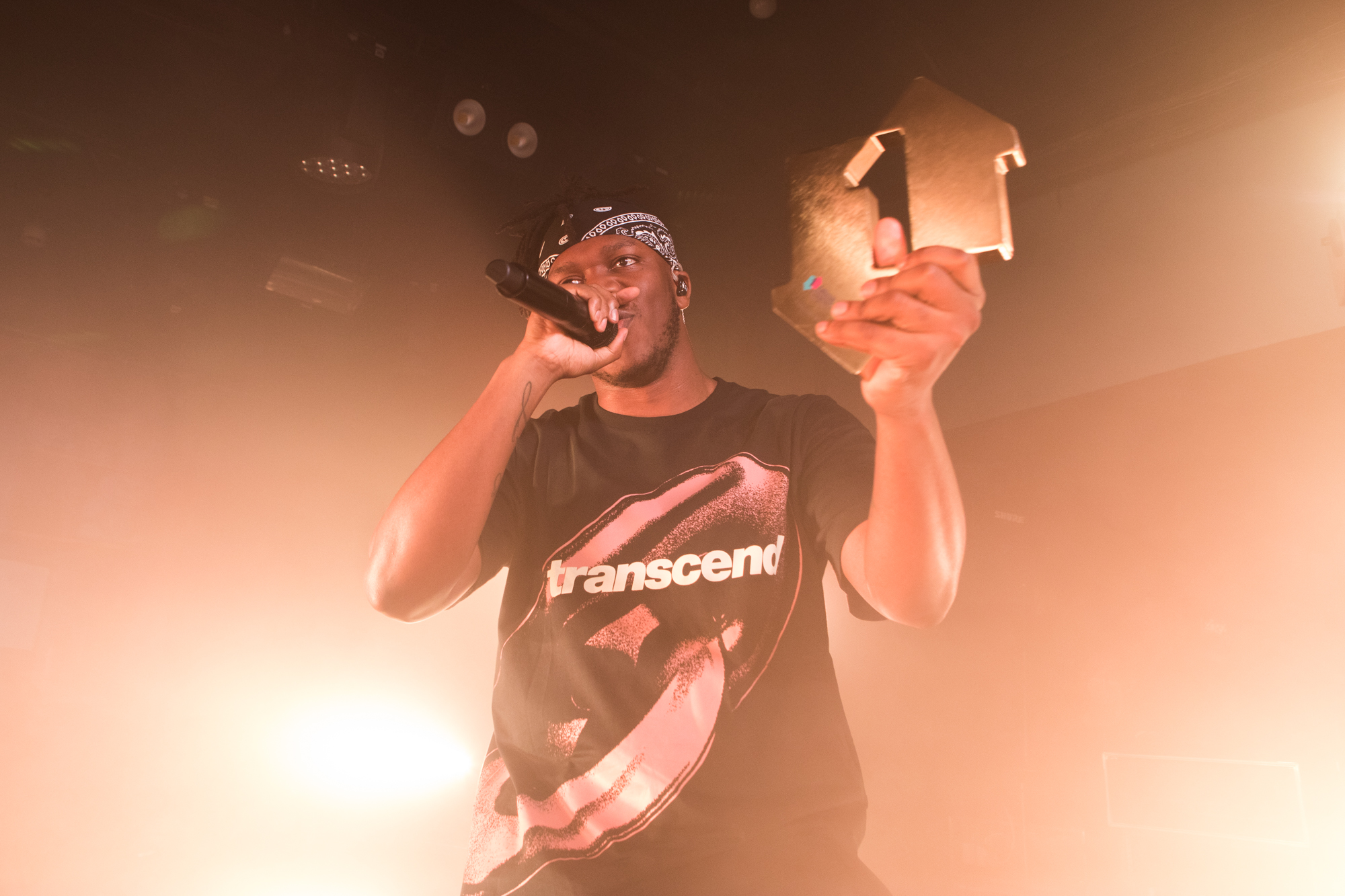 Image: Corinne Cumming-Music Venue Trust
KSI lands first Number 1 album with All Over The Place in July 2021, pictured on stage at a secret show for Music Venues Trust's Emergency Response Fund.
Bad Habits helps Ed Sheeran break British solo artist chart record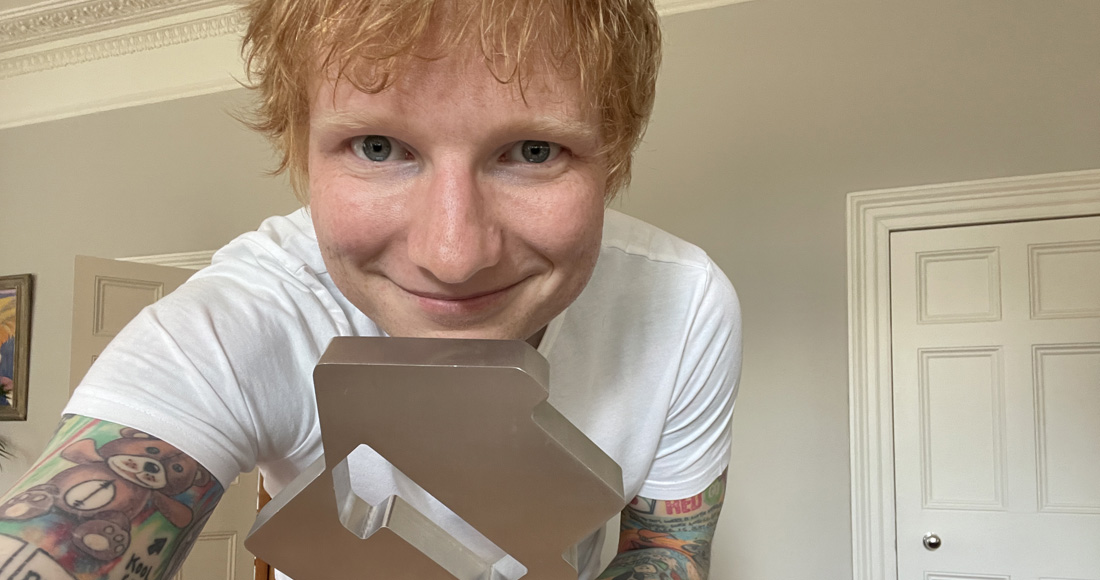 Bad Habits became the longest-running chart topper of 2021, and in September 2021 during its stint at the chart summit Ed crossed the milestone of 52 career weeks at Number 1 on the Official Singles Chart – the most ever for a British solo artist. See where all of Ed Sheeran's hit songs and albums have charted.
LadBaby rewrite Christmas Number 1 history with fourth consecutive win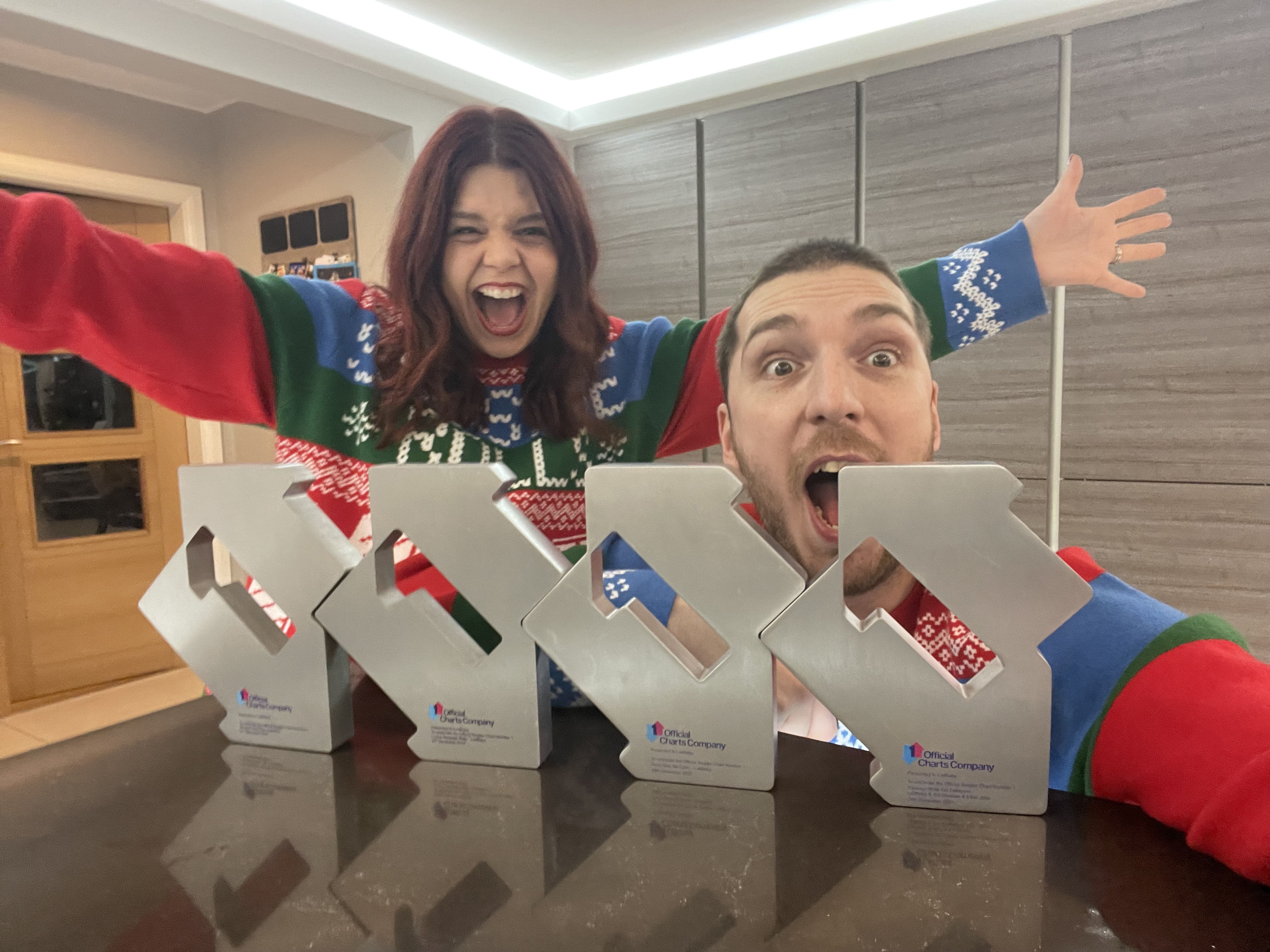 And finally bringing us bang up to date, YouTuber LadBaby aka Mark Hoyle along with wife Roxane make festive chart history on Christmas Eve 2021 as the pair manage a fourth consecutive Christmas Number 1 victory with Sausage Rolls For Everyone. This time with music composed by Ed Sheeran and Elton John, and funds going to The Trussell Trust food banks charity once again.

Along with their all-time Christmas Number 1 feat, LadBaby holds the unique claim to fame of being the only act in history to own four Number 1 Single Awards without anything else in their discography.