As the Official Charts Company celebrates the 70th anniversary of the UK's only Official Singles Chart, we've opened the vaults and crunched the numbers to reveal the Top 10 biggest singles of each successive decade following the birth of the Official Singles Chart in 1952.
We're going to be taking a look at the defining hits of the 1960s, 70s, 80s, 90s, 00s and 10s. After revealing the biggest-sellers from the 70s yesterday, today we're zoning in on the 1980s.
A decade very en-vogue with the current musical climate, the 1980s saw the explosion of synth-pop and an entirely new way of making music. But we dare anyone to listen to the melodramatic aura of The Power of Love or the daring, sexy push-and-pull of Don't You Want Me? and not come to conclusion that a synth can communicate the rushes of emotion as clearly as any traditional instrument.
Disclaimer: This is a list of the best-selling singles released from 1980-1989, compiled from Official Charts Company data representing pure, physical sales from 1980 - 2022.
10. The Power of Love
Artist: Jennifer Rush
Released: 1985
Official Singles Chart peak: Number 1
Total UK sales: 1.47 million
The best-selling single of 1985 in the UK, Jennifer Rush's tender declaration of "I am your lady...and you are my man..." may not wash in the modern-day, but you can't argue with her impassioned vocal performance nonetheless.
Despite being a Number 1 success in the UK, the song was carried to the top of the US charts by Celine Dion in a 1993 cover that also reached the UK Top 5.
9. Karma Chameleon
Artist: Culture Club
Released: 1983
Official Singles Chart peak: Number 1
Total UK sales: 1.55 million
Culture Club frontman Boy George classes the meaning behind his chart-topping pop smash as "the fear of alienation. [Being a karma chameleon] is about the fear of standing up [...] trying to suck up to everybody."
The band's second and final Number 1 single after the successful debut Do You Really Want To Hurt Me? it also topped the Billboard Hot 100 and won the BRIT that year for Best British Single. 
Discover Culture Club's Official Charts history in full here.
8. Careless Whisper
Artist: George Michael
Released: 1984
Official Singles Chart peak: Number 1
Total UK sales: 1.55 million
Originally written when George Michael was just 17, Careless Whisper is the kind of instant pop classic that comes around once, maybe twice in a generation. As time as gone on, it's been easy to seek new meaning in the words of George's longing and pain, given his long-standing struggle with his sexuality, giving fresh-new perspective to his heartbreak.
Careless Whisper would be George's first solo single outside of Wham!, although it did appear on the band's 1984 sophomore album, Make It Big! As the tentative start to what would be a fascinating musical career for one of our country's greatest pop music exports, Careless Whisper has and will always be an essential listen.
George Michael's enviable Official Charts history can be viewed here.
7. Two Tribes
Artist: Frankie Goes To Hollywood
Released: 1984
Official Singles Chart peak: Number 1
Total UK sales: 1.64 million
Frankie Goes To Hollywood exploded onto the music scene with an explosition of titillating controversy (but more on that later), and their second big hit was no exception. 
An anti-war anthem, Two Tribes saw the band present over-the-top, gleeful lyrics enthusing about nuclear war, its political angle being the main focus of its marketing. It eventually topped the Official Singles Charts and stayed there for nine weeks, the longest-running Number 1 on the decade.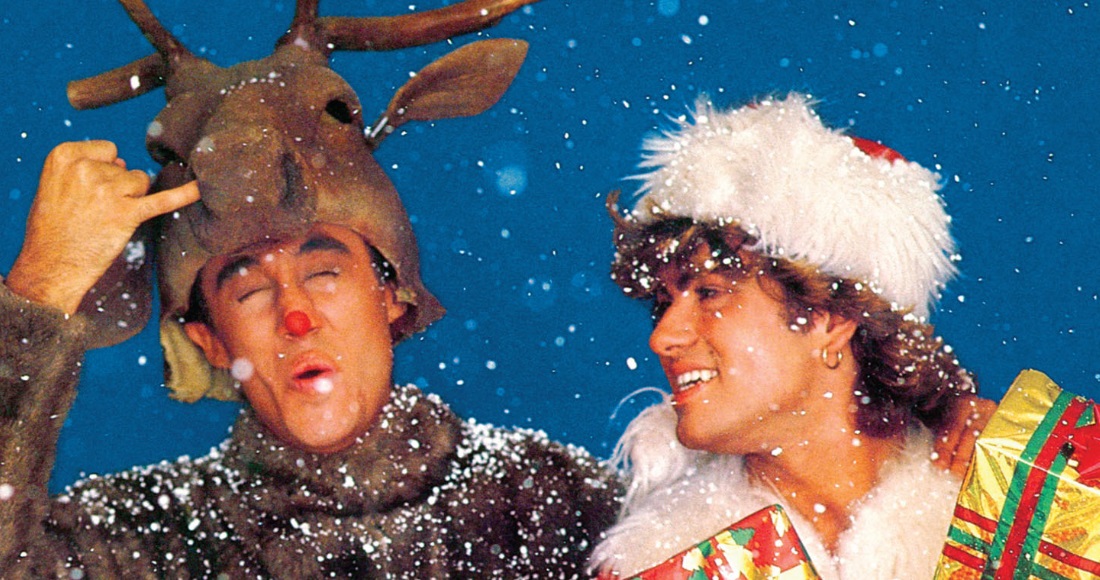 6. Don't You Want Me
Artist: The Human League
Released: 1981
Official Singles Chart peak: Number 1
Total UK sales: 1.66 million
It was a miracle that Don't You Want Me was released as a single at all. The fourth hit issued from the band's breakout third album Dare, the original mix of the track was taken apart and re-done, to the anger of frontman Philip Oakey, who didn't want the single to be issued at all.
But thank god it was. Taking inspiration from the story of A Star Is Born, Don't You Want Me tells the almost mythical tale of a female pop singer on the rise, and the embittered man who plucked her from obscurity. It eventually became 1981's coveted Christmas Number 1, the ultimate signifier that cool, icy synth-pop was here to stay.
5. Eye of the Tiger
Artist: Survivor 
Released: 1982
Official Singles Chart peak: Number 1
Total UK sales: 1.70 million
It's impossible to separate Eye of the Tiger from its inclusion in Rocky III. And there's good reason for that too; not only is it part of one of the most iconic montages in cinema, it was also specially requested by the film's star, Sylvester Stallone, who commissioned the band to write the song especially for the film since he couldn't get the rights to Queen's Another One Bites The Dust. 
It was a hit on both sides of the Atlantic, although its four-week stint at Number 1 on the Official Singles Chart was nothing compared to its six week dominance on the US Billboard Hot 100.
4. I Just Called To Say I Love You
Artist: Stevie Wonder
Released: 1984
Official Singles Chart: Number 1
Total UK sales: 1.88 million
Oh, Stevie. Bringing a wonderful Motown-funk back into the largely electronic sound of the 80s, I Just Called To Say I Love You sees the soul legend do exactly that; ring his lover up unexpectedly.
You may be surprised to know that I Just Called...is actually Stevie Wonder's only solo UK Number 1 single; his only other chart-topping hit here was the very of its time Ebony and Ivory with Paul McCartney.
3. Last Christmas/Everything She Wants
Artist: Wham!
Released: 1984
Official Singles Chart peak: Number 2 (1984), Number 1 (2021)
Total UK sales: 1.92 million
Now talking about timeless...what is there to say that hasn't already been said about Last Christmas? Wham!'s most successful song in the UK, and a song that only seems to get more popular with each year.
Case in point: famously being blocked from Number 1 by Do They Know It's Christmas? (more on that in a bit!) in 1984, Last Christmas bided its time, but it finally reached the summit of the Official Singles Chart on New Year's Day 2021. At the time it set a UK chart record for the longest time a single has ever taken to reach Number 1, with 36 years - although this record was broken by Kate Bush and Running Up That Hill earlier this year.
2. Relax
Artist: Frankie Goes To Hollywood
Released: 1983
Official Singles Chart peak: Number 1
Total UK sales: 2.08 million
There have been many...controversial Number 1s over the years, but none courted chaos and attention quite like Frankie Goes To Hollywood. 
Originally released in 1983 to not much noise, it would take until the New Year for it to start rising, helped along the way by sexually suggestive newspaper adverts and the records own sleeve image. The BBC would famously go on to ban the track from being played on the radio - but that didn't stop Relax's juggernaut finally reaching the summit in January 1984.
And Frankie Goes To Hollywood did not fumble the bag. Relax would give way to second single Two Tribes at Number 1 - meaning at that time, the band joined The Beatles and John Lennon as the only act to occupy the Top 2 spaces of the Official Singles Chart, a practice that has become increasingly more common in the streaming age. 
1. Do They Know It's Christmas?
Artist: Band Aid
Released: 1984
Official Singles Chart peak: Number 1
Total UK sales: 3.83 million
The charity single to end all charity singles, Bob Geldof and Midge Ure cobbled together a hit-list of some of the most popular artists of the 80s (including George Michael, Bananarama and Duran Duran) to raise money to aid the Ethiopian famine. 
Selling over a million copies in its first week, Do They Know It's Christmas? stayed at Number 1 for five weeks, also making it 1984's Christmas Number 1. It's still officially the second biggest-selling single ever in the UK. 
As a supergroup, Band Aid has been reunited several times over the years; 1989's Band Aid II was comprised of the likes of Kylie, Jason Donovan and Wet Wet Wet, 2004's Band Aid 20 celebrated two decades with the help of Sugababes, Chris Martin and, uh, Rachel Stevens while the most recent 2014 Band Aid 30 included the likes of Rita Ora, One Direction and Ed Sheeran. 
With the song's 40th anniversary quickly approaching...time to get your votes in for who you think will be helping to ring in Do They Know It's Christmas? for a good cause in two years' time!
The Official Top 10 biggest singles of the 1980s
| | | | | |
| --- | --- | --- | --- | --- |
| POS | TITLE | ARTIST | PEAK | YEAR |
| 1 | DO THEY KNOW IT'S CHRISTMAS? | BAND AID | 1 | 1984 |
| 2 | RELAX | FRANKIE GOES TO HOLLYWOOD | 1 | 1983 |
| 3 | LAST CHRISTMAS/EVERYTHING SHE WANTS | WHAM! | 1 (2021) | 1984 |
| 4 | I JUST CALLED TO SAY I LOVE YOU | STEVIE WONDER | 1 | 1984 |
| 5 | EYE OF THE TIGER | SURVIVOR | 1 | 1982 |
| 6 | DON'T YOU WANT ME | HUMAN LEAGUE | 1 | 1981 |
| 7 | TWO TRIBES | FRANKIE GOES TO HOLLYWOOD | 1 | 1984 |
| 8 | CARELESS WHISPER | GEORGE MICHAEL | 1 | 1983 |
| 9 | KARMA CHAMELEON | CULTURE CLUB | 1 | 1985 |
| 10 | THE POWER OF LOVE | JENNIFER RUSH | 1 | 1982 |
©2022 Official Charts Company. All rights reserved.
Article Image: LJ Van Houten/Alan Davidson/Shutterstock