38 years ago this week, Frankie Goes To Hollywood rose to Number 1 with their debut single Relax.
The song, first released in October 1983, had quite the adventure arriving at the top, with a long-winded climb and brief tenancy around the lower reaches, before entering the Top 40 at the start of the year.
The song got its big break when it opened Top Of The Pops' 20th anniversary show on January 5th 1984, as one of the few new entries in a post-Christmas rundown.
Frankie Goes To Hollywood first formed in 1980 from the ashes of local Liverpudlian act the Sons of Egypt, when singer Holly Johnson got together with Peter 'Ped' Gill and Mark O'Toole, and initially a female vocalist, who left after finding herself upstaged by Holly's longtime friend Paul Rutherford dancing during their performances. The band then took to performing with a pair of dancers called The Leatherpets, who Holly and Paul would, um, tie up during their show. The line-up was completed with the arrival of Brian 'Nasher' Nash on guitar, after original guitarist Jed O'Toole left the group.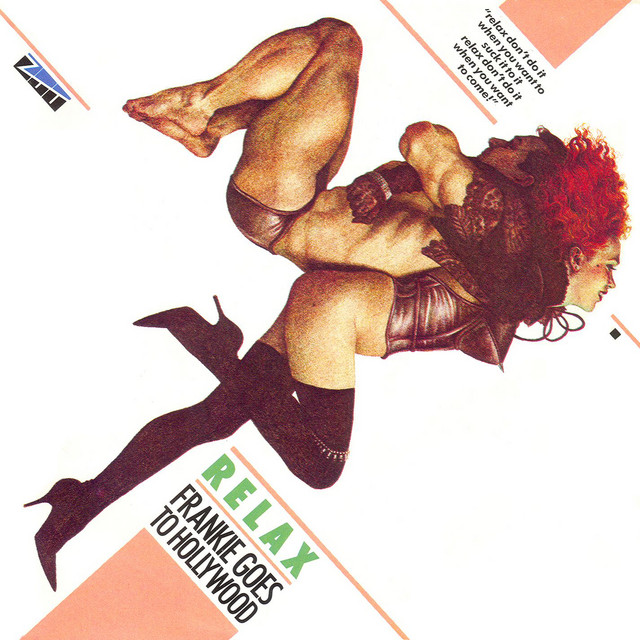 Frankie recorded a series of radio sessions for the likes of John Peel and were championed by Janice Long, however it was their performance on the TV show The Tube, recorded at the Liverpool State Ballroom. Fortunately watching The Tube that evening was producer Trevor Horn – who was having quite a successful run having recently produced ABC's landmark The Lexicon of Love album the previous year, and who was looking for turns to sign to his new label Zang Tuum Tumb (ZTT). He tracked the group down and snapped them up in May 1983, after convincing his business partner, and former journalist, Paul Morley that they were the future.
The band then embarked on a somewhat arduous task of recording Relax, a song whose key line had come to Holly while he was walking around Liverpool. The first version he recorded with the band wasn't up to standard, so he got Ian Dury's backing band the Blockheads in to help sessions out. After several endless sessions of tweaking and finessing the song, Horn put together three mixes alongside some studio trickery and Relax was born, even if the band's actual contribution to the finished article was negligible (aside from Holly's vocal, the sound of them jumping in a swimming pool was sampled for the erm 'splashy' effects). There were a variety of mixes issued, with a 16 minute Sex Mix peppered with sound effects of splashing water and zips, and a section where Holly recited the names of various nightclubs. A more palatable 7 minute New York was issued which became the key floorfiller, as well as a more impactful 4 minute version for general public consumption.
Around this time, Morley had set about promoting the group with a series of slightly saucy adverts with Holly and Paul dressed in rubber in various style magazines, which cheekily pitched them up against the likes of Wham! and Duran Duran. Coupled together with an iconic yet fruity video made by Bernard Rose, where a gay nightclub was recreated in a warehouse around London's Docklands area, and which featured several of the group's mates as well as patrons of Earls Court bar The Coleherne having a perv-up and which made gay clubs look like they involved shaving semi-naked emperors and being attacked by tigers. Brrrr.
Back to the eventual rise up the Top 40, and as the song rose from 35 to 6, when playing the chart rundown on Radio 1, DJ Mike Read expressed his displeasure at the song after looking at the racy sleeve and then refused to play it. Despite having been played fairly regularly on the station up to this point, the song was effectively 'banned' from daytime Radio 1 and Top Of The Pops, although it was still spun in the evening shows and also on local radio stations.
Even as the group had made a second, less challenging, video, they were denied the chance of performing the song when it climbed to Number 1 a fortnight later, and stayed there for five weeks.
Relax would then spend the rest of the year knocking around the chart, even rising back up to Number 2 when Frankie's follow-up Two Tribes spent nine weeks at the top. The 'ban' was eventually lifted at the end of the year when a triumphant Frankie, who'd scored three chart-toppers (the third being The Power of Love in December) with their first three singles – the first act to do so since Gerry and the Pacemakers in 1963, appeared on the Christmas Day Top Of The Pops and performed it.
Relax's chart stats are what you might call 'quite impressive' – it spent 70 weeks on the chart overall, has now sold over 2.07 million copies making it the biggest-selling debut single of all time, and it was also the third biggest-selling single of 1984 (coming behind Stevie Wonder's I Just Called To Say I Love You, and the chart-busting Band Aid's Do They Know It's Christmas which itself sold 3.8 million at the time).
Elsewhere in the Top Ten that week, Paul McCartney's Pipes Of Peace had been knocked off the top to 2; Up one place to 3 is That's Livin' Alright, Joe Fagin's beery theme to the ITV drama about labourers in Germany, Auf Wiedersehen Pet. Down to 4 was Howard Jones' second single What Is Love and the Top Five was rounded off with the non-moving denim-tastic duet A Rockin' Good Way by Shakin' Stevens and Bonnie Tyler.
Up to 6 from 11 was Nobody Told Me by John Lennon, which had been recorded but incomplete before his untimely death in 1980, and featured on John & Yoko's posthumous album Milk And Honey. One-time Thin Lizzy guitarist Snowy White's Bird Of Paradise was at 7; up to 8 from 13 were Big Country with Wonderland; China Crisis climbed from 16 to 9 with Wishful Thinking and shooting up from 23 to 10 was another one of 1984's big new stars, as Cyndi Lauper arrived in the Top Ten with her breakout smash Girls Just Want To Have Fun.
Outside the Top Ten were a lot of key 80s acts moving up with Eurythmics' Here Come The Rain Again up to 11, Echo & The Bunnymen's The Killing Moon debuting at 17, Simple Minds' Speed Your Love To Me in at 20 and The Smiths in at 26 with What Difference Does It Make?
Some true 80s bangers such as Matthew Wilder's Break My Stride were, um, striding up from 31 to 14, and someone called Madonna had her UK chart debut with Holiday climbing from 40 to 19. In the slipstream of Relax's success, and what would become a very key year for gay culture making an impact on the UK charts, Gloria Gaynor's anthem I Am What I Am rose from 24 to 13, and Eartha Kitt's purrsome Where Is My Man was up to 36. And some club classics such as Shannon's Let The Music Play and Barbara Mason's Another Man were making serious gains just outside the Top 40.
Listen to the UK Top 40 from this week in 2007 on Spotify below. Also available on Deezer