Pop has always had a fascination with space: the stars, planets and infinite numbers of galaxies have been a source of inspiration for acts for songs tackling subjects about darkness and loneliness to ideas of limitlessness and infinitude. 
This July marks 50 years since a human stepped foot on the moon, when Neil Armstrong uttered the famous line: "That's one small step for man, one giant leap for mankind". Surprisingly, no-one of note has sampled his historic words in a song, but plenty of artists have been influenced by them. 
One of the most prominent artists to explore themes of space in their music was David Bowie. Notably, his 1969 breakout hit Space Oddity reached Number 5 on the Official Singles Chart, while Top 10 hit Starman from 1972 led his Ziggy Stardust album, a concept record about a bisexual alien rock star. He revisited the Major Tom character from Space Oddity in 1980 on the chart-topping Ashes to Ashes, and again on Top 20 single Hallo Spaceboy in 1996.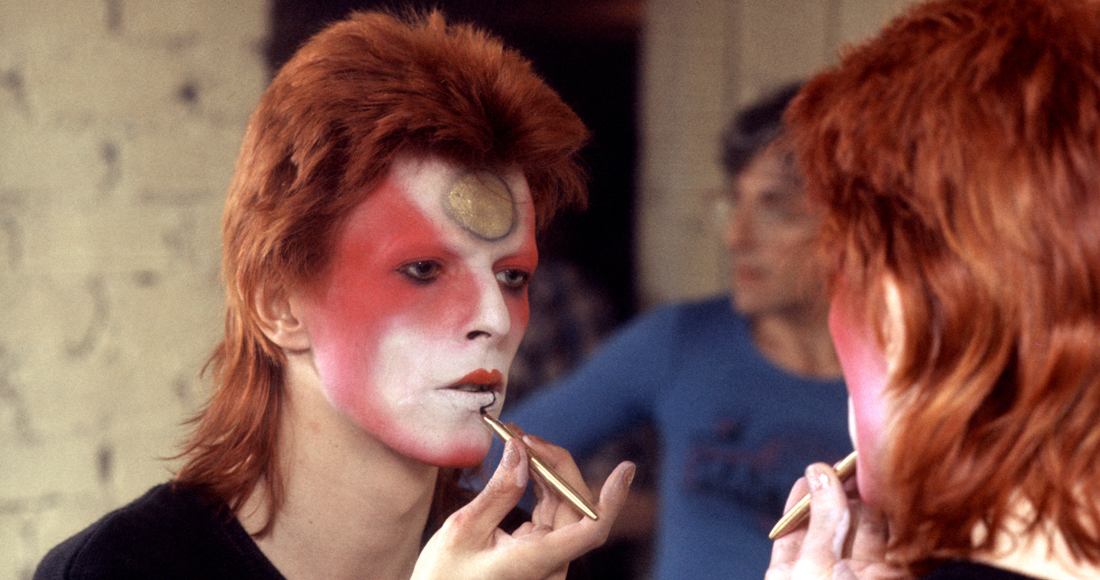 David Bowie in 1972 (Shutterstock)
Also in the 1970s, Elton John scored at Number 2 hit with Rocket Man in 1972, a song that echoed Bowie's Space Oddity about a Mars-bound astronaut's mixed feelings at leaving his family. In 1991 the song was covered by Kate Bush as part of an Elton John tribute album, reaching Number 12. In 1979, The Police won their second chart-topper with Walking on the Moon, about Sting's loneliness after a breakup. 
The 1990s were another popular era for space-themed songs on the Official Singles Chart. As well as Bowie, Wolverhampton band Babylon Zoo hit Number 1 with Spaceman in 1996 (boosted by its use in a Levi's jeans TV advert), Australian duo Savage Garden reached Number 3 in the UK with To The Moon and Back in 1998, and The Prodigy scored a Top 5 single with Out of Space from 1992; arguably their most enduring song. Lounge pop duo Lighthouse Family also landed a Top 10 with the melancholy Lost in Space.
Check out our selection of 20 notable space-themed hits below – you can listen to them as a playlist on Spotify and Deezer.
| | | | |
| --- | --- | --- | --- |
| TITLE | ARTIST | PEAK | YEAR |
| SPACE ODDITY | DAVID BOWIE | 5 | 1969 |
| ROCKET MAN | ELTON JOHN | 2 | 1972 |
| STARMAN | DAVID BOWIE | 10 | 1972 |
| STAR WARS THEME | MECCO | 7 | 1977 |
| WALKING ON THE MOON | POLICE | 1 | 1979 |
| A SPACEMAN CAME TRAVELLING | CHRIS DE BURGH | 40 | 1986 |
| ROCKET MAN | KATE BUSH | 12 | 1991 |
| THE WHOLE OF THE MOON | WATERBOYS | 3 | 1991 |
| MAN ON THE MOON | REM | 18 | 1992 |
| SLEEPING SATELLITE | TASMIN ARCHER | 1 | 1992 |
| OUT OF SPACE | PRODIGY | 5 | 1996 |
| SPACEMAN | BABYLON ZOO | 1 | 1996 |
| HALLO SPACEBOY | DAVID BOWIE | 12 | 1996 |
| LOST IN SPACE | LIGHTHOUSE FAMILY | 7 | 1998 |
| LOST IN SPACE | APOLLO 440 | 4 | 1998 |
| TO THE MOON AND BACK | SAVAGE GARDEN | 3 | 1998 |
| WE ARE ALL MADE OF STARS | MOBY | 11 | 2002 |
| SUPERMASSIVE BLACK HOLE | MUSE | 4 | 2006 |
| SPACEMAN | KILLERS | 40 | 2008 |
| SPACESHIP | TINCHY STRYDER & DAPPY | 5 | 2011 |
Article image: Nasa/Shutterstock