Eurovision is the most fabulous time of the year, and after being forced to cancel last year's contest, the event is shaping up to be double the fun in 2021.
This year's UK entry is Embers by James Newman; a neon-bright dance pop banger compared to his song My Last Breath from last year's cancelled event.
Ahead of this year's competition, which culminates in the Grand Final on May 22, let's take a look at how every UK Eurovision entry has fared on the Official Chart. 
We first took part in 1957, but didn't win until 1967, thanks to Sandie Shaw. Puppet On A String was also the first UK Eurovision song to top the Official Singles Chart, spending three weeks at Number 1.
The UK has won Eurovision five times: 

Sandie Shaw with Puppet On A String in 1967
Lulu with Boom Bang-A-Bang in 1969
Brotherhood Of Man with Save Your Kisses For Me in 1976
Bucks Fizz with Making Your Mind Up in 1981
Katrina & The Waves with Love Shine A Light in 1997
Yep, we last won twenty four years ago. Only three of those five winners got to Number 1, however – it was bad news for Lulu and Katrina. Not to mention the Waves.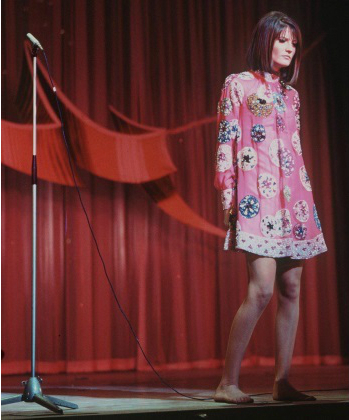 Sandie Shaw, looking elated at getting the chance to perform at Eurovision in 1967. (Rex)
If we're talking the UK's lowest charting Eurovision entry so far, that goes to Bigger Than Us by Michael Rice. The Hartlepool lad's song was written by top Swedish songwriters who had Eurovision experience, but the fact one of the writers also competed against him and opted for a different song (which finished in fifth), that kind of says it all.
Aside from Patricia Bredin and Matt Monro's songs which weren't officially releases, Bigger Than Us is the first Eurovision song to miss the Official Singles Chart Top 200 altogether. Bigger Than Us placed last overall in the contest after only getting 11 points. Still, that's better than Cry Baby by Jemini, which finished last in 2003 with nul points. Yes, a big fat nothing.
Brotherhood Of Man's Save All Your Kisses For Me is the UK's biggest selling Eurovision entry of all time. It's the only Eurovision song to sell over a million copies!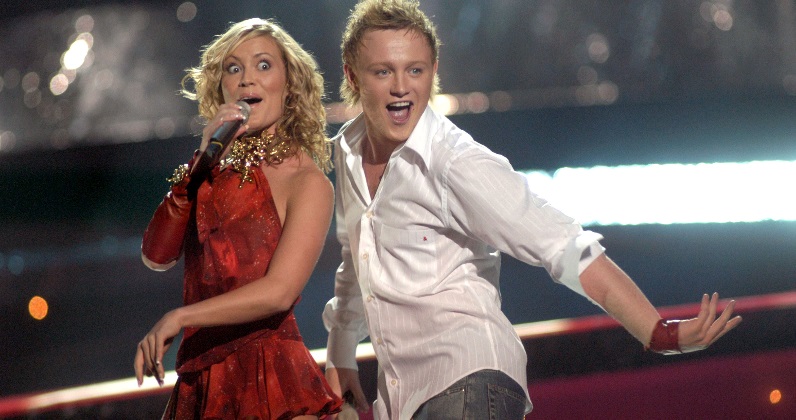 Remember, Jemini? How could we forget? They scored the UK's first-ever absolute zero (not even a sympathy point for turning up) in 2003 (Action Press/Rex)
If you really want to geek out, the average chart position of a UK Eurovision track is Number 27, while the average Eurovision placing of a UK entrant is eighth. That said, the UK has finished second more times than any other country – 15 times the bridesmaid. 
The complete list of the UK's Eurovision tracks and Official Singles Chart positions is as follows:
| | | | | |
| --- | --- | --- | --- | --- |
| YEAR | TRACK TITLE | ARTIST | PEAK CHART POSITION | EUROVISION PLACING |
| 2021 | Embers | James Newman | TBA | TBA |
| 2020 | My Last Breath | James Newman | N/A | N/A |
| 2019 | Bigger Than Us | Michael Rice | N/A | 26 |
| 2018 | Storm | SuRie | 50 | 24 |
| 2017 | Never Give Up On You | Lucie Jones | 73 | 15 |
| 2016 | You're Not Alone | Joe & Jake | 81 | 24 |
| 2015 | Still In Love With You | Electro Velvet | 114 | 24 |
| 2014 | Children of the Universe | Molly | 23 | 17 |
| 2013 | Believe In Me | Bonnie Tyler | 93 | 19 |
| 2012 | Love Will Set You Free | Engelbert Humperdinck | 60 | 25 |
| 2011 | I Can | Blue | 16 | 11 |
| 2010 | That Sounds Good To Me | Josh Dubovie | 179 | 25 |
| 2009 | It's My Time | Jade Ewen | 27 | 5 |
| 2008 | Even If | Andy Abraham | 67 | 23 |
| 2007 | Flying The Flag (For You) | Scooch | 5 | 22 |
| 2006 | Teenage Life | Daz Sampson | 8 | 19 |
| 2005 | Touch My Fire | Javine | 18 | 22 |
| 2004 | Hold Onto Our Love | James Fox | 13 | 16 |
| 2003 | Cry Baby | Jemini | 15 | 26 |
| 2002 | Come Back | Jessica Garlick | 13 | 3 |
| 2001 | No Dream Impossible | Lindsay | 32 | 15 |
| 2000 | Don't Play That Song Again | Nicki French | 34 | 16 |
| 1999 | Say It Again | Precious | 6 | 12 |
| 1998 | Where Are You | Imaani | 15 | 2 |
| 1997 | Love Shine A Light | Katrina & The Waves | 3 | 1 |
| 1996 | Ooh Ahh... Just A Little Bit  | Gina G | 1 | 8 |
| 1995 | Love City Groove | Love City Groove | 7 | 10 |
| 1994 | Lonely Symphony (We Will Be Free) | Frances Ruffelle | 25 | 10 |
| 1993 | Better The Devil You Know | Sonia | 15 | 2 |
| 1992 | One Step Out Of Time | Michael Ball | 20 | 2 |
| 1991 | A Message To Your Heart | Samantha Janus | 30 | 10 |
| 1990 | Give A Little Love Back To The World | Emma | 33 | 6 |
| 1989 | Why Do I Always Get It Wrong | Live Report | 73 | 2 |
| 1988 | Go | Scott Fitzgerald | 52 | 2 |
| 1987 | Only The Light | Rikki Peebles | 96 | 13 |
| 1986 | Runner In The Night | Ryder | 98 | 7 |
| 1985 | Love Is... | Vikki Watson | 49 | 4 |
| 1984 | Love Games | Belle & The Devotions | 11 | 7 |
| 1983 | I'm Never Giving Up | Sweet Dreams | 21 | 6 |
| 1982 | One Step Further | Bardo | 2 | 7 |
| 1981 | Making Your Mind Up | Bucks Fizz | 1 | 1 |
| 1980 | Love Enough For Two | Prima Donna | 48 | 3 |
| 1979 | Mary Ann | Black Lace | 42 | 7 |
| 1978 | Bad Old Days | Co-co | 13 | 11 |
| 1977 | Rock Bottom | Lynsey de Paul & Mike Moran | 19 | 2 |
| 1976 | Save Your Kisses For Me | Brotherhood of Man | 1 | 1 |
| 1975 | Let Me Be The One | The Shadows | 12 | 2 |
| 1974 | Long Live Love | Olivia Newton-John | 11 | 4 |
| 1973 | Power To All Our Friends | Cliff Richard | 4 | 3 |
| 1972 | Beg, Steal Or Borrow | The New Seekers | 2 | 2 |
| 1971 | Jack In The Box | Clodagh Rodgers | 3 | 4 |
| 1970 | Knock, Knock, Who's There? | Mary Hopkin | 2 | 2 |
| 1969 | Boom Bang-A-Bang | Lulu | 2 | 1 |
| 1968 | Congratulations | Cliff Richard | 1 | 2 |
| 1967 | Puppet On A String | Sandie Shaw | 1 | 1 |
| 1966 | A Man Without Love | Kenneth McKellar | 30 | 9 |
| 1965 | I Belong | Kathy Kirby | 36 | 2 |
| 1964 | I Love The Little Things | Matt Monro | N/A | 2 |
| 1963 | Say Wonderful Things | Ronnie Carroll | 6 | 4 |
| 1962 | Ring-A-Ding Girl | Ronnie Carroll | 46 | 4 |
| 1961 | Are You Sure | The Allisons | 2 | 2 |
| 1960 | Looking High, High, High | Bryan Johnson | 20 | 2 |
| 1959 | Sing Little Birdie | Teddy Johnson & Pearl Carr | 12 | 2 |
| 1957 | All | Patricia Bredin | N/A | 7 |
© 2021 The Official Charts Company
Take a look at all the UK's Eurovision entries – yes, the whole lot – in our gallery: