Acts who have released big singles and albums at the same time
Pop is not a contact sport! But some big hitters have released material at the same time.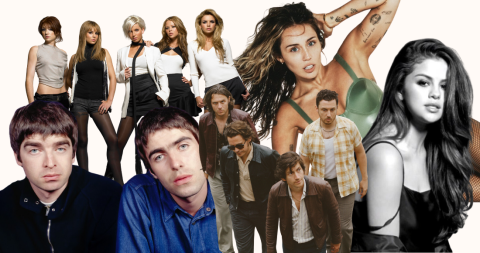 Pop music is always more interesting when there's an element of risk involved. 
It doesn't happen that often, but there does come a time every now and then where two massive acts' schedules converge, and they end up releasing massive new singles or albums in the same chart week.
We're going to see one of those instances this Friday, with both Miley Cyrus's Used To Be Young and Selena Gomez's Single Soon to be released on August 25.
So, in light of Miley and Selena's latest tunes, we thought we'd take a look back at some of the biggest-ever simultaneous releases; from Oasis and Blur's iconic mid-nineties Britpop battle to Girls Aloud and One True Voice's challenge for the coveted Christmas Number 1.
Miley Cyrus (Used To Be Young) and Selena Gomez (Single Soon)
As mentioned above, Miley and Selena are at very different points in their careers right now - Used To Be Young will hopefully be the lead single from a second volume of Endless Summer Vacation, the album that contained Flowers, the biggest track of 2023 so far in the UK, while Single Soon will be Selena's first English-language pop track in three years - but it will be interesting to see which artist comes out on top here.
Or maybe these two queens will maximise their joint slay, it was a joy to see both Miley and Selena lovingly ribbing an old Hannah Montana scene featuring them both to use as promo for both of their tracks. 
Taylor Swift (Midnights) and Arctic Monkeys (The Car)
In what proved to be the most hotly-contested chart battle of last year, Taylor Swift ended the Arctic Monkey's then-unbeaten streak of seven consecutive Number 1 albums when Midnights beat The Car to Number 1 on the Official Albums Chart. 
Midnights became Tay's ninth consecutive UK Number 1 album, and thanks to the release of Speak Now (Taylor's Version) earlier this year, she now as 10 to her name. Expect that to become 11 when 1989 (Taylor's Version) officially drops in October, too...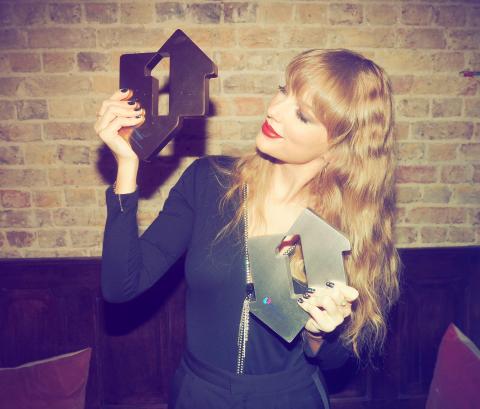 Foo Fighters (But Here We are) and Noel Gallagher's High Flying Birds (Council Skies)
When the Foo Fighters claimed their sixth UK Number 1 album with But Here We Are earlier this year, it was bittersweet; not only was it the group's first album since the death of their drummer, Taylor Hawkins, but it also ended a startling, record-breaking Official Chart record by Noel Gallagher who, up until that point, had reached Number 1 with every single studio album to his name, both as a member of Oasis and his own band, Noel Gallagher's High Flying Birds.
5 Seconds of Summer (CALM) and Dua Lipa (Future Nostalgia)
In hindsight, it's hard to imagine an era more prevalent or successful than Dua Lipa's Future Nostalgia during the grips of lockdown. Lead by hits like Don't Start Now, Physical and Levitating, Dua's sophomore album was a light in the darkness, a shelter on the dance floor when people couldn't leave their bedrooms.
But, in actual fact, Future Nostalgia was actually pipped to the post of Number 1 by Aussie pop band 5 Seconds of Summer and their fourth LP, Calm. Don't worry, though, pop is a marathon, not a sprint and Dua eventually got her first Number 1 album a week later.
Girls Aloud (Sound of the Underground) and One True Voice (Sacred Trust)
Buy girls, bye boys! Saying that Girls Aloud faced any competition from One True Voice in the race for 2002's Official Christmas Number 1 single is kind of like saying a hammer faces competition from a nail. While Cheryl, Nadine, Nicola, Sarah and Kimberley's debut single was a kinetic pop experiment from the contortionists over at Xenomania that kickstarted a brainstorming career that included a then-record setting 20 Top 10 singles and some of the most brilliant pop tunes to come out of Britain this side of the 21st century (Biology, Call The Shots...do we need to go on?) One True Voice....were there. And at leas they got Number 2?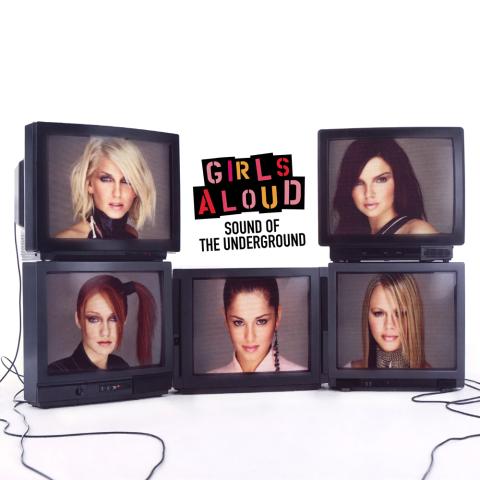 Kylie Minogue (Can't Get You Out Of My Head) and Victoria Beckham (Not Such An Innocent Girl)
Listen, we actually love Victoria Beckham's debut solo single Not Such An Innocent Girl. Very of it's time! But holding up very well! But it had zero change against Kylie's Can't Get You Out Of My Head, one of the most brilliant and influential pop tunes of its time, which still manages to sound like the future. Kylie kickstarted her biggest comeback yet at Number 1, VB had to settle for Number 6.
Spiller ft. Sophie Ellis-Bextor (Groovejet) and True Steppers & Dane Bowers ft. Victoria Beckham (Out Of Your Mind)
Poor Victoria Beckham just can't catch a break. Her first release outside of the Spice Girls was also denied a Number 1 when it took second place to Spiller and Sophie Ellis-Bextor's Groovejet. It was one of the most notorious chart battles of all time, and even made the six o'clock news. 
Geri Halliwell (Lift Me Up) and Tin Tin Out & Emma Bunton (What I Am)
What is it with the Spice Girls and near-miss chart battles? This time, the artist FKA Ginger Spice finally got the Number 1 single she had been craving with the airy Lift Me Up, while Emma Bunton's What I Am (a link-up with Tin Tin Out) debuted at Number 2. Emma would get a solo chart-topper of her own on her first proper single, What Took You So Long, though. So friendship is true winner here. And it never ends.
Blur (Country House) vs Oasis (Roll With It)
Dubbed the Battle of Britpop, this is probably the most famous battle in the history of Official Charts. It divided the nation, it ran across news headlines, and when Blur topped the Official Singles Chart, beating out Oasis by 50,000 copies at the time, everyone in the country was watching. Read more about the Battle of Britpop here.