Why new singles from Miley Cyrus & Selena Gomez are so important
They're two sides of the same pop coin.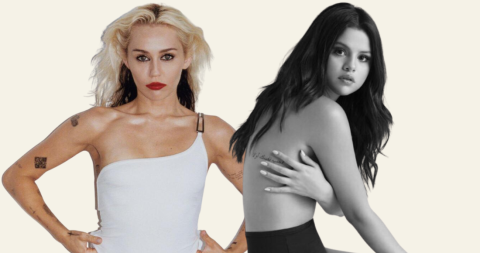 The phrase 'two queens maximising their joint slay' is over-used nowadays, but in the case of Miley Cyrus and Selena Gomez, we're sure we can make an exception. 
Within the last two days, it's become pretty clear that new music from Miley and Selena (who both came up at near-enough the same time on the Disney Channel and who have experienced similarly dizzying ascents to pop's upper echelon in the last decade) is very much on the horizon.
And while these two releases may, on the surface, appear very different - Miley's new single, Used To Be Young, will act as a coda to an already very successful era for her, while Selena's Single Soon will be her first solo release as part of a pop project since 2019 - Miley and Selena have always represented two sides of the same pop music coin. 
But first...what do we mean by that? Well, to put it simply, Miley and Selena are both similarly chameleonic artists who have always lead with emotionally resonant truths for their new albums. Miley is perhaps the best example of this, she's the only artist (other than Taylor Swift, of course) for whom each new album really does signify a new era in her life. And if the chaos of Bangerz or the stripped-down simplicity of Younger Now don't exactly seem to ring true to the Miley of 2023, that's simply because they were authentic to who she was at the time. Miley has never shied away from the fact that each of her studio records find her each at a different point in her life. And that's what makes following her journey so fun. 
I know I used to be crazy. I know I used to be fun. You say I used to be wild. I say I used to be young. pic.twitter.com/cwqwQHf2pQ

— Miley Cyrus (@MileyCyrus) August 15, 2023
While Selena hasn't been quite as prolific as Miley (she's only released three solo albums in the last decade), her work is by no means less influential. In fact, you can still feel the reverberations that Selena's 2015 Revival caused in the pop landscape. In particular, Selena's cadence when singing (so full of emotion, yet basically at times just a mumble over the beat) has proved endlessly inspirational to artists like Billie Eilish and Halsey in the ensuing years, while eclectic singles like the hip-hop leaning Good For You and the Prince-inspired synths of Hands To Myself are some of the most high-quality pop songs this side of 1989.
And we would be loath to talk about Miley, of course, without mentioning what a great year she's having so far. Coming out of the gate strong in January, Miley's Flowers became her third UK Number 1 single (and first in a decade), staying atop the Official Singles Chart for ten consecutive weeks (it's the longest-running Number 1 single of the year, alongside Dave & Central Cee's Sprinter) and is, as of right now, the biggest song released in the UK in 2023 so far overall. It's one of largest-scale commercial dominations we've seen in quite some years, and is certainly the most successful of Miley's recent eras, harkening back to her Bangerz era for the wide berth of her influence in conversation and discourse. 
And how do you top that? Well, Flowers's accompanying album, Endless Summer Vacation, also hit Number 1 on the Official Albums Chart, granting Miley the relatively rare Official Chart Double, but the relatively relaxed, indie-pop representative of the rest of the album struggled to match Flowers's success - with the funky, bent-pop of River peaking at Number 17 and jagged ballad Jaded sadly only reaching Number 27. 
Flowers was, in part, so successful because Miley let it do all the talking when it came to promotion (she still hasn't performed the hit live, instead a Disney+ concert film was released to coincide with the album release) but it seems that fanbase rumblings of an extended, deluxe edition of Endless Summer Vacation have proved to be correct with a new single, called Used To Be Young, coming soon. 
This is important in several ways; Used To Be Young's promotion is already following Flowers' lead (with posters with the track's title on and precious little other information) and its release comes at a time where Miley's time at Number 1 in both the US and UK has come to an end with the track (Flowers has is still in the UK Top 40, while it dropped out of the US Top 10 for the first time since its release last week, re-entering this week). Used To Be Young's release could prove that Miley's return to her commercial zenith wasn't a fluke, while bolstering sales of an Endless Summer Vacation re-release. 
For Selena, things are a little different. While she did release her first Spanish-language project, the EP Revelacion, in 2021, she hasn't released a full-length project since 2020's Rare. That album contained one of the most important singles of Selena's career; the salt-the-earth ballad-banger Lose You To Love Me, which topped the US charts and also hit Number 3 in the UK, her highest-ever position here. 
While Selena has been busy following the Rita Ora model of expanding her celebrity persona outside of music (she's founded a make-up and skincare line, Rare Beauty, and is currently the glue that holds the critically-acclaimed murder-mystery comedy Only Murders In The Building together), she's been teasing her return to pop for a while, and it seems that after the emotional exorcism of Lose You To Love Me, she's ready to have some fun again. 
And it seems that her return is right around the corner. It's expected that Selena will release a brand new single, Single Soon, towards the end of the month. In another canny marketing move, fans have been able to call a bespoke phone number and hear a voicemail from Selena herself, with a very short snippet at the end of the message, with crunch synths and the hook "I'll be single soon."
For an artists whose contributions to the overall look, feel and sound of pop music in general has been criminally overlooked, a brand new bop could bring Selena right back to the heart of the conversation, while reminding everyone that she's one of the greatest curators of tracks for albums around right now. 
Used To Be Young by Miley Cyrus and Single Soon by Selena Gomez are expected to be released soon.