As the Official Charts Company celebrates the 70th anniversary of the UK's only Official Singles Chart, we've opened the vaults and crunched the numbers to reveal the Top 10 biggest singles of each successive decade following the birth of the Official Singles Chart in 1952.
We're going to be taking a look at the defining hits of the 1960s, 70s, 80s, 90s, 00s and 10s. After revealing the biggest-sellers from the 80s yesterday, today we're zoning in on the 1990s.
As the promise of a new millennium drew closer, the 90s exploded with the concept of newness. From the emergence of hip-hpp as a dominant culture force to the birth of girl bands like Spice Girls and All Saints that would capture pop in daring new forms, the breadth of diversity and talent shown in the 10 best-selling singles from the 90s prove that the sky really was the limit.
Disclaimer: This is a list of the best-selling singles released from 1990-1999, compiled from Official Charts Company data representing pure, physical sales from 1990 - 2022.
10. Gangsta's Paradise
Artist: Coolio featuring L.V
Released: 1995
Official Singles Chart peak: Number 1
Total UK sales: 1.61 million
A bittersweet placing, given the sad news of Coolio's death earlier this year, aged 59.
But what a legacy to leave behind. Gangsta's Paradise may open with one of the shuddering-inducing lines of any song ("As I was through the valley of the shadow of death..") and it doesn't let up from there. A lament of the things lost, the things to come, the song is a rivering and haunting example of an artist at their very best, inspiring countless artists after its release.
9. I Will Always Love You
Artist: Whitney Houston
Released: 1992
Official Singles Chart peak: Number 1
Total UK sales: 1.67 million
The definition of having your moment and taking it for all you can get.
For her first big movie role in The Bodyguard opposite Kevin Costner, Whitney's big, register-smashing ballad is something of a curiosity; a swelling re-production of an oft-forgotten Dolly Parton original. Well, Whitney made it her own. And the rest really is history.
8. Three Lions
Artist: David Baddiel, Frank Skinner & The Lightning Seeds
Released: 1996
Official Singles Chart peak: Number 1
Total UK sales: 1.67 million
Like several songs mentioned in our big countdown, Three Lions seems to only get more popular as the years pass. Originally recorded by comedians David Baddiel and Frank Skinner to commemorate England's hopeful but ultimately doomed shot at the '96 UEFA championship, it's since been taken on as the nation's sporting anthem de-facto.
It was re-released in 1998 in time for that year's World Cup, where it topped the charts again, and made history when it reached Number 1 again in 2018 managing to also re-ascend to the Top 5 last year for the 2021 Euros. A new version made especially for the 2022 World Cup, starting in just a week, is on the way.
7. I'll Be Missing You
Artist: Puff Daddy & Faith Evans
Released: 1997
Official Singles Chart peak: Number 1
Total UK sales: 1.68 million
I'll Be Missing You was made in honour of the American rapper Christopher "The Notorious B.I.G" Wallace following his still un-solved murder in March 1997.
Released just two months after B.I.G's death, I'll Be Missing You was the first UK Number 1 single from Puff (now known as P Diddy) and Faith, the widow of Wallace.
6. Believe
Artist: Cher
Released: 1998
Official Singles Chart peak: Number 1
Total UK sales: 1.85 million
Written off as a frivolity in its time, arguably no other song on this list has been as influential on modern music as Cher's Believe - being the first recorded instance of Auto-Tone on a commercially successful pop track.
But to write Believe off as just a technological gimmick does an injustice to Cher, who takes this surprising mid-career gift and runs with it. Believe became her first solo Number 1 hit since 1991, and has been the roadmap for every pop girl's comeback tour ever since.
Fun-fact: Brian Higgins, the writer of the track, would go on to help re-define the boundaries of British pop music with production house Xenomania and their most palpable muses, the mighty Girls Aloud.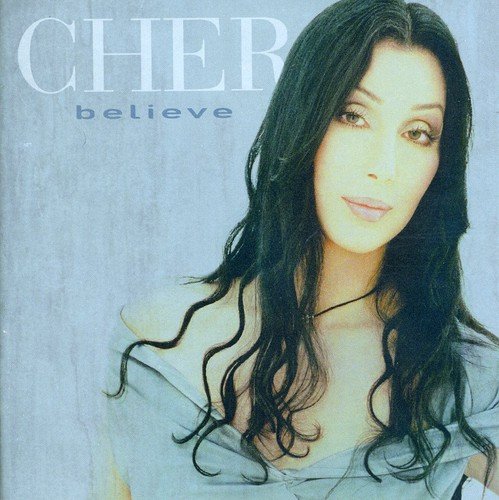 5. Barbie Girl
Artist: Aqua
Released: 1997
Official Singles Chart peak: Number 1
Total UK sales: 1.86 million
Life in plastic, it's fantastic!
Wacky, delirious and more than a little cheesy, Danish-Norwegian Europop group Aqua leaned into their bubblegum tendencies extravagantly in this school disco staple. Sadly, don't expect to hear it in Margot Robbie's upcoming 2023 Barbie film...not so fantastic.
4. Unchained Melody/(There'll Be Bluebirds Over) The White Cliffs of Dover
Artist: Robson & Jerome
Released: 1995
Official Singles Chart: Number 1
Total UK sales: 1.87 million
And so we have Robson & Jerome - aka actors Robson Green and Jerome Flynn - popular character actors who worked together on drama Solider, Solider and then decided to take on the charts.
On the show, their characters had covered The Righteous Brothers' classic Unchained Melody. It proved so popular with the British public, the two were cajoled by a then-little-known music executive called Simon Cowell into a record deal. Unchained Melody had been an immediate Number 1 smash.
The duo would achieve massive success with all three of their singles and debut album topping the charts, before turning down a reported £3 million from Cowell for a sophomore record.
3. (Everything I Do) I Do It For You
Artist: Bryan Adams
Released: 1991
Official Singles Chart peak: Number 1
Total UK sales: 1.87 million
The lead single from the original soundtrack of Robin Hood: Prince of Thieves (you know, the one where Robin Hood speaks in an American accent and Alan Rickman chews the scenery like his life depends on it), was an unequovical success on UK shores.
(Everything I Do) I Do It For You's run of 16 consecutive weeks at Number 1 on the Official Singles Chart is the longest a single song has concurrently kept the top spot, a record it holds to this day.
2. Love Is All Around
Artist: Wet Wet Wet
Released: 1994
Official Singles Chart peak: Number 1
Total UK sales: 1.91 million
Scottish outfit Wet Wet Wet were originally asked by Richard Curtis to cover a song for the soundtrack of his upcoming film Four Weddings And A Funeral. He gave the lads two choices; Gloria Gaynor's I Will Survive or Barry Manilow's Can't Smile Without You. Somewhat wisely, Marti Pellow decided to instead use The Trogg's 1967 track Love Is All Around because "we knew we could make it our own."
And they did just that. Love Is All Around debuted at Number 4, before peaking at Number 1 for 15 consecutive weeks - the joint-third longest stint behind Frankie Laine's I Believe (18 non-consecutive weeks), the aforementioned Bryan Adams (16 weeks) and Drake's inescapable One Dance (15 weeks).
1. Candle In The Wind '97/Something About The Way You Look Tonight
Artist: Elton John
Released: 1997
Official Singles Chart peak: Number 1
Total UK sales: 4.94 million
When Elton John performed at the funeral of Princess Diana in 1997, backed by white roses, he chose to re-write the verses to his 1973 track Candle In The Wind, originally written as an ode to Marylin Monroe. Doing so, he captured the imagination and passion of an entire nation grieving. 
Candle In The Wind '97's reputation as the biggest-selling single in UK chart history is well-known, a shadow that is cast over all other chart records. With 4.94 million pure physical sales to date, there really is nothing else to left to say.
The Official Top 10 biggest singles of the 1990s
| | | | | |
| --- | --- | --- | --- | --- |
| POS | TITLE | ARTIST | PEAK | YEAR |
| 1 | CANDLE IN THE WIND 97/SOMETHING ABOUT THE WAY YOU LOOK TONIGHT | ELTON JOHN | 1 | 1997 |
| 2 | LOVE IS ALL AROUND | WET WET WET | 1 | 1994 |
| 3 | (EVERYTHING I DO) I DO IT FOR YOU | BRYAN ADAMS | 1  | 1991 |
| 4 | UNCAHINED MELODY/(THERE'LL BE BLUEBIRDS OVER) THE WHITE CLIFFS OF DOVER | ROBSON & JEROME | 1 | 1995 |
| 5 | BARBIE GIRL | AQUA | 1 | 1997 |
| 6 | BELIEVE | CHER | 1 | 1998 |
| 7 | I'LL BE MISSING YOU | PUFF DADDY & FAITH EVANS | 1 | 1997 |
| 8 | THREE LIONS | BADDIEL & SKINNER & LIGHTNING SEEDS | 1 | 1996 |
| 9 | I WILL ALWAYS LOVE YOU | WHITNEY HOUSTON | 1 | 1992 |
| 10 | GANGSTA'S PARADISE | COOLI FT LV | 1 | 1995 |
©2022 Official Charts Company. All rights reserved.