The UK has experienced its hottest-ever day on record, the Met Office has confirmed.
For the first time ever, temperatures in the country soared above 40C - an all-time record, with temperatures still climbing in various parts of the country. The Met Office recorded a staggering 40.2C at Heathrow Airport today. 
This means that right now, LF SYSTEM's current Number 1 Afraid To Feel is soundtracking the hottest summer on record.
The dance-disco bop is currently atop the Official Singles Chart on its second consecutive week, and is currently on-track to remain in place for a third.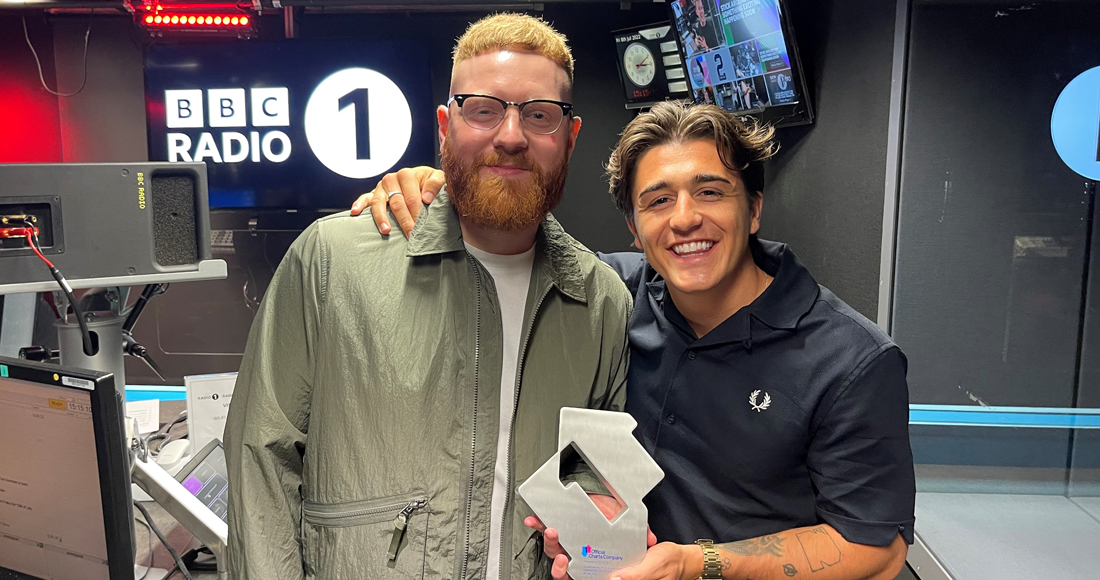 LF SYSTEM pose with their Official Singles Chart Number 1 award in the BBC Radio studios (Credit: Official Charts)
2019 previously saw the UK's hottest day ever recorded as 38.7C on July 25. The Number 1 song that week was Ed Sheeran's Beautiful People ft. Khalid – a fittingly hazy, laid-back track to chill out to that was top of the Official Singles Chart for one week only.
The UK's second-hottest day was recorded on August 10, 2003, when the mercury hit 38.5C. The Number 1 song keeping us all hot under the collar that week was Blu Cantrell and Sean Paul's Breathe; the bold and brassy car-cruising hip-hop track (complete with crash sound effects) was in the second of its four-week run at summit and dominated the airwaves that summer.
In the summer of 2020, Joel Corry and MNEK were on top of the Official Singles Chart with their smash Head and Heart - which would go on to claim a total of six weeks at the top spot - when the temperature hit a high of 37.8C on July 31.
August 1990 was also a notable scorcher, with the UK's fifth-hottest day recorded on August 3 at 37.1C. Keeping kids entertained during their summer holiday was the Teenage Mutant Hero Turtles; the superhero team of reptiles found themselves at the top of the Official Singles Chart that week with Turtle Power, the shoulder-popping theme song to their film released by New York hip-hop duo Partners In Kryme.
The UK's five hottest days on record and the UK's Official Number 1 song
Date: July 19th, 2022
Temperature: 40.2C
Number 1: LF SYSTEM - Afriad To Feel
Date: July 25th, 2019
Temperature: 38.7C
Number 1: Ed Sheeran ft. Khalid – Beautiful People
Date: August 10th, 2003
Temperature: 38.5C
Number 1: Blu Cantrell ft. Sean Paul – Breathe
Date: July 31st, 2020
Temperature: 37.8C
Number 1: Joel Corry ft. MNEK – Head & Heart
Date: August 3rd, 1990
Temperature: 37.1C
Number 1: Partners In Kryme – Turtle Power
Temperatures sourced from BBC Weather.