This week celebrates the first birthday of the Official Americana Albums Chart – the UK's first dedicated chart for Americana music, compiled by the Official Charts Company, in conjunction with the UK Americana Music Association. 
While The Lumineers claim the biggest Americana album overall, it's Van Morrison at the helm of a surprising army of UK acts representing a quarter of the genre's best sellers. 
The legendary Irish singer-songwriter was presented with a special award at last night's UK Americana Awards 2017, which took place at St John at Hackney, London.
The Official Americana Albums Chart - published every Friday on OfficialCharts.com - highlights the flourishing Americana scene in the UK, where in 2016 25% of the UK's Top 40 biggest Americana albums came courtesy of home-grown acts.
Americana music is defined as contemporary music that incorporates elements of various American roots music styles, including country, roots-rock, folk, bluegrass, R&B and blues. Alternatively, in the words of the inimitable Billy Bragg at last year's UK Americana Awards, "Americana…country music for people who like The Smiths".
Colorado three-piece The Lumineers top the 2016 year-end Americana rundown, revealed today, with Cleopatra, which topped the Official Albums Chart in April 2016. Commenting on their success in the genre, Wes Schultz from the band tells OfficialCharts.com:
"I feel very grateful that in an age where singles seem to be the focus, lots of people are still out there who still listen to albums, and can't believe we were the top seller in the US and UK."
MORE: The Lumineers land first Number 1 album with Cleopatra: "We didn't ever think this would happen!"
The albums featured in the new best-sellers list sold over half a million albums between them in 2016 – that's all new studio recordings, no greatest hits. 
Overall as a genre, Americana performs particularly strongly in physical product, with 66% of its consumption last year coming from records sold on CD and vinyl. Van Morrison's Keep Me Singing – the biggest UK Americana release of 2016, and a record that spent 10 weeks at Number 1 on the Official Americana Chart – was the most physical of the end of year list, at 91%.
Van Morrison was presented with a special award at last night's UK Americana Awards 2017 at St John at Hackney, and commented:

"It is great to be associated with an award that recognises songwriters and musicians and which pulls together the various influences of blues, rhythm & blues, folk, country and rock & roll. I am extremely honoured to receive the award for the biggest selling UK Americana album of 2016."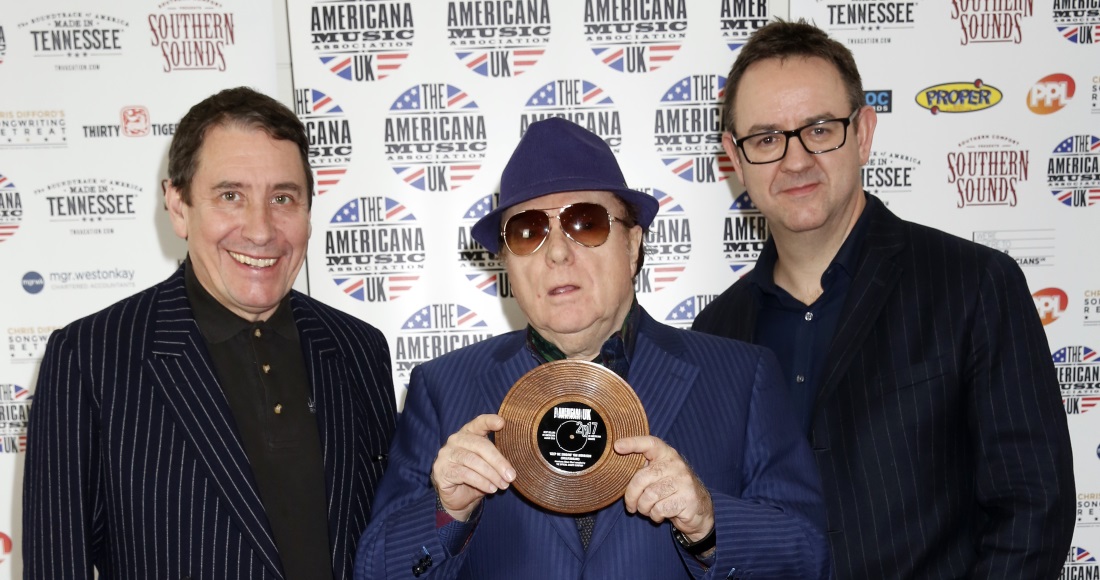 Van Morrison (center) pictured with his Best Selling UK Americana Album award with host Jools Holland (left), and the Official Charts Company's chief executive, Martin Talbot (right) (Image: Richard Young)
The vibrant weekly Official Americana Albums Chart saw 178 new entries across its first year and featured a mix of established artists such as Lucinda Williams and Sturgill Simpson, as well as the new breed of Americana artists including Margo Price and Ryley Walker.
Providing a UK-relevant twist to the chart, the rundown also features artists whose work is influenced by Americana, such as West London outfit Bear's Den, who secure two placings in the end of year chart.
Their sophomore record Red Earth & Pouring Rain (6) was a big seller, while Live In Amsterdam (Number 37) was only made available digitally. Its success was powered by its performance on streaming services, which made up 98% of its total consumption.
Independent artists are also well-represented in the weekly chart, with 37% of the entries across the last 12 months coming from independent labels. Eight of 2016's Number 1 Americana albums were indie releases, with record label Cooking Vinyl delivering three of those successes: Billy Bragg and Joe Henry's Shine A Light, Seth Lakeman's Ballads Of The Broken Few, and Teddy Thompson & Kelly Jones' Little Windows.
Martin Talbot, Chief Executive, Official Charts Company, said: "It has been a great first year for the Official Americana Chart, which has brought attention to almost 180 releases in this burgeoning sector, generating sales of more than 500,000 albums. Congratulations to Van Morrison, The Lumineers and Elle King in helping drive that success." 
MORE: The Official Best Selling Americana Albums of 2015
Official Americana Albums Chart –  End of Year Top 10, 2016

| | | | | | |
| --- | --- | --- | --- | --- | --- |
|  # | TITLE | ARTIST | LABEL | PEAK ON OFFICIAL AMERICANA ALBUMS CHART | PEAK ON OFFICIAL ALBUMS CHART |
| 1 | CLEOPATRA | THE LUMINEERS | DECCA | 1 | 1 |
| 2 | LOVE STUFF | ELLE KING | COLUMBIA | 1 | 18 |
| 3 | KEEP ME SINGING | VAN MORRISON | CAROLINE/EXILE | 1 | 4 |
| 4 | NATHAN RATELIFF & THE NIGHT SWEATS | NATHAN RATELIFF & THE NIGHT SWEATS | STAX/CAROLINE | 2 | 27 |
| 5 | A/B | KALEO | ATLANTIC | 1 | 27 |
| 6 | RED EARTH & POURING RAIN | BEAR'S DEN | COMMUNION | 1 | 6 |
| 7 | KEEPIN THE HORSE BETWEEN ME & THE GROUND | SEASICK STEVE | THERE'S A DEAD SKUNK | 1 | 8 |
| 8 | ACOUSTIC RECORDINGS: 1998 - 2016 | JACK WHITE | XL RECORDINGS | 1 | 12 |
| 9 | I LOVE YOU HONEYBEAR | FATHER JOHN MISTY | BELLA UNION | 5 | 14 |
| 10 | HOLLOW BONES | RIVAL SONS | EARACHE | 2 | 13 |
©2017 Official Charts Company. All rights reserved.