Ed Sheeran has yet another accolade to add to his list of achievements; his single Thinking Out Loud has become the first ever to spend a full year inside the Official Singles Chart Top 40.
Exactly one year after its release, Thinking Out Loud has logged 52 consecutive weeks on the tally, finishing this week at Number 28.
Other chart main stayers that have come close to a full year in the Top 40 in recent years are John Legend's All Of Me (44 consecutive weeks) and Pharrell Williams' Happy (49 consecutive weeks).
The feat is yet another massive milestone for Thinking Out Loud, which holds the title for the longest climb ever to the top spot, taking 19 weeks reach the summit after first entering the Top 40 at Number 26 last June.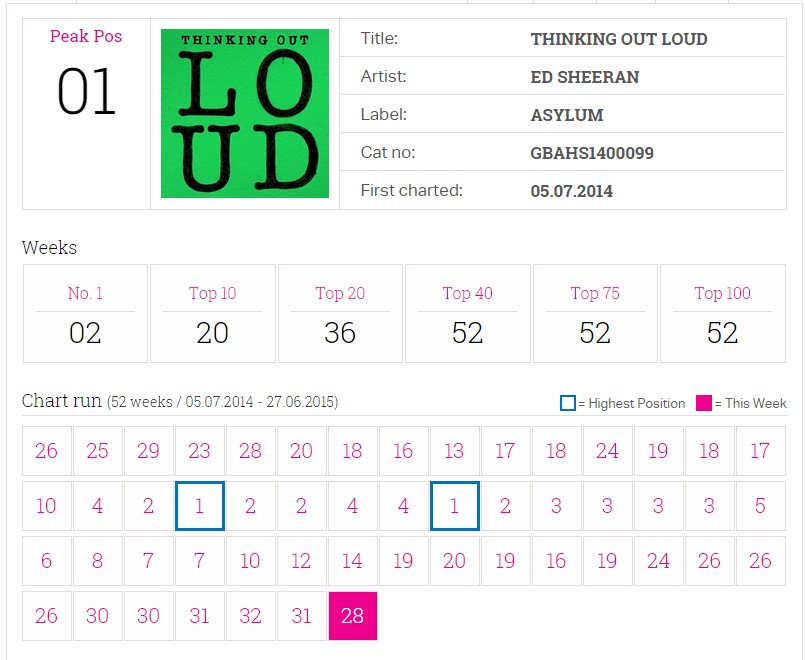 Thinking Out Loud is also one of the UK's 161 million-selling singles and the 26th best-selling track of the decade to far. To date, the song has a combined sales and streams total of 1.65 million.
Sheeran's album X also celebrates an important milestone this week, having logged a full year in the Official Albums Chart Top 10.
The record, which has so far spent 12 non-consecutive weeks at the summit, landed at Number 5 for its 52nd week on the chart. The record's total sales to date stand at 2.23 million and it is currently the fifth best-selling album of the decade (see the full list list here).
In addition to Thinking Out Loud, X has spawned a string of successful singles; the chart-topping Sing and Top 10s Don't (Number 8) and Bloodstream (2). His current single Photograph reached a new peak at 22 on this week's tally. To date, individual track downloads from X total 2.96 million, while songs from the album have been streamed 298 million times.