Thinking Out Loud has topped the Official Singles Chart after a mammoth 19 weeks in the Top 40, becoming the song with the longest climb from entering the Top 40 to the Number 1 spot in history.
This isn't the first Official Chart record this year for Ed, who has just finished playing to over 290,000 people on his recent UK tour. The singer/songwriter's second studio album X is also the current fastest-selling and longest-running Number 1 album of 2014.
Thinking Out Loud is Ed's second Number 1 in six months, having scored his first ever chart topper back in June with Sing.
Ed tells OfficialCharts.com: "I'm not used to having Number 1 singles and this is my favourite song on the album, my favourite song I've written, so I'm really proud it's getting this recognition."
Bucking the trend of Number 1s in recent years - which often top the chart on their first week of release, following a focused blaze of promotion and pre-orders, before trickling down the chart - Thinking Out Loud first entered the Top 40 upon the release of Ed's second studio album X back in June. Since then, the track has climbed steadily, finally entering the Top 10 three weeks ago.
See Thinking Out Loud's full chart run, including some of the key moments that propelled it up the chart, below: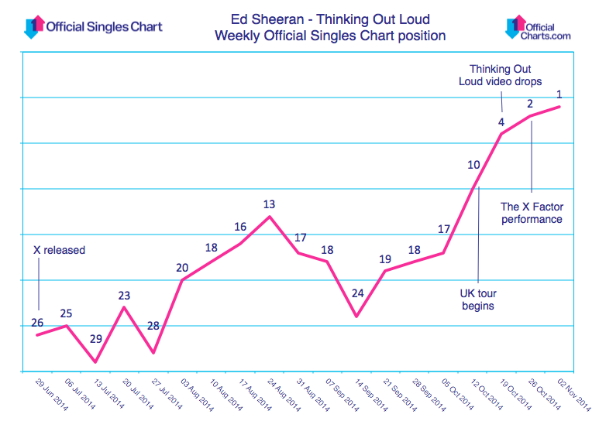 The record for the longest ascent to Number 1 was previously held by Celine Dion, whose 1994 single Think Twice took 13 weeks to reach Number 1 after entering the Top 40. Other acts with lengthy journeys to the Number 1 spot from entering the Top 40 include Louis Armstrong's What A Wonderful World (11 weeks in 1968), Lady Gaga's Poker Face (10 weeks in 2009) and Coldplay's Paradise (10 weeks in 2011/12).
Racking up a combined chart sales figure of over 89,000 this week, Thinking Out Loud has now sold over 356,000 copies and has been streamed on audio streaming services nearly 14,000,000 times to date.
Check out the track's week-by-week UK sales and audio streams below: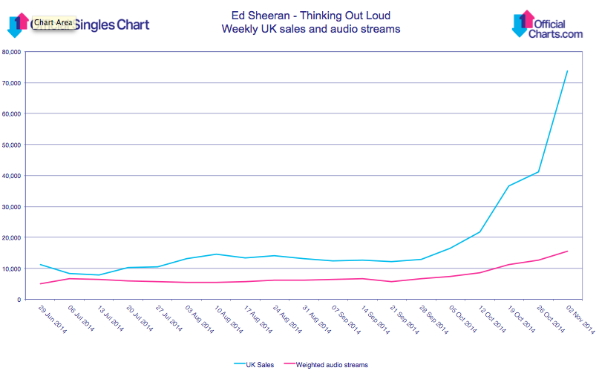 Breaking the one million audio streams barrier for a third week in a row, Thinking Out Loud also claims the title of this week's most streamed track, having been listened to nearly 1.6 million times in the last seven days.
Five other tracks have also been streamed over a million times this week; Taylor Swift's Shake It Off (1.4m), Meghan Trainor's All About That Bass (1.3m), Jessie J, Ariana Grande and Nicki Minaj's Bang Bang (1.1m), Calvin Harris' Blame FT John Newman (1m) and Sam Smith's I'm Not The Only One (1m).
New entries and high climbers
There are three new entries in today's Official Singles Chart Top 40. German producer Parra For Cuva scores this week's highest new entry with reworking of Chris Isaak's 1990 hit Wicked Game, Wicked Games FT Anna Naklab (6). Calvin Harris is new at 23 today with Open Wide FT Big Sean, the latest track to be lifted from Calvin's upcoming fourth studio album Motion.
Following their performance on The X Factor last weekend, OneRepublic's I Lived reaches a new peak at 29, while Love Runs Out re-enters the Top 40 at 38.
Finally, Idina Menzel's Let It Go climbs 18 places to Number 36, following a performance of the track by The X Factor contestant Lauren Platt on the show last week.
The Official Singles Chart Top 10 is as follows. Click here to see the Official Singles Chart Top 100 in full after 7pm.
| | | |
| --- | --- | --- |
| 1 | THINKING OUT LOUD | ED SHEERAN |
| 2 | ALL ABOUT THAT BASS | MEGHAN TRAINOR |
| 3 | SHAKE IT OFF | TAYLOR SWIFT |
| 4 | BANG BANG | JESSIE J/GRANDE/MINAJ |
| 5 | DON'T TELL 'EM | JEREMIH FT YG |
| 6 | WICKED GAMES | PARRA FOR CUVA FT ANNA NAKLAB |
| 7 | STEAL MY GIRL | ONE DIRECTION |
| 8 | BUMP & GRIND 2014 | WAZE & ODYSSEY VS R KELLY |
| 9 | BLAME | CALVIN HARRIS FT JOHN NEWMAN |
| 10 | I'M NOT THE ONLY ONE | SAM SMITH |
© 2014 Official Charts Company. All rights reserved.