It's finally here, people. Louis Tomlinson's brand-new documentary film - All Of Those Voices - will be released in cinemas across the world today.
The work of acclaimed director Charlie Lightening, who's also behind many of Louis' music videos including Walls, Kill My Mind and We Made It, All Of Those Voices offers a no holds barred insight into his incredible solo career post-One Direction.
From the group's final performance to date on The X Factor right through to Louis' 2022 Number 1 album Faith In The Future, it's a film emotional, exposing and truly bloody hilarious in equal measure.
So, we thought we'd give you a little teaser of what to expect (without spoiling too much!)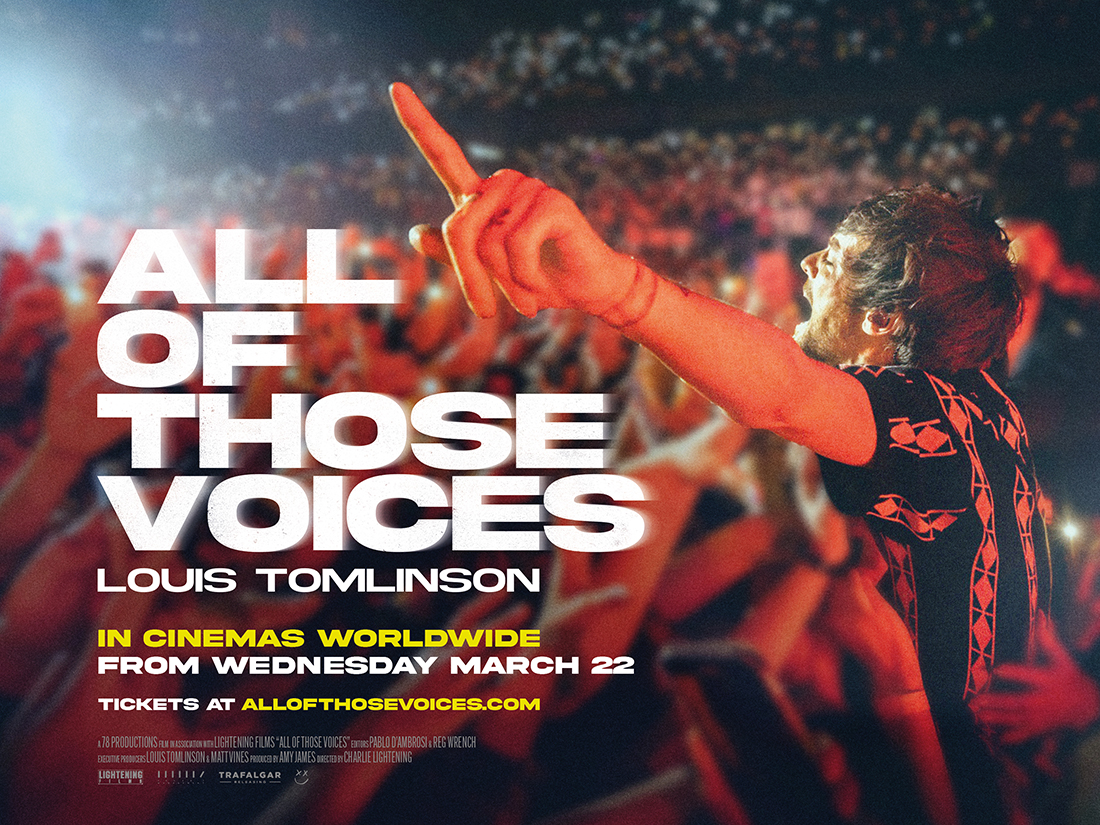 Behold, 28 things we learnt from Louis Tomlinson's All Of Those Voices:
WARNING: Some mild spoilers ahead!
1. One Direction's hiatus completely blindsided him. "I wanted to stay in the band," he says, "but that wasn't an option any more."
2. He was devastated when he didn't get a solo on 1D's Number 1 debut single What Makes You Beautiful.
3. Louis had been promised more prominence on the group's follow-up release Gotta Be You, only to be left disappointed once again.
4. It took two-and-a-half years in the group for Louis to feel he had 'control' and the confidence to voice his opinion.
5. He's most proud of his writing credits in the group, explaining that was his 'role' in One Direction.
6. Career insecurity worried Louis as the group announced their hiatus. "There's no security, nobody knows what's going to happen after this," he explains in footage from the band's final performance.
7. Louis had no idea what his future held post-1D. "I didn't see a way back, not even musically, to do anything," he says.
8. His late mother Johannah waited for Louis to come around to the idea of a solo career himself; knowing it was the right path for him to follow.
9. Walls and Kill My Mind are the tracks that cemented his confidence in his abilities as a solo artist.
10. Louis' performance of Steve Aoki collaboration Just Hold On at The X Factor - following the death of his mother - was the most 'challenging' moment of his career. "I got up there for her more than I did for me," he says. "I'll never have a moment that's more challenging in my career."
11. Watching bandmate Liam Payne perform One Direction's Little Things at his solo shows was 'f**king weird' at first.
12. But while it might've been 'f**king weird," Louis felt immensely 'proud'
13. When watching Liam perform solo, his first thought was 'can we not just rewind the clock and be back in the band and carry on singing as we were?'
14. It's a 'proper honour' that his fans show so much support.
WATCH: Come inside Louis Tomlinson's London movie premiere
15. It was also a 'f**king out of body experience' the first time he saw Niall perform 1D's Four album track Fool's Gold.
16. Niall was the first of the One Direction boys to watch Louis perform a solo show.
17. His 'natural bond' with his mum was 'really, really special.' "She was still kind of a kid when she had me," he explains.
18. He called his mum first when he lost his virginity, 'just like she was one of my lad mates!'
19. After his second performance of school production Grease, in which he played Danny Zuko, Louis said 'this is what I want to do now for the rest of my life;' almost like an 'epiphany.'
20. Louis and his son Freddie have a matching pair of Adidas trainers. Adorable.
21. Leaving his son remains difficult, but Louis flies to LA whenever he can for him. "It doesn't get any easier, but it's something I've grown used to," he says.
22. In fact, Louis admits 'it gets harder to leave Freddie every time.'
23. The COVID-19 lockdowns gave him chance to 'declutter' his mind.
24. On Faith in the Future, Louis wrote songs he 'couldn't have even imagined being a part of' on debut Walls.
25. Louis often records while smoking a cigarette in the vocal booth. King.
26. His love of Louies knows no bounds - appreciating everybody from the stans camping outside his shows to new-found fans.
27. He's slowly making peace with the hectic nature of his life. "I'm waiting for no bulls**t, no stress. I'll be waiting a bit longer, I think!"
28. It's taken over a decade in the industry for Louis to truly recognise his talent. "I finally feel worthy of the success I'm having," he says.
NOW check out every Louis Tomlinson single and album artwork