With seven Top 10 singles, a Number 1 album and a bunch of BRIT Awards nods to his name, KSI is undoubtedly one of the UK's most exciting artists right now. And his ascent shows no sign of slowing down, as the 29-year-old joins forces with Tom Grennan on brand-new single Not Over Yet.
Marking his first release on Atlantic Records, and his big return to music following last year's chart-topping record All Over the Place, KSI's hooked up with an absolute dream team of collaborators on the track sure to take him stratospheric.
We're lucky enough to have had a sneaky listen ahead of its release on August 5 and, let us tell you, you're not even ready.
On paper, Not Over Yet boasts some of music's biggest names. With Digital Farm Animals and Billen Ted on production duties and Sara Boe and Rick Boardman as credited song writers, it already has the makings of a hit. But how does it sound?
Well, it's huge.
With KSI at his most vulnerable, candidly opening up on heartbreak, Not Over Yet proves the 29-year-old isn't afraid to confront challenges through his art.
'Tell me why you started a fire, it's burning up in my head,' KSI pleads over an acoustic intro. 'Why do I always tell myself that it's not over yet?'
'Why've you got to tear my heart out, leave me in the rain? / Why do I always tell myself that it's not over yet?'
With KSI struggling to accept a relationship nearing its end, the track quickly gains momentum; exploding into an anthemic drum 'n' bass banger.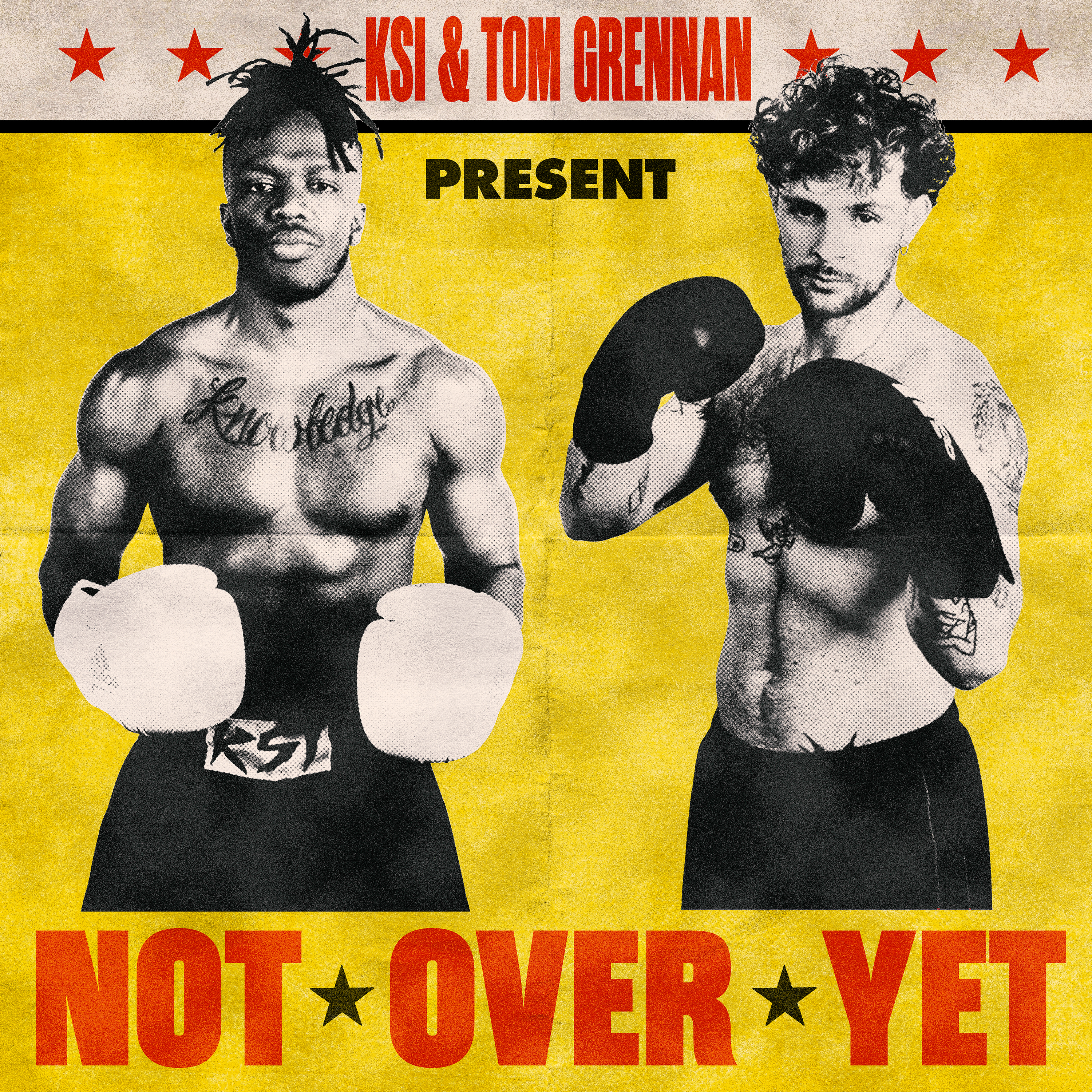 Tom enters the track in its second verse, with his incredible vocal conveying a desperate confusion and refusal to face reality.
'Why is everybody telling me it's over?' he asks. 'I'm trying to shut the voices out, they're getting closer / Help me stay alive so that I can show you it's not over yet.'
Not Over Yet's true charm lies in its contradictions; its vulnerable lyrics juxtaposed with a soaring, somewhat hopeful instrumental.
The single comes ahead of KSI's much-anticipated return to boxing, as he prepares to fight Alex Wassabi at The O2, London on August 27.
Chatting about the release, KSI says: "I'm finally releasing my first single since the 2021 release of All Over The Place.
"Teaming up with Tom Grennan, we've made an absolute smash to get the people pumped and ready for my headline fight at The O2 later this month. This is a song that amplifies my 'never give up' attitude, whether it's to do with love or being back in the ring."
Tom adds: "I'm buzzing to be working with KSI. The guy is a beast and has his fingers in all different pies and is killing the music game also! The song is a banger and I think people are gunna love it."
KSI & Tom Grennan's Not Over Yet is released August 5 via Atlantic.