James Arthur has revealed how a tumultuous year of health scares that impacted his physical and mental health inspired his new album and its lead single Medicine.
James says the track, released today (March 5), and its parent album "encapsulates a moment in time" during which he was recovering from severe anxiety and a life-threatening gallbladder infection, both of which occurred in early 2020 when he was in the middle of a European tour – and the world was about to go into lockdown.
The resulting Medicine has the hallmarks of classic James Arthur – a towering ballad with an instant, singalong chorus – plus a cinematic soundscape twist that accidentally serves as a fitting soundtrack as the world eases out of lockdown. The song is his first release since signing a new UK record deal with Columbia.
"When I wrote it six months ago there was no vaccine or any end in sight to this," James told OfficialCharts.com. "I definitely felt at the time that I'd like to get this song out as soon as possible, knowing that it would probably be another six months before the world would hear it. It's almost even more fitting now that there's a light at the end of the tunnel."
After his health issues struck in January 2020, James checked into Nightingale Hospital in central London, undertook therapy up to four times week, embarked on a course of medication and cancelled all of his work commitments. "I hit a roadblock I keep hitting in my life in terms of my mental health and stuff that I hadn't really processed," he explained. "The lockdown forced me to address all of those things."
Written and recorded in his newly-created home studio with longtime collaborators Red Triangle and Andrew Jackson, plus a new songwriting partner in Yami Bell (Tiesto's The Business), Medicine and James' fourth album sees his sound evolve into emo-pop-rock-via-trap. It's a sound he explored in his early days as a recording artist and has seen a resurgence in recent months by likes of Post Malone, Travis Barker and Machine Gun Kelly.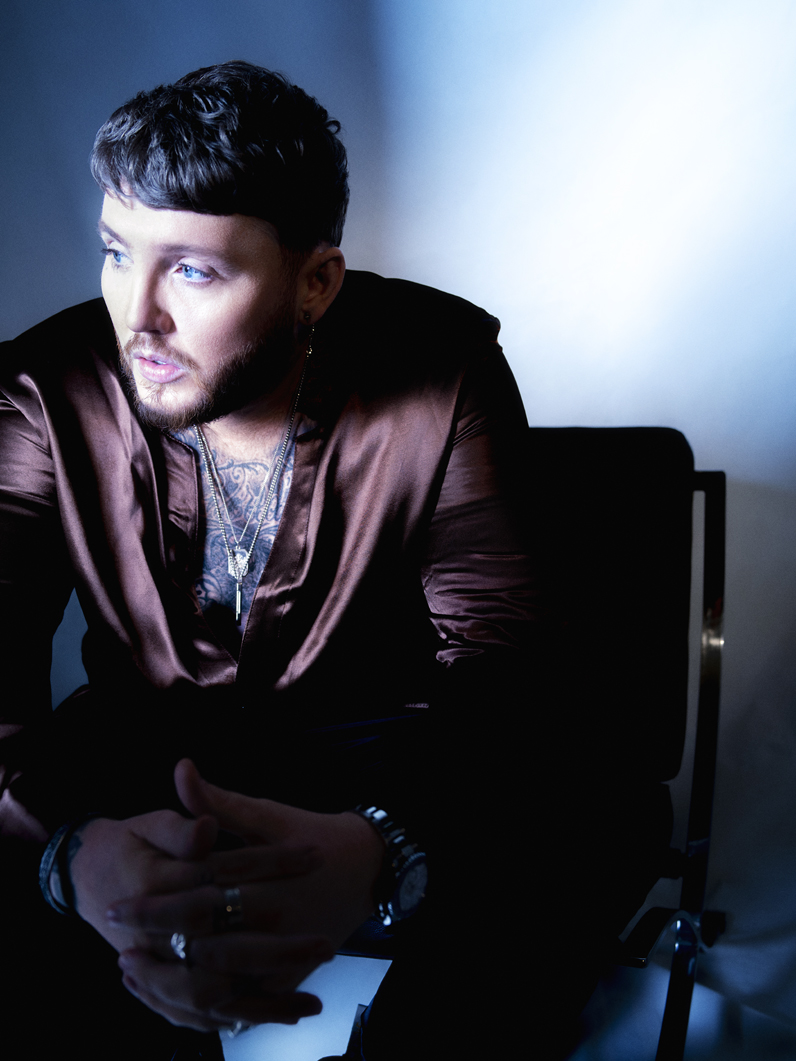 "There was something really cool about me making it at home in my own studio," he says. "I'd never really enjoyed the typical process you go through when making an album in the sense that you get carted off here, there and everywhere. In my experience it's made for quite disjointed-sounding records. It sounds like I can't pick a lane. On [Medicine] you get the classic songwriting from me, but it's dressed up in a way that feels much more me."
James insists the album, which was largely written and recorded in just two and a half months, "feels a lot more coherent," with a guitar-heavy sound, but it wasn't easy to convince his team to agree on the direction. "Whenever anyone would get afraid of us doing too much guitar, I'd stick to my guns on it, because it threads through the album. I don't think there's any piano-led songs on this album."
Now entering his eighth year as a successful recording artist and competing in the busy field of British male singer-songwriter (see: Ed Sheeran, Lewis Capaldi, Dermot Kennedy, etc), James admits he be "100% lying if I said I wasn't motivated by competition. There are a lot of guys in this lane, but I think I've got a lot of strings to my bow.
"I'm always keen to show different sides and different genres, but of course I'm motivated – there are some amazing male singer-songwriters out there. Every time they drop they go straight to the top end of the charts. I've been around for eight years now; I need to keep up! I don't want people to forget about me and leave me behind."