Inside the rise and rise of Taylor Swift's Cruel Summer
How the single that almost never was may just be the soundtrack to this summer and beyond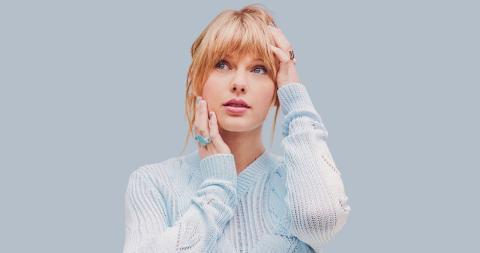 Taylor Swift is a planner. 
So much of the lore surrounding her rise to pop superstardom has been pinned around how well she plans things. How little easter eggs hinting at future musical projects are planted across her social media, interviews and content weeks, months and sometimes years in advance. In an interview once, Taylor said that if she didn't pay the rent as a pop star, she would work in marketing. You can really believe that.
But there was one thing Taylor Swift, or indeed, anyone else, had planned for - COVID. Although the large-scale shuttering of the pandemic in 2020 meant that Taylor's planned world tour for her 2019 LP Lover were scrapped, lockdown did give her the tools, space and inspiration to craft folklore and evermore, two albums that both re-defined her career, re-centering her at the centre of the conversation as one of the most skilled lyricists of her generation, regardless of genre. 
Yet, there always seemed to be unfinished business with the Lover era. In particular, the second track of the album, a wicked New Wave banger composed with producer Jack Antonoff and alt-pop auteur St. Vincent that many hardcore fans had predicted would, inevitably, become a single. 
Enter...Cruel Summer. 
Every Taylor Swift album contains what is essentially a definitive pop statement. Something that seems so fully formed, you can't believe no-one else had thought about it before; we're talking about the likes of All Too Well from Red, Getaway Car from reputation an the big one, Style from 1989. 
Cruel Summer itself could be considered something of a spikier cousin to the polished French disco of Style, it exists in a temporal state, it's hashing chords and melodies transporting you right into the heat of the moment. 
'Cut the headlights,' Taylor says, 'summer's a knife.' It's about, love, obsession and the danger that can exist within those confined spaces. Summer is cruel yes, and it can bring you pain and pleasure. Both of these hurt. Both of these can be euphoric in the right circumstance. 
While Taylor HQ is normally as hard to infiltrate as Fort Knox, over the years bits and pieces of information have leaked about her intentions for the rest of the Lover era. Chief among them was, apparently, to officially release Cruel Summer as a single to accompany her live shows in the summer of 2020. A music video was even filmed, before being scrapped when Taylor moved into the mythical forest of folklore. 
But you can never keep a good pop anthem down, and Cruel Summer was the off was a specifc fan favourite. Noted Taylor Swift scholar Olivia Rodrigo even included a homage to its shouty bridge in her elegant art-rock single Deja Vu (somewhat controversially, Taylor, Antonoff and St Vincent were later given retrospective songwriting credits on Deja Vu, with Cruel Summer now credited as an official sample on the track).
The big leveller for Cruel Summer, though, came this year. When Taylor embarked on her career-spanning Eras Tour earlier this year, Cruel Summer (already part of the setlist) underwent something of a renaissance; blowing up across (where else), TikTok before finally being announced as an official single by the woman herself, live on stage. 
"So, basically, Cruel Summer was on the Lover album," Taylor said, confirming that Cruel Summer's single release was scrapped during the pandemic. "That song was my pride and joy on that album. That was my favorite song.
"What's happening right now, thanks to you —and honestly no one understands why this is happening — you guys have streamed Cruel Summer so much right now in 2023 that it's, like, rising on the streaming charts so crazy. My label just decided to just make it the next single."
And as an official single, Cruel Summer is truly thriving on the Official Chart at the moment. After originally peaking at Number 27 in 2019 in the week of Lover's release, it re-entered the Official Singles Chart last week at Number 28, but is set to fly even further this week. As it currently stands, Cruel Summer is expected to reach a brand new peak of Friday, right now tracking to rise to Number 13.
According to Official Charts Company data, Cruel Summer has already racked up an extremely impressive tally of over 482,000 chart units, including 54 million streams and counting. It's the fourth most-popular song off Lover (following the title track, lead single Me! with Brendon Urie and You Need To Calm Down) and also ranked as the most popular non-single off the record.  
So, what can we learn from the rise and rise of Cruel Summer?
Much like the absolute pop justice of Kate Bush's Running Up That Hill finally reaching Number 1 more than 30 years after its initial release, there are songs that will always sound like hits that have never got their due...until they suddenly do. 
And, more importantly, it's that it's never wise to count Taylor Swift out. She is a planner. A master marketer. And her plans always come to fruition, even if it seems at the time like they won't.
Cruel Summer is out now via EMI.
Related Singles and Albums