Taylor Swift's Official biggest albums in the UK revealed
Blondie's biggest albums on the UK's Official Charts, updated.
Perhaps more than any artist in the modern era, Taylor Swift has explemified the power of the album. 
The album cycle is integral to Taylor's artistic identity and her progression as an artist. Taylor has used each of her albums as a self-contained era; each with its own distinct taste, smell and feel. 
In a sense, in each era, its album is a planet, circling a wider solar system comprised of Easter Eggs, visuals and media speculation on the 'real' meaning behind her lyrics.
Updated to now include 2022 release Midnights, just when The Eras Tour hype arrives as UK fans clamour for tickets, we've crunched the numbers to reveal Blondie's biggest-ever LPs in the UK. 
12. Fearless (Taylor's Version)
Released: 2021
Official Albums Chart peak: Number 1
Total UK chart sales: 149,000
The first of Taylor's original six albums to be re-released and re-recorded following a very public falling out with her old record label Big Machine over the rights to their master recordings, Fearless (Taylor's Version) sees Taylor take ownership (literally) over her sophomore album's eclectic country-pop soundscape with a distinctly nostalgic lens. 
11. Taylor Swift
Released: 2007
Official Albums Chart peak: Number 81
Total UK chart sales: 217,000
Everyone has to start somewhere. With cutesy tracks such as Tim McGraw, Teardrops On My Guitar and A Place In This World, Taylor Swift remains a fascinating insight into the genesis of a true superstar. 
10. Red (Taylor's Version)
Released: 2021
Official Albums Chart peak: Number 1
Total UK chart sales: 256,000
Grap that red scarf, take a sip of your pumpkin spice lattee and get ready to watch the leaves change colour. Red (Taylor's Version) sees Tay revisit her masterful fourth album, the first instance which showed her fully embrace her pop hitmaking skills, as well as some of the most masterful songwriting of her career.
Of course, the centrepiece of the album is the long-mythologised 10 minute version of heart-tearing ballad All Too Well, which Taylor recasts from a sensitive and tender lament to a powerful odyssey of a relationship whose scars can be felt long after they were first made.
9. Evermore
Released: 2020
Official Albums Chart peak: Number 1
Total UK chart sales: 302,000
The folksy sister record to Folklore, Evermore takes a deeper dive into the mystical forest that Tay's 2020 isolation album built. Across tracks with Bon Iver and Haim, it sees Taylor become more and more fascinated with constructing labyrinthine fictional narratives in her songs, as opposed to strictly autobiographical ones.
8. Speak Now
Released: 2010
Official Albums Chart peak: Number 6
Total UK chart sales: 389,000
Written entirely by Taylor herself, Speak Now was formed after the success of Fearless, when some critics began to doubt that a teenager could really write songs that good without help. 
And what did she do? Prove to them that she could do it entirely by herself.
7. folklore
Released: 2020
Official Albums Chart peak: Number 1
Total UK chart sales: 492,000
A surprise release during the height of COVID, folklore is an expansive and surprising body of work, even two years after its release. Finding the perfect collaborators in Jack Antonoff and Aaron Dessner of the National, many of folklore's tracks hum with enigma and mystery. 
Intertwined within the album are three interconnected tracks (Cardigan, August and Betty) telling the story of three teenagers caught in a scandalous affair, told from three different perspectives. They rank among some of Taylor's greatest-ever accomplishments as both a lyricist and performer. 
6. Lover
Released: 2019
Official Albums Chart peak: Number 1
Total UK chart sales: 526,000
Taking a deep inhale of breath after the chaos surrounding reputation, Lover finds Taylor back in a sugary-sweet and contemplative mood. Singles Me! and You Need To Calm Down may be the singer at her most gregarious, but it's the quiet hum of the title track, the under-scored synths of The Archer and the magnificent new-wave bounce of Cruel Summer (the hit single that never was...until it suddenly was) make Lover shine.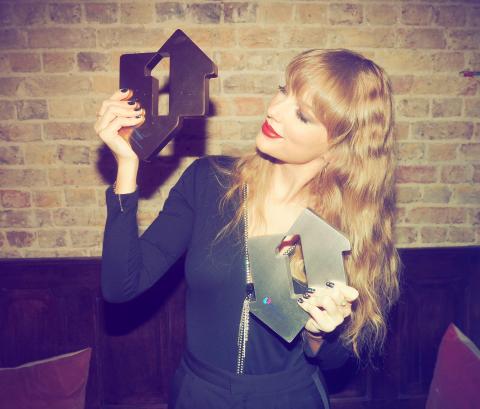 5. Midnights
Released: 2022
Official Albums Chart peak: Number 1
Total UK chart units: 611,000
Labyrinthine and complex, Midnights may have started off as a creative writing exercise for Taylor (with each of its thirteen tracks representing a sleepless night at different points in her life) but the end result is a charismatic and sometimes mysterious collection of songs that blend the fictional narratives Taylor experimented with during the pandemic with a blurred, off-centre reality. 
Midnights' massive UK chart debut of 204,000 units was Taylor's biggest first week sales to date - and helped her secure one of 2022's biggest albums, just a few weeks after release. In 2023, Midnights has gone straight in at Number 5 on Taylor's all-time list, bolstered by 235,000 physical sales and album equivalent streams of 361,000 (her fourth best overall).
4. reputation
Released: 2017
Official Albums Chart peak: Number 1
Total UK chart sales: 642,000
There will be no explanation, there will just be reputation. So went the announcement of Taylor's incendiary sixth album. Misunderstood at the time of its release, the years have been nothing but kind to this complicated and un-compromising piece of pop craftmanship.
Because really, reputation is an album of two halves; the braggadocious first, mainly produced by Max Martin, sees Taylor flex a heel turn as a villainous alter-ego (I Did Something Bad, ...Ready For It?) and a more sombre second-half that sees Tay break down her walls and let us see the cracks behind the veneer.
Home to her first UK Number 1 single, Look What You Made Me Do, reputation is the ultimate proof that sometimes, you have to burn it all down to start again. 
3. Fearless
Released: 2008
Official Albums Chart peak: Number 5
Total UK chart sales: 704,000
Jump in head first, Fearless. There's the lingering spectre of Shania Twain on Taylor's effervescent sophomore record. A thrillingly ambitious album that sees her pair her country roots with a bright-eyed pop vision that gave her a one-two punch of singles, Love Story and You Belong With Me, that changed the game forever.
2. Red
Released: 2012
Official Albums Chart peak: Number 1
Total UK chart sales: 848,000
Red represents the best of two worlds. It sees Taylor finessing her already established skill at penning confessional country ballads (this time infused with a heavy rock influence, such as State Of Grace and Holy Ground) as well as finding her ideal pop partners with Max Martin and Shellback (We Are Never Ever Getting Back Together, I Knew You Were Trouble).
Taylor's second-most successful album in the UK, Red has pushed more than 848,000 chart sales here. You can read more about how Taylor successfully pivoted to pop on Red here.
1. 1989
Released: 2014
Official Albums Chart peak: Number 1
Total UK chart sales: 1.6 million
The perfect pop album for the perfect pop star, 1989 was the key that enabled Taylor Swift to conquer the world. 
There was no room for error or compromise on this hits-packed LP, Taylor's first official 'pop' album that pulls from so many disparate forms of pop, from icy minimalism (Blank Space), maximalist big-band (Shake It Off) and coquettish French disco (Style), it's a wonder that all that people ever doubted she could make the transition from country to pop and do it better than anyone had ever done it before.
1989 is, obviously, Taylor's biggest album in the UK, and it leaves no prisoners. It's gained over 1.6 million chart sales to date, as well as being her biggest physical seller (745,000), most digitally-downloaded (399,000) and most-streamed (album equivalent streams of 500,000) to date. Now that's what you call an imperial phase.