You have to think big if you're going to get the biggest Number 1 of the year. You've got to be smart enough to both beat the competition and win over the great British public. We look at past Number 1s and trends over the last 69 years of the Official Singles Chart to come up with these handy hints, just in case you fancy having a crack at the top of the tree…
Avoid Christmas in the title
The rookie mistake many artists make is to assume all they have to do is release a Christmassy song – preferably with a seasonal title – and they're a shoo-in. Wrong! Only six Christmas Number 1s have had the word "Christmas" in the title – seven including Slade's Merry Xmas Everybody – and three of those were actually the same song, Do They Know It's Christmas.
A further five have had a vaguely seasonal theme, but the overwhelming majority have barely even considered Christmas. Fancy! So, binning off Santa and/or the Nativity is your best start.
Do it for charity
You might have to park your hopes of untold riches if you want to a Christmas Number 1 – a third of festive chart-toppers since 2000 have donated the proceeds to charity, including the most recent three from LadBaby, with proceeds going to foodbank charity The Trussell Trust. Don't worry, we're sure your next single will make a fortune.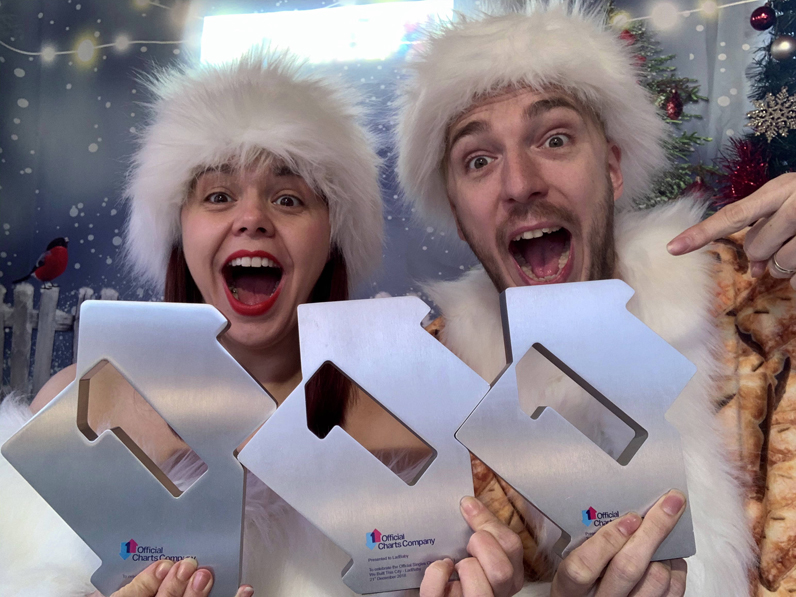 LadBaby celebrating their third Christmas Number 1 in 2020.
Make sure it's available to buy everywhere
You have to get your song into the 6,500 genuine retailers who report their sales to the Official Chart. Spotify, Apple Music, Amazon, HMV, Fopp, and many more; we count all the major digital stores. Multiple purchases don't count though, remember. Oh, and releasing your song on vinyl and CD single could also make all the difference at the final hurdle - this year has seen the unlikely resurgence of the CD as fans flock to collectibles. Everything you need to know about meeting the Official UK Chart rules can be found here.
Be a man
While we're doing our best to smash the patriarchy, statistically, it's still a man's world where the Christmas Number 1 countdown is concerned. Booo! In the first 20 years of the Official Singles Chart, a woman featured on a Christmas chart-topper just ONCE – Winifred Atwell in 1954. Overall, 21 Christmas Number 1s have had a female involvement of some kind, with only five of those going to solo artists.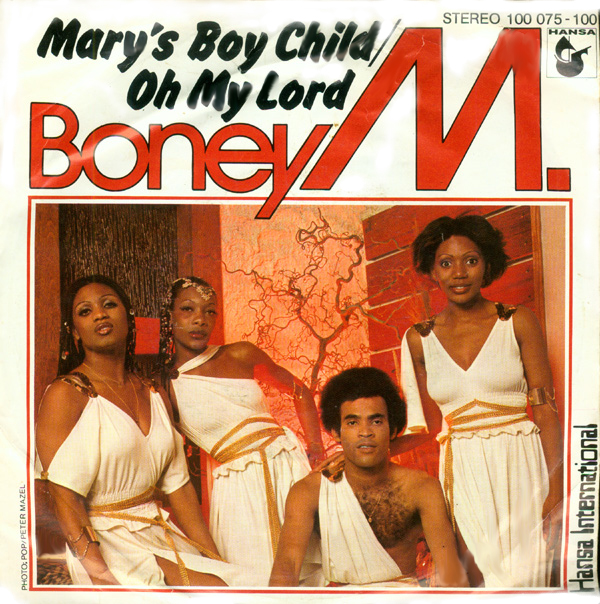 Do a cover version
One thing that inspires the public to get a song to Christmas Number 1 is if they already know it. 15 Xmas chart rulers over the last two decades have been cover versions (or slight reworks, in LadBaby's case). An even better way of securing the top spot is to cover a song that's already been Christmas Number 1. Mary's Boy Child has topped the Christmas chart twice, and Do They Know It's Christmas three times. Bohemian Rhapsody has done it twice, too, but both times with the original Queen version. Maybe join Queen and give it a go?
Get busy on social media
As thrilling as your selfies are, there's more to social media than sharing pics of your lunch and tweeting about how late your bus was. You need to work it with your RTs, shares, TikToks, Reels, likes and faves. Mobilise your fans and let them do the work for you.
Release a novelty single
LadBaby's last three festive Number 1s are firmly in the novelty section, while  Bob the Builder in 2000 and Mr Blobby in 1993 were million-sellers, so the time is right for a wacky Number 1. Just look at it as cosplay – except, like, in front of the entire nation.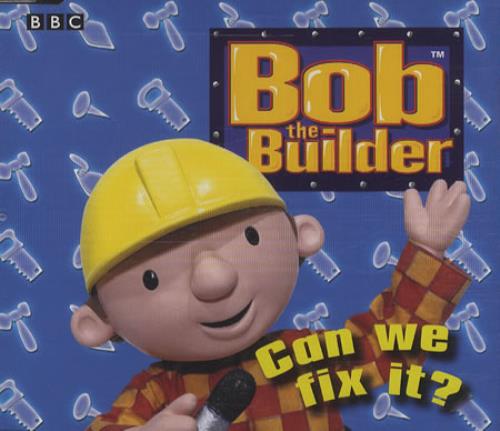 Get a remix!
Remixes (not cover versions) of your tune also count towards the same chart position, so if you release a few different versions of your contender, your adoring fans are more likely to snap it up. As long as the remixes are decent, of course, and not just a sleigh bell added over the top of your chorus – give value and give it generously. It's Christmas!
Be a bit miserable, or record a ballad
Christmas is, for the majority of us, a happy time – the most wonderful time of the year in fact. However, as any regular EastEnders viewer will tell you, punters don't half love a bit of heartache and despair at Christmas time. According to our records and very complicated algorithm for working out the general mood of a song, around 25 of 69 Christmas Number 1s could be considered to be on the miserable side.
Ballads are also popular, too - you could slow dance to 27 Christmas Number 1s, with some of the most notable being East 17's Stay Another Day, all three Spice Girls tracks, and Ed Sheeran's Perfect.
The cut-off for sales and streams to count in the Christmas Number 1 race 2021 is 23.59pm Thursday 23 December, so get behind your favourite before then.
The 2021 Official Christmas Number 1 winner will be announced on Friday, December 24 on BBC Radio 1's Official Chart with Scott Mills from 4pm. The full Top 100 Official Christmas Singles Chart and Albums Chart will be published on OfficialCharts.com from 5.45pm.
Article image: Shutterstock/Rex