When an album comes out, most of us like to play pundit and guess which tracks will become singles, or have our own favourites for wider release. Usually, this is set in stone before the album's release, with potential candidates already identified, but sometimes, just sometimes, plans change and a once-surefire single is either dropped completely or brushed aside for another track. We look at a few phantom singles...
Beyoncé
Blow was primed to be the 'pop' lead single from Bey's surprise self-titled album. But when radio stations in the US got twitchy about the song's subject matter – that's not actually a bag of Skittles Bey is offering up, btw – it was jettisoned in favour of the much more wholesome XO.
Beyoncé also teamed up with Alicia Keys on Put It In A Love Song, from Alicia's The Element of Freedom album, and appeared on stage with her to sing it and the pair shot a video in Rio - clips of which have since been stitched together by fans. It was canned at the last minute for reasons which still aren't clear today.
MORE: See where all Beyoncé's non-cancelled singles charted
Florence + the Machine
Dog Days Are Over missed the Top 40 on original release, but its time wasn't over yet. Hurricane Drunk was lined up as a single from Lungs, and a video was made, but at the last minute it was decided to re-release Dog Days are Over, when its appearance in an advert renewed interest in the track and the album as a result.
MORE: See all Florence + the Machine's UK hit singles and albums in the archive
Kanye 
Sometimes a song is a perfectly brilliant single choice but misses its chance because of time constraints. Kanye's Spaceship was all ready to go as the sixth (!) single from College Dropout, complete with video, but everyone was anxious to get going on Kanye's next album Late Registration that it was pulled.
MORE: See all Kanye's Top 100 singles and albums
Britney
The R Kelly-penned Outrageous was cancelled when Britney injured herself during the video. She may not have minded too much – she was rumoured not to be very keen on it. Breathe On Me, which Britney definitely did love, was slated to be In The Zone's fifth single but as a result of the injury, the campaign was cut short.
MORE: All the singles that Britney Spears didn't cancel can be found in her archives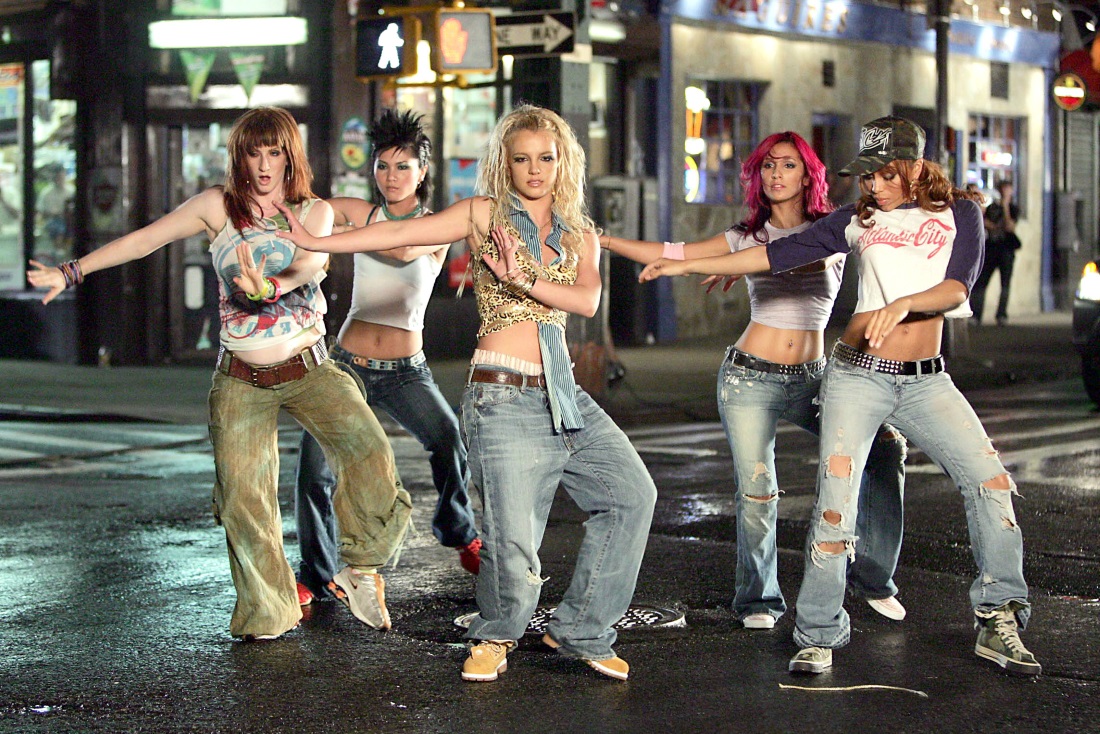 MORE: 13 music videos that famously got scrapped
Sugababes
When Mutya left, new member Amelle re-recorded some of the band's tracks from fourth album Taller In More Ways. One of those tracks was Gotta Be You, which was all set to be the next single – until it was ditched in favour of ballad Follow Me Home, which charted in the lower reaches of the Top 40.
The group's last ever 'single', Freedom, was also cancelled despite heavy TV promo (it was used to promote the Nokia N8, lol) and releasing a music video. Instead, it was given away for free on Amazon as a "thank you to fans". We should think so too, after all the stress they put us under with those lineup changes.  
MORE: If you're ready for them, boy, you'd better push this link and see where all Sugababes' singles charted
Madonna
Madonna has loads of these potential missed gems. She wanted Candy Shop to lead her Hard Candy album, but when the star held a listening party the response to 4 Minutes was so overwhelming, she had to go with it. There was also a bit of a hoo-ha round Amazing, from her 2000 Music album. Madonna wanted Impressive Instant instead, and when the record label didn't agree, a fifth single was cancelled altogether.
At Live Aid, Madge performed new song Love Makes The World Go Round, hinting it would be the first single from third album True Blue. It never was – Live To Tell was instead. When Madonna released her collection of ballads Something To Remember in 1995, Marvin Gaye cover I Want You had a video made, remixes done and promo copies all set to go. In the end it was decided the Evita-esque You'll See was a better bet – it went to Number 5 in the UK.
MORE: Relive all Madonna's UK hits, including 13 Number 1s, in her archive
Christina Aguilera
Christina too has many (many) a cancelled single to her name. For example, the Alicia Keys-featuring Impossible was favourite to be fifth single from Stripped, with Christina herself the most keen to see it released, but the record label went to The Voice Within instead. We'll never know how Impossible would've done, but The Voice Within became the fifth consecutive Top 10 single from that album.
Nicki Minaj-featuring WoHoo, from sixth album Bionic, went to radio as its second single and she performed it at the MTV Awards in 2010. It was scrapped as a single in the UK, however, when it underperformed in the US.
MORE: Christina Aguilera's entire back catalogue of hits is in her Official Chart archive
Pet Shop Boys
The duo's song London was the third spin-off from their 2002 Release album in Europe, but it was pulled in the UK apparently because the record label didn't want to be seen as promoting violence in the Capital ("We were in London, Let's do it, Let's break the law"). 
Meanwhile, It Always Comes As A Surprise was suggested as the fifth single from their 1996 Bilingual album, but was scrapped after they failed to come up with a suitable radio edit (the original version is six minutes long).
Lady Gaga
Beautiful Dirty Rich was slated to be the second single from Gaga's debut The Fame, and a video was filmed. When Just Dance proved to be an even bigger smash than expected, a more similar sounding song was needed – step forward the million-selling Poker Face.
Poker Face's original promo artwork apparently features pics taken during the Beautiful Dirty Rich shoot; it was changed once the Poker face video was filmed. Dance in the Dark was lined up as a single twice off Fame Monster. Gaga preferred Alejandro for the third single and by the time it came to a fourth, it was felt the era was kind of over.
MORE: View Lady Gaga's entire collection of Top 100 hits
Girls Aloud
First album cut Some Kind of Miracle was bumped twice – first for ballad Life Got Cold and then for a cover of Jump which would be the lead track of the reissue of their debut album Sound of the Underground. A follow-up You Freak Me Out, also featured and was even performed on TV, yet its single status was suppressed when the band moved on to album two.
The band also recorded a cover of Chris Isaak's sultry ballad Wicked Game and announced it as the lead single from third album Chemistry. Nobody is sure what happened – the reaction from all corners of the fandom was pretty much one of horror – but this was swiftly abandoned and Long Hot Summer turned up instead.
MORE: See all Girls Aloud's UK hit singles and albums
Will Young
Back on Will's hit second album Friday's Child, Love is a Matter of Distance was slated to be the fourth single, with Will even performing it on TV. It mysteriously disappeared from release schedules and never materialised, and the Friday's Child campaign was over.
MORE: All Will Young's UK hit singles and albums at your fingertips in his archive
Scissor Sisters
A video was shot and released for Shady Love, from their Magic Hour album in 2012. The saucy, catchy track featured the guest talents of Azealia Banks, who was very much on the ascent, but the band backtracked and went with the Calvin Harris-produced Only The Horses instead, landing at Number 12 – their last Top 40 hit in the UK.
MORE: See all the Scissor Sisters' chart hits in their archive
Miley Cyrus 
SMS (Bangerz) was tipped to the the third single from Miley's Bangerz album, and even made it onto the all-important "featuring…" sticker on the album's cover. Miley herself was really pumped for it to be a single, especially the idea of filming a video with featured artist Britney Spears. Sadly the double-twerking Cyrus-Spears extravaganza remained only a fantasy: Adore You turned out to be more popular digitally when the album was released, and it took SMS's place.
MORE: Come in like a wrecking ball and view all Miley Cyrus's hits in her archive
Atomic Kitten
After their rendition of Eternal Flame became their second Number 1 on the Official Chart in 2001, You Are was thought to be the song that would break Atomic Kitten internationally. Penned by the hugely successful songwriter Wayne Hector, the track was originally meant to be accompanied by a video set in New York, though that was scrapped following the then-recent attack on the World Trade Centre.
In what was probably a case of poorly coordinated promo, the single received a lukewarm reception in charts across Europe, and by the time they reached the UK, where it was aimed at the busy Official Christmas Number 1 week, it was cancelled, charting at Number 91 on import sales. 
Rachel Stevens
Nothing Good About This Goodbye was lined up to be the fourth single from Rachel's second solo album Come And Get It. A single mix was prepared, released promotionally and performed on TV, but when the album underperformed the campaign was halted.
Westlife
The uncharacteristically uptempo When You're Looking Like That had a video ready to go and was performed on TV but its release never happened in the UK – it ended up as a b-side to Queen Of My Heart. Maybe Westlife's loyal fans weren't quite ready for a move away from romantic "I love you" ballads toward "Phwoar you look hot" pop bangers. Shame.
Carly Rae Jepsen 
Call Me Maybe's follow-up was supposed to be the much less sweet and innocent Curiosity, and a video – which was rumoured to be, um, a lot more grown up than Carly's previous work – was filmed. But things can change, and it was decided Good Time, the collaboration with Owl City, was a better fit instead.
Holly Valance 
When Holly Valance's second album, State Of Mind, stalled at Number 60 on the Official Albums Chart in 2004, the record's second single, Desire, was cancelled along with her music career after she apparently told a German magazine that her music "annoys her". 
Leona Lewis
Leona's career post-debut album has been plagued with dodgy single releases. For the second single from her third album Glassheart in 2012, Leona had announced Fireflies as the follow-up to her Top 10 hit Trouble, believing it would be a good fit in the run up to Christmas. A lyric video was released, but then, when she switched on the Christmas lights on London's famous Oxford Street, she introduced Lovebird as her new single instead and performed it live for the first time. Hmm.
Listen to our playlist of cancelled singles below:
This playlist is also available on Deezer.
What have we missed? Leave your comments below: