While England may have fallen at the semifinal hurdle at the 2018 World Cup, fans of Three Lions will be celebrating at the anthemic hit's return to the top of the Official Singles Chart.
The success of Baddiel, Skinner, and the Lightning Seeds' evergreen fan favourite sees it at Number 1 for the third time, a full 22 years after it first peaked there during the Euro 96 Championships.
But Three Lions isn't the only song to get a second (or in its case third) wind; we selected a few chart-toppers that were reborn years after a previous chart peak.
Let's Get Ready To Rhumble
Our most recent resurrected hit comes from Ant and Dec – or PJ and Duncan, as they were back in the day – and their signature song, which originally peaked at Number 9 in August 1994, before a surprise performance on the pair's hit show Saturday Night Takeaway catapulted Let's Get Ready to Rhumble back up the chart and took it to Number 1 in April 2013. Over 18 years later!
Original peak: 9
Gap: 19 years
Killing in the Name
Rage Against The Machine's classic took the Official Christmas Number 1 slot after a Facebook campaign to nix X Factor finalist Joe McElderry's chances in December 2009. It had first charted in March 1993.
Original peak: 25
Gap: 16 years
I'm Gonna Be (500 Miles)
In October 1988, Scottish twins The Proclaimers just missed the Top 10 with this rousing track. It took a special version which featured a video with Peter Kay and Matt Lucas playing their characters Brian Potter and Andy Pipkin in aid of Comic Relief to make it a Number 1, though, spending three weeks there in March 2007.
Original peak: 11
Gap: 18 years
(Is This The Way To) Amarillo
We have Peter Kay to thank for this song's return to the charts too, when he made a new video to accompany Tony Christie's 1972 Top 20 for Children in Need. The song became a million-seller and spent seven weeks there in 2005.
Original peak: 18
Gap: 33 years
Jailhouse Rock
The King himself actually had three old hits return to the top of the Official Singles Chart in 2005, with One Night/I Got Stung and It's Now Or Never hitting Number 1 46 and 44 years after their original stint respectively. Longest gap, though, goes to the enduring Jailhouse Rock, which first spent three weeks at the top in January 1958! See all Elvis's hit singles and albums
Original peak: 1
Gap: 47 years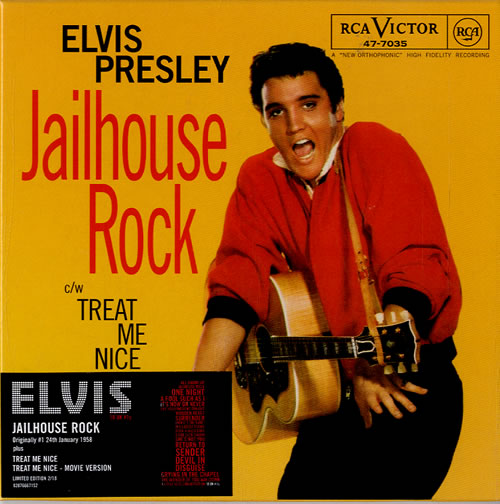 Are You Ready For Love?
This Elton John number was so underrated upon original release in May 1979 that it missed the Top 40 altogether! A remix doing the rounds reinvigorated interest, and Elton took Are You Ready For Love to Number 1 for the first time in September 2003.
Original position: 42
Gap: 24 years
My Sweet Lord
Former Beatle George Harrison spent five weeks at Number 1 with this heavily ironic celestial tribute from January 1971. Almost 31 years later, in 2002, he was back there as the track was reissued following his death.
Original peak: 1
Gap: 31 years
Bohemian Rhapsody
Queen's timeless classic holds many chart accolades – only song to hit Christmas Number 1 twice, only song to have been Number 1 in four separate years, a million seller – but it also had a heck of a long gap between chart appearances. First at number 1 for Christmas 1975, it returned in 1991 following the death of Freddie Mercury. See Queen's full Official Chart history
Original peak: 1
Gap: 16 years
Should I Stay or Should I Go
A jeans ad helped this Clash fave finally take the top spot in March 1991 after going Top 20 in October 1982.
Original peak: 17
Gap: 8.5 years
Unchained Melody
This much-covered track was first a hit for Righteous Brothers in September 1965, but thanks to its inclusion in the movie Ghost during a scene where the main characters bonk on a pottery wheel (kind of), it had a new lease of life and hit Number 1 in November 1990, staying there for four weeks.
Original peak: 14
Gap: 25 years
He Ain't Heavy, He's My Brother
A beer ad brought this Sixties classic – which features Elton John on piano – back to attention following its initial chart run in September 1969. The Hollies spent two weeks at Number 1 in September 1988
Original peak: 3
Gap: 19 years
Stand By Me
It's not uncommon for older songs to enjoy a resurgence in popularity once featured in a movie, but few of them manage to make it all the way. Soul singer Ben E. King managed to improve on his original mid-table chart position from August 1961 when Stand By Me was used as the theme tune to the movie of the same name, starring a young River Phoenix. In early 1987, the song finally hit the top and stayed there three weeks.
Original peak: 27
Gap: 25.5 years
Reet Petite
Contrary to popular belief, it wasn't an ad that saw Jackie Wilson's first solo single enjoy a renaissance in December 1986. An animated video using the song as its soundtrack appeared in a BBC documentary and interest in Reet Petite, which originally went Top 10 in January 1958, was renewed. Reet Petite, co-written by Berry Gordy and thus enabling him to start his Tamla Motown empire, spent four weeks at the top, including a week as that year's Christmas Number 1. See every Official UK Christmas Number 1 ever
Original peak: 6
Gap: 29 years
Imagine
Of all John Lennon's solo hits, it's perhaps Imagine that's endured the most. Five years after its first run from December 1975, and following the former Beatle's death in December 1980, Imagine became a Number 1 and stayed there four weeks.
Original peak: 6
Gap: 5 years
Honourable mentions
New twists on old tracks have also helped artists to get to Number 1: Elton John's new version of Candle in the Wind, played at Princess Diana's funeral, went to Number 1 in 1997, 23 years after the original peaked at 11 in 1974. Cliff Richard teamed up with the cast of comedy The Young Ones for a charity version of his 1959 Number 1 Living Doll, returning it to the summit 26 years later.
Meck and Leo Sayer had a Number 1 with Thunder in my Heart Again in 2006, inspired by Sayer's original, which had peaked at Number 22 in October 1977, 28 years earlier.
It took Mint Royale three years to get their Singin' in the Rain to Number 1, after it soundtracked Britain's Got Talent winner George Sampson's dance routine – the track had peaked at 20 in 2005. Coco's I Need A Miracle was a Number 39 hit in November 1997 and was revived by way of a mashup with Fragma's Toca and a namechange to Toca's Miracle to go to Number 1 in April 2000, a gap of two and half years.