Sittin' On Top of the World! Burna Boy becomes first global Afrobeats star to secure UK Number 1 album with I Told Them...
Burna Boy makes UK chart history as I Told Them... debuts at Number 1.
Burna Boy is Sittin' on Top of the World right now as he becomes the first-ever international Afrobeats artist to secure a UK Number 1 album with I Told Them… today, the Official Charts Company can confirm.
The Nigerian-born phenomenon, real name Damini Ebunoluwa Ogulu, storms straight to the summit with his fifth full-length release, having previously enjoyed success with 2019's African Giant (19), 2020 release Twice As Tall (11) and coming close to the top with 2022's Love, Damini (2). See where every Burna Boy song and album has charted in the UK here.
The Afrobeats genre has continued to grow globally in recent years, with its sound increasingly infiltrating the UK Official Charts and shaping popular culture, from global superstars like Wizkid and Davido to rising artist Libianca. While homegrown British talent such as J Hus have enjoyed chart-topping success on the Official Albums Chart, Burna Boy becomes the first international Afrobeats star to cement such a place in UK chart history.
Burna Boy took to the stage at a packed London Roundhouse tonight with his Number 1 Award in hand. On the significance of his achievement, he told the crowd "This right here, this means more to me than any of you can imagine because where I come from is a colony of this place. For me to be here today with the Number 1, that just tells you that anything is f***ing possible. So this right here is a big thank you to every one of you because you made this possible. Without you, none of this is happening."
In response to the growth of the genre, in summer 2020 Official Charts teamed up with Afro Nation to launch the first ever Official UK Afrobeats Chart. The Afrobeats Chart is today broadcast on BBC Radio 1xtra in a dedicated slot every Sunday, presented by host and soon-to-be Strictly Come Dancing star, Eddie Kadi.  The weekly Afrobeats Chart Top 20 is published online Sunday afternoons on officialcharts.com and @OfficialCharts social channels.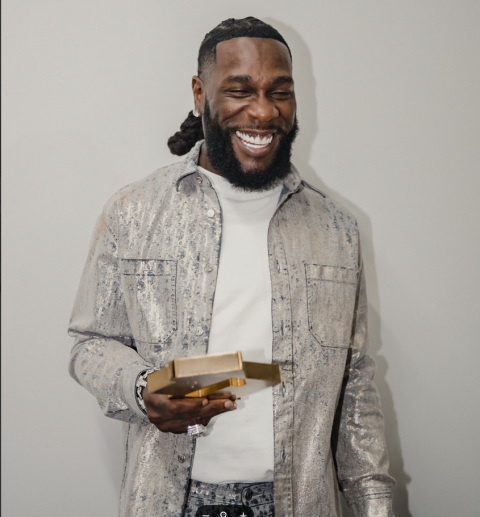 Burna Boy accepts his Official Albums Chart Number 1 Award for I Told Them... (Credit: Official Charts)
Martin Talbot, Chief Executive, Official Charts comments:
"What a fantastic achievement it is by Burna Boy to become the first international artist to take Afrobeats to the top of the UK's Official Albums Chart. British music fans have always been renowned for their love of new music and embracing cultures from around the world, and the explosion of interest in Afrobeats' musical culture over the past decade has been a concrete example of this.
"It has been fantastic to see Burna Boy blazing the trail as part of this – and this week reaching the absolute pinnacle. Congratulations to Burna Boy!"

Austin Daboh, Vice President of Atlantic Records UK adds: 
"Burna Boy has transformed into a global superstar and this number 1 album reflects his growth over the last few years.

The success of this album is the combination of world class music, a coherent strategy based in culture, and unmatched passion, energy and commitment from his wider team and Atlantic Records."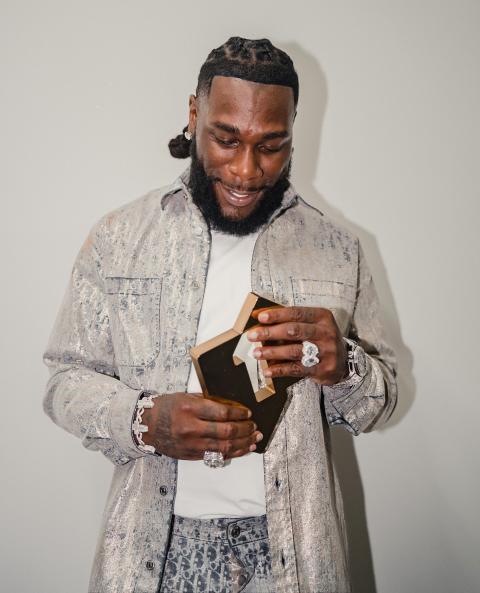 Congratulating Burna on his success, Faron McKenzie, Head of BBC Radio 1Xtra says:

"Huge congratulations to Burna Boy. It has been a phenomenal year for Afrobeats and I am so proud that BBC 1Xtra are a part of this global movement as the home of the UK's Official Afrobeats Chart Show with Eddie Kadi.  
"Our commitment is to showcase Afrobeats' diverse talent and give its artists a dedicated platform for national exposure. I'm excited for another year of new music, celebrating the sound and culture's global influence, with 1Xtra as a driving force in the UK." 
Meanwhile, Steps star Claire Richards celebrates a solo career-best with her second studio album Euphoria (2). The LP becomes Claire's second solo Top 10, following the success of her debut My Wildest Dreams in 2019 (9). As a member of Steps, Claire boasts a further 11 Top 10 albums, including four chart-toppers (1999's Steptacular, 2001's Gold: The Greatest Hits, 2011's The Ultimate Collection and 2022's Platinum Collection). 
Euphoria also tops this week's Official Record Store Chart, proving the most popular physical release of the past seven days in the UK's independent record shops, and the Official Vinyl Albums Chart.
Speaking exclusively to Official Charts, Claire Richards says: "Thank you, I'm so completely and utterly overwhelmed with all your kind comments about the album. For all of you who've come to signings, ordered, downloaded and streamed the album; I honestly can't tell you how grateful I am!
"I can't believe how much you've taken this album to your hearts. From the bottom of my heart, I'll never forget how you've made me feel this week and I'll take it with me forever. It's an incredible result, and it's just as much yours as it is mine – it's a team effort!"
After claiming his first-ever Number 1 mixtape with Noughty By Nature last year, Digga D returns with another Top 10 LP this week. The Ladbroke Grove-born rapper, real name Rhys Herbert, is a new entry at Number 6 with Back to Square One. See where every Digga D song and album has charted in the UK here. 
American alt-pop auteur Ashnikko nets her first UK Top 10 album with WEEDKILLER at Number 7. The North Carolina native previously saw Top 20 success with 2021's DEMIDEVIL (19).
Meanwhile, Alice Cooper's 22nd solo studio album Road debuts at Number 8 to provide the rock star a sixth Top 10 LP as a soloist.
Elsewhere in the chart, US country star Zach Bryan's self-titled fourth studio album becomes his first-ever UK Top 40 (22).
After crowd-rousing sets at Reading and Leeds Festival last week, coinciding with the release of their brand-new single Your Side of Town and chart mainstay Mr. Brightside's 20th anniversary, The Killers' 2013 compilation Direct Hits vaults back into the Top 40 this week (35).
Finally, Manchester-formed pop-rock duo outfit Hot Milk – comprising Hannah 'Han' Mee and Jim Shaw - secure their first Top 40 LP with their debut full-length release A Call to the Void (40).
Related Singles and Albums