Official Charts Flashback 2013: Ellie Goulding Burns bright at Number 1
It became the first of Ellie's four Number 1 singles.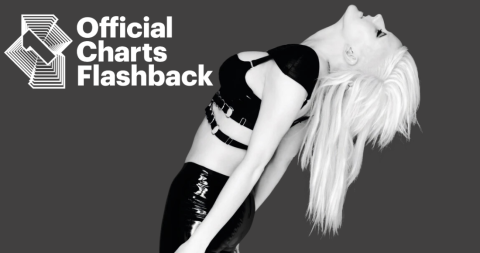 This week 10 years ago, Ellie Goulding claimed her first Number 1 on the Official Singles Chart with Burn.
By any metric, it had been a long time coming. Ellie originally debuted as an artist in 2009, having dropped out of uni to concentrate on landing a record deal, which she did, with Polydor. She issued one single, Under The Sheets, that charted just outside the Top 40 in 2009, before she topped the annual BBC Sound Of...2010 poll and saw her proper debut single Starry Eyed (banger) climb all the way to Number 4.
Ellie's debut album Lights, a mixture of folk-pop, singer-songwriter and electronica, best surmised by the glitchy title track. The biggest hit from Lights was Ellie's cover of Elton John's Your Song, the soundtrack to that year's John Lewis Christmas advert, which peaked at Number 2. 
Work then began on earnest on Ellie's second album, the enigmatic and gothic Halcyon with a sheeny, synth-pop surface hiding the darkness beneath. Halcyon would become Ellie's second consecutive UK Number 1 album (she now has four in total, btw, her latest being 2023's Higher Than Heaven), but one thing still eluded her...that precious Number 1 single. 
It would only take an album re-release, a link-up with two of the hottest writers and producers in the game in 2013 and poor Leona Lewis missing out to get her there.
Watch Rita Ora (!) present Ellie Goulding with her first Official Singles Chart Number 1 award for Burn
The story of Burn's road to the top of the Official Singles Chart is long and winding. It actually starts with the American singer-songwriter, producer and OneRepublic frontman Ryan Tedder, who wrote Burn as a demo originally intended for Leona Lewis's third album Glassheart. Ryan was responsible for writing Leona's breakthrough Number 1 hit Bleeding Love, and it's clear that he was aiming to return her to chart prominence here, with a very of-the-moment trop-pop production and a soaring chorus, very suited to the X Factor winner.
So suited, in fact, that Leona actually recorded a demo of the song, which sounds admittedly brilliant, but it didn't make the cut for Glassheart (this was the latest in a line of hit songs that bizarrely passed Leona by, including Rihanna's game-changing We Found Love with Calvin Harris). Instead, Burn made its way into Ellie's lap, where the track received some re-production from hitmaker Greg Kurstin (Lily Allen, Adele, Kelly Clarkson). 
Burn functioned as the lead single for the deluxe, expanded re-release of Halcyon, called Halcyon Days, which added a number of bright, perky songs to the mix, including one of Ellie's best-ever offerings, Goodness Gracious (banger).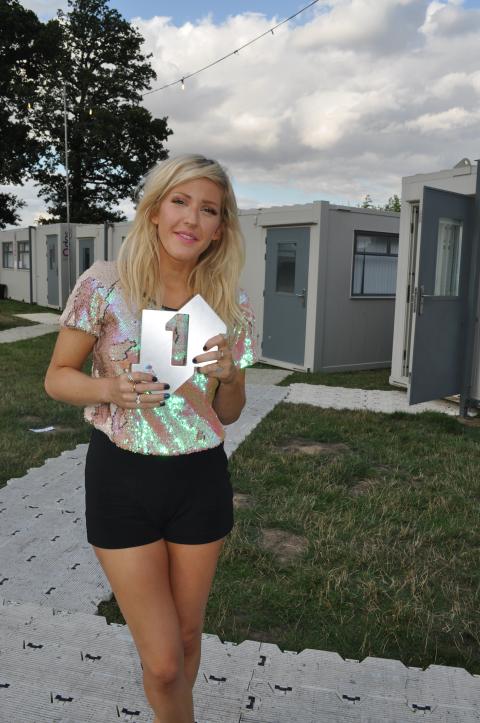 LISTEN to the Official Singles Chart from this week in 2013 
With a mixture of good timing and the right song, this week ten years ago, Burn by Ellie Goulding debuted at Number 1 on the Official Singles Chart, shifting 116,000 chart units in its opening week. It knocked Miley Cyrus' chaotic We Can't Stop from the top spot, and would stay at Number 1 for three consecutives. 
According to Official Charts Company data, Burn has now shifted 1.4 million chart units in total, including 793,000 digital downloads and 83 million streams. It ranks as Ellie's third biggest song in the UK, but is catching up to the second place song, How Long Will I Love You, by the day.
As its name suggests, Burn also started a fire in Ellie's career that continues to shine bright today. Following its success, she crossed over with the biggest worldwide hit of her career (and another UK Number 1!) in the form of Love Me Like You Do, produced by Max Martin for the soundtrack of the Fifty Shades Grey film. 2015, it was a time.
And as recently as this year, Ellie added a fourth UK Number 1 single to her collection. When Miracle, her collaboration with Calvin Harris, reached Number 1 earlier this year, Ellie joined Rita Ora and Geri Halliwell as the British female solo artists with a quartet of Number 1s to their name. Only Jess Glynne (7 Number 1s) and Cheryl (5 Number 1s) have more.
Elsewhere in the chart this week, Avicii's unstoppable Wake Me Up (2) had us in the club dancing to country music, Miley Cyrus fell to Number 3 with We Can't Stop, Cedric Gervais' remix of Lana Del Rey's Summertime Sadness saw the song at its Number 4 peak, and Lady Gaga's Applause - the lead single from her ambitious third album ARTPOP -  made a Number 5 debut.
Also brand new inside the Top 10 was Arctic Monkeys with Why'd You Only Call Me When You're High? at 8, and The Wanted's hearts and glasses were full when We Own The Night entered at Number 10.