Whether you spend years trying to get one or luck out on your first attempt, a Number 1 is always something special. And if that chart-topper seems to come from nowhere, then even better.
US singer Tiffany Darwish – who ditched her surname when stardom came a-knocking – was just 16 when she hit the top with her first UK single I Think We're Alone Now this week in 1988, but she'd definitely put the hours in. The teenager made her name by touring the shopping malls of America, singing live and rounding up legions of new fans in one of the canniest promotional moves of the '80s.
As a gimmick it worked, and soon the song catapulted up the chart, with Tiff bringing her one-woman show to British shopping centres too – you can even spot Birmingham's much-missed (!) Bullring centre in a few scenes of the video for the song if you look closely.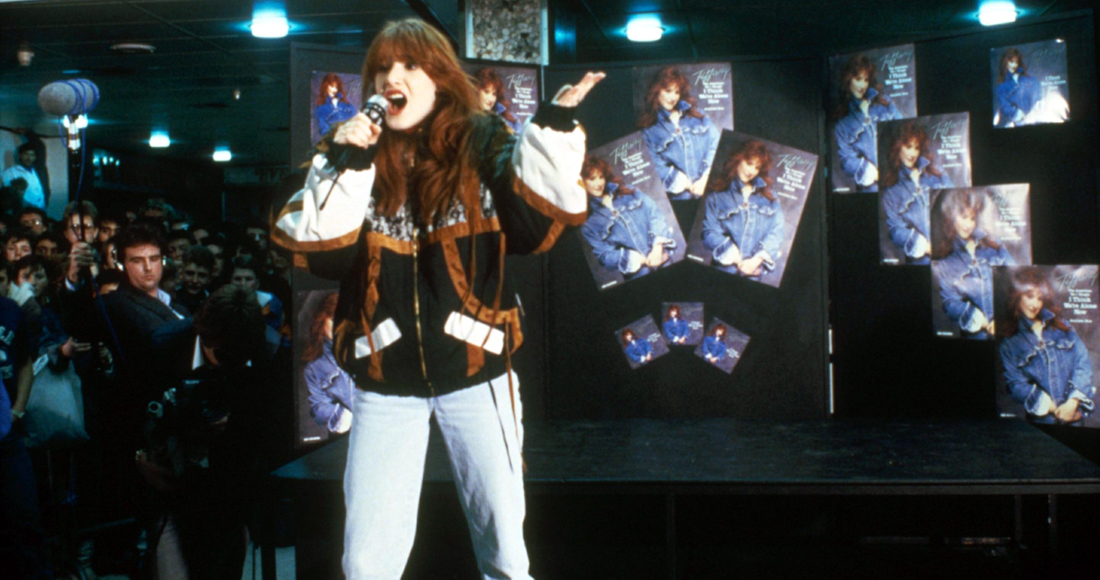 Tiffany gives it her all on her tour of shopping malls. (REX)
The song itself was no newcomer, though; I Think We're Alone Now had been around for over 20 years, going Top 10 in the US in 1967 for Tommy James and the Shondells, but never hitting the UK chart. 
Tiffany deposed fellow American Belinda Carlisle from the top of the Official Singles Chart and spent three weeks there.Finishing as the fifth bestseller of 1988, I Think We're Alone Now has shifted 626,700 copies to date and notched up 6.2m streams. It would be the first of three Top 10s for Tiffany – her last UK chart hit was Radio Romance, which peaked at 13 that December. Take a look at Tiffany's full chart history.
Elsewhere in the Top 40, boyband Bros broke into the Top 40 for the first time with When Will I Be Famous? at 6, and Beatmasters' Rok Da House (8) and Dollar's cover of Erasure's O L'Amour also climbed into the top flight, landing at 9. A reissued live version of Elton John '70s classic Candle in the Wind leapt up to 16 – a few years later we'd be seeing a lot of that song – and US teen sensation Debbie Gibson smashed into the Top 20 with debut UK hit Shake Your Love.
Other big climbers included Billy Idol's Hot in the City (18), early house record The Jack that House Built from Jack 'n' Chill (19), Taylor Dayne's future smash Tell it to My Heart (24). Further down there was a brand new entry from a certain Australian soap star – Kylie Minogue's I Should Be So Lucky zoomed 23 slots to Number 31 – and Sinead O'Connor also made her first Top 40 bow, with Mandinka climbing to 38.
Listen to the UK Top 40 from this week in 1988 on our streaming channels! Subscribe to our weekly Flashback playlist on Spotify, Deezer, Apple Music: