The thing about battles is whoever's not on your team is against you – that's just how it works – and the race to Christmas Number 1 is no exception. Usually, there's a set of clear contenders all desperate to be the one to take the prize, but in 2015, you could say that the spirit of Christmas intervened.
The Official Singles Chart in the latter half of 2015 pretty much belonged to Justin Bieber, who was breaking records left, right and centre with a trilogy of singles from his Purpose album. In the weeks before Christmas, What Do You Mean and Sorry had already both topped the chart, with a follow-up, the Ed Sheeran-penned Love Yourself, still sitting pretty at Number 1. But who could topple him?
The strongest Christmas Number 1 contenders tend to be those with celebrity backing, new versions of old favourites, or charity singles, and a choir of hospital workers from southeast London had all three! Originally finding fame in conductor Gareth Malone's BBC show Sing While You Work, the Lewisham and Greenwich NHS Choir had recorded a mashup of Simon and Garfunkel's Bridge Over Troubled Water and Coldplay's Fix You for charity in 2013.
MORE: Read our interview with those behind the NHS For Christmas Number 1 campaign
The future of the NHS and the working hours of its staff were a regular feature of the news, and interest in the song reawakened. As momentum gathered, a Facebook campaign began to get the choir's rendition to Number 1 for Christmas 2015, with proceeds donated to a selection of charities including Carers UK and mental health charity Mind.
So we've got not one but two cover versions, and the charity angle – what about the celebrity backing? Well…
As worthy as the cause was, Justin Bieber was looking pretty unshakeable at the top of the chart until the man himself got wind of the NHS choir's campaign. Perhaps unusually for a popstar, Biebs was only too happy to get behind his rival, tweeting out his support, and encouraging his fans to help the NHS Choir to victory by buying A Bridge Over You instead of Love Yourself.
I'm hearing this UK Christmas race is close...but the @Choir_NHS single is for charity. So...

— Justin Bieber (@justinbieber) December 23, 2015
so for 1 week it's ok not to be #1. Let's do the right thing & help them win. It's Christmas. @Choir_NHS good luck https://t.co/ORCtFY1k4i

— Justin Bieber (@justinbieber) December 23, 2015
This is what it's all about. Merry Christmas :)

— Justin Bieber (@justinbieber) December 23, 2015
Within an hour, the tweets had received over 100,000 likes and 70,000 retweets and that was all the star power the song needed, because sure enough, the NHS Choir began to pull back out in front of Justin.
After a tense wait by the Choir, they finished as the Official Christmas Number 1 for 2015 with over 127,000 chart sales. Even the biggest Bieber-haters had to swallow the fact that Justin had done a Very Good Thing indeed.
But that's not all. When stopping off in the UK to be presented with his Official Chart Record Breaker Award for his many achievements in 2015, Justin met up with his old frenemies the NHS Choir, where they celebrated their Number 1s together! Can you think of another Christmas story that's more heartwarming than this? Gawd bless us, every one!
We caught up with junior doctor and choir spokesperson Katie Rogerson one year on to reflect on their festive chart success and their incredible year since...
Hello Katie! One year on from your winning campaign, how does it feel to now be cemented in Christmas Number 1 history?
"Oh bloomin 'eck. We have had an absolutely stonking year. And the idea of our track playing out amongst the infamous Christmas tunes during the festive period has us grinning from ear to ear! I don't think any of us can even start to describe what it is like to win the race for Number 1. It was brilliant to say the least, and we are still totally humbled.  
"We were keen though, that everyone in the NHS felt loved and appreciated over Christmas and the AMAZING Great British Public got behind it, and granted our wish. On Christmas Day the NHS staff and patients knew that not only the UK was thinking about them, but even global superstar Justin Bieber – our biggest competitor turned NHS superhero – was throwing in his support."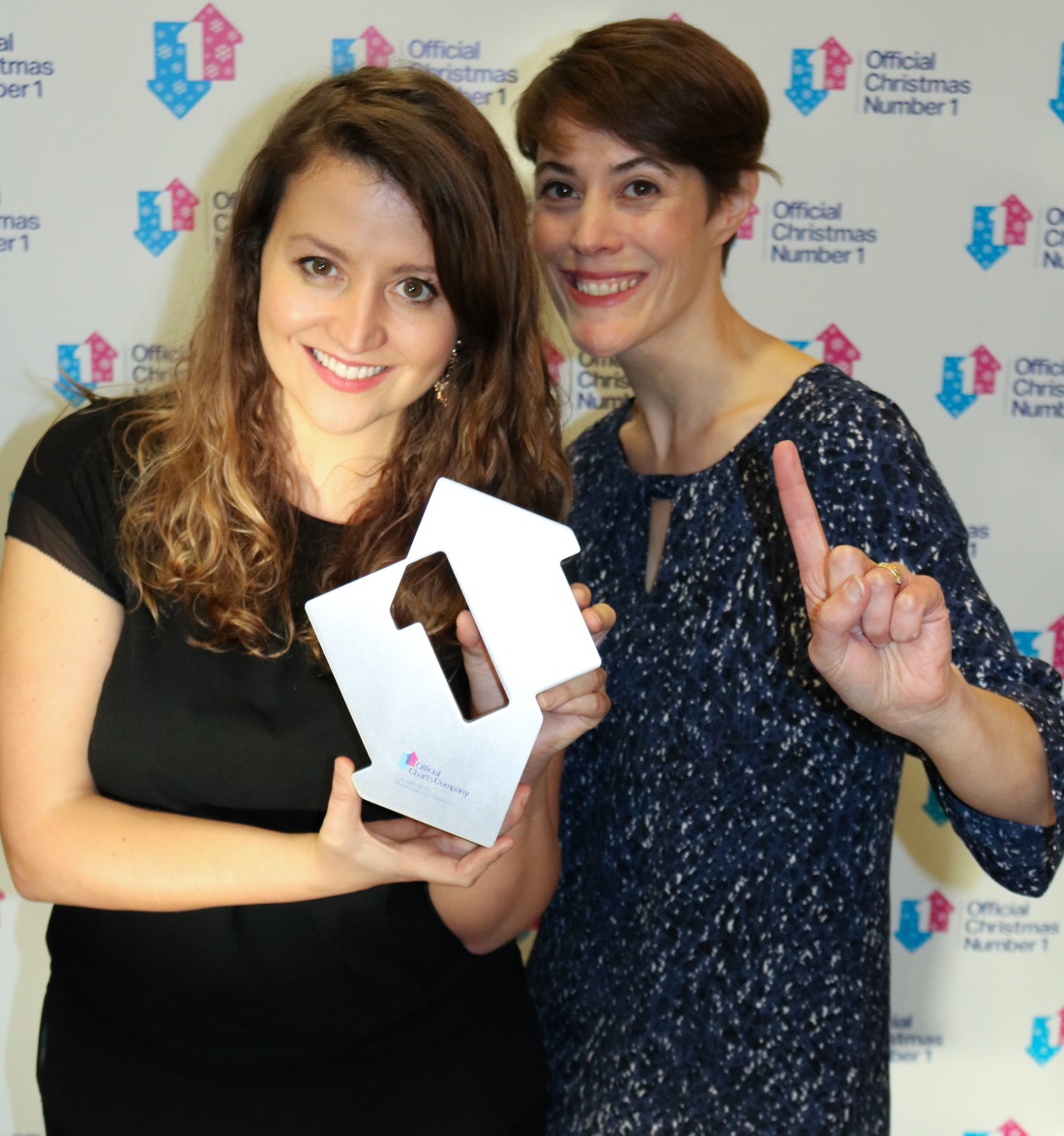 Katie Rogerson and Caroline Smith with the NHS Choir's Official Christmas Number 1 Award
What has been the standout moment for the Choir since winning?
"I am sure each member of the choir would say slightly different things. I was the person who took the phone call from Greg James, and there was that little moment when I was alone in my front room and he broke the news, and I just felt like I had a warm glow from my absolute core. Of course, it was going out nationally, but I felt like it was a private moment and one I will always remember. I also had the British overthinking about what noises came out of my mouth, and I must say I sounded like a bit of a doughnut on the radio.
"I think the reality that we got Christmas Number 1 only landed on me a few months later when we were singing Abide With Me at the FA Cup Final. I was on the pitch looking at the crowds and Wayne Rooney and Prince William, and I suddenly thought, 'Bloody hell! We got Christmas Number 1!' I think before then, as part of the campaign team, we were just so busy it didn't have time to sink in.
"My weepy moment was performing A Bridge Over You at the pyramid stage at Glastonbury (Adele closed it) and feeling so darn proud of our NHS and ourselves and our colleagues when we sang that song. I suddenly couldn't see properly and felt a bit wobbly.  I obviously just pretended I had something in my eye, but looking at the 'We Love Our NHS' signs in the crowd, and thinking about how far we had come, was a bit of a tear-jerker."
The Choir also released an album, after signing to the same record label as Justin Bieber. How did you find that experience?
"SO much fun! It seems a ridiculous statement for a kids' doctor to make but I am gonna do it anyway: it was GREAT to be back in the studio! It was fun. We all adore singing in the choir. We have of course loved the big moments, but we continue to love the so-called 'little' moments too, like singing for patients, like those with dementia, whose eyes light up to an old familiar tune, or to the premature babies in the neonatal unit."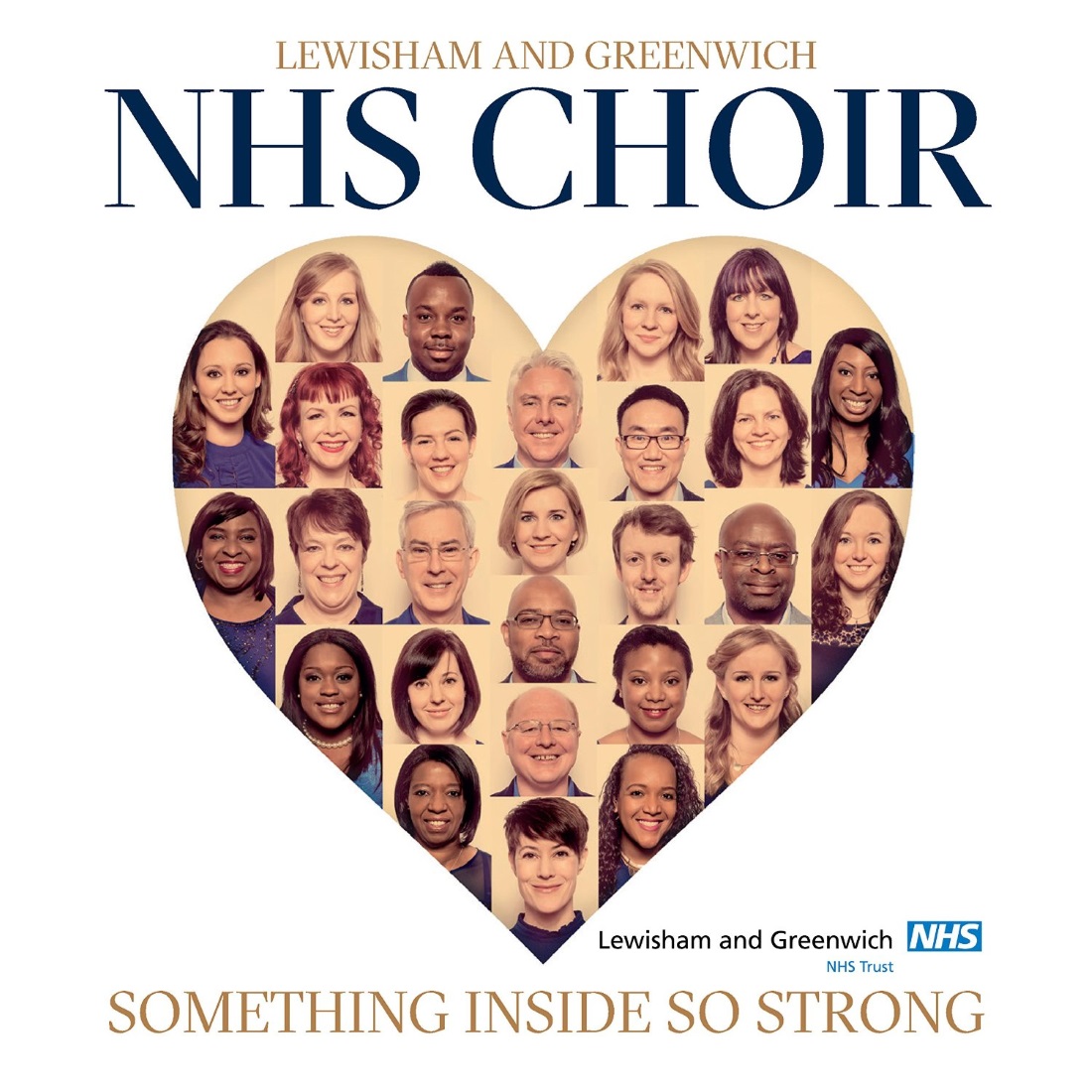 The NHS Choir released their debut album back in July
Do you have any advice for similar campaigns vying for the 2016 Official Christmas Number 1? What are your top tips? 
"Top tips are: believe in yourselves and every time someone tells you you can't or wont do it, absorb it as fresh strength and energy. Don't be fooled by the numbers though – they are big and you need to be realistic. However, you shouldn't be intimidated by them either.  
"Hold your head up high, and go for it! Remember, though, there is only going to be one winner of actual Number 1, but still take pride in what you are trying to do, and recognise that even if you don't get the Number 1 slot you have achieved SO much! I think we would've taken time out to appreciate what we were achieving as it happened, had we had our time again."
Who are you placing your bets on?
"This year we'll definitely be keeping an eye on the London Hospices Choir, as it is a great track but they also continue the work and legacy of the NHS Choir in their jobs and their music. The King Lot feat. the Jollyboys are a lovely bunch, and their song Wings is raising money for MS. And of course, Jo Cox was a wonderful individual from my neck of the woods, so I will be watching all of the above campaigns and wishing them the best. Oh gosh! It is just so hard!"
What is next for the Lewisham & Greenwich NHS Choir?
"As the choir, we have lots of things on the cards. I think most of them are top secret and half of them I don't know about yet. The choir are still all prioritising their roles as public servants in the NHS, and that is really important. We are taking the insane experiences as they come.
"One thing I don't need to keep quiet about though is what we, the team who campaigned to get the NHS to Number 1, are doing. We have started a new media movement to boost morale in the NHS over Christmas. We are known as #NHSMillion and we are looking to create a 'superteam' of a million people who love and support the NHS and are happy to share positive news about it online. 
"We are off to a flying start with 150,000 supporters across Twitter, Facebook and Instagram, and have backing from the likes of Dawn French, Bill Bailey, Emeli Sande and Caroline Flack. We reach over 3 million people a week and we can't wait to continue the good work we started with last years campaign for Number 1.  We have some amazing plans next year, so watch this space. Merry Christmas Everyone!"
Look back over every single Christmas Number 1 ever in our super-festive and clickable gallery: