National Album Day 2023: Full list of iconic 90s albums included in the drop
Including decade-defining works from the likes of Blur, Bob Dylan and Melanie C.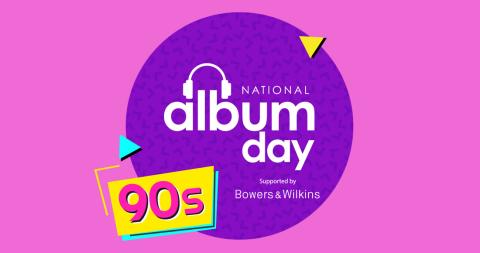 National Album Day is upon us once again for 2023. Taking place on Saturday October 14, this year's National Album Day theme is all about the iconic albums of the 1990s, from a decade that birthed generation-defining classics from the likes of Spice Girls and Radiohead.
And true to its name, some of the most important albums of the decade are being re-released for National Album Day this year; including debut albums by Melanie C (Northern Star) and Gabrielle (Rise) and even the only album released by celebrated singer-songwriter Jeff Buckley in his own lifetime (Grace).
It will also include drops from the likes of Blur (Modern Life is Rubbish), Dannii Minogue (Girl), Bob Dylan (Time Out of Mind) and Cool Cymru band Catatonia (International Velvet).
As part of the celebrations for the 75 year since the birth of album format, National Album Day is presented in association with official audio partner Bowers & Wilkins and official broadcast partner BBC Sounds. Last week, Gabrielle, Declan McKenna, Tricky and Nuno Bettencourt were announced as this year's NAD artist ambassadors.
Since its launch in 2018, NAD has been supported by a broad range of artist ambassadors, including Kylie Minogue, Joy Crookes, Sharleen Spiteri, Lewis Capaldi, Mark Ronson, La Roux, Elbow, Paloma Faith, Blossoms, Alice Cooper, Novelist, Tom Odell, Mahalia, Toyah Willcox and Jazzie B. Last year Franz Ferdinand, India Arkin, KSI, The Mysterines, Sam Ryder, and The Staves were the latest talents to add their voices as passionate advocates of the album as an art form.
Full list of National Album Day 2023 titles
808 state - ex:el (2LP)

Ace Of Base - Happy Nation (Picture Disc Vinyl)

Babybird - Ugly Beautiful (2LP)

Belinda Carlisle - Live Your Life Be Free (Picture Disc Vinyl)

Blur - Modern Life Is Rubbish (2LP Transparent Orange Vinyl)

Bob Dylan - Time Out Of Mind (2LP Clear Gold Vinyl)

Catatonia - International Velvet (1LP Recycled Colour Vinyl)

Dannii - Girl (2XLP / 4CD Box Set)

Dinosaur Jr. - Where You Been (Limited Edition Double Splatter Vinyl)

Duster - Stratosphere (25th Anniversary Edition) (1LP Clear & Black Splatter Vinyl)

Eternal - Always and Forever (1LP Recycled Colour Vinyl)

Fatboy Slim - You've Come A Long Way Baby (2LP Half-Speed Remaster)

Gabrielle - Rise (1LP)

Garbage - Version 2.0 (2LP Blue Colour Vinyl)

Ginuwine - The Bachelor (2LP Red Vinyl)

Hole - Live Through This (1LP)

Idlewild - Captain (1LP Recycled Colour Vinyl)

James - Laid (2LP)

James - Gold Mother (2LP)

Jeff Buckley - Grace (1LP Lilac Wine Vinyl)

Leftfield - Leftism (2LP White & Black Marbled Vinyl)

Lighthouse Family - Ocean Drive

Marc Almond - Tenement Symphony (2LP / Deluxe 6CD/DVD)

Melanie C - Northern Star (1LP)

Nas - It Was Written (2LP Gold & Black Vinyl)

Neneh Cherry - Man (1LP)

Paul Weller - Wild Wood (1LP)

REM - Automatic For The People (1LP Yellow Vinyl)

Robert Miles - Dreamland (2LP)

S Club - S Club (1LP)

Shola Ama - Much Love (2LP Recycled Colour Vinyl)

Simply Red - Blue (1LP Blue Vinyl)

Siouxsie - The Rapture (2LP)

Songs: Ohia - Songs: Ohia (Colour Vinyl) 

Songs: Ohia - Axxess & Ace (Colour Vinyl)

Stereophonics - Performance & Cocktails (1LP)

Stone Temple Pilots - Purple (1LP Recycled Colour Vinyl)

Stone Temple Pilots - Core (1LP Recycled Colour Vinyl)

Teenage Fanclub - Bandwagonesque (1LP Transparent Yellow Vinyl)

The Corrs - Forgiven, Not Forgotten (1LP Recycled Colour Vinyl)

The Cranberries - Everybody Else Is Doing It, So Why Can't We? (1LP)

Tricky - Maxinquaye (3LP, 1LP & 2CD) *Released Friday 13th October*

Various Artists - The Virgin Suicides (Music From The Motion Picture) (1LP Recycled Colour Vinyl)

Various Artists - HELP (12")

Various/V4 Visions - V4 Visions: Of Love & Androids (2LP Clear Smoke Vinyl)

Wu-Tang Clan - Enter the Wu Tang (36 Chambers) (1LP Gold Marbled Vinyl)