The 60th anniversary season of Official Albums Chart content continues today with another trip down memory lane. Today, we look back at an album that definitely didn't result in a "sophomore slump". Celebrating it's 10th birthday this October, this Amy Winehouse gem is a true classic.
There's a reason for the old "difficult second album" cliché. For most artists, following up a successful or acclaimed debut is a near impossible task. They've usually lived and breathed the songs on their first album for years, long before their management or record deal changed their lives for ever. And then it's time for album number two which usually means, unless you kept back some classics, that you have to start again.
Amy Winehouse had already tasted modest success with debut Frank – a jazzy, bluesy affair covering topics like unreliable boyfriends, dangerous flirtations, relationship woes and frenemies. The critically acclaimed collection, which peaked at 13 in its third week of release in 2004 before beginning its descent, earned the star two BRIT Award nominations that year, with Stronger Than Me taking an Ivor Novello Award.
MORE: The UK's official 60 biggest selling albums of all time revealed
Amy may not have had a million-seller on her hands, but she'd had enough goodwill from tastemakers and opinion-formers that made her next move worth watching.
While there was buzz around Amy, it's fair to say that few outside those closest to her expected her to blow up in such a big way. But blow up she would, with second album Back To Black.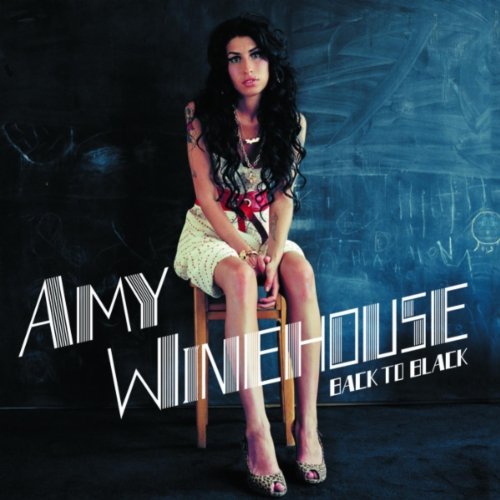 MORE: Amy Winehouse's Back To Black in numbers
While Amy's first album had teased darker themes, Back To Black was wall-to-wall heartbreak. Before writing and recording the album, Amy had begun a relationship with Blake Fielder-Civil, which would end when he went back to his girlfriend. As we all now know, that separation was temporary, but as Amy put Back To Black together, she didn't know that – and it shows. Amy's favourite thing to do when she was feeling low was to lose herself in songs with a morose edge. Her ultimate tune to play when in a funk was the Shangri-Las I Can Never Go Home Anymore, a melodramatic, dark song with themes of loss and separation that seems at odds with its rich production and sweet melodies, but totally set the tone for Amy's second album.
It was this bittersweet clash that Amy totally understood – even when you're in the depths of your own misery, life still goes on.
The Back To Black campaign began with the release of Rehab, the autobiographical '60s pastiche – in the very best sense of the word, of course – that made light of a very real problem. The story goes that Amy's previous management company tried to persuade the star to check into a rehabilitation programme to sort out her alcohol issues, but she flatly refused.
The classic line "If my daddy thinks I'm fine" refers to Amy's dad Mitch telling his daughter he didn't think she needed rehab but should give it a try. In an interview, Amy said she took his advice, kind of. The star walked in, said a few hellos, told them she drank because her relationship was over and left. And that was Rehab. Done.
On hearing this story, producer Mark Ronson said it had hit potential, and he was right. Rehab was Amy's first ever UK Top 40 hit, and a Top 10 too! It peaked at Number 7 and spent 19 consecutive weeks in the Top 40.
Next up was You Know I'm No Good - Amy's tell-all about her then-failed relationship with Blake, the brilliantly anguished yet resigned admission by Amy that she just couldn't help herself. According to Amy's brother "I cry for you on the kitchen floor" was based on Amy's normal behaviour whenever she broke up with a boyfriend.
MORE: Amy Winehouse's complete UK singles and albums chart history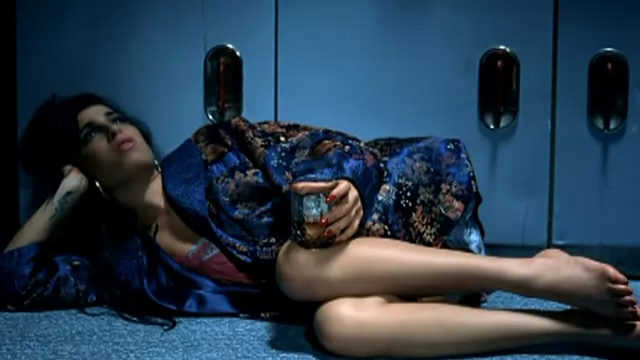 Amy has a good old cry on the kitchen floor in the You Know I'm No Good video
The success of the album, which was now nudging 360,000 copies after three months on sale, plus the fact it was New Year when music sales are traditionally on the quiet side, meant  You Know I'm No Good fared less well than Rehab, peaking at Number 18.
Arctic Monkeys performed an inspired cover of the track in their Radio 1 Live Lounge session, and Amy herself would perform the track as a medley with Rehab during her set that was broadcast by satellite at the Grammy Awards where, of course, Amy would take home five trophies.
During You Know I'm No Good's chart run, Back To Black reached Number 1 on the Official Albums Chart for the first time. It would go on to spend six weeks there, on and off.
Shortly after You Know I'm No Good's release, Amy won Best British Female at the BRIT Awards:
When the title track came to have its day in the sun, Amy's trademark image was now fully formed – this was the first official video to feature that famous beehive. Another tale of lost love, Back To Black's sombre video – which saw Amy attending the funeral of her very own heart – clearly matched the singer's mood.
Sales of the album had passed 900,000, so you could forgive the record-buying public for not paying the song as much attention as they should have. Averaging around 20,000 sales a week, the album's success meant Back To Black would peak at Number 25.
This right would eventually be wronged upon Amy's sad death in 2011 – a wave of public affection carried the track into the Top 10 for the first time, peaking at Number 8.
Interestingly, Back To Black's B-side was an acoustic cover of the Zutons' Valerie, which Amy had performed in Jo Whiley's Live Lounge. Amy was about to have a huge hit with it – her highest chart peak – when she lent her vocals to Mark Ronson's version of the song later in 2007. It would reach Number 2, kept off the top spot by Sugababes' huge selling About You Now.
MORE: The Official biggest selling vinyl albums and singles of 2016 so far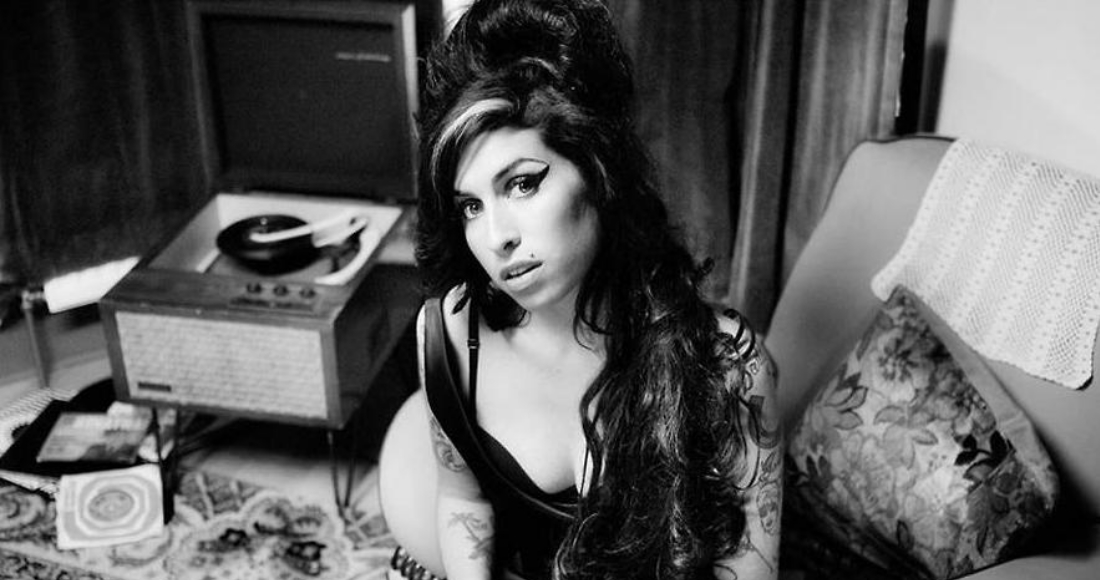 Amy on the set of the Back To Black video
By now, the ups and downs of Amy's personal life had become a tabloid focus but Back To Black's hits still kept on coming. Tears Dry On Their Own featured a sample of Marvin Gaye/Tammi Terrell classic Ain't No Mountain High Enough, which was never a hit for the duo but was covered by Diana Ross in 1970, reaching Number 8.
The final single from Back To Black was perhaps the saddest of all Amy's songs. Heartrending ballad Love Is A Losing Game would actually miss the Top 40 on its first release. The last single she'd release during her lifetime, Amy performed Love Is A Losing Game at the Mercury Prize in 2007 and the BRIT Awards in 2008. It would go on to win an Ivor Novello Award – Amy's third. In a bittersweet moment of chart justice, Love Is A Losing Game did eventually make the Top 40, peaking at Number 33 following the star's passing in 2011.
QUIZ: How many of the UK's 60 biggest selling albums do you own?
December 2007 was boom-time for Back To Black. In the run-up to Christmas, a deluxe release of the album helped it sell 330,000 copies in just two weeks, passing the two-million mark. So the single campaign was over, but Back To Black's popularity showed no sign of waning. In 2009, Back To Black would become one of the best selling of all time, when it sailed past the three-million milestone that August.
Latest stats show Back To Black has now shifted 3.58 million in the UK, with 3.3 million of those being physical sales. 2007's Deluxe Edition – then counted as a separate release – gave Amy her third Number 1 album, meaning that she ties with Kate Bush for the most Number 1 albums by a British female solo artist.
Back To Black is the second biggest selling album of the 21st century, just behind Adele's 21. Quite the legacy for Amy to leave behind. We're celebrating the 60th anniversary of the Official Albums Chart, and it is safe to say that Amy is a true musical diamond.
We're celebrating 60 years of the Official Albums Chart throughout July on Official Charts. Tell us which is your all-time favourite record on Twitter using #MyFavouriteAlbum.
Click through the biggest selling album of every year since 1956 below: