Ed Sheeran's current chart takeover with his latest album ÷ isn't just limited to the UK. In fact, after his last album X slowly-but-steadily touched just about every corner of the globe, the worldwide anticipation around ÷ has meant it has soared to the top of the charts just about everywhere. 
The singer's third collection has so far reached Number 1 in 14 countries, including the UK, where Official Charts reported that it was the fastest-selling album by a male artist ever after shifting 672,000 across physical, digital and streaming equivalent sales. Meanwhile, all 16 of the albums tracks landed inside the Official Singles Chart Top 20 thanks to individual track downloads and streams - something no artist has come close to achieving before. 
MORE: The incredible numbers behind Ed Sheeran's first two albums
Looking across the pond, ÷ has landed straight in at Number 1 on America's Billboard 200 album chart with 451,000 equivalent album units sold. It gives Ed his second chart-topping album in the US (after X), as well as the biggest opening week for an album in the country so far this year. Meanwhile, 10 of its songs featured on the Hot 100 singles chart.
Going Down Under, ÷ debuted at Number 1 on Australia's ARIA album chart, marking his third chart-topper in the country, while X and + also bounced back up to Numbers 3 and 4 respectively. On their singles chart, all the record's 16 tracks are inside the Top 40, led by Shape Of You (which has been Number 1 over there for nine weeks). 
Across the rest of Europe, the record topped the charts in a further ten countries: Austria, Belgium, Denmark, Finland, Germany, Ireland, Italy, Norway, Scotland and Sweden - each with a generous smattering of the album's songs in their singles charts.
MORE: The albums that spawned the most Top 10 singles in the UK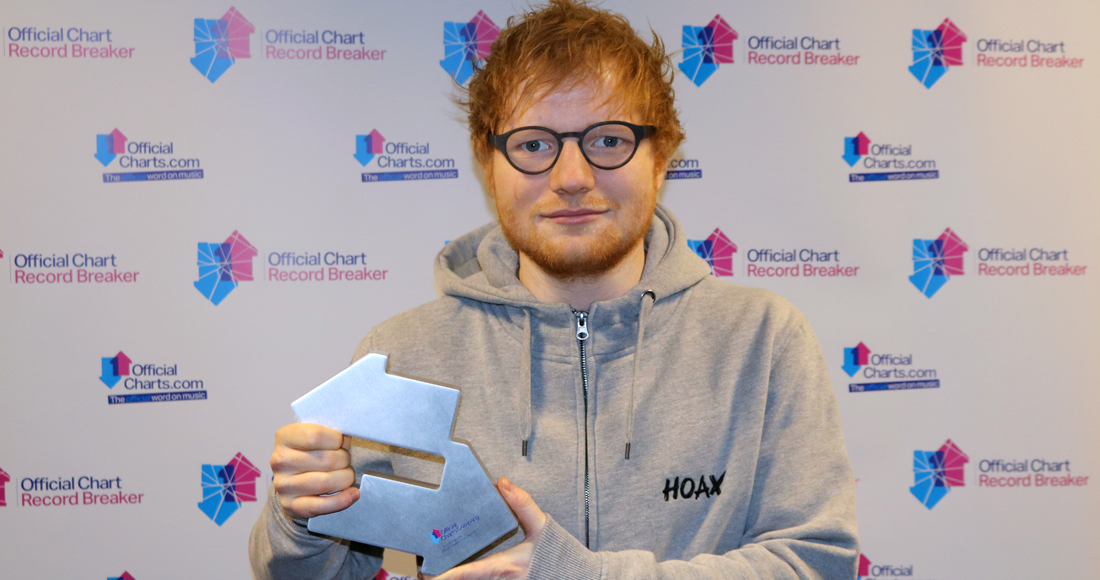 A special mention goes to Ireland's Official Charts, where all three of Ed's albums occupied the Top 3, as well as the Top 16 on the singles chart. Check out the latest, full Top 100 Irish Singles Chart here.
Elsewhere, ÷ also hit Number 1 in New Zealand, and last but by no means least, Taiwan, where it knocked La La Land off the top.
So, is there anywhere the album didn't reach Number 1? 
To date, ÷ has so far failed to hit top spot in two countries, one of which is in Japan, where it landed at a lowly (relatively speaking, of course) Number 5. The other is in France, where it reached Number 2 with sales of 40,800, according to Charts In France.
The album was beaten to Number 1 in the country by a charity record called Mission Enfoirés. The collection is by a group of singers called Les Enfoirés (which translates to 'The Bastards', ha), who release a record every year coinciding in with the country's massive annual charity concert for Restaurants du Cœur, which raises money to distribute food packages amongst the homeless and poor. If Ed had to lose out to someone, we're pretty sure he wouldn't mind it being to this lot. 
MORE: Ed Sheeran's Official Top 10 biggest songs
Article image: Rex