James Bond themes are not only an exciting music event, they're an integral part of British music and film legacy.
Sam Smith's Bond theme for 2015's Writing's On The Wall takes the claim as the first Bond theme to reach Number 1 on the Official Singles Chart (better late then never, right?), and last year Billie Eilish joined them with her song for the upcoming Bond flick No Time To Die, which after several delays is released on September 30.
While Sam claims the first Bond Number 1, No Time To Die claims the biggest opening week for a Bond theme ever, scoring 90,000 chart sales, including 10.6 million streams to debut at the top.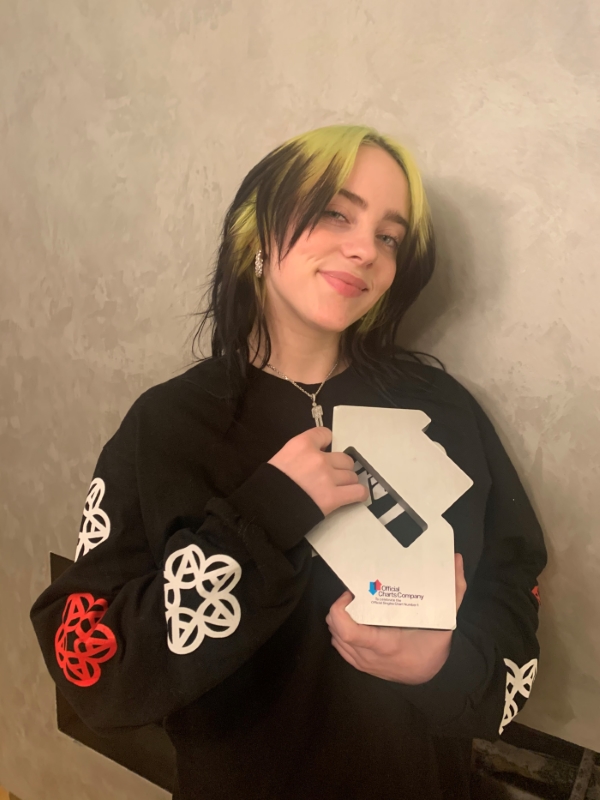 Billie Eilish with her Official Number 1 Single Award for No Time To Die.
Two songs have come close to reaching hte UK summit; Duran Duran's A View To A Kill and Adele's Skyfall each peaked at Number 2 in 1985 and 2012 respectively. Despite the latter winning an Oscar and a Golden Globe, Skyfall was denied Number 1 by Swedish House Mafia's Don't You Worry Child, while A View To A Kill logged a frustrating three weeks at Number 2, held off the top by the might of Paul Hardcastle's 19.
Other chart entries are more surprising. Despite releasing two of the most memorable songs in Bond theme history, Shirley Bassey's Diamonds Are Forever and Goldfinger both failed to make the Top 10. Diamonds only managed to reach Number 38 in 1971, logging just two weeks in the Top 40 (six in the Top 100), while Goldfinger peaked at Number 21 in 1964 (the less said about Moonraker, the better). 
Every James Bond theme ever and where they charted 
| | | | | |
| --- | --- | --- | --- | --- |
| YEAR | TITLE | ARTIST | CHART PEAK | WEEKS IN TOP 100 |
| 1963 | From Russia With Love | Matt Monro | 20 | 13 |
| 1963 | James Bond Theme | John Barry Orchestra | 13 | 11 |
| 1964 | Goldfinger | Shirley Bassey | 21 | 9 |
| 1965 | Thunderball | Tom Jones | 35 | 4 |
| 1967 | You Only Live Twice | Nancy Sinatra | 11 | 19 |
| 1969 | We Have All The Time in the World | Louis Armstrong | 3 (in 1994) | 19 |
| 1971 | Diamonds are Forever | Shirley Bassey | 38 | 6 |
| 1973 | Live and Let Die | Paul McCartney & Wings | 9 | 14 |
| 1975 | The Man With The Golden Gun | Lulu | n/a | 0 |
| 1977 | Nobody Does It Better | Carly Simon | 7 | 12 |
| 1979 | Moonraker | Shirley Bassey | n/a | 0 |
| 1981 | For Your Eyes Only | Sheena Easton | 8 | 13 |
| 1983 | All Time High | Rita Coolidge | 75 | 4 |
| 1985 | A View To A Kill | Duran Duran | 2 | 16 |
| 1987 | The Living Daylights | A-ha | 5 | 9 |
| 1989 | License To Kill | Gladys Knight | 6 | 11 |
| 1995 | GoldenEye | Tina Turner | 10 | 9 |
| 1997 | Tomorrow Never Dies | Sheryl Crow | 12 | 9 |
| 1999 | The World Is Not Enough | Garbage | 11 | 10 |
| 2002 | Die Another Day | Madonna | 3 | 17 |
| 2006 | You Know My Name | Chris Cornell | 7 | 19 |
| 2008 | Another Way To Die | Alicia Keys & Jack White | 9 | 14 |
| 2012 | Skyfall | Adele | 2 | 32 |
| 2015 | Writing's On The Wall | Sam Smith | 1 | 17 |
| 2020 | No Time To Die | Billie Eilish | 1 | 12 |