Ed Sheeran heading for seventh Number 1 album with Autumn Variations
Ed's flawless run of Number 1 albums looks set to continue this week.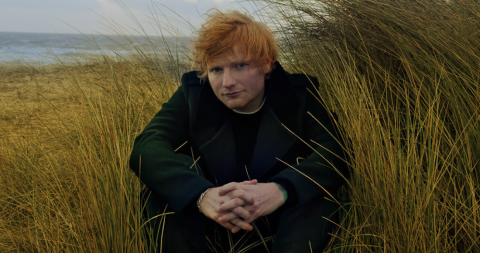 Autumn Variations is Ed's second release of the year, following the more acoustic-laden Number 1 record Subtract. Produced in collaboration with Aaron Dessner (Taylor Swift, Gracie Abrams, The National) Autumn Variations would not only be Ed's second consecutive chart-topping LP of 2023, but will also help extend his claim of having every one of his studio albums reach Number 1 on the Official Albums Chart; joining + (2011), x (2014), ÷ (2017), No. 6 Collaborations Project (2019), = (2021) and – (2023). 
See where all of Ed Sheeran's singles and albums have charted in the UK here. 
The aforementioned Steven Wilson is looking to secure his highest-charting solo record yet with The Harmony Codex at Number 2, having previously reached the Top 10 with 2017's To The Bone (3) and 2021's The Future Bites (4).  
West Midlands R&B savant Jorja Smith's genre-fluid second album Falling Or Flying could secure the former BRITs Critics Choice award winner her third Top 10 collection to date (3), while Kentucky rockers Black Stone Cherry are looking to claim their fourth Top 10 LP (and first in five years) with Screamin' At The Sky (5). 
UK synthwave trio Gunship are expected to win their first-ever UK Top 10 album on Friday with Unicorn (7) while Lana Del Rey's bold and bruised sophomore record Ultraviolence could return to the upper echelons of the chart thanks to a brand-new vinyl release (8) to celebrate its upcoming tenth anniversary. 
Potentially rounding out the Top 10 is soul icon Beverley Knight, who could net her first Top 10 album since 2016 with The Fifth Chapter (10). 
Outside the Top 10, Green Day's Dookie eyes a re-entry at Number 11 to celebrate its 30th anniversary. The major label debut by the pop-punk rockers, Dookie originally peaked at Number 13 in the UK.
British new wave goddess Toyah's re-release of her 1982 LP The Changeling could also re-enter the chart this week, 41 years on from its original release (16), while Haim's influential debut album Days Are Gone could be another re-entry as fans celebrate 10 years since the US sisters' arrival (19). 
The 1975's equally influential self-titled debut could also fly back into the Top 40, at 25 midweek, Anna Lapwood's LUNA is expected to debut at Number 26, while Wilco's Cousin is heading for Number 29. 
Further down, we could see more new entries from Orb & David Gilmour's Metallic Spheres In Colour (31), Hawkwind's Space Ritual (32) and 2023 UK Eurovision representative Mae Muller's debut album Sorry I'm Late (33).  
Finally, Andrew Cushin's debut album Waiting For The Rain (35) could land straight in the Official Albums Chart Top 40; the Newcastle singer-songwriter has found himself championed by One Direction alumni Louis Tomlinson, Noel Gallagher and Pete Doherty. Find out more about Andrew Cushin here.
See the Official Albums Chart Update Top 100 live here from 5:45pm 
Related Singles and Albums