You can't deny that our musical tastes do get a little more… strange at Christmas. Maybe it's the eggnog or sensory overload from seeing tinsel cover every inch of your surroundings, but we do seem to favour wacky tunes while we're rocking out at our Christmas parties.
The Christmas Number 1 is the one all artists want, and even though statistically a song that has zero to do with Christmas is more likely to top the festive chart, that doesn't stop an unlikely pack of artists having a go with their own take on a festive smash. Look back over every Official Christmas Number 1 here.
Here's a small selection of the most… unusual. Yes, let's say they're unusual.
The Killers – Don't Shoot Me Santa
The Killers always get into the Christmas spirit, having released a mighty 11 festive songs so far. Perhaps the most tongue-in-cheek of all is this one from 2009, with Brandon rocking his very best Movember 'tache, getting abducted by a rather dishevelled Santa and pleading not to be murdered. Tinsel and torture! Quite festive when you think about it. See all the Killers' UK hit singles and albums
Mr Blobby – Christmas In Blobby Land
Lovable fluoro lump of leftover trifle Mr Blobby caused a sensation when he snatched the Christmas Number 1 from Take That's grasp in 1993. An attempt at a follow-up in 1995 was, we can say with some conviction, one of the most unpleasant festive treats since you accidentally ate a coffee-flavoured Quality Street. Sadly, the video is no longer available to stream, but thank Santa for that; Noel Edmonds tucking Blobby into bed on Christmas Eve will haunt your dreams for many Christmases to come.
The Cast of The Only Way Is Essex – Last Christmas
This Wham! cover, recorded in aid of the Text Santa charity, opens with future meme queen Gemma Collins saying she wants to pinch herself with excitement and peaks there. Punctuated with the odd "yeah mate", nobody seems to know where they are or what they're doing, and it's only the the late Nanny Pat's pleas for everyone to stop arguing that help get the song finished.
As reem and emosh as you'd expect (with a video which sees everyone gathered in a group dressed like they're off to Sugar Hut as soon as the camera stops rolling), this...uh...unique take on George Michael's festive masterpiece reached Number 33 in 2011.
Bo Selecta – Proper Crimbo
Now better known as Keith Lemon, comedian Leigh Francis enlisted a host of stars to sing along on this song and video which you could most generously call "of its time". It actually reached Number 4 in 2003. Proper Crimbo? Proper Cringe, though. 
Cheeky Girls – Have a Cheeky Christmas
Aw, bless Monica and Gabriela for making the pop arena more fun. After a near-miss at Christmas Number 1 in 2002 with The Cheeky Song, the Cheeky Girls had another crack in 2003 (a vintage year for questionable Christmas hits) with this festive shimmy. Sadly, it's not quite as joyous – it sounds a bit like two Alexas gone rogue, tbh – but it reached Number 10! It would be their last single to do so, but still! Christmas spirit and all that. 
The Darkness – Christmastime (Don't Let The Bells End)
Also in 2003 (was there something in the water?) bonkers rockers The Darkness challenged for Christmas Number 1 with this innuendo-packed track. It made it to Number 2, pipped by the decidedly less cheery Michael Andrews and Gary Jules cover of Mad World, from goth movie du jour Donnie Darko – not exactly a year for candy canes and tinsel, sorry.
Mr. Hankey the Christmas Poo
After scoring a Number 1 in 1998 (and nearly the Christmas Number 1) with Chef's Chocolate Salty Balls, the risqué South Park crew returned the following year to put us off our Christmas dinner. This time, the amiable, yet incredibly problematic, Chef was replaced by a singing turd. Lovely. This particular Yule log got to Number 4. Of its time, should we say. Don't watch the video when tucking into your turkey, please.
Las Ketchup – The Ketchup Song (Asereje) (Christmas remix)
What do you do if you've had huge success with a summery, yet kind of irritating, song and it's getting darker and colder outside? Why, if you're Las Ketchup, you simply sling some Christmas bells over the top and re-release it, that's what! Sadly, the tomato-loving ladies didn't hit Number 1 again with this one from 2002.
John Cage – 4'33"
Four minutes and 33 seconds of silence (ambient white noise created by an orchestra quietly sitting there and not playing) got to Number 21 in 2010. Oh yes.
LadBaby – We Built This City, I Love Sausage Rolls, Don't Stop Eatin', Sausage Rolls For Everyone
A bizarre bid for sure, but one that paid off...three times!  YouTube personality LadBaby, his wife Roxanne, and their sons recorded a parody cover of Starship's We Built This City – replacing "rock and roll" with "sausage rolls" and went all the way to the top of the 2018 Christmas chart. Released in aid of food bank charity The Trussell Trust, it was at least all in a good cause.
Their second cover, a sausage roll-themed re-working of Joan Jett's I Love Rock and Roll also got the festive Number 1 in 2019, and in 2020, they secured a hat-trick (last achieved by the Spice Girls!) with Don't Stop Eatin', a (you guessed it!) sausage-roll themed take on Journey's Don't Stop Believin'.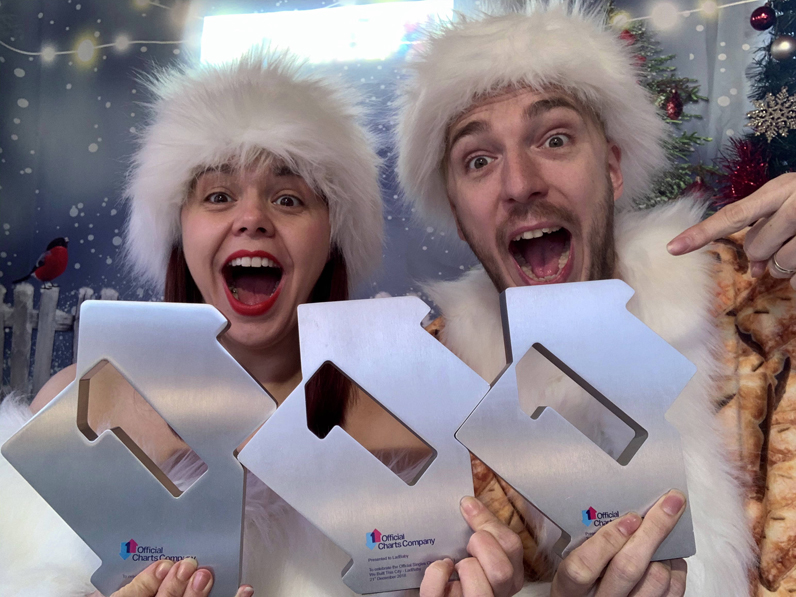 This year they're going for a world record of four consecutive Christmas Number 1s with Sausage Rolls For Everyone, a rework of Ed Sheeran & Elton John's festive jingle Merry Christmas, and even features the music superstars themselves.
Article image: Shutterstock