Call it a little too much boozy eggnog, or over-excitement at all the lights, but our music tastes get decidedly kookier around Christmas and you may find yourself listening to cheesy stuff you'd usually ignore.
The Christmas Number 1 is a coveted prize, and while, statistically, you're more likely to win it without a Christmas-themed song, that doesn't stop an unlikely pack of artists having a go with their own take on a festive smash.
POLL: Vote for who you think will be this year's Official UK Christmas Number 1
Here's a small selection of the most… unusual. Yes, let's say they're unusual.
The Killers – Don't Shoot Me Santa
The Killers always get into the Christmas spirit, releasing a festive track pretty much every year. Perhaps the weirdest and most tongue-in-cheek of all is this one from 2009, with Brandon rocking his very best Movember 'tache, getting abducted by a rather disheveled Santa and pleading not to be murdered. Festive.
MORE: See all the Killers' UK hit singles and albums
Mr Blobby – Christmas In Blobby Land
Lovable fluoro lump of foam Mr Blobby caused a sensation when he snatched 1993's Christmas Number 1 from Take That's grasp. An attempt at a follow-up in 1995 was, we can say with some conviction, one of the most unpleasant festive treats since you accidentally ate a coffee-flavoured Quality Street. Noel Edmonds tucking Blobby in on Christmas Eve will haunt your dreams for many Christmases to come.
The cast of The Only Way Is Essex – Last Christmas
This Wham! cover, recorded in aid of Text Santa, opens with current meme queen Gemma Collins saying she wants to pinch herself with excitement and pretty much peaks there – how could it possibly top that? Punctuated with the odd "yeah mate", along with pleas from the late Nanny Pat for everyone to stop arguing, this is as reem and emosh as you'd expect. It reached Number 33 in 2011.
Bo Selecta – Proper Crimbo
Now better known as Keith Lemon, comedian Leigh Francis managed to enlist a host of stars to sing along on this catchy number, which actually reached Number 4 in 2003. And yet: terrible.
Cheeky Girls – Have a Cheeky Christmas
Aw, bless Monica and Gabriela for making the pop arena more fun. After a near-miss in 2002 with The Cheeky Song, the twins had another crack in 2003 (a vintage year for questionable Christmas hits) with this festive shimmy. Sadly, it's not quite as joyous – it sounds a bit like Siri doing karaoke, tbh – but it reached Number 10!
MORE: Relive all the Cheeky Girls' UK smashes in their chart archive
The Darkness – Christmastime (Don't Let The Bells End)
Also in 2003 – what was happening that year, eh? – bonkers rockers The Darkness challenged for Christmas Number 1 with this innuendo-packed track. It made it to Number 2, pipped by the decidedly less cheery Michael Andrews and Gary Jules cover of Mad World, from feel-good festive favourite movie Donnie Darko. 
MORE: The Official Top 20 biggest selling Christmas hits
Mr. Hankey the Christmas Poo
South Park has a lot to answer for – not only did they score a Number 1 in 1998 with Chef's Chocolate Salty Balls, they returned the following year to terrorise Christmas even further. This time, the amiable, yet incredibly problematic, Chef was replaced by a singing turd. Lovely. It got to Number 4.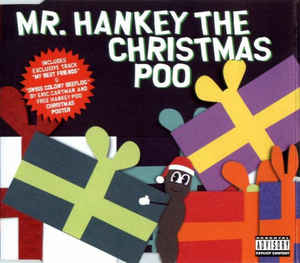 We were going to say something about a Yule log, but noooooope.
Madge and Harold – Old Fashioned Christmas
The granny and granddad you always wanted – well, kind of, Madge was pretty terrifying – from Australian soap Neighbours, Madge and Harold warbled and growled their way through this gentle Yuletide singalong in 1989. The overall vibe was kind of a more wistful take on Cliff Richard's Mistletoe and Wine. But with not enough wine. We're gonna need more wine. Just leave the bottle.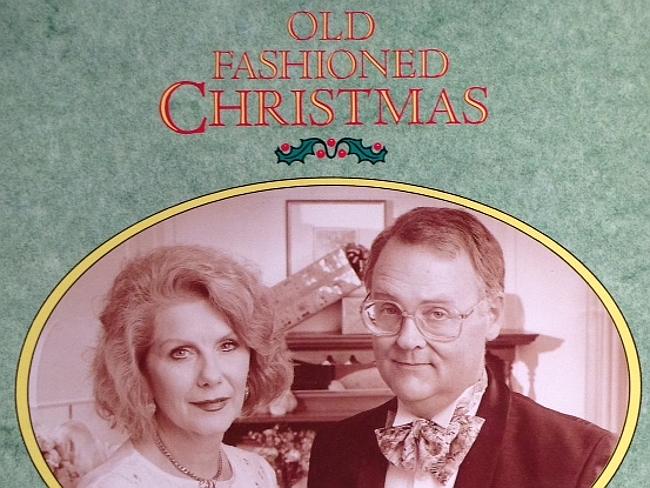 Hotpantz – Give U One 4 Christmas
We all love a bit of sauce under the mistletoe at Christmas and here's a true classic from 2004. Shut your eyes and you can imagine your least favourite auntie and uncle gyrating to it in front of the Christmas tree while you try to watch Doctor Who around their energetic thrusting. Give U One 4 Christmas hit Number 64 in 2004.
MORE: Christmas songs you can't believe didn't chart higher
The RetroBot – Christmas Robot
This Brooklynese-rapping festive robot from 2013 was the brainchild of Mike Stock, who was part of '80s pop supremos Stock Aitken Waterman, and gave Kylie her early huge hits. The sparky RetroBot didn't quite repeat Kylie's success, sadly, but there was still a follow-up for Easter called – what else? – ChocolateBot.
Mr Showbiz – Showbiz Christmas
The first ever Big Brother contestant to be (rightly) evicted on the launch night, Simon Gross commandeered his catchphrase "Shoooowbiiiiz!", usually screamed at blood-curdling decibels, and an array of celeb mates to put together this charity Christmas single. A very good cause indeed, although most people would probably pay you to turn it off.
MORE: Every Christmas Number 1 ever!
Dapper Laughs – A Proper Merry Xmas 
Yeah, this happened, in 2015. Warning: contains swear words and absolutely zero laughs whatsoever.
Geraldine McQueen – Once Upon A Christmas Song
This charity single saw Peter Kay have a stab at giving fictional character Geraldine McQueen a Christmas Number 1, following his successful talent show parody Britain's Got The Pop Factor. Sadly, despite being co-written by Gary Barlow, the catchy tune was trounced by X Factor winner Alexandra Burke's Hallelujah, and peaked at 5.
Las Ketchup – The Ketchup Song (Asereje)
What do you do if you've had huge success with a summery, yet kind of irritating, song and it's getting darker and colder outside? Why, if you're Las Ketchup, you simply sling some Christmas bells over the top and re-release it, that's what! Sadly, the tomato-loving ladies didn't hit Number 1 again with this one from 2002.
Los del Rio – Christmas Macarena
See above, but with a bit of Joy To The World and an innovative rendition of Jingle Bells shoehorned in. Did not repeat the Number 2 success of Los Del Rio's 1996 original, surprisingly.
John Cage – 4'33"
Four minutes and 33 seconds of total silence got to Number 9 in 2010. Number. Nine. Oh yes.
What's your favourite slightly bonkers Christmas song? Tell us in the comments below or on Facebook or Twitter.
Relive all the songs that did make it to Christmas Number 1 in our gallery: