You can't deny that our musical tastes do get a little more… strange at Christmas. Maybe it's the eggnog or sensory overload from seeing tinsel cover every inch of your surroundings, but we do seem to favour wacky tunes while we're rocking out at our Christmas parties.
The Christmas Number 1 is the one all artists want, and even though statistically a song that has zero to do with Christmas is more likely to top the festive chart, that doesn't stop an unlikely pack of artists having a go with their own take on a festive smash. Look back over every Official Christmas Number 1.
Here's a small selection of the most… unusual. Yes, let's say they're unusual.
The Killers – Don't Shoot Me Santa
The Killers always get into the Christmas spirit, releasing a festive track pretty much every year. Perhaps the most tongue-in-cheek of all is this one from 2009, with Brandon rocking his very best Movember 'tache, getting abducted by a rather dishevelled Santa and pleading not to be murdered. Tinsel and torture! Quite festive when you think about it. See all the Killers' UK hit singles and albums
SHINNy – Christmas Number One
If you want to top the chart at Christmas, you need the confidence to get there, and what better way to show you mean business than call your bid for the festive summit Christmas Number One? Well, it's worked for… precisely nobody, as it turned out. James Davenport, aka SHINNy, raised money for cancer charity Macmillan with his spirited challenger, but it didn't quite make it. British public, how could you?
Mr Blobby – Christmas In Blobby Land
Lovable fluoro lump of leftover trifle Mr Blobby caused a sensation when he snatched the Christmas Number 1 from Take That's grasp in 1993. An attempt at a follow-up in 1995 was, we can say with some conviction, one of the most unpleasant festive treats since you accidentally ate a coffee-flavoured Quality Street. Sadly, the video is no longer available to stream, but thank Santa for that; Noel Edmonds tucking Blobby into bed on Christmas Eve will haunt your dreams for many Christmases to come.
The cast of The Only Way Is Essex – Last Christmas
This Wham! cover, recorded in aid of the Text Santa charity, opens with meme queen Gemma Collins saying she wants to pinch herself with excitement and peaks there. Punctuated with the odd "yeah mate", nobody seems to know where they are or what they're doing, and it's only the the late Nanny Pat's pleas for everyone to stop arguing that help get the song finished. As reem and emosh as you'd expect, this underrated version of Last Christmas reached Number 33 in 2011.
Bo Selecta – Proper Crimbo
Now better known as Keith Lemon, comedian Leigh Francis enlisted a host of stars to sing along on this song and video which you could most generously call "of its time". It actually reached Number 4 in 2003. And yet: terrible.
Cheeky Girls – Have a Cheeky Christmas
Aw, bless Monica and Gabriela for making the pop arena more fun. After a near-miss at Christmas Number 1 in 2002 with The Cheeky Song, the Cheeky Girls had another crack in 2003 (a vintage year for questionable Christmas hits) with this festive shimmy. Sadly, it's not quite as joyous – it sounds a bit like two Alexas gone rogue, tbh – but it reached Number 10! Christmas spirit is one helluva drug.
The Darkness – Christmastime (Don't Let The Bells End)
Also in 2003 – what was happening that year, eh? – bonkers rockers The Darkness challenged for Christmas Number 1 with this innuendo-packed track. It made it to Number 2, pipped by the decidedly less cheery Michael Andrews and Gary Jules cover of Mad World, from movie Donnie Darko – not exactly up there with your regular feelgood Hallmark Christmas films. 
MORE: The Official Top 20 biggest selling Christmas hits
Mr. Hankey the Christmas Poo
After scoring a Number 1 in 1998 with Chef's Chocolate Salty Balls, the risqué South Park crew returned the following year to put us off our Christmas dinner. This time, the amiable, yet incredibly problematic, Chef was replaced by a singing turd. Lovely. This particular Yule log got to Number 4.
Madge and Harold – Old Fashioned Christmas
The granny and granddad you always wanted – well, kind of, Madge was pretty terrifying – from Australian soap Neighbours, Madge and Harold warbled and growled their way through this gentle Yuletide singalong in 1989. The overall vibe was kind of a more wistful take on Cliff Richard's Mistletoe and Wine. But with not enough wine. We're gonna need more wine. Just leave the bottle.
Hotpantz – Give U One 4 Christmas
We all love a bit of sauce under the mistletoe at Christmas and here's a true classic from 2004. Shut your eyes and you can imagine your least favourite auntie and uncle jigging to it round the Christmas tree and cementing their place in your future nightmares for all eternity. Give U One 4 Christmas hit Number 64 – you'd think it would be 69, wouldn't you, but no – in 2004.
MORE: Christmas songs you can't believe didn't chart higher
Mr Showbiz – Showbiz Christmas
The first ever Big Brother contestant to be (rightly) evicted on the launch night, Simon Gross commandeered his catchphrase "Shoooowbiiiiz!", usually screamed at blood-curdling decibels, and an array of celeb mates to put together this charity Christmas single. A very good cause indeed, although most people would probably pay you to turn it off.
MORE: Every Christmas Number 1 ever!
Dapper Laughs – A Proper Merry Xmas 
Yeah, this happened, in 2015. Warning: contains swear words and absolutely zero laughs whatsoever.
Las Ketchup – The Ketchup Song (Asereje)
What do you do if you've had huge success with a summery, yet kind of irritating, song and it's getting darker and colder outside? Why, if you're Las Ketchup, you simply sling some Christmas bells over the top and re-release it, that's what! Sadly, the tomato-loving ladies didn't hit Number 1 again with this one from 2002.
Los del Rio – Christmas Macarena
See above, but with a bit of Joy To The World and an innovative rendition of Jingle Bells shoehorned in. It is… something. Did not repeat the Number 2 success of Los Del Rio's 1996 original, surprisingly.
John Cage – 4'33"
Four minutes and 33 seconds of total silence got to Number 9 in 2010. Number. Nine. Oh yes.
Ladbaby – We Built This City
A song about sausage rolls aiming to be Christmas Number 1? Sounds ridiculous. And yet… this is one odd Christmas Number 1 bid that actually worked! YouTube personality LadBaby, his wife Roxanne, and their sons recorded a parody cover of Starship's We Built This City – replacing "rock and roll" with "sausage rolls" and went all the way to the top of the 2018 Christmas chart. Released in aid of a food bank charity, it was at least all in a good cause. Naturally, they're having another sausage roll-themed crack at the festive top spot for 2019.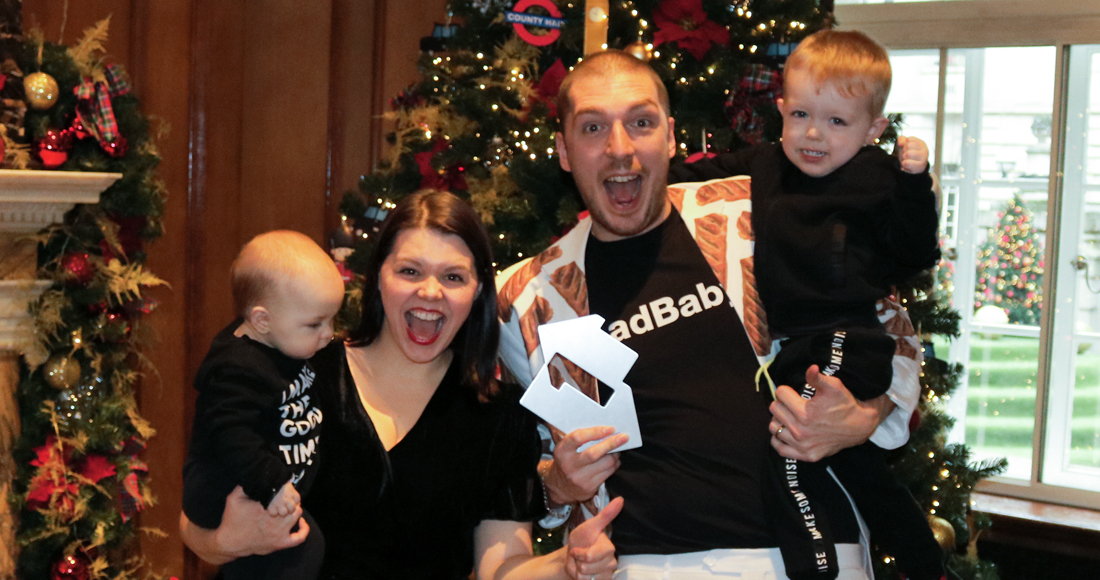 What's your favourite slightly bonkers Christmas song? Tell us in the comments below or on Facebook or Twitter.
Relive all the songs that did make it to Christmas Number 1 in our gallery:
Article image: Shutterstock