On 7th July 1991, Bryan Adams' (Everything I Do) I Do It For You climbed to Number 1 on the UK's Official Singles Chart. And there it stayed. For better or for worse, in sickness and in health, through sunshine and rain, Bryan Adams' emotional power ballad reigned over the UK charts for four straight months.
The song, which was written in just 45 minutes especially for the iconic Kevin Costner-starring Robin Hood: Prince of Thieves, is one of the most successful singles in UK chart history.
To mark the occasion, here are five chart facts about Bryan Adams' unforgettable record-breaking single.
It's the longest consecutive run at Number 1. Ever.
With 16 consecutive weeks at the summit, Everything I Do… scored the longest ever run at Number 1 in UK chart history, a record which still hasn't been bettered.
Just one song has more total weeks at Number 1: Frankie Laine's I Believe, which enjoyed 18 weeks at the top across three different stints. Only a handful of acts have come close to Bryan's consecutive performance.
In 2018 Canadian rapper and singer Drake managed 15 weeks on the trot with One Dance ft. Wizkid and Kyla, and Wet Wet Wet, who in 1991 spent 15 straight weeks at Number 1 with Love Is All Around, until they literally stopped production of the song to give everyone a break.
It's one of the UK's best-selling songs of all time
Everything I Do… is the UK's 15th best-selling single of all time, with over 1.87 million paid-for sales to date including 340,000 on digital download. Even in 2021, nine people have picked up a physical copy of the song!
It's still extremely popular thirty years on, thanks to streaming
Although a solid number of the UK population may once have owned a physical copy of the single, there's still an appetite for the track. To date it's clocked up over 55 million streams in the UK since chart records began – including 10 million in the first six months of 2021 alone.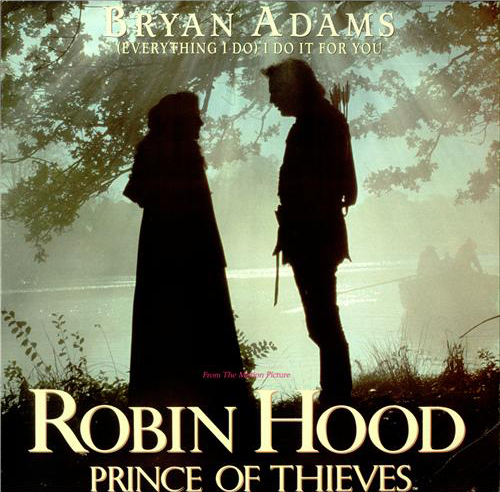 Biggest selling single of 1991
Unsurprisingly, the track was the best-seller of 1991 earning 1.43 million sales that year alone. It even outsold the second biggest – Queen's Bohemian Rhapsody (which was re-released following Freddie Mercury's death) – by more than twice as many copies in that year. Read more about the biggest songs of 1991 here.
It was eventually knocked from Number 1 by…
U2! Bono and co buzzed into a Number 1 debut with The Fly on 27 October 1991, ending Everything I Do…'s 16-week reign at the top.
And in case you were wondering, Bryan toppled Jason Donovan's Any Dream Will Do to claim the top spot in the first place, which enjoyed a slightly more 'normal' two weeks at Number 1 in the lead-up.
Article image: Crispin Rodwell/Shutterstock