Who is Kenya Grace? The dance artist who debuted Top 20 with Strangers
The singer-producer scored a debut Top 20 with her first major-label release.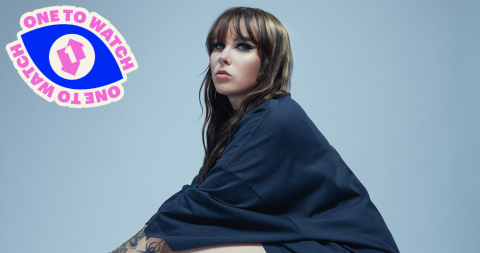 For avid chart watchers and fans alike, there may have been a surprising new name in last week's Official Singles Chart Top 40 - Kenya Grace, who debuted straight inside the Top 20 with a song called Strangers.
A sophisticated dance track with hints of DNB stitched throughout with a light, hushed vocal performance from Kenya (who sounds, at once, like PinkPantheress, Charli XCX and Piri, formerly of DNB duo Piri & Tommy), Strangers's success on the Official Chart straight out of the gate actually makes a lot of sense, since it responds to a lot of the trends that are prevalent on the charts at the moment. 
First of all, DNB (or drum'n'bass for the uninitiated) is currently having something of a commercial renaissance. Two weeks ago, two DNB tracks - Disconnect by Becky Hill and Chase & Status and Baddadan by Chase & Status, Bou, Flowdan, IRAH, Trigga and Takura - were sitting firmly in the Top 10. Of course, you could connect this as a sensible continuation and evolution of the rise of dance music inside the Official Chart that we saw last summer, bolstered by hits from a raft of newcomers like Belters Only, LF System and Eliza Rose.
Second of all, as we reported a few weeks ago, female vocalists are once again (rightfully) dominating the conversation of the Official Singles Chart right now. With most of the Top 10 still being made up of female acts (including the Number 1 and Top 3 singles in the country right now by Doja Cat, Taylor Swift and Olivia Rodrigo), Kenya has found the perfect time to make her debut as a major label artist (Strangers is her first release via FFRR, a dance-focused sub-label of Warner Music). 
Combine these both together and you can see why Strangers is performing so well. You can connect Kenya's quick rise to chart success alongside the likes of Issey Cross, who keeps rising week on week with her The Verve-sampling bop Bittersweet Goobye and Jazzy, who has quickly notched up two solo Top 40 hits since hitting the Top 10 with Belters Only last year.
Who is Kenya Grace?
Kenya Grace is a singer-songwriter and producer, hailing from the UK. After graduating from the ACM (Academy of Contemporary Music) in the UK, she quickly set about making a name for herself on the music scene, releasing a series of standalone, independent singles and collaborating with underground acts such as Homebodi and 3Strange. 
Signing with Major Records and Warner earlier this year, Strangers is Kenya's debut single as a major label artist, which has been hailed as the start of her "biggest, boldest and brightest" chapter yet. 
How is Strangers by Kenya Grace performing on the Official Chart?
Strangers is performing exceedingly well on the Official Singles Chart. Last week it became Kenya's first-ever entry in the UK Top 40, debuting at Number 20 (just one behind last week's highest new entry, Kylie Minogue's Tension, at Number 19).
The track was initially teased in viral clips on Instagram Reels, where it first caught fire, and TikTok, where Kenya currently has nearly 400,000 followers. As we know, virality and a strong presence on TikTok is perhaps the most important factor in breaking an act in the UK music industry right now. 
As it stands, Strangers is set to fly even higher this week up the Top 20. Right now, it's ascent into the Top 10 or even Top 5 doesn't seem like a question if, more like when.
Strangers by Kenya Grace is out now via Major Records/Warner.
Related Singles and Albums