Cast your mind back 19 years to the sound of summer, that hit that was never off the radio. Having trouble remembering? Shall we refresh your Mmmemory?
Back in 1997, three wholesome looking brothers caused a global sensation with their debut single MmmBop, which smashed straight to the top of the Official Singles Chart this week in 1997.
Thanks to a particularly good start to the summer – don't let anybody tell you Brits' music purchases aren't influenced by the weather – the super-catchy, sunny vibe of the song helped it stay at Number 1 for three sizzling weeks.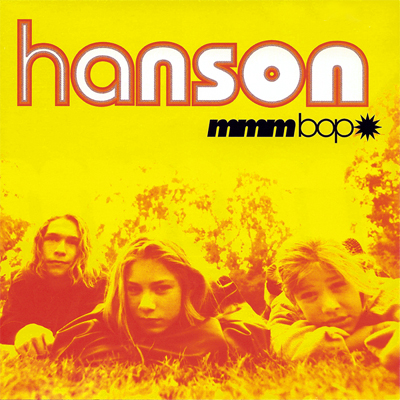 MmmBop is the one everyone remembers, but Hanson did go on to have more hits – eight Top 40s in all, including a couple of quick comebacks in 2000 and 2005. Their debut album Middle Of Nowhere also topped the chart for a week. We last saw them in 2007, when they just missed the Top 40 with Go.
MORE: See all Hanson's UK chart hit singles and albums
MmmBop has a chart sales tally of 758,000, and was the 11th biggest selling single of 1997. There's still a bit of love out there for MmmBop – over 600 of you have downloaded it so far this year.
Here's that week's frankly fantastic Top 10. Click on the image to see the full Top 100.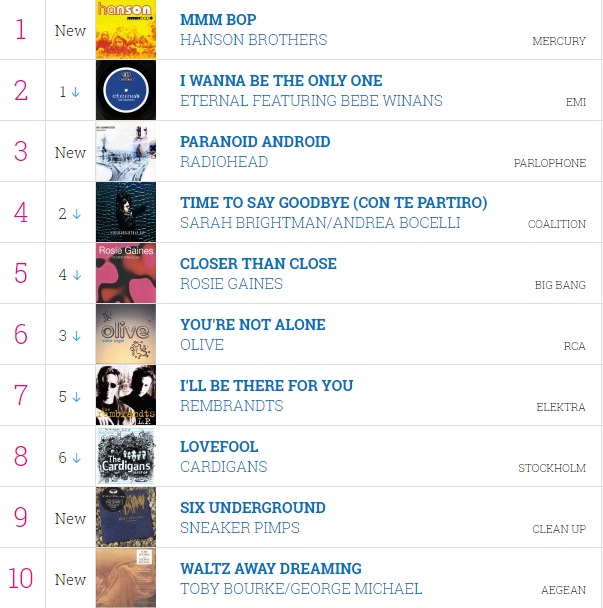 Elsewhere in the Top 10, it was 😢 for Eternal, deposed from the top spot after just a week with their one and only Number 1 I Wanna Be The Only One (feat. Bebe Winans). Radiohead's Paranoid Android scored the Oxford band a new personal best at Number 3 – it's their highest-charting single to date.
Further down the chart, Gina G returned with Ti Amo and Marilyn Manson was new at 18 with Beautiful People, which would one day become the theme tune to WWE SmackDown.
Let's relive the mmmagic of MmmBop, and prommmise never to do that lammme joke with mmm ever again.