To celebrate Tom Jones's new album Surrounded By Time - his 42nd studio record - we reveal his Top 20 most-streamed hits in the UK, according to Official Charts Company data. View Tom's Official UK Chart history in full here.
20. Tower Of Song (2012)
This Leonard Cohen cover serves as the opener on Tom's 2012 album Spirit In The Room, which saw him take on folk classics in his signature soul style. 
19. I'm Coming Home (1967)
Written by Les Reed, whose hits included It's Not Unusual and Delilah (more on those later), this gentle, forlorn ballad was a one-off single release that became the first of five Number 2 hits for Tom.
18. Till (1971)
One of five Number 2-peaking singles for Tom, this wistful pop number oozing with melancholy has been covered by several iconic singers, including Shirley Bassey in 1961 and Tony Bennett that same year - but Tom took it to its highest chart position.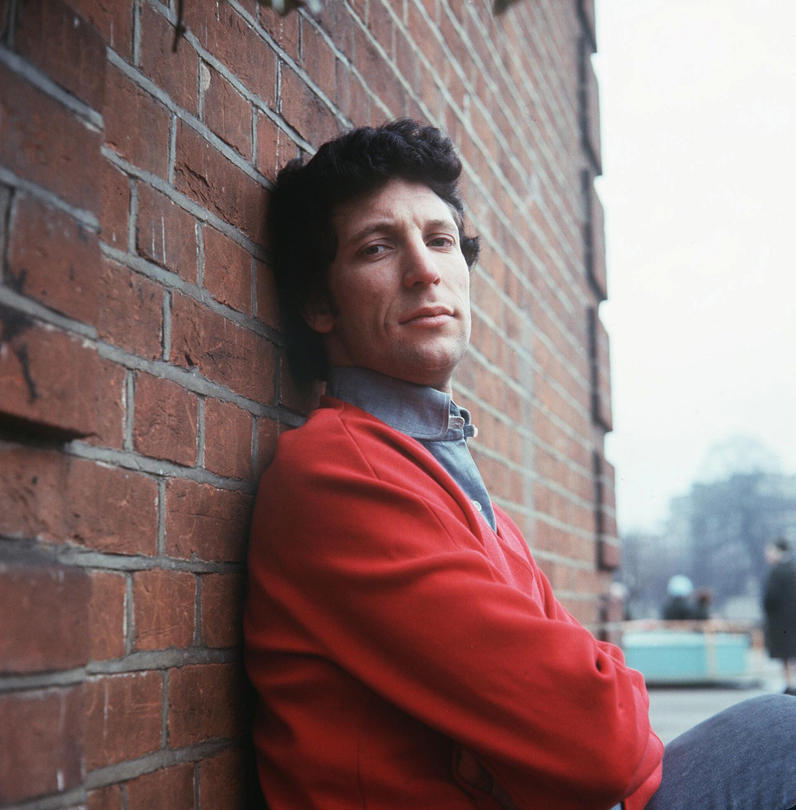 David Magnus/Shutterstock
17. With These Hands (1965)
Recently boosted by an unplanned performance on The Voice UK earlier this year, With These Hands was a minor hit for Shirley Bassey five years before Tom took it to Number 13.
16. I (Who Have Nothing) (1970)
Proving Tom can do overblown ballads like no-one else, his rendition of Italian hit Uno Dei Tanti is arguably the most popular cover of the track - a Top 20 hit on the Official Singles Chart that year.
15. Funny Familiar Forgotten Feelings (1967)
Lifted from his hugely successful Green, Green Grass Of Home album, this Top 10 hit marked the time when Tom began to move on from his teenage audience and focused on a more mature sound.
14. Kiss (1988)
A Prince cover that Tom had been performing in his Vegas show, this collaboration with synth-pop group The Art Of Noise is credited with reviving Tom's career, reaching Number 5 on the Official Singles Chart.
13. Thunderball (1966)
The story goes that Tom fainted in the recording booth after belting the final note of this extravagant James Bond theme. It's easy to hear why. See where every James Bond theme has charted in the UK here.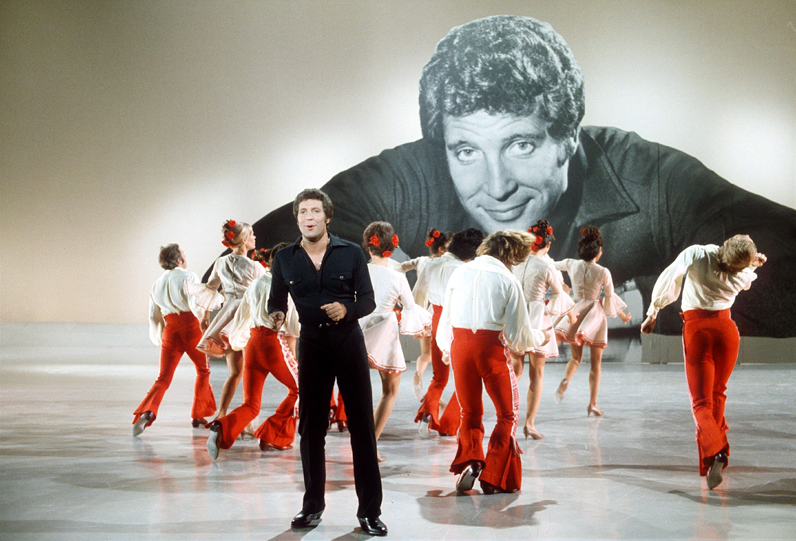 Tom Jones performing on TV in 1970 (Valley Music Ltd/Shutterstock)
12. Burning Down The House (1999)
This Talking Heads cover with The Cardigans served as the lead single from Tom's Reload album, and gave him his first Top 10 single in more than a decade, peaking at Number 7. 
11. Stoned In Love (2006)
Tom's hook-up with British house producer Chicane gave him an 18th UK Top 10 hit. The accompanying music video shows a robber on the run, wearing a mask that looks eerily like Tom himself....
10. What's New Pussycat (1965)
Streams: 3.8 million
The theme song for the eponymous film was written by Burt Bacharach and Hal David, and nominated for an Oscar for Best Original Song. The track proved to be a bigger hit in America than in the UK, where it topped out at 11.
9. Help Yourself (1968)
Streams: 3.96 million
One of Tom's most popular early hits after topping the charts in several countries and peaking at Number 5 in the UK, Help Yourself is an English-language rework of popular Italian song Gli Occhi Miei (My Eyes).
8. I'll Never Fall In Love Again
Streams: 5.05 million
Written by Lonnie Donegan, who offered the song to Tom as the pair forged a friendship as they often performed on the same circuit in the Sixties. "One night [Lonnie] said: 'Look, I have this song, you'd sing the pants off it," Tom recalled in an interview with The Mail on Sunday. "I've recorded it, but I can't really sing it. It's a sort of a rewrite of a song from the Thirties when the Depression was going on, called I'm Never Going To Cease My Wandering.' I knew that song, because a lot of guys used to sing it in pubs in Wales."
7. Mama Told Me Not Come
Streams: 5.92 million
Recorded with fellow Welsh singer and equally gravelly-voiced Kelly Jones of Stereophonics, this Randy Newman cover was another big hit from Tom's Reload album, reaching Number 4 on the Official Singles Chart in 1999.
6. She's A Lady
Streams: 7.84 million
Written by Paul Anka, She's A Lady was a Top 20 in the UK and reached the Top 10 in the US. The song was re-released in 2013 as a duet with Paul, who re-wrote the first verse after retrospectively realising how chauvinistic it was.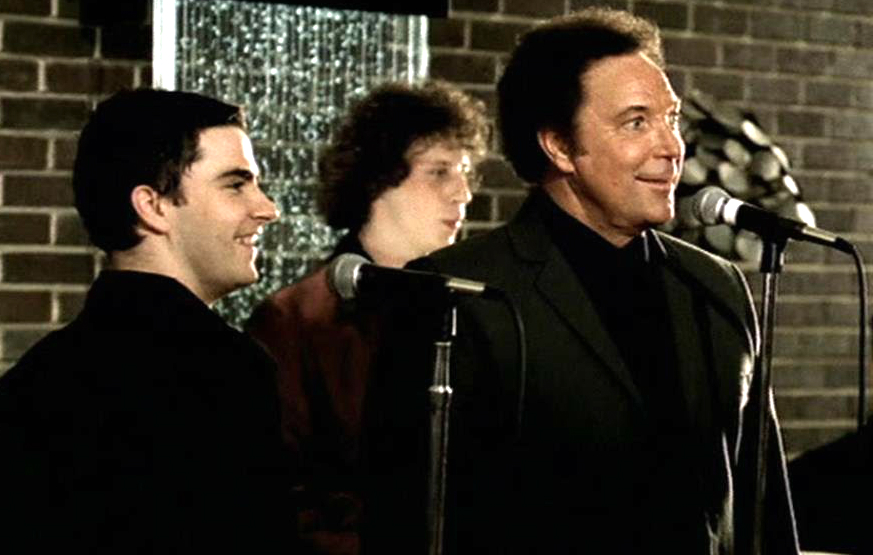 Tom Jones and Kelly Jones of Stereophonics
5. Baby It's Cold Outside (1999)
Streams: 7.94 million
The festive classic has been covered by everyone from Ray Charles to Rod Stewart and Dolly Parton - and in 1999 Tom recorded his own version with fellow Welsh musician Cerys Matthews. A modest Number 17 hit at the time, it now enjoys an annual boost in streams around Christmas.
4. Sexbomb (2000)
Streams: 8.9 million
Everything about Sexbomb on paper sounds wrong, but this disco-lite number with producer Mousse T. from Tom's 1999 comeback album Reload proved that Tom really can sing anything.
3.  Green Green Grass Of Home (1966)
Streams: 9.53 million 
Country music doesn't have the strongest track record on the UK charts, but Tom's cover of this Johnny Darrell song is an exception to the rule. As well as being a hit in the modern streaming era, it's Tom best-selling single with 1.26 million pure sales recorded in the UK. 
2. Delilah (1968)
Streams: 12 million
This karaoke favourite is brilliantly dark - the lyrics tell the story of a man who wants to murder his wife for her infidelity. It's Tom at his most ridiculous which, in case you were unclear at this point, is when he's at his best. It reached Number 2 in the UK, pipped to the post by The Beatles' Lady Madonna.
1. It's Not Unusual (1965)
Streams: 18.3 million
It's hard to imagine anyone else being able to pull this song off, but Tom originally reocorded it as a demo for Sandie Shaw, who suggested he release it himself, impressed by his vocal take. It was the first of three Number 1s for Tom, topping the Official Chart despite the BBC initially refusing to play it because of his sexy image. 
Listen to Tom Jones's Top 20 most-streamed songs on Spotify below. Listen on Deezer here.
Article image: ITV/Shutterstock