The Kid Laroi doesn't know what day it is. It's hardly surprising, given he's in the middle of a global promo blitz after becoming one of the world's biggest new stars during the pandemic.
He's just woken up at his hotel in London when we speak to him over Zoom, the night after playing a small gig (which sold out in under a minute) and ahead of his slot at Reading and Leeds Festival (a considerably larger affair). 
Music has been arriving thick and fast from Laroi since last summer, including his F**k Love mixtape triology, countless collaborations with the likes of Juice Wrld, Machine Gun Kelly, Miley Cyrus (who guested on a remix of his global breakthrough smash Without You), and most recently Justin Bieber on his biggest hit yet, Stay.
It's your first visit to London – how was Buckingham Palace?
It was great, it was so cool. I've been cycling around – cluelessly mostly – so I've seen a few things.
Stay is currently Number 1 in America and Australia. Topping the charts in the US must have been a surreal moment - how did you celebrate?
100% it was. It was seriously crazy moment. I actually had the Benihana people come to my house and cook a Hibachi steak.
Perfect timing for your 18th birthday as well...
It was crazy it all happened to happen around my 18th birthday – there's been some celebrating. Otherwise, I'm just in the middle of working on my album right now.  
Your rise to global superstardom has been pretty quick. Have there been any other standout moments for you so far?
I mean all of it really, all of it. I met Drake recently, which was pretty cool. He was really cool actually – I asked him what was going on with his album and he said he'd been watching my s**t and just congrats on everything. I told him I was a huge fan – and that Take Care is a classic.
Stay has been at Number 2 on the UK's Official Singles Chart for six weeks now. What big stunt can you come up with to get it to Number 1?
I know, what else am I gonna do? I definitely do feel like Stay has been really embraced by everyone though, which is great. 
From this collaboration you seemed to have formed a genuine friendship with Justin Bieber. What has surprised you most about him? 
So actually like the craziest thing that was unexpected is that he has a weird feet obsession – he loves toes. I found that out in the studio when I had my shoes off. I was playing some music and I felt something touch my big toe – it was Justin on all fours, touching my toes. I was like, what the f**k is going on?! He was like, 'my bad, I just wanted to see what was up with your toes.' Always keep an eye on your toes when you're around that guy.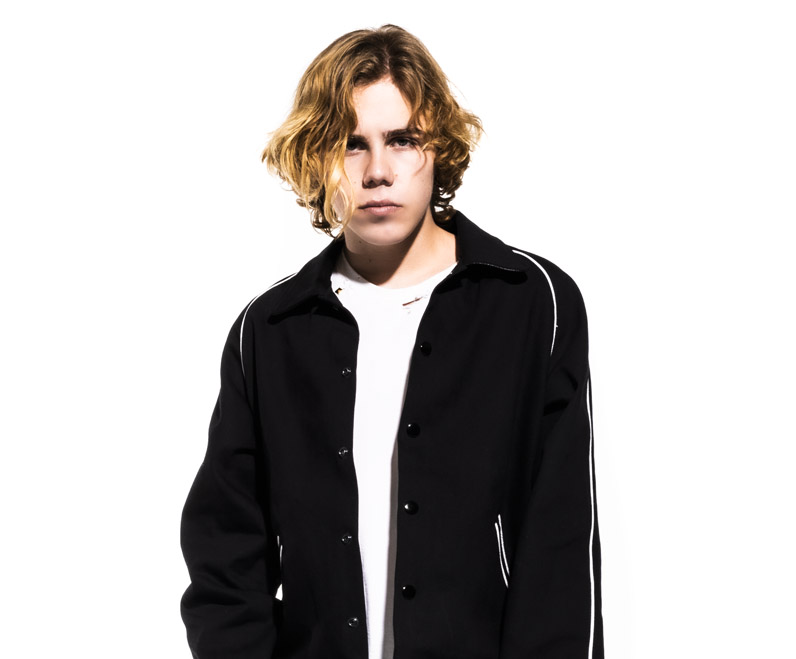 You've been saying you're very ready to move on from the F**k Love trilogy. How is the new music coming along?
I'm in the middle of working on the new album right now. I'm experimenting and s**t. We're definitely in the beginning stages.
Now you've had a run of big hits, when it comes to new music, how do you balance finding your place in the rap world with the weight of commercial expectations?
I don't know really. I just make music – whatever happens, happens. I'm working this crazy new producer from Spain. He was actually over in America on holiday and we just ran into each other at this small studio in Hollywood. He was in the foyer area with headphones on and I asked him to play it to me and loved it. We ended up doing a whole session with him that day and we've been working together ever since. I'm definitely excited.