There comes a certain point when you're growing up when you realise that, actually, you have grown up. You're supposed to be an adult now, and you still haven't figured everything out. It's no joke to say that sometimes, instead of feeling like you're flying, you're just falling. 
Tate McRae feels the same, in fact, she built the entire concept of her debut album, I Used To Think I Could Fly, around it. With contributions from the likes of Charlie Puth, super producer Greg Kurstin and FINNEAS, it's a self-assured collection that really gets to the heart of the matter; sometimes, you just have to ride the wave of the chaos in your life. Maybe it'll all work out in the end.
The release of the album - a self-assured body of work that reads like a proper statement of intent from a proper pop star ready for the big leagues - comes two years after Tate's breakthrough viral single You Broke Me First became one of the anthems of the pandemic, spread through every corner of the world on TikTok. In the UK, it peaked at Number 3 on the Official Singles Chart.
I Used To Think I Could Fly's biggest calling card is the anthemic She's All I Wanna Be, an absurdly catchy and immaculately made pop-rock slammer in the vein of Avril Lavigne and Kelly Clarkson. So far, it's peaked at Number 14 and isn't going away any time soon, it's proved above all else that Tate is no one trick pony.
To celebrate the release of her debut record, we jumped on a Zoom with Tate to discuss the making of the record, which sets her up to be one of the most interesting voices in pop.
Hi Tate! You've been waiting a long time for this moment, I know, and it's finally here. You're debut album is coming out! How are you feeling?
Honestly, I'm just waiting for the release day. I feel like [this album] has been pent up inside of me for so long. I'm genuinely curious to see what it's gonna be like out in the world. You know what I mean? I always tend to view my songs differently when they're on Apple Music or Spotify or whatever, it sounds different. It sounds like a real song, not just this weird little alien you created yourself. So I'm curious!
The title of the record - I Used To Think I Could Fly - is so evocative, it really speaks to the theme of the album; the intricacies of moving on from something that's defined a part of your life, it's changed you. It's almost like a loss of innocence. 
I feel like the title completely summarises all the realisations I had when I turned 18. I started experiencing a lot of real shit for the first time. This album is my perspective on it. If I could sum the entire thing in one line - it would be that. 
The concept of the album was how do you grow up? How do you develop new fears and insecurities? You see the world in a totally different light.
The crashing plane is a motif not just on the album cover, but in a lot of the videos for it too. Are you singe-handedly trying to reboot Lost?
Ha! I mean, for me I have a very real, horrible fear of a plane crashing. I think that describes our world nowadays; everyone likes to pretend that everything's really, really fine on the outside, and if you cover it up with some make-up and some good hair you can look great on the outside. But then on the inside, your life is like a plane crashing down.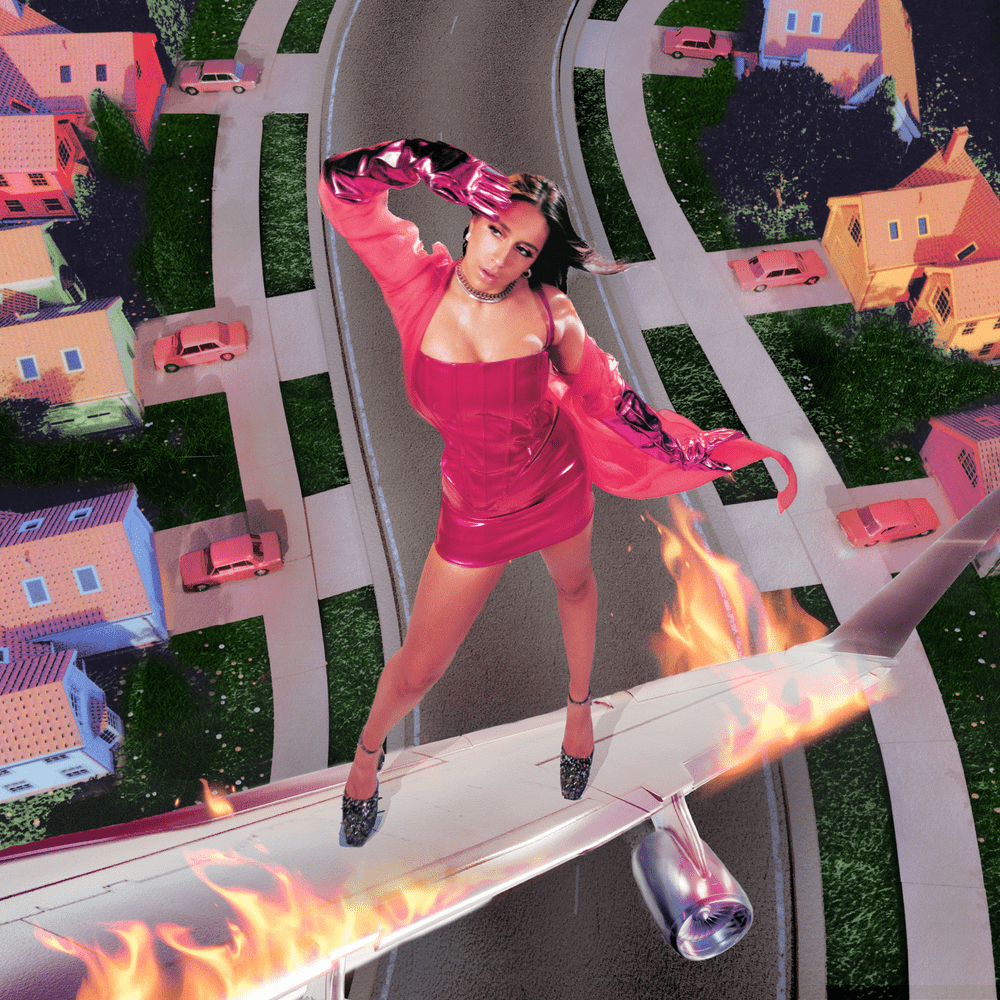 We also have to talk about She's All I Wanna Be - which has done extraordinarily well in the UK. It's not leaving that Official Singles Chart Top 20! It's so well written and produced. 
It's crazy. I was actually really nervous to release that song, I'd literally written it by myself in the corner of the room. No-one gave me input when I was writing it, I genuinely had no idea if it was terrible or not.
We went through, exactly 29 mixes of the song. Nothing was clicking, it didn't sound right. I told Greg [Kurstin, the track's producer] to change this guitar part...so we went back to the demo and it was there. In the demo. After 29 mixes! I was so scared, so that makes me really happy, thank you.
You worked on that with Greg Kurstin, that must have been such a big win for you to even get into that room. 
Oh, he's an icon. The thing about Greg Kurstin is that he's so chill and nonchalant. The first time I met and wrote with him, I had no idea [how big of a producer he is - hint: very big] because he just had no ego. I was so fresh to the industry, I really had no idea [the projects he's worked on]. My manager asked me how in went and I was like "This guy is so good! How is he so good?" And he was like...are you kidding me? Look at his discography. So I did. And oh my god. 
She's All I Wanna Be also slots really well into the album - it's kind of the last up-beat production before we take it down a notch. 
I really wanted this album to be a rollercoaster of emotions. I think part of that is strategically putting the really heartbreaking songs in a place where you can really feel them. But even though She's All I Wanna Be is super up-beat, it has a very emotional undertone. It still makes me sad. If I were to slow that song right down, it would make me really sad. It has a lot of meaning to me, at least. 
You've spoken before about listening to an album like Blonde by Frank Ocean and really wanting to emulate the structure of that, Frank really created an entire world there, as you have here.
I was so cautious about what songs I put on here. I wrote a million songs, a million random pop songs that maybe, were, like, quote-un-quote "better" songs or bigger hits, but they just had less meaning to me. I came to this realisation: if I'm gonna stand on stage and preach to all these kids, I better believe 1,000% percent in the words that I'm singing. There's literally no point in doing otherwise, and that's the way I wanted my album to feel. I needed to believe every word of it, or there was no use in putting it all together.
I Used To Think I Could Fly is out now via Ministry of Sound.