The full list of exclusive releases coming to independent UK record shops as part of Record Store Day 2023 has been revealed.
This year, over 400 limited edition releases from the likes of Taylor Swift, RSD ambassadors The 1975, Sam Smith and The Rolling Stones will be made available across brand-new formats; including 7" vinyl, 10", 12", CD, cassette and picture disc.
Taylor Swift will release folklore: the long pond studio sessions as a Record Store Day exclusive 2-disc grey 12" LP. Meanwhile, Record Store Day ambassadors The 1975 will make their much-anticipated Live with the Philharmonic Orchestra recording of their second studio album I Like It When You Sleep, For You Are So Beautiful Yet So Unaware Of It available on 2LP, CD and cassette formats.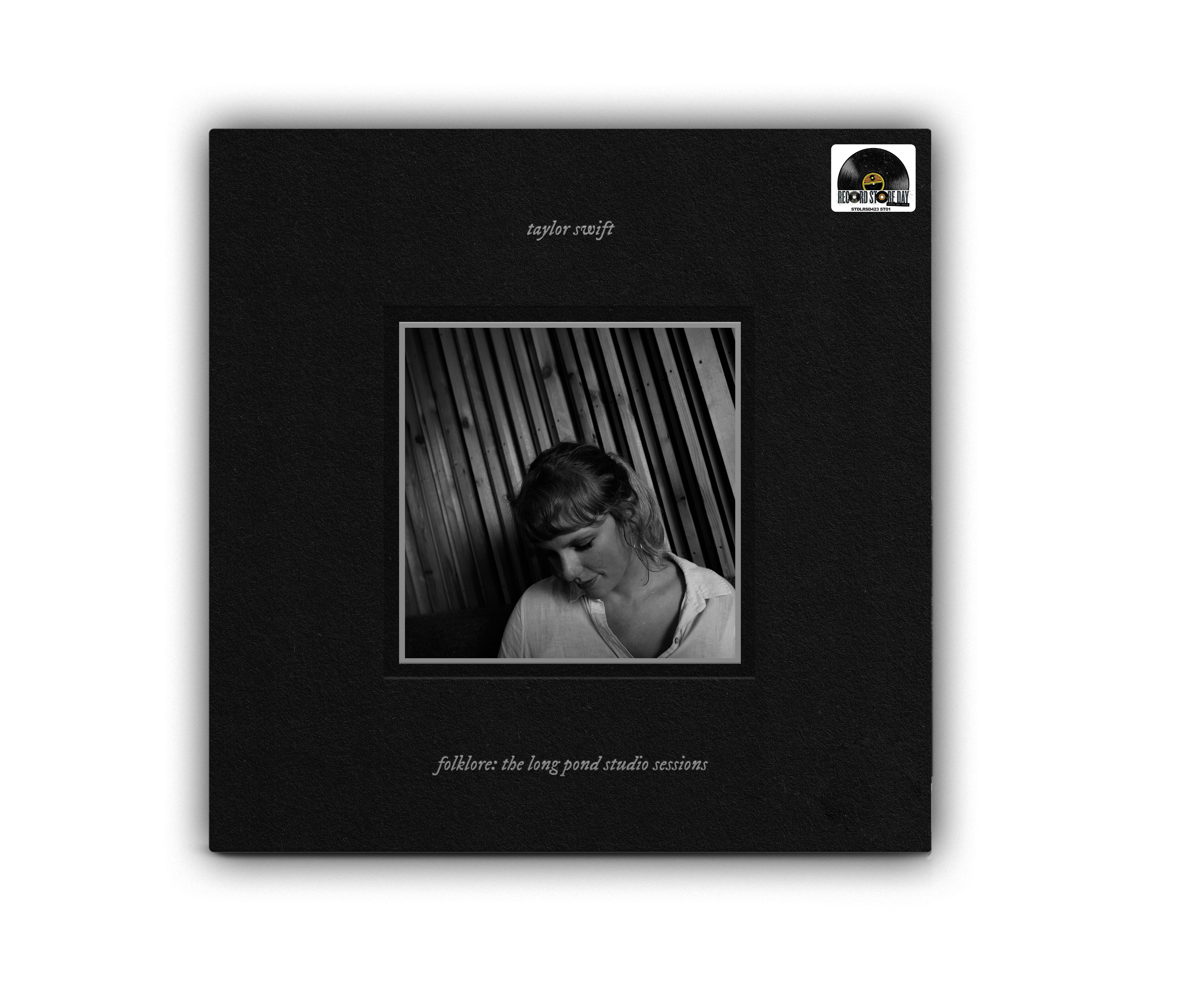 Other highlights from this year's list include piri & tommy's debut EP froge.mp3 released on vinyl for the first time, Self Esteem's debut LP Compliments Please on limited edition gold vinyl, The Prodigy's Invaders Must Die Remixes + on wax with two previously-unreleased tracks and Ellie Goulding's Halcyon Nights pressed on recycled 2LP.
Madonna will also release American Life Mix Show Mix on 1LP; an eight-song collection celebrating the song's 20th anniversary.
See the full list of Record Store Day 2023 releases below:
Artist
Title
Label
Format
1975, The
Live With The BBC Philharmonic Orchestra
UMR / Polydor – Dirty Hit
2LP
1975, The
Live With The BBC Philharmonic Orchestra
UMR / Polydor – Dirty Hit
CD
1975, The
Live With The BBC Philharmonic Orchestra
UMR / Polydor – Dirty Hit
1Cassette
A Flock Of Seagulls
B-Sides & Rarities
BMG
LP
A Place To Bury Strangers
See Through You: Rerealized
Dedstrange
2LP
Acid Mothers Temple
Paralyzed Brain
Rolling Heads
12"
Adicts, The
Fifth Overture
Fall Out/Jungle
LP
Alan Silvestri (Back to the Future, Avengers composer)
Summer Rental (soundtrack LP)
1984 / Rusted Wave
LP
Alex Chilton
Live at Anvers
Bar/None
LP
Ali Farka Toure
Green
BMG
LP
Alison Goldfrapp
Remix EP
BMG
LP
Alison Moyet
The Other Live Collection
Cooking Vinyl
LP
Alpha & Omega
Ancient A&O
Lantern Records
LP
Alpha & Omega
Another Moses
Mania Dub
LP
Altered Images
Clara Libre
Cooking Vinyl
12"
Althea and Donna
Uptown Top Ranking
UMC/EMI
LP
Amorphous Androgynous
Tales Of Ephidrina
UMC/Virgin
1LP+12"
Amorphous Androgynous
Tales Of Ephidrina
UMC/Virgin
CD
Archie Shepp
À Massy
L.M.L.R.
2LP
Arooja Aftab
Live In London
Decca
12"
Artful & Ridney ft. Terri Walker
Missing You
So Sure
12"
Athletes Of God, MSW, Lady Blackbird
Fontella/I Don't Want To Be Normal
Foundation Music
7"
AURORA
The Woman I Am
Decca
7"
Baby Queen
Colours Of You
Polydor
7"
Baker Gurvitz Army, The
The Baker Gurvitz Army
Culture Factory USA, Inc.
LP
Bardo Pond
Peel Sessions
Fire Records
LP
Bark Psychosis
SCUM
Rolling Heads
12"
Bastille
Bastille: MTV Unplugged
EMI
LP
Beach House
Become
Bella Union
12"
Belinda Carlisle
Remixes
Demon Records
2LP
Ben Webster
In Hot House
Tidal Waves Music
LP
Bert Jansch
Toy Balloon
Earth Recordings
LP
Bert Jansch
When The Circus Comes To Town
Earth Recordings
LP
Bevis Frond, The
Hit Squad
Fire Records
2LP
Big Moon, The
Love in The 4th Dimension
Fiction Records
12" + 7" bonus tracks
Bill Evans
Treasures - Solo, Trio & Orchestral Records from Denmark (1965-69)
Elemental
3LP
Bill Grace
Chances Go Round / Lonely
ASP
7"
Bill Nelson's Red Noise
Live at the De Montfort Hall, Leicester 1979
Esoteric
2LP
Billy Foster & Audio
Billy Foster & Audio
Equistar
LP
Billy Joel
Live at the Great American Music Hall
Columbia/Legacy
2LP
Björk
Ovule (Sega Bodega Remix) / Atopos (sideproject Remix)
One Little Independent Records
12"
Black Keys, The
Live At Beachland Tavern
Nonesuch
LP Orange
Black Rebel Motorcyle Club
Live at Levitaiton
The Reverberation Appreciation Society
12" + Flexi 7"
Black Sabbath
Never Say Die!
BMG
LP
Blitz Vega (Johnny Marr & Andy Rourke)
Strong Forever
FutureSonic Records
12"
Bluey
Dance Mode!
Demon Records
1LP
Blur
Blur Present The Special Collectors Edition
Parlophone
2LP
Bob Marley & The Wailers
Stir It Up
UMC/Island
7"
Bob Marley & The Wailers
Mr. Chatter Box b/w Mr. Chatter Box Dub
GORGON RECORDS
7"
BODEGA
Xtra Equipment
Whats Your Rupture
LP
Born Heller
Born Heller
Fire Records
LP
Breakwater
No Limit (Mike Maurro Mix) / No Limit (12" Single Version)
Arista
12"
Brian Eno
FOREVER VOICELESS
UMR (UK) / + Verve (US) + Deutsche Grammophon (DE) + Classics & Jazz (ROW)
LP
Broken Social Scene
You Forgot It In People (10th anniversary Deluxe)
Arts & Crafts Productions Inc.
LP
Bros
When Will I Be Famous? / I Owe You Nothing remixes
Music On Vinyl
12"
Butcher Brown & Bruce Hornsby
Secret House (12" single)
Concord
12"
Caitlin Rose
A) Johnny Velvet B) Carried Away (Demo)
Names
7"
Canned Heat
Vintage
Culture Factory USA, Inc.
LP
Carl Cox
Deep Space X (Juan Atkins Remixes)
BMG
12"
Carole King
The Legendary Demos
Legacy Recordings
LP
Carter The Unstoppable Sex Machine
30 Something
Chrysalis Records
Picture Disc
Celeste
Lately EP
UMC/Polydor
LP
Cesária Évora
Radio Mindelo (Early Recordings)
Music On Vinyl
2LP
Charlie Parker
Afro Cuban Bop: The Long Lost Bird Live Recordings
Liberation Hall/Rockbeat
2LP
Chet Baker
Blue Room: The 1979 VARA Studio Sessions in Holland
Jazz Detective
2LP
Chet Baker
Chet (Mono)
Concord
LP
Chuck Boris Trio, The
Funky Nassau / Shaft
Selector Series
7"
Chuck Brown & The Soul Searchers
Berro e Sombaro
Diplomats Of Soul
7"
Come
Gently Down the Stream
Fire Records
DOUBLE LP
Confidence Man
RE-TILT EP
Heavenly Recordings
12"
Corviria
Psyco Analysis
BTF
LP Black
CRAC
All For You
KingUnderground
LP
Cranberries, The
Wake Up + Smell The Coffee
UMC/Geffen
LP
Cure, The
Show
UMC/POLYDOR/FICTIONUMC/POLYDOR/FICTION
2LP
Cynthia Sheeler
I'll Cry Over You Pt 1 / I'll Cry Over You Pt 1
JB's Records
7"
Czar
Czar
Sunbeam
LP
Damian Lewis
Zaragoza
Decca
7''
Dan Penn
Unheard Demos
The Last Music Company Limited
LP
Darren Hayes
Let's Try Being In Love - The 12 Inch Mixes
Powedered Sugar Productions Ltd
12"
Darren Hayman
Lido
Where Its At Is Where You Are/Clay Pipe
LP
David Bowie
LAUGHING WITH LIZA - THE VOCALION AND DERAM SINGLES 1964 - 1967
Decca
5 x 7" box
David Byrne
The Complete Score From "The Catherine Wheel"
Rhino / Sire
2LP
David J
Urban Urbane
Schoolkids Records
2xLP
Death
Fate: The Best of Death (Reissue)
Relapse Records
LP
Delines, The
Night Always Comes, The
El Cortez
LP
Dennis Olivieri
Welcome to the Party
Jamie
LP
Dermot Kennedy
Sonder (Exclusive Pic Disc)
Island
LP
DIIV
Live at the Murmrr Theatre
Captured Tracks
LP
Dirty Projectors & Björk
Mount Wittenberg Orca
Domino Recording Co.
2LP
Dismemberment Plan, The
Change
Partisan
LP
Dizzy Gillespie Quintet
Live in Las Vegas 1963
Jazz Rewind
2LP
Doctor Who
The Amazing World Of Doctor Who
Demon Records
2LP
dodie
Hot Mess EP
doddleoddle
12"
Dolly Parton
The Monument Singles Collection 1964-1968
Monument / Legacy
2LP
Dome City Rock Orchestra, The
Quiet Village Pt 1 / Quiet Village Pt 2
Colsoul
7"
Donna Summer
A Hot Summer Night (40th Anniversary Edition)
Driven By The Music/Crimson
2LP
Donnas, The
Message from The Donnas--The Early Singles (Limited Metallic Gold Vinyl Edition)
Real Gone Music
2LP
Dorsey Burnette
Hard Working Man (1960-1964)
Iron Mountain Analogue Research
LP
Duran Duran
Carnival Rio!
Parlophone
1LP -
Durutti Column, The
Treatise on the Steppenwolf + Human Avatars
Factory Benelux
2LP
Dusty Springfield
Cameo
UMC/Geffen
2LP
Easy Life
Live From Abbey Road Studios
Island
LP
Echo & The Bunnymen
Peel Session 1997
London Records
LP
Ed Rush & Optical
Wormhole
Virus Recordings
5LP Boxset
Eddie Money
The Covers
Liberation Hall
LP
Edgar Froese of TANGERINE DREAM
Ages
L.M.L.R.
2LP
Ellie Goulding
Halcyon Nights
UMC / Polydor
2LP
Elton John
Don't Shoot Me I'm Only The Piano Player
UMC/EMI
2LP
Elvis Presley
Sings Aaron Schroeder
V.P.I.
LP
Elvis Presley
Elvis Is Black
V.P.I.
3LP
Elvis Presley
Burning Love - The RCA Rehearsals
RCA Victor / Legacy
2LP
Emerson, Lake & Palmer
Brain Salad Surgery
BMG
LP
Ennio Morricone
Gli Occhi Freddi della Paura OST
BTF
LP
Ennio Morricone
Il Serpente OST
BTF
LP
Ennio Morricone
Le Foto Proibite di una Signora Per Bene OST
BTF
LP
Ennio Morricone
Senza Sapere Niente di Lei [Segreto #5]
CAM Sugar / Decca
LP
Envy Of None
Envy Of None
Kscope
LP
Eric Carr of KISS
Rockology
Culture Factory USA, Inc.
2LP
Ernest Ranglin
Below the Bassline
UMC/Island
LP
Essential Logic
Beat Rhythm News (Waddle Ya Play?)
Hiss And Shake Records
LP
Ethics, The
Now Is The Time
Jamie Records
LP
Etta Marcus
Heart-Shaped Bruise
Polydor
12"
Experimental Audio Research
Mesmerised
Space Age Recordings
12"
Fake Blood
I Think I Like It
Blood Music
7"
Fall, The
Live 1977
Cherry Red Records
12"
Fantastic Aleems & Leroy Burgess, The
Get Down Friday Night (Special Re-Mix) / Get Down Friday Night (Vocal)
NIA
12"
Fat Freddy's Drop
Live at Roundhouse
The Drop
3LP
Flash & The Dynamics
The New York Sound
Concord
LP
Fleetwod Mac
Albatross
Sony CMG
12"
Flowers of Hell, The
Odes
Space Age Recordings
12"
Foals
Life Is Yours (Life Is Dub)
Warner Records
LP
Frank Black
Live 2006
Cooking Vinyl
12"
Frank Carter & The Rattlesnakes
The Drugs / Parasite
International Death Cult under exclusive license to AWAL Recordings Ltd.
7"
Frank Turner
Tape Deck Heart
UMC/Polydor
2LP
Frankie and The Witch Fingers
ZAM
Greenway Records
2x12" + 7"
Fred Davis & The Blues Express
Fred Davis & The Blues Express
Remind Records (Colemine)
LP
Frou Frou
Off Cuts
Megaphonic
LP
Future Sound of London, The
Life In Moments
FSOL Digital
LP
Garbage
Witness To Your Love
BMG
12"
Gaturs, The
Swivel Your Hips Pt 1 / Swivel Your Hips Pt 2
Gatur
7"
Gaz Coombes
Turn The Car Around (Acoustic Album)
Virgin Music
12"
Generation X
Generation X
Chrysalis Records
LP
Geraint Watkins
In a Bad Mood + In a Raw Mood
Jungle
2xLP
Giant Sand
Center of the Universe
Fire Records
2LP
Goblin
Rarities (Film Versions and Alternates)
BTF
LP
Gong
Angel's Egg
UMC/Virgin
LP
Graham Bonnet
Line-Up
HNE
12"
Grateful Dead
Boston Garden, Boston, MA 5/7/77
Rhino
5LP
Greentea Peng
RISING
Different Recordings
12"
Groove Armada
Black Light
BMG
2 LP
Groundhogs, The
Crosscut Saw
Fire Records
LP
GTR
GTR
Esoteric
12"
Haircut 100
Haircut 100% Live!
Demon Records
LP
Hal Blaine
Psychedelic Percussion
Jackpot
LP
Half Japanese
The Band That Would Be King
Fire Records
LP
Happy Mondays
Balearic Beats
London Records
LP
Harvey Scales & Seven Seas, The
Trying To Survive (7" Mix) / Bump Your Thang (7" Mix)
Magic Touch
7"
Hawkwind
The Iron Dream - Live 1977
ATOMHENGE
12"
Heidi Berry
FireFly
Glass Modern
LP
Heidi Berry
Below The Waves
Glass Modern
LP
Herbert
Musca Remixes 12"
Accidental Records
12"
Heroin
Discography
Southern Lord
2LP
Higsons, The
Run Me Down - The Complete Two-Tone Recordings
Sartorial Records
LP
Hoax, The
So What/Cargo Recordings
Vinyl Revival
LP
Honey Bane
Violence Grows
You Can Be You
12"
Howard Jones
Complete BBCSessions 1983-1987
Cherry Red Records
2LP
Hugh Cornwell
Moments of Madness DUB
HIS Records
12"
Hyla Parker
Joe / Quiet Tunes
Cheri Records
7"
Ian McCulloch
Slideling (20th Anniversary Edition)
Demon Records
LP
Icarus Line, The
All Vows Boxed
Agitated Records
5LP box
Iced Earth
Plagues Of Dystopia
Ravencraft
12"
Jackie Stoudemire
Flying High / Guilty
Tap Recordings
7"
Jacob Collier
Never Gonna Be Alone
Decca
7"
Jah Thomas
Tribute To Reggae King Bob Marley
Burning Sounds
LP
Jah Wobble
Redux
30 Hertz
2LP
Jamiroquai
Live at Maida Vale
Sony CMG
12"
Jason Isbell & Amanda Shires
The Sound Emporium EP
Southeastern
12"
Jazz Artist Guild
Newport Rebels
Candid
LP
Jazz Butcher
Dr Chomondley Repents: A Sides, B-Sides and Seasides
Fire Records
2LP. Track Listing: SIDE ONE1  Futures And Pasts2  Frightened3  Repetition4  Copped ItSIDE TWO1  Industrial Estate2  Sten Gun Rock3  Race Hatred4  You Don't Turn Me On
Jerry Harrison
The Red And The Black (Expanded Edition)
Rhino / Sire
2LP
Jerry Lee Lewis
Live at the Palomino Club
Charly / TOMATO
2LP
Jessie Ware
Free Yourself
EMI
7''
Jesus Jones
Live in Chicago 1990
Demon Records
2LP
Joan Jett & The Blackhearts
Up Your Alley
Epic / Legacy
LP
João Donato E Donatinho
Sintetizamor
Far Out Recordings
LP
JoBoxers
Like Gangbusters
Cooking Vinyl
12"
Joe Strummer & The Mescaleros
Streetcore
BMG
LP
John Lunn & Eivør
The Last Kingdom - Destiny Is All
A&G Records/Absolute
LP 12"
John Lennon
Gimme Some Truth
Apple
10" Box Set
John Massoni w/ Sonic Boom
Think Of Me When You Hear Waves
Space Age Recordings
12"
John Powell
How To Train Your Dragon 2 (Original Motion Picture Soundtrack)
Concord
2LP
Jonathan Richman
Jonathan Goes Country
Concord
LP
Jorja Smith & Joy Orbison
Rose Rouge
Decca
12"
José González
Local Valley Remixes
City Slang
12"
Joyce, Naná Vasconcelos, Mauricio Maestro
Visions of Dawn
Far Out Recordings
LP
Juan McClean, The
"A Happy House (Mark E remix of Matthew Dear v Audion Remix)
AA Happy House (Matthew Dear V Audion Remix)"
Vicious Charm Recordings
12"
Juno Reactor
Transmissions (30th Anniversary Edition)
Demon Records
2LP
K-Solo
Tell the World My Name (Limited Lemon Vinyl Edition)
Real Gone Music
LP
Kae Tempest
Nice Idea EP
Fiction Records
12"
Karin Jones
Under The Influence Of Love
Tidal Waves Music
LP
Kasabian
Rocket Fuel
Columbia
10"
Keith Richards
Vintage Vinos
BMG
2LP
Koko Taylor
I Got What It Takes
Alligator
LP
Lacuna Coil
Shallow Life
Svart Records
LP
Lacuna Coil
Dark Adrenaline
Svart Records
LP
Laibach
Nova Akropola
Cherry Red Records
2LP
Landscape
From The Tearooms Of Mars…To The Hell Holes Of Uranus
Cooking Vinyl
LP
Larry Bright
New Dimensions
Selector Series
LP
Larry Coryell
Introducing The Eleventh House
Culture Factory USA, Inc.
LP
Larry Lovestein & The Velvet Revival (Mac Miller)
You
Rostrum Records
10"
Latin Blues Band
I'll Be A Happy Man / Take A Trip
Speed
7"
Leftfield
This Is What We Do (Ambient Mixes)
Virgin Music
2LP
Liminanas & David Menke, The
Thatcher's Not Dead (OST)
Because Music
2LP
London Grammar
If You Wait
Ministry Of Sound
2LP
Louisa "Markswoman" Mark
Breakout
Soulgramma
LP
Loyle Carner
Yesterday's Gone
UMC/EMI
LP
M / Robin Scott
Pop Muzik/Baby Close The Window
BMG
12" EP
M.E.B
That You Not Dare To Forget
Columbia / Legacy
LP
Madison Avenue
Polyester Embassy
Back on Wax
2LP
Madness
I Do Like To Be B-Side The A-Side, Vol. 3
BMG
LP
Madonna
American Life Mix Show Mix
Warner Records
LP
mal-one
punk rock pictures on my wall
jamaican recordings
12''
Mansun
Before The Grey Lantern
Kscope
LP
Marc Almond
Fantastic Star
UMC/Mercury
2LP
Marcel King
Reach For Love - Singles 1983-1988
Factory Benelux
LP
March Violets, The
Made Glorious
Jungle Records
2xLP
Maria McKee
Late December/ Live Acoustic
Afar
2LP
Marianne Faithfull
A Secret Life
UMC/Island
LP
Marianne Faithfull
A Secret Life
UMC/Island
CD
Mars Volta, The
Frances The Mute + The Widow (Live) – Record Store Day exclusive
Clouds Hill
LP 12"
Marvin, Gaye/ Shorty, Long
This Love Starved Heart Of Mine (It's Killing Me​)/Don't Mess With My Weekend
Deptford Northern Soul Club Records
7"
Max Roach & Archie Shepp
Force - Sweet Mao - Suid Afrika 76
L.M.L.R.
2LP
Max Romeo
Every Man Ought To Know
GORGON RECORDS
LP
Maximum Joy
White & Green Place (extra-terrestrial mix) plus essential dance tracks
Lantern Records
MLP
Maxwell Udoh
Survival Of The Fittest
Tidal Waves Music
LP
Medeski Martin & Wood
It's a Jungle In Here (Limited 30th Anniversary Clearwater Blue Vinyl Edition)
Real Gone Music
LP
Metronomy
Small World Special Edition (Record Store Day)
Because Music
LP
Midlake
Live at the Roundhouse
Bella Union
12"
Midnight, The
Red, White and Bruised: The Midnight Live
Counter Records
LP
Mike Flowers Pops, The
Wonderwall
London Records
LP
Mike Oldfield
TUBULAR BELLS - OPUS ONE
UMC/EMI
LP
Mikey Dread/ Edi Fitzroy
Original General / Queen Of Harlesden
Music On Vinyl
10"
Miles Davis
Rare Miles From The Complete On The Corner Sessions
Columbia / Legacy
LP
Missing Persons
Live in New York 81'
Sound City Records
2LP
Motley Crue
Helter Skelter
BMG
12"
Motörhead
Lost Tapes Vol:4
BMG
2 LP
Mozzy
Bladadah
Mozzy Records / EMPIRE
2LP
Mr Benn
The Music
Black Frog Studios Records
LP
Mr.Big
Mr.Big
evoXS
12"
Muddy Waters
Hollywood Blues Summit 1971
Liberation Hall
LP
Murphy's Law
Murphy's Law
Rock Hotel/Astor Place
LP
NAS
Made You Look: God's Son Live 2002
Legacy Recordings
LP
NENA
99 Luftballons
BMG
12"
Nico
Live at the Library Theatre '80
L.M.L.R.
LP
Nightingales, The
Out of True
Call of the Void
2LP
Noctorum (Marty Willson-Piper)
Offer The Light
Schoolkids Records
LP
NOISY
FAST FWD: TO VINYL (EP)
Concord
LP
Nuggets
50th Anniversary Box
Rhino
5LP
Ocean Colour Scene
B-Sides, Seasides and Freerides
Demon Records
2LP
OFF!
Free LSD B-Sides
Fat Possum
12"
Oh Sees
Smote Reverser (Golden Fleece Edition)
Castle Face
2LP
Ol' Dirty Bastard
Return To The 36 Chambers: The Dirty Version
Rhino / Elektra
2LP
Orb, The Featuring Lee 'Scratch' Perry
The Upsetter At The Starhouse Sessions
Cooking Vinyl
LP
Orville Peck
Bronco
Sony
2LP
OST / David Shire
The Conversation OST
Silva Screen Records
LP
OST / James Bernard
The Devil Rides Out Picture Disc OST
Silva Screen Records
7" Shape
OST / Nino Rota/Carmine Coppola
The Godfather Suite
Silva Screen Records
LP
Ottile Patterson
3000 Years With Ottilie
Sunbeam
LP
Paul Mcartney
Red Rose Speedway
UMR
Half Speed
Paul Simpson
Astral Girl EP
NINE X NINE RECORDS
12"
Peaness
Are You Sure?
Totally Snick Records
LP
Pearl Jam
Give Way
Epic / Legacy
2LP
Pearl Jam
Give Way
Epic / Legacy
CD
Pearlfishers, The
Sky Meadows
Marina Records
2LP
Pearls Before Swine
One Nation Underground
Earth Recordings
2LP
Pearls Before Swine
Balaklava
Earth Recordings
2LP
Pere Ubu
Raygun Suitcase
Fire Records
LP
Peter Tosh
Live & Dangerous: Boston 1976
Columbia / Legacy
2LP
Phil Ochs
Best of the Rest: Rare and Unreleased Recordings
Liberation Hall
2LP
piri & tommy
froge.mp3
Polydor
LP
Pixies
Demos
Cooking Vinyl
10"
Pixies
Doolittle - Live In Brussels, 2009
Demon Records
2LP
Pogues, The
The Stiff Records B-Sides 1984- 1987
Parlophone
2LP
Poison Girls
Hex
Cooking Vinyl
12"
Polica
Shulamith
Memphis Industries
12"
Police, The
Every Breath You Take
UMC/POLYDOR
2 X 7" single
Porcupine Tree
IA / DW / XT
Transmission
12"
Porridge Radio
7 Seconds / Jealousy (demo)
Secretly Canadian
7"
Prince Rakeem
Ooh I Love You Rakeem/Sexcapades
Tommy Boy Records
12"
Prodigy, The
Invaders Must Die Remixes +
Cooking Vinyl
12"
Ramones
Pleasant Dreams - New York Sessions
Sire
LP
Reggae Specials
Reggae Beatles Vol 2
Burning Sounds
LP
Republica
Speed Ballads
Music On Vinyl
LP
Residents, The
Our Finest Flowers
New Ralph
12"
Rich Kids
Ghosts of Princes in Towers
Parlophone
LP
Richard Caiton
Thank You / Where Is The Love
JB's Records
7"
Ringo Starr of the BEATLES
Stop & Smell the Roses
Culture Factory USA, Inc.
2LP
Ringo Starr of the BEATLES
Stop & Smell the Roses
Culture Factory USA, Inc.
CD
Roger Rodier
Upon Velveatur
Sunbeam
LP
Rolling Stones, The
Beggars Banquet
UMC/ABKCO
LP
Romeo Void
Live from the Mabuhay Gardens November 14, 1980
Liberation Hall
LP
Sam Fender
Wild Grey Ocean/Little Bull Of Blithe
Polydor
7"
Sam Smith (feat. Kim Petras)
Unholy
EMI
7''
Sarah Kinsley
The King / Cypress
Everybody's Records Limited
12"
Schleimer K
Schleimer K
Glass Modern
LP
Scott Weiland
12 Bar Blues
Rhino / Atlantic
2LP
Scuba
Hardcore Heaven
Hotflush Recordings
12"
Sea Power
Everything Was Forever
Golden Chariot Records via Townsend Music / Absolute Label Services
LP
Selecter, The
Live at the NEC 1980
Chrysalis Records
2LP
Self Esteem
Compliments Please
Fiction Records
LP
Seth Lakeman
The Somerset Sessions
Honour Oak
LP
Sheena Easton
The Essential 7" Singles 1980-1987
Cherry Pop
2LP's + 7"
Shirley Scott
Queen Talk: Live at the Left Bank
Reel To Real
2LP
Sigur Ros
Kveikur
Krunk
2LP
Simple Minds
Neapolis
Will
LP
Siouxsie & the Banshees
A Kiss In The Dreamhouse
UMC/Polydor
LP
Sir Douglas Quintet
Texas Tornado: Live from the Ash Grove Santa Monica 1971
Liberation Hall
LP
Sisters of Mercy
The Reptile House EP
Parlophone
LP
SIX BY SEVEN
System One
Saturday Night Sunday Morning
LP
Slade
Keep Your Hands Off My Power Supply
BMG
LP
Slits, The
(Un)Cut - The Demos And Alternative Mixes
UMC / Island
LP
Smithstonian
Mississippi Mud / Just Sitting
Enterprise
7"
Smoke, The
It's Smoke Time
Morgan Blue Town
LP
Snapped Ankles
Blurtations
The Leaf Label
12" EP
Soft Cell
Light Sleepers
BMG
12"
Son Volt
Day of the Doug
Transmit Sound / Thirty Tigers
LP
Sonny Stitt
The Bubba's Sessions
Who's Who in Jazz
2LP
Sonny Stitt
Boppin' in Baltimore: Live at the Left Bank
Jazz Detective
2LP
Soul Asylum
MTV Unplugged
Sony CMG
2LP
Soul Jazz Records Presents
New York Noise: Dance Music from The New York Underground 1978-82
Soul Jazz Records
LP
Soul Jazz Records Presents
Studio One Ska 20th Anniversary Edition
Soul Jazz Records
LP
Soul Jazz Records Presents
Gipsy Rhumba: The Original Rhythm of Gipsy Rhumba in Spain 1965 - 1974
Soul Jazz Records
LP
Soul Jazz Records Presents
200% Dynamite! Ska, Soul, Rocksteady, Funk & Dub in Jamaica
Soul Jazz Records
LP
Soul Jazz Records Presents
Holy Church of the Ecstatic Soul: : A Higher Power: Gospel, Soul and Funk at the Crossroads 1971-83
Soul Jazz Records
LP
Soweto Kinch, London Symphony Orchestra, Lee Reynolds
White Juju
LSO Live
LP
Sparks
Live at Record Plant 74'
Sound City Records
12"
Spectrum and Silver Apples
A Lake Of Teardrops
Space Age Recordings
12"
Spencer Tune
Nightmare
Debut
12"
Stairsteps (aka The Five Stairsteps)
2nd Resurrection
BMG
LP
Steeler
Steeler
Sound City Records
LP
Stetasasonic
In Full Gear (35th Anniversary)
Tommy Boy Records
2LP
Stevie Nicks
Bella Donna Live 1981
Rhino / Atlantic ?
2LP
Stewart Copeland
Klark Kent
BMG
12" EP
Suede
"suede" demos
Demon Records
LP
Suggs & Paul Weller
OOH DO U FINK U R
BMG
7"
Suicide
A Way Of Life - The Rarities EP
BMG
10"
Sun Ra
Haverford College, January 25 1980
Modern Harmonic
LP
Sunburst Band / Dave & Maurissa, The
Secret Life Of Us (Special 45 Version) / Look At The Stars (2-Step Soul Mix)
Z Records
7"
sunn O)))/Boris
Altar
Southern Lord
2xlp
Supergrass
St. Petersburg
BMG
10"
Suzi Quatro
Back To The Drive
Cherry Red Records
2LP
Suzi Quatro
Quatro
Chrysalis Records
2LP
Swedish House Mafia
The Singles
EMI
LP
Sweet
Block Buster! / The Ballroom Blitz
BMG
LP
Swell Maps C21
Polar Regions
Glass Modern
LP
Sword, The
Gods Of The Earth
Kemado
LP
Symposium
One Day At A Time
Cooking Vinyl
12"
T. Rex
Rockin' & Rollin'
Demon Records
LP
Tangerine Dream
Live in Paris, Palais des Congrès
L.M.L.R.
3LP
Taproot
Welcome
Real Gone Music
LP
Taylor Swift
folklore: the long pond studio sessions
UMG
2LP
Tears For Fears
Saturnine Martial & Lunatic
UMC/Mercury
2LP
Ted Nugent
Nuge Vault VOL 1: Free-For-All
Sound City Records
12"
Telescopes, The
Hungry Audio Tapes
Glass Modern
LP
Terry Callier
Hidden Conversations
Mr Bongo
LP
Theo Lawrence
A Country Mile
Tomika
10"
Thin Lizzy
Live and Dangerous – Hammersmith 15/11/1986
UMC/Mercury
2LP
Tom Grennan
Here
Insanity
7"
Tony Troutman
What's The Use? / Instrumental
Jerri
7"
Tori Amos
Little Earthquakes Rarities
Rhino/ Atlantic
LP
Travis
The Invisible Band (Live)
Concord
2LP
Tricky
Pre Millennium Tension
UMC / Island
LP
TSU Toronados
Please Heart Don't Break (7" Mix) / Ain't Nothin' Nowhere (7" Mix)
Rampart Street
7"
TV Mania
Bored Of Prozac and the Internet?
BMG
LP
Twink & The Sitar Service
Twink & The Sitar Service
Sunbeam
LP
U2
New Year's Day - 40th anniversary edition
UMC/Island
12" EP
UFO
Will The Last Man Standing
[Turn Out The Light]: The Best of UFO
Chrysalis Records
2LP
Ultramagnetic MCs
Ultra Ultra / Silicon Bass
Anti-Corp
12"
Una Luz Y El Zigui
Buenos Días Juventud
Munster Records
LP
Unloved
Killing Eve'r "Ode To The Lovers"
Heavenly Recordings
LP
Van Halen
Live: Right Here, Right Now
Rhino/Warner
4LP
Various (Mike D)
Brazil 45 Boxset Vol.4
Mr Bongo
7" x 5 Box
Various Artists
Ska La-Rama
BMG
LP
Various Artists
Larry Levan's Paradise Garage
BMG
2LP
Various Artists
Monsters, Vampires, Voodoos & Spooks
Vinyl Exotica
2LP
Various Artists
Behind The Dykes 3 (Beat Blues And Psychedelic Nuggets From The Lowlands)
Music On Vinyl
2LP
Various Artists
Bossa Nova at Carnegie Hall
Liberation Hall
LP
Various Artists
Secretly Distribution x Music Declares Emergency Presents…
Secretly Distribution
LP
Various Artists
50 Years of TV's Greatest Hits Vol. 2
L.M.L.R.
2LP
Various Artists
For The Love Of Haiku
Stella Polaris Music
2LP
Various Artists
Philly Groove Records: When Times Are Bad We Turn To Love (Rarities and Unreleased)
Philly Groove
2LP
Various Artists
OCEANS TWELVE (Music from and Inspired by the Motion Picture) (Limited 2-LP Gold "Faberge Egg" Vinyl Edition)
Real Gone Music
2LP
Various Artists
You Flexi Thing Vol 11
R*E*P*E*A*T
7"
Various Artists
Hillbillies In Hell: A Chrestomathy: Subterranean Sacraments From The Country Music Underworld (1952-1974)
Iron Mountain Analogue Research
LP
Various Artists
Jazz Dispensary: Hotel Jolie Dame
Concord
LP
Various Artists
Psyche France Vol 8
Rhino France
LP
Various Artists (Soundtrack)
Akilla's Escape
Chrysalis Records
2LP
Various/ Lee Hazlewood
Fools, Rebel Rousers & Girls on Death Row – The Lee Hazlewood Story 1955-1962
Vinyl Exotica
LP
Vartan, Sylvie
Salut les Copains! Beginnings of...YE-YE!
Poppydisc/ Rev-Ola
2LP
Velvet Hammer
Party Hardy (7" Mix) / Happy (7" Mix)
Soozi Records
7"
Verlaines, The
Bird Dog
Schoolkids Records
LP
Violent Femmes
Violent Femmes [Picture Disc]
Concord
LP
Virgin Prunes, The
The Debut EPs
BMG
2x10"
Week That Was, The
The Week That Was
Memphis Industries
12"
Wendell Harrison
Fly By Night
Tidal Waves Music
LP
While She Sleeps
SO WHAT?
Spinefarm/ Search & Destroy
2LP
White Town
Women In Technology
Music On Vinyl
LP
Wilco
Crosseyed Strangers: An Alternate Yankee Hotel Foxtrot
Nonesuch
LP
Willie Dixon
Catalyst
Culture Factory USA, Inc.
LP
Willie Tee
Please Don't Go / My Heart Remembers
Nola
7"
Willie Tee
Funky Funky Twist / First Taste Of Hurt - Alternative Version (Blue Version)
Gatur
7"
World Party
Seaview Records Presents World Party Curated By RSD
Seaview Records
LP
X-Press 2
Lazy / Kill 100
BMG
12"
xPropaganda
The Heart Is Strange - The Remixes
UMC
1LP
Yard Act
100% Endurance (Elton John Version)
Island
7"
YES
Live at Knoxville Civic
Auditorium
Rhino/ Atlantic
3LP
Yumi Zouma
(What's the Story) Morning Glory
Yumi Zouma Records
LP
Yusef Lateef
Yusef Lateef's Detroit Latitude 42° 30' Longitude 83°
Arc Records/ Brownswood Recordings
LP
When is Record Store Day 2023?
RSD 2023 will take place on Saturday April 22.
Which stores will be participating in Record Store Day 2023?
See the full list of participating record stores below:
| | | |
| --- | --- | --- |
| Store | Address | Town/City |
| 81 Renshaw | 81 Renshaw Street | Liverpool |
| 101 Collectors Records | 101 West Street | Surrey |
| 303 Records | 9c Ilton Business Park | Somerset |
| A Slice of Vinyl | 103 Stoke Road | Hampshire |
| Action Records | 46 Church Street | Preston |
| Analogue October | 19a South Street | West Sussex |
| Andy's | 16 Northgate Street | Aberystwyth |
| Applestump Records | 12 Barker Street | Cheshire |
| Assai | 33 Union Street | Dundee |
| Assai | 1 Grindlay Street | Edinburgh |
| Assai | TBC |   |
| Astonishing Sounds | 3 Hall Street | Lancashire |
| Audio Gold | 308-310 Park Road | London |
| Avalanche | Waverley Mall | Edinburgh |
| B Side Records Ltd | 63 Bartholomew Street | Newbury |
| Back to Mono | 26 Guildhall street | Lincoln |
| Badlands | 11 St Georges Place | Cheltenham |
| Banquet | 52 Eden Street | Surrey |
| Bear Tree Records | Unit 13-16 The Forum | Sheffield |
| Beatdown | Basement Unit 1 Clarendon House | Newcastle |
| Bending Sound | 2 Bank Lane | County Down |
| Beyond the Download | 5 Rose Street | Berks |
| Beyond Vinyl | 212B – 212C, John Marley Centre | Newcastle upon tyne |
| Big Scary Monsters Social Club | 98 Cowley Road | Oxford |
| Black Circle Records | 2 Roebuck Mews | Leighton Buzzard |
| Black Star Records | 46 High Street | Hants |
| Blast Music & Comics | 81 High Street | Essex |
| Blitzkriegshop | 204 London Road | Glasgow |
| Boiler Room Records | 27 High Street | Poole |
| Bridport Music Centre | 33a South Street | Dorset |
| Bug Vinyl | 11 Ladygate | East Yorkshire |
| Carnival Records | 83 Church Street | Malvern |
| Casbah Records | 320-322 Creek Road | London |
| Castle Sounds | 1 Castle Street | Christchurch |
| Chameleon @ Holborn Hifi | 441 Holburn Street | Aberdeen |
| Chameleon @ Glasgow Audio | 88 Great Western Road | Glasgow |
| Choons | 18 Central Avenue | Bangor |
| Clocktower Too | 35a South Street | Bridport |
| Cool Discs Music | 6 Lesley House | Derry |
| Concorde | 15 Scott Street | Perth |
| Crash Records | 35 The Headrow | Leeds |
| Crazy Beat | 87 Corbets Tey Road | Essex |
| Creekside Vinyl | 3 Market Street | Kent |
| Cruisin Records | 132 High Street | Kent |
| Cult Hero | 16 Brighton Place | Brighton |
| Dark Earth | 16 Seaview Road | Merseyside |
| Dash The Henge | 348 Camberwell New Road | London |
| David's Music | 12 Eastcheap | Herts |
| Defend Vinyl | 395 Smithdown Road | Liverpool |
| Derricks Music | 221 Oxford Street | Wales |
| Discovery Music | 7 Litchdon Street | N.Devon |
| Diverse Vinyl | 10 Charles Street | Newport |
| Dreamhouse Records | 177 Francis Road | London |
| Drift | 103 High Street | Totnes |
| Eclipse | 2 Digbeth | Walsall |
| Eel Pie Records | 44-45 Church Street | Twickenham |
| Electron Records | 2 Hall Street | Lancashire |
| Elephant | 8 Kings Walk | Hampshire |
| Empire Records | 21 Heritage Close | Herts |
| Estuary Records | 5 Pormorla Road | Wadebridge |
| Europa Music | 10 Friars Street | Stirling |
| Even Flow | 79 St John's Road | Kent |
| Fairhill Records | 5 Hill Street | Co.Antrim |
| Fish Records | Unit 2, Crown Courtyard, Crown Street | Staffordshire |
| Fives Records | 103 Broadway | Essex |
| Five Rise Records | 30e Park Road | Bingley |
| Flashback Records | 50 Essex Road | London |
| Flashback Records | 131 Bethnal Green Road | London |
| Flashback Records | 26 Topsfield Parade | London |
| Flipside | 64a Glenroy Street | Cardiff |
| Forest Vinyl | 24 Forest Vale Road | Cinderford |
| Frank Harvey Hi Fi Excellence | 163-165 Spon Street | Coventry |
| Gatefield Sounds | 70 High Street | Kent |
| Grooves Records | 30 Albert Street | Orkney |
| Head Records | Unit 5, 8 Lower Mall | Leamington Spa |
| Heathen Chemistry | 186D West Street | Hampshire |
| Hey Joe Music & Coffee | 17a The Baytree Centre | Essex |
| Honest Jons | 278 Portobello Road | London |
| Honest Jons | 115 Lower Stable Street | London |
| Hot Rats Records | 19 Waterloo Place | Sunderland |
| Hundred Records | 47 The Hundred | Hants |
| Ignite Record Store | 114 Corporation Street | Birmingham |
| Intense Records | 33/34 Viaduct Road | Essex |
| J G Windows | 1-7 Central Arcade | |
| JM Records | Unit 1, New Buildings | Exeter |
| Jacaranda Records | 40 Seel Street | Liverpool |
| Jam Records | 32 High Street | Falmouth |
| Jamieison Ltd | 111 High Street | Kent |
| Jumbo Records | 1-2 Merrion Centre | Leeds |
| Just Dropped In | Unit 2d Fargo Village | Coventry |
| Kaleidoscope Records | 30 Westfield Street | St Helens |
| Le Freak Records | 159 Perth Road | Dundee |
| Left for Dead | 14 Wyle Cop | Shrewsbury |
| Level Crossing Records | 49 Sheen Lane | London |
| Lion Vibes | 98 Granville Arcade | Brixton Village |
| Loafers Vinyl & Coffee | AE3 The Piece Hall | Halifax |
| Lost in Vinyl | 14 Magdalene Street | Cambridge |
| Love Music Glasgow | 34 Dundas Street | Glasgow |
| Low Port Music | 18a High Street | West Lothian |
| Lowell | 8 Pottergate | Norwich |
| Lucky's Record Bar | 29 Fore Street |   |
| Maidinvinyl | 7 Rosemount Viaduct | Aberdeen |
| Malcolms Musicland | The Baptist Chapel | Chorley |
| Martian Records | Exmouth Indoor Market | Exmouth, Devon |
| Mixed Up Records | 16-22 Otago Lane | Glasgow |
| Mo'Fidelity | 126 Murray Street | Montrose |
| Monorail Music | 12 Kings Court | Glasgow |
| Mostly Vinyl Micky | 197 Gallowgate | Glasgow |
| Museum Vinyl | 15 Trinity Street | St Austell |
| Music From Big Blue (last night from Glasgow t/a) | Unit 10 The Hidden Lane | Glasgow |
| Music Junkee/Record Junkee | 7 Earl Street | Sheffield |
| Music Mania | 3-6 Piccadilly Arcade | Stoke-On-Trent |
| Music Mania Essex | 18 High Street | Essex |
| Music Nostalgia | Unit 2 Tinners Court Back Quay | Cornwall |
| Music's Not Dead | The Delawarr Pavilion | Bexhill |
| Musical Box | 457 West Derby Road | Liverpool |
| Number 1 Records | Unit 6, Murrayfield Shopping Centre |   |
| Off the Beaten Track | 8 Aswell Street | Lincolnshire |
| Olaf's Record Store | 57 London Road | Kent |
| Out Of The Attic Music | 7-8 Paragon Arcade | Hull |
| Overdraft Records | 383 Shirley Road | Southampton |
| Pandemonium | 162 Tuckton Road | Dorset |
| Peckham Soul | 133 Rye Lane | Peckham |
| Phoenix Sounds | 6 Pearl Assurance House | Devon |
| Phonica Records | 51 Poland Street | London |
| Piccadilly Records | 53 Oldham Street | Manchester |
| Pie & Vinyl | 59-61 Castle Road | Southsea |
| Polar Bear | 10 York Road | Birmingham |
| Probe Records | Retail Unit 1 The Bluecoat | Liverpool |
| Pure Vinyl Brixton | 246 Ferndale Road | London |
| Rarekind Records | 104 Trafalgar Street | Brighton |
| Raven Retail | 74 Bromley Road | Kent |
| Raves From The Grave | 2-3 King Street | Somerset |
| Red House Records | 21-23 Faingdon Road | Wiltshire |
| Red Robin Records Vinyl Cafe | 13 Correction Wynd | Aberdeen |
| Reckless Records | 30 Berwick Street | London |
| Record Collector | 233 Fulwood Road | South Yorkshire |
| Record Corner | Pound Lane | Godalming |
| Record Revivals | 6 Northway | Scarborough |
| Reflex | 23 Nun Street | Newcastle |
| Reflex Folio | 2 Marmion Street | Hants |
| Reggaemasters | 55 Frith Road | Surrey |
| Reggies Retro Store | 5 Pier Street | Isle Of Wight |
| Released Records | Leeds Corn Exchange | Leeds |
| Relevant Records | 260 Mill Road | Cambridge |
| Replay Records | 62-64 Freeman Street | Grimsby |
| Resident | 27-28 Kensignton Gardens | Brighton |
| Resolution Records | Unit 1 Green Park Station | Bath |
| Revo Records | 26 Westgate Arcade | West Yorkshire |
| Revolution Records | Unit 21 Retail Multiples | West Midlands |
| Revolution Records Selby | 27 Finkle Street | Selby |
| Rival Records | 1 Hole Court | Devon |
| Roan Records | 12 Church Street | London |
| Rockaboom Records | 18 Malcolm Arcade |   |
| Rock Box Record Store | 34 Obelisk Way | Camberley |
| Rough Trade East | Old Truman Brewery | London |
| Rough Trade West | 130 Talbot Rd | London |
| Rough Trade Bristol | 3 New Bridewell | Bristol |
| Rough Trade Nottingham | 5 Broad Street | Nottingham |
| Rough Trade Soho | 50-54 Beak Street | London |
| RPM Music | 4 Old George Yard | |
| Rubber Soul Records | 19 Marsh Street South | Stoke on Trent |
| S.T Records | 165 Wolverhampton Street | West Midlands |
| Seedee Jons | 78/79 Central Market | Channel Islands |
| Seismic | 44-46 Warwick Street | Leamington Spa |
| Shaks Stax of Wax | 54 Old London Road | Surrey |
| Sister Ray | 75 Berwick Street | London |
| Slide Record Shop | 9 The Arcade | Bedford |
| Slipped Discs | 57-59 High Street | Essex |
| Slow Progress Records | 53 Black Friars Street | Edinburgh |
| Smugglers Records | 9 King Street | Kent |
| Some Great Reward | Unit 2, The Cooperage | Glasgow |
| Soul Brother | 1 Keswick Road | London |
| Soundclash | 28 St Benedicts Street | Norwich |
| Sound It Out | 15a Yarm Street | Stockton on Tees |
| Sound Knowledge | 22 Hughenden Yard | Wilts |
| Sound Records | 31 George Street | Glos |
| Sound Records IOM | 3 Wellington Street | Isle of Man |
| Sounds of the Universe | 7 Broadwick Street | London |
| South Records | 22a Queens Road | Essex |
| Specialist Subject | First Floor Exchange | Bristol |
| Spillers Records | 27 The Morgan Arcade | Cardiff |
| Spin The Black Circle | 19-21 Pump Street | Worcester |
| Spinning Discs Sheffield | 107-109 Chesterfield Road | Sheffield |
| Spun out | 57 Gold Street | Northampton |
| Stranger than Paradise | Mare Street Market | London |
| Square Records | 73 High Street | Dorset |
| Starr Records | 24 Berry Street | Belfast |
| Sticky Black Tarmac | Unit 17 Pembroke Hall Market | Manchester |
| Strand Records | 15 The Strand | Stoke-on-trent |
| Strip Joint Records | 956 Argyl Street | Scotland |
| Strummer Room Records | F158 Cherwell Business Village | Banbury |
| Stylus Records | Minster Pool Walk | Lichfield |
| Swordfish | 66 Dalton Street | Birmingham |
| Tallbird | 10 Soresby Street | Derbyshire |
| Tangled Parrot | Upper Floor | Carmarthen |
| Tangled Parrot | 222 High Street | Swansea |
| Tangled Parrot | 2 Lion Street | Hereford |
| Tasty Records | 25 Regent Road |   |
| The Beat & Track | The Old Shambles | Sherborne |
| The Disc Slinger (was Cloth & Wax) | 185 Queens Road | East Sussex |
| The LP Cafe | 173 The Parade | Watford |
| The Music Room @ Bookstop | 3 Market Street | Devon |
| The Music Store | Drake House | Cinderford |
| The Orpington | 161 High Street | Kent |
| The Record Café | 45-57 North Parade | Bradford |
| The Record Shop | 37 Hill Avenue | Bucks |
| The Record Store | 16 Park Mall | Kent |
| The Turntable Vinyl Café | 33/35 New Street | Huddersfield |
| The Vault Collective Ltd | 34 Bethcar Street | Gwent |
| The Vinyl Frontier | 35 Grove Road | East Sussex |
| The Vinyl Revival Store | 3 Church Street | St Neots |
| The Vinyl Whistle | 12 Otley Road | Leeds |
| Thirteen Records | 13 Union Street | Dundee |
| Thorne Records | 125 Bruntsfield Place | Edinburgh |
| TNT Records | 86 Duke Street | Cumbria |
| Tough Love St Leonards | 73 Bohemia Road | Sussex |
| Townsend Records | 30 Queen Street | Lancashire |
| Townsend Records | 18 Moor Lane | Lancashire |
| Trading Post Records | 26 Kendrick Street | Gloucestershire |
| Tubeway | LRU6 The Collective | Shrewsbury |
| Truck | 101 Cowley Road | Oxford |
| Truck | Unit 12 Woolgate Centre | Oxon |
| Underground Solu'shun | 9 Cockburn Street | Edinburgh |
| Union Music Store | 1 Lansdown Place | East Sussex |
| Union Music Store | 216-220 High Street |   |
| Up North Records | 19 St. Werburgh Street | Chester |
| Ventnor Exchange | 11 Church Street | Isle Of Wight |
| Venus Vinyl | 136 Magdalen Street | Norwich |
| Vinilo Record Store | 827 Christchurch Road | Bournemouth |
| Vinilo Record Store | 43 – 47 Queensway | Southampton |
| Vintage & Vinyl | 57 The Old High Street | Kent |
| Vinyl & Vintage | 5 & Cleveland Court | Wolves |
| Vinyl Attraction | 6-8 Carter Gate | Newark |
| Vinyl Café | 44 Abbey Street | Cumbria |
| Vinyl Eddie | 86 Tadcaster Road | York |
| Vinyl Exchange | 18 Oldham Street | Manchester |
| Vinyl Guru | 69 Westgate Road | |
| Vinyl Head Record Shop | 16 West Cliff Road | Ramsgate |
| Vinyl Hunter | 56 Johns Street | Suffolk |
| Vinyl Revival | 5 Hilton Street | Manchester |
| Vinyl Tap | 42 John William Street | West Yorkshire |
| Vinyl Underground | 2nd Floor Watts | Nottingham |
| Vinyl Van | 8a Pope Street | Dorchester |
| Vinyl Vaughan | 2 Victoria Street | Guernsey |
| Vinylstore Jr | 20 Castle Street | Canterbury |
| VOD | 28 New Street | Flintshire |
| Voxbox | 21 Stephen Street | Edinburgh |
| Wax & Beans | 16 Market Street | Bury |
| When Spaceships Appear | 44 Quernmore Road | London |
| Winyl | 16 South Street | Essex |
| World Of Echo | 128 Columbia Road | London |
| Wrecking Ball | 15 Whitefriargate | Hull |
| X Records | 44 Bridge Street | Bolton |