There is working for the graft, and then there is playing your first gig aged just eight (eight!) years old and securing your first Glastonbury slot at 11.
Meet Tom A Smith, now the wisened old age of 18, the indie-rock singer who is destined for great things. 
Hailing from Sunderland, Tom is the latest in a line of bright music hopefuls from the North of England, such as Sam Fender and L Devine, two contemporaries he happens to count as friends.
With the release of his recent second EP, EP 2, Tom is ready to grow up and grow out in his craft. He makes sparkling, crunching indie-rock with the soul and melody of great pop tunes, present in tracks like Man Overboard and Could I Live With Being Fake. And the greatest thing about it all? The best is yet to come.
You've just dropped your second EP, EP 2. Great title there, Tom. How are you finding the reaction to it so far?
You know, when we released the first EP, we were chuffed [with the reaction] but the second has been even more fantastic. Every single song seems to be going down really well - the next single Man Overboard is being received really well, which I'm buzzing with. 
It's getting a bit of play too, you know, and I'm doing shows now and people know the words [to the songs], which is amazing so early on.
Now Tom, you say early on in your career, but you have been doing this for a good while now - after playing from such a young age, how does it feel to hear people responding to the songs you've made yourself?
Yeah, I've been performing live for a good 10 years now, but [it's great to hear this reaction] after the last two years with lockdown and that. I wrote about 200 tunes, you know, and to see the songs I wrote at like 3am in my bedroom getting sung back by people at Truck Festival and Glastonbury is just amazing. 
When lockdown hit - you must have been studying for your GCSEs, right? Which were obviously cancelled, so you basically just turned revision into song writing sessions!
Yeah, we didn't know how long we were going to be locked down for. I think I had about 10 or 11 songs at the time, but I thought...this is what I wanna do. So I gave it a go. 
And obviously, I'm only 18, I've not had a lot of life experience - what do I write a song about? I just locked myself in me room for seven, eight hours a day and wrote. I fully arranged all those demos. I didn't have any schoolwork to do, so I just treated it like a job, really.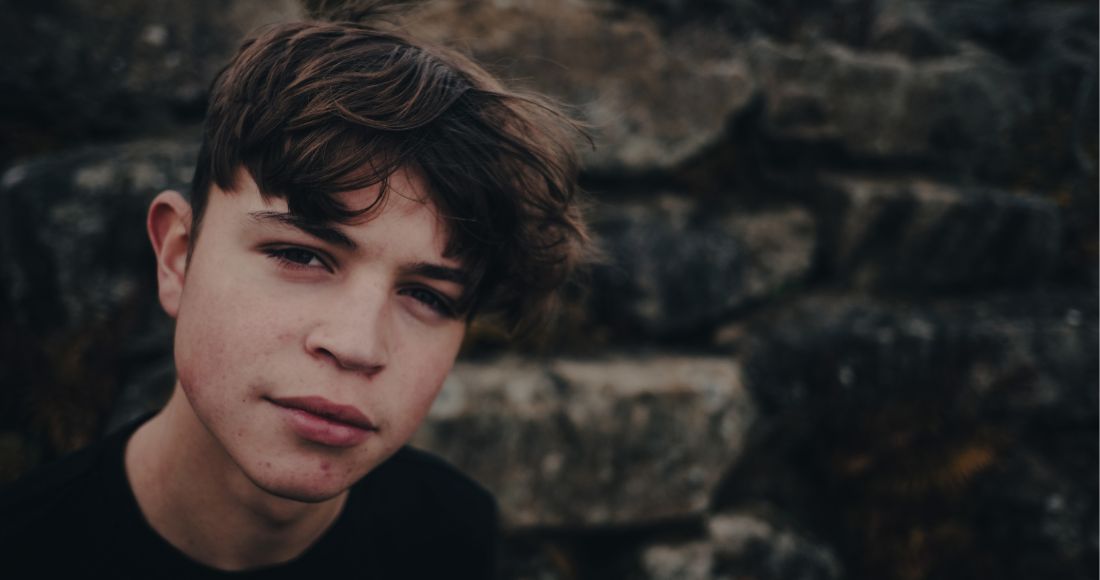 We also have to talk about the fact that you supported Elton John at his BST gig this summer...and actually met him. You met Elton John.
And what a guy. Well, honestly, I don't think anything as cool has ever happened in my entire life. Then to listen to his show and to meet him and hear him singing my praises, I mean, if there's anyone in music you want to impress, it's Elton John. He knew everything about me. It was surreal. And he really loves his new music. To be able to listen to him play the set list he did, imagine starting a show with Benny and the Jets!
We've had some great acts emerge from the North in recent years- Sam Fender from Newcastle, Yard Act from Leeds, but we haven't had anyone from Sunderland in a while!
It's exciting, you know. Especially the last 10-15 years, it's felt like nothing has really been happening, and then all of a sudden in the last five years we've absolutely taken over. Obviously, Sam Fender is like the biggest act around right now, and I've known Sam for years. We used to play shows together at this place called the Surf Café. I can remember one weekend there was me, Sam Fender, L Devine...do you know L Devine?
I do. I love L Devine. 
She's great, isn't she? That was a very special time. It was great. We should all meet up and do something, that would be great. I saw her [L Devine] play a set a few months ago, just an acoustic one, and it was brilliant. Faultless pop songs. 
A little birdy has also told us you've recently been in contact with none other than Miles Kane, you opened for him recently. 
What a genius that man is. He's so good. I've never seen more wild crowds than when I've been to a Miles Kane concert. Insane. I played the Roundhouse for him, and to play to 3,000 people every single night was fantastic. And what lovely group of people his band and team are. We've got to work together. It would be insane.
Tom A Smith's EP2 is out now. 
Article Images: Tyne Sight