Pop's premier cheeky chappy and all-round diamond geezer Olly Murs is finally back with us, releasing his new album You Know I Know - a brand new record combined with a greatest hits collection (see what he's done there?)
While we wait to see if it can score him a fifth Number 1 on the Official Albums Chart, let's look back at the songs that made him a success, and count down his all-time Top 10 songs, based on sales and streams.
MORE: Olly Murs' complete Official UK Chart history
Top of the heap is Olly's second Number 1 single, Dance With Me Tonight, which hit the top in December 2011, after a very memorable performance with the Muppets on The X Factor – the show that started it all for Mr Murs. It's his top-seller with just under 810,000 copies shifted, and while it was released before streaming contributed toward the chart, its 16.1 million plays makes it Olly's biggest song overall.
2012 Number 1 Troublemaker settles for silver – 773,000 of you have bought this one, and it's been streamed 19.3 million times. It's Olly's only chart-topper to last longer than a week at Number 1.
Up in third is Olly's collaboration with Demi Lovato, Up, which spent 19 weeks in the Top 40, peaking at 4. It's sold 513,000 copies, but as it was released after streaming began to be counted, its 39.2 million plays means it's Olly's most streamed track of all-time – so far!
MORE: See all Demi Lovato's UK hit singles and albums in her archive
Another chart-topper in Heart Skips A Beat is fourth. Featuring Rizzle Kicks, it spent a week at the top in 2011, and has 707,000 sales under its belt, along with 7.7 million streams.
Dear Darlin' was a Number 5 hit in 2012 and it also finishes fifth in Olly's all-time Top 10 – 616,000 bought this one, and it's notched up 17.1 million streams.
Olly's 2016 Top 20 single You Don't Know Love - the lead single to his 24HRS album - ranks seventh, with 177,000 sales and 37.5 million streams, while his second single, Top 5 hit Thinking Of Me, is tenth with 406,000 sales and 3.7 million streams. Finishing just outside the Top 10 at 11 is Olly's most recent Top 40 hit, Unpredictable with Louisa Johnson.
But which is Olly's personal favourite of the lot? "Honestly, it changes," he told us around the release of his last album. "When you do a new album you hear all these new songs and you fall in love with them.
"The Top 3 singles you've mentioned are probably my best. There's no better feeling when you come on stage to perform those songs and the audience reacts in a big way and sings them back to you." 
That all said, he added: "Kiss Me is a song I love so much. Dear Darlin' as well is big a favourite of mine. I've been lucky enough to have hits over the years. Hopefully I can continue this with this new album." 
Are there any singles he's gone off or regrets over the years? "Probably Army Of Two," he told us, "but I liked it because it was for the fans and I wrote it for them. It set up the next single Dear Darlin' nicely though. Sometimes it's just about finding the right moment to put something out."
Olly Murs' Official Top 10 biggest songs of all time are:
| | | | |
| --- | --- | --- | --- |
|   | TITLE | PEAK | YEAR |
| 1 | DANCE WITH ME TONIGHT | 1 | 2011 |
| 2 | TROUBLEMAKER | 1 | 2012 |
| 3 | UP | 4 | 2014 |
| 4 | HEART SKIPS A BEAT | 1 | 2011 |
| 5 | DEAR DARLIN' | 5 | 2012 |
| 6 | WRAPPED UP | 3 | 2014 |
| 7 | YOU DON'T KNOW LOVE | 15 | 2016 |
| 8 | KISS ME | 11 | 2015 |
| 9 | PLEASE DON'T LET ME GO | 1 | 2010 |
| 10 | THINKING OF ME | 4 | 2010 |
©2018 Official Charts Company. All rights reserved.
While we're here, let's have a look at his albums, shall we?
Olly's biggest album is his third, Right Place Right Time, which spent 16 weeks in the Top 10 and two of those at Number 1 in 2012. Its combined sales tally – comprising physical sales, downloads and streams – stands at a whopping 1.38 million.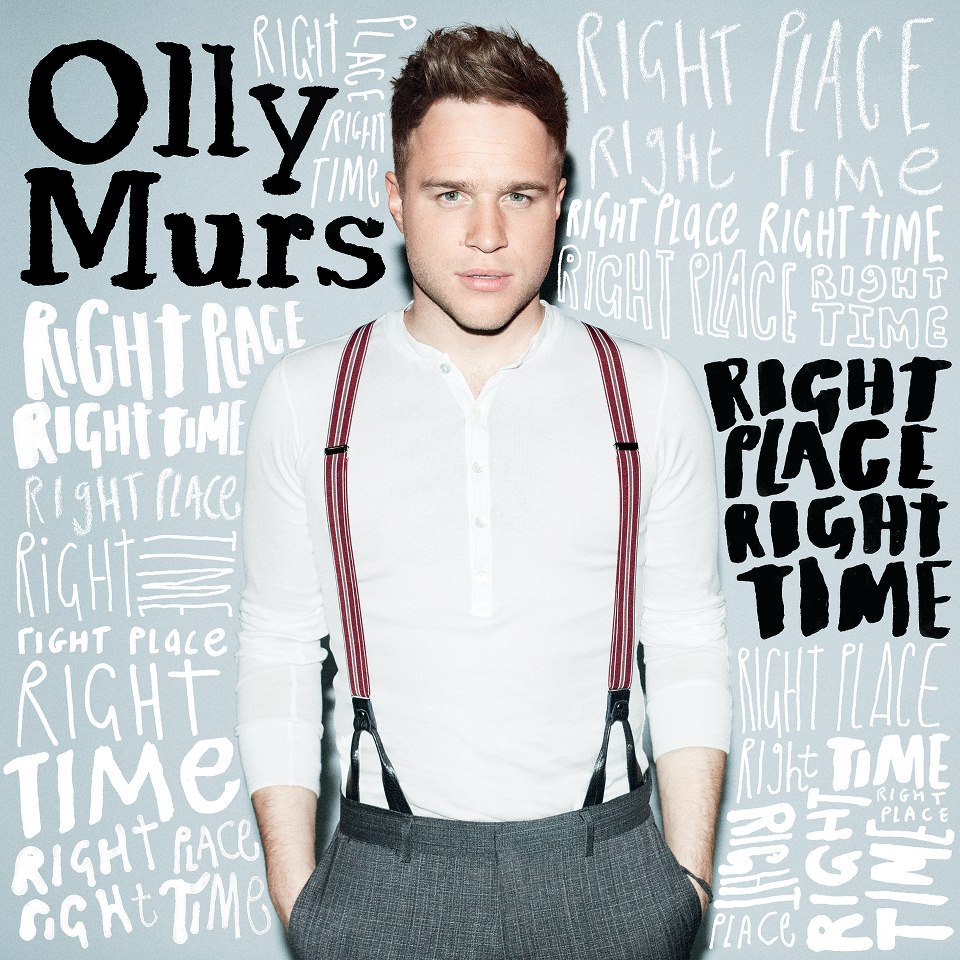 Olly has another million-selling album to his name, too - second album In Case You Didn't Know, from 2011, is on 1.12 million.
His fourth album, 2014's Never Been Better, is his third best-seller with 863,000 combined sales, and his self-titled debut - his only album not reach reach Number 1 - is fourth with 834,000 sales.