Official Chart Flashback 2014: Taylor Swift shakes it off as 1989 era begins
Taylor Swift officially became a pop star 9 years ago this week.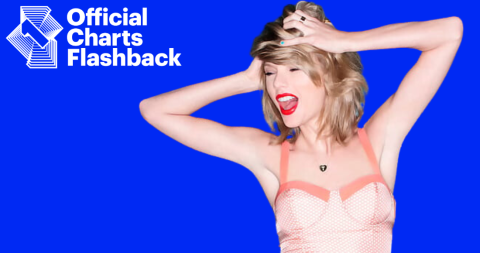 Taylor Swift always seemed a bit hesitant to fully embrace pop music. 
Of course, that seems silly to say now, because Taylor Swift is the biggest pop star in the world. She is so big and so successful in 2023 - thanks in large part to her successful transition to a full-time pop star - that she is probably the only living musician whose fame could be accurately compared to that of Michael Jackson or Madonna at their peak. 
But it wasn't always this way. During her early career - from her self-titled debut album to her third, Speak Now - pop music was present in Taylor's work (one listen to the chorus of You Belong With Me or Love Story will tell you that) but it was never front and centre. That began to change in Red, when she hooked up with Max Martin and Shellback for a trifecta of tracks (We Are Never Ever Getting Back Together, I Knew You Were Trouble and 22) that wouldn't be considered country in any conceivable use of the word. 
The genesis of Taylor's fifth album (and her first as a pop star) 1989 is well-documented; on the night that she lost the Grammy for Best Album to Daft Punk, Taylor had a brain wave; her next album would be called 1989, named so after the year of her birth, and it would answer some detractors that thought Red flew around too many genres. It would be a pop album. Pure and simple. Her first. Her biggest. 
You can hear this unfettered, unbridled ambition on 1989's lead single, Shake It Off a bold and brassy (literally) mega-banger that leaves no qualms about Taylor's stance on pop music. She was embracing it, wholeheartedly. Say what you want about Shake It Off, but it's a tune so egregious, so cloying, so massive in its sound that it could only have ever worked as a lead single for 1989. It was, simply, too big to fail (literally - Taylor tried to repeat many of the same tricks on Lover's lead single Me! and failed on almost every conceivable level).
And yes, as soon as it hit, Shake It Off was a massive hit. It debuted at Number 1 in the States, but curiously, stalled at Number 4 on its first week in the UK's Official Singles Chart, being beaten to the top by David Guetta and Sam Martin's Lovers On The Sun.
Shake It Off would eventually climb up to Number 2, sadly never becoming Taylor's first UK Number 1 single (that honour would belong to the much-misunderstood Look What You Made Me Do) thanks to...Meghan Trainor's All About That Bass (2014 was a moment in time, alright) but it's chart history speaks for itself.
According to Official Charts Company data, 9 years after its release, Shake It Off has accumulated 2.3 million chart units in total, including 212 million streams (26 million of which come from its video) and a truly earth-shattering 1 million digital downloads.
In fact, late last year, and just in time for the 70th anniversary of the Official Singles Chart, Shake It Off became the latest single to cross the milestone of one million 'pure' sales in the UK. It becomes the 179th member of the Official Million-Sellers Club and thanks to the dominance of streaming in the charts today, it may well prove to be the last.
LISTEN to the Official Singles Chart from this week in 2014
But the legacy of Shake It Off is so much more than its stats. As the starting gun for the entire 1989 era, it welcomed everyone into the world of Taylor Swift's pop magnum opus, where she would show a mastery and control of pop music none of her peers have quite managed. 
It was the first of six 1989 singles to make the UK Top 40; also including the icy, self-referential Blank Space, the swooning, Lana Del Rey-esque Wildest Dreams and perhaps Tay's greatest ever pop single, the glorious, enigmatic Style. 
And with 1989 (Taylor's Version) dropping this October, it seems the right time to remind everyone that Shake It Off's mantra and world view is very easy to understand. The players gonna play, the haters gonna hate, baby I'm just gonna shake...
Elsewhere in the Official Singles Chart that week: Wanklemut & Emma Louise debuted at Number 5 with the Freshers Ball anthem My Head Is A Jungle, Ed Sheeran's Don't hit its peak of Number 8 and Union J secured another Top 10 hit with Tonight (We Live Forever) hitting Number 9.
Related Singles and Albums