A new report by BPI has revealed that nearly two-thirds of the biggest releases by domestic UK artists in 2021 came from acts born outside of London. 
New data also reveals that the North West is the region of the UK leading the way with a whole host of artists and bands either born or formed in the area that have contributed to the success of homegrown albums last year.
The results have been calculated from data from the Official Charts Company, and details the top 300 albums released by UK artists in the past year. 
Overall, artists in the nations and regions outside London made up 62% of the chart overall, which is an illuminating statistic into the growth of artists and genres outside of 'the London bubble.'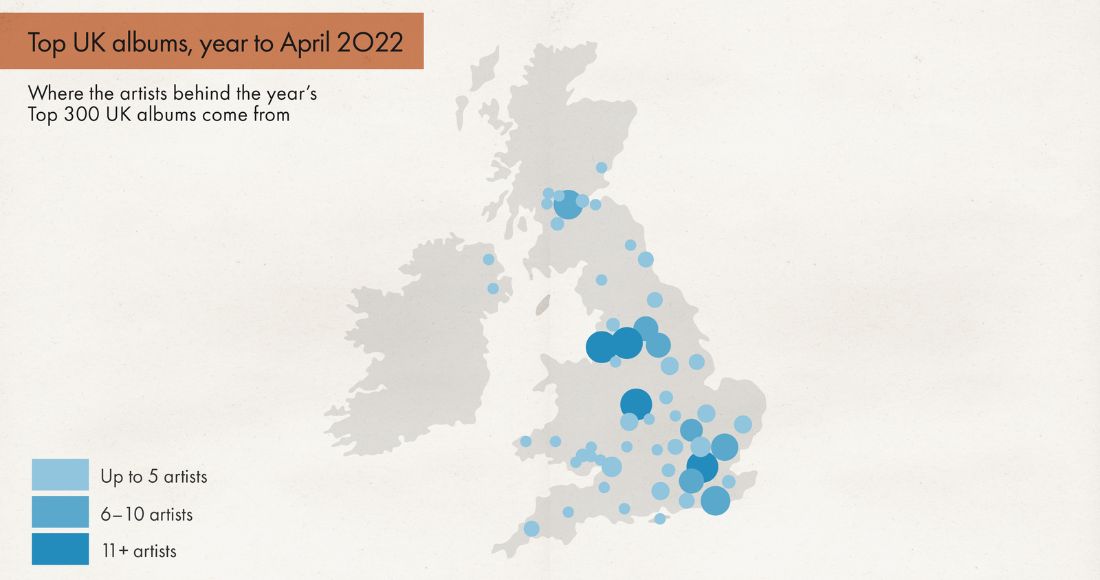 Diving further in, you can see that the North West region accounted for 29 of the total 300 entries in the chart. Liverpool and Manchester greatly contributed to this success, with 17 of the 300 coming from acts with roots in both cities.
Rock plays a massive part in this success - from Leeds acts Yard Act and alt-pop singer Self-Esteem, Liverpool's own The Wombats, and Bugzy Malone, who hails from Manchester.
Glasgow finished second in the table; acts such as Texas and Chvrches all contribute to its showing, as well as band Mogwai, who last year scored their first ever UK Number 1 album with tenth record As The Love Continues.
Commenting on the report, Geoff Taylor the Chief Executive of BPI, the BRIT Awards and the Mercury Prize said: "This new BPI analysis highlights that artistic talent continues to be nurtured and developed across all parts of the UK, and it's this rich diversity both musically and geographically, supported by record labels, that is the key to our global music status and should be protected and enhanced."
UK's leading 10 music locations in nations & regions outside London 
Liverpool                            
Glasgow                             
Manchester                       
Birmingham                       
Brighton
Bristol
Sheffield
Leeds
Nottingham
Wigan
Graph credit: BPI and Official Charts Company
Bugzy Malone image: Dave Burke/Shutterstock