National Album Day has announced a touring exhibition celebrating the Sounds Of different regions in the UK.
Leading up to National Album Day celebrations on Saturday October 12, the Sounds Of... exhibition will travel between Glasgow, Manchester, Birmingham and London to showcase the musical landscape of different regions of the country.
The exhibition will feature 24 albums, broken down by region of where the artist was born, compiled by local music critics, record stores and National Album Day artist champions Lewis Capaldi (Scotland), Elbow (North), Mahalia (Midlands) and Mark Ronson (London & the South).
MORE: Everything you need to know about National Album Day 2019
Official Charts is also part of the exhibition, revealing the six biggest-selling albums of the Millennium by artists from Scotland, the North, Midlands and London & South.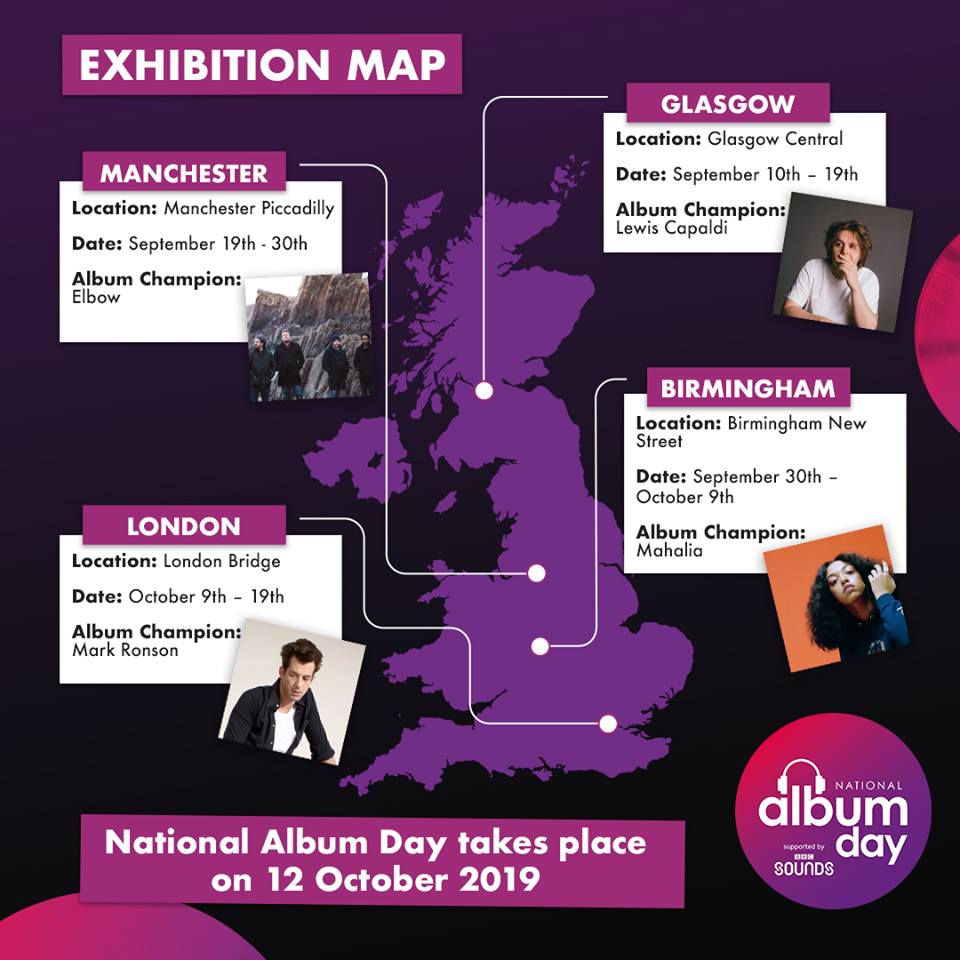 Artists highlighted in more than one region include Amy Winehouse and The Cure, while other artists include Fleetwood Mac, Ed Sheeran and The Clash who are set to release a reissue of London Calling the day before National Album Day.
Now in its second year, National Album Day launched in 2018 to champion the album format and is celebrated through a series of special events.
Last year OfficialCharts.com celebrated the first National Album Day by revealing the UK's best-selling studio albums of all time.
This year's National Album Day is themed around the idea of 'don't skip' to encourage music lovers to discover albums and listen to them as a complete body of work, as well as highlighting the mental health benefits of album listening as a form of musical mindfulness. 
You can visit the exhibition for free at the following Network Rail stations:
The Sounds of Scotland - Glasgow Central: 10-19 Sept
The Sounds of the North - Manchester Piccadilly: 19-30 Sept
The Sounds of the Midlands - Birmingham New Street: 30 Sept-9 Oct
The Sounds of London & the South - London Bridge: 9-19 Oct
The lists of albums were decided upon by National Album Day artist champions, music critics, record stores and Official Charts Company chart data:
Scotland - Lewis Capaldi / Fiona Shepherd (music critic, The Scotsman) / Love Music (Glasgow)
The North - Elbow / John Robb (author, critic, broadcaster) / Piccadilly Records (Manchester)
The Midlands - Mahalia / Lyle Bignon (music journalist and Birmingham Music Coalition founder) / The Diskery (Birmingham)
London & The South - Mark Ronson / Roisin O'Connor (music correspondent, Independent) / Resident Music (Brighton)