Maisie Peters interview: "I'm trying to use my powers for good...that's an attempt, not a promise"
On The Good Witch, Maisie Peters uses her powers for good – weaving a tale of feminine power, rage and victory…on her own terms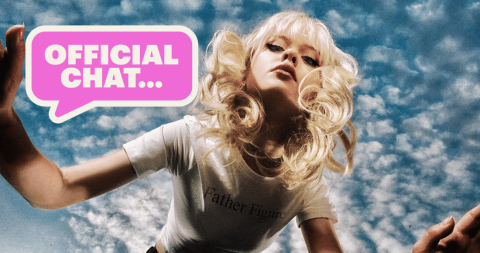 Maisie Peters is, by her own admission, the keeper of the keys to her own musical world. Her second album, The Good Witch, is the follow-up to 2021's You Signed Up For This, a self-assured and textured debut album that debuted at Number 2 on the Official Albums Chart, solidifying Maisie's position as one of the most in-demand, up and coming pop singer-songwriters in the country.
Following on from a series of droplet singles last year – from the chaotic re-writing of Stacy's Mom for a new generation, Cate's Brother to the acidic Not Another Rockstar – The Good Witch sees Maisie conjuring an atmosphere that is entirely her own; one that weaves a tale of feminine rage, power and, ultimately, victory on her own terms.
As a body of work, it feels cohesive and complete, heavily indebted to other chronicles of this chaotic, turbulent time in your late teens and early 20s, like Lorde's Melodrama.
'Melodrama was definitely my biggest reference for this album,' Maisie tells us over Zoom a couple of weeks out from the Good Witch's release. 'Not even really sonically, but as a moment in time, both culturally and emotionally.
'When Melodrama came out, it was so important to me and my friends. It still is. What it meant to everyone was huge, and I want to try and bring some of that into this album.'
Like Lorde, and like her biggest influence and idol, Taylor Swift (of course), Maisie uses her sophomore album as a meant to level up artistically. The production is brighter, the hooks are bigger and there's the sense that this is all, really, leading up to something magnificent on the horizon. She does have powers, and she's not afraid to use them when called to aid.
'Obviously, I am the Good Witch,' Maisie says. 'But as a songwriter, I do have powers. I'm trying to use them for good. But it's an attempt. Not a promise!'
Hi, Maisie! How are you? I feel like we've known each other for a while, but this is actually the first time we're speaking, which feels weird
I feel like we've communicated, but I'm realizing we haven't. But I feel like we have!
Listen, you're a man of taste, and I respect a man of taste.
But basically, as soon as I heard the new album in full, I knew we needed to talk about it. It's such a strong, bold body of work. Really self-assured and in command of its own space
Thank you. I'm so glad. I think I actually saw your tweet [about lead single Body Better] and I was like, slay. That's so cool. Not that many people have heard the full album yet, so it's still really, really cool that you like it.
My first question is obviously about the title – The Good Witch, it's so evocative. I think it says a lot about feminine rage and power, and how we perceive it as inherently good or bad. Did stuff like that occur to you when writing?
I think so! For me, when I was making this album and when I was titling it, the were lots of words around the concept of the good witch that just felt very reflective of the album. There's a lot about destruction and power and chaos, when you feel simultaneously very in control and very out of control. There are high highs and low lows!
And it feels very autobiographical as well
This is basically the last year of my life. It's pretty succinct and I actually wrote it pretty succinctly too, it was less than a year. It's very reflective of that time. I like the idea of the good witch. Obviously, I'm the good witch, but I always joke that, as a songwriter, I do have powers. I'm trying to use them for good. But it's an attempt. Not a promise!
I feel like I – and a lot of people who have probably shared similar experiences in the last year shall we say – will really understand this on a cellular level
Well, I'm glad. And now you have this album to help you move past it. You're welcome!
You speak about using for powers for good, but I do think this album is about a very specific portion of your 20s too, where everything feels possible, but it also feels the most fragile. Like anything could happen, but it could all come crashing down at any moment
Yeah, for sure. There's so much possibility and there was so much potential. And with that comes the potential for, you know, loss and heartbreak and things not measuring up for what you wanted them to be. I also had some of the greatest times of my life, so there was an interesting bit of tension there. I was sort of wishing the time back. I guess when you're young, you don't ever wish time back, you're willing it to move forward. So, a large part of this album is wishing to get the time back. Two Weeks Ago is implicitly about wanting to go back to a certain moment. There's a lot of that on this record.
Your world really expanded on this album too, specifically in the teams you were working with. People like OzGo from Wolf Cousins or Two Inch Punch, like you were in the room with people who helped create stuff like Katy Perry's Teenage Dream and Troye Sivan's Bloom, there's such a history of pop in Sweden
I'm such a nerd for it all, honestly. So it was so cool for me. With the Swedes, I felt so lucky to have even got that invitation into that circle. I made some of my favourite music with them, and I love making music in Stockholm. Oscar Görres, Elvira…all those people are so important to this album. Not even just in the music, but helping me to remember what's so special about creating. They're so innovative, there's a specific way they make the music they make, but I love it so much. And with Two Inch Punch, we actually worked together on my first-ever EP, when I was 16. So to come back now as this, like, fully-formed artist is the coolest thing.
One thing that's also abundantly clear when you listen to the album – you really do love a bridge
I do love a bridge.
And there's so many great ones on this record, specifically going back to what you said about Body Better, a very intelligent and left-of-centre song to launch the album, but it really connects with the full context of everything. That's probably my favourite bridge of the lot right now
Thank you. It is interesting to think about songs in the wider contexts [of their bodies of work] when you pick the singles. But thank you, Body Better is definitely one of my favourites, I made that in Norway with Matias Tellez, who did a lot of the Girl In Red stuff. It was such an interesting and actually really freeing creative process, so that means a lot.
What was the first song you wrote for the album proper? That really moored you into the world? Because we did have all the droplet singles last year [Cate's Brother, Blonde, Not Another Rockstar] many of which were incredibly iconic
Thank you very much! There were so many separate singles that we were launching at the same time. But the oldest song on the album is a track called Watch, which I did with OzGo. We wrote that in the same week we did Cate's Brother. But I would say Body Better was a really formative moment in the whole campaign. Then we did Two Weeks Ago, Run…they all existed in the same atmosphere but at the time, there was no album. It was like this wild thing and then I went from Sweden to Suffolk and in between those two places we did Lost The Breakup, BSC, Wendy…I feel like that all happened around September last year and that's when it all really came to life.
Run is another standout for me. It's really quite a feral song. It reminds me a lot of reputation, and I Know Places from 1989. You really go for it.
Feral! Yes, I was listening to a lot of Britney Spears at that time. I went into the studio like 'Guys, do you know the song If U Seek Amy?' It's so funny. I was really into Gwen Stefani at that moment, all these big, female pop legends. Run is an amazing song, and it actually came from a sentence I actually said. I was speaking to my friends and I said 'if one more man tells me I want you in my life forever and then proceeds to be the most unhinged man in the whole world…I can't do it anymore.' I simply could not. That's going to be a good one to do live.
That is very relatable, it's like – why do I attract narcissistic sociopaths?
That's an unfortunate one for you. 
Lost The Breakup too, kind of lives in the same space as Run. I heard it on Radio 1 the other day
I love that song. Lost The Breakup is my baby. I just really believe in it, in its power. It's a power for good in the world! If I was at a party, that's the one song I would tell people to put on. It's just for the girls and it's for the gays, for everyone whose been knocked down. It's really easy to write sad music, so I'm really proud of making something that's really fun and light and just all about positivity.
One thing I actually think that connects The Good Witch to your first album, You Signed Up For This, is that in the age of streaming and TikTok singles, you really seem to have carved your own space in a music industry that really demands a lot of its artists right now
I guess I just only really know how to make music that I really love. When I was going between the first and second album, I was just trying to be more intentional. I tried to write more honestly, and just really chronicle a year in my life. The album came out of that very organically that really quickly, actually. The whole thing was quite effortless.
I mean, what a throwback. That was an era. That seems like a million years ago! It was so chaotic.
Now that you've had that taste of chart success, I mean straight in at Number 2 with your debut album is an amazing feat – has it given you the drive to enter your main pop girl era?
Look, I would love to be a main pop girl. I'm hoping. I'm hoping for a main pop girlie era, but also I'm just here for the fun and the games and the shows and my band. That's the most important thing to me, but also…yes. It is time to be a main pop girl.
And if you happen to stumble into Max Martin's studio for album three…
I will definitely keep it in mind, I promise.
Finally, I know you're playing Glastonbury for the first time tomorrow. And can I just say…I have a feeling the John Hughes Movie bridge is going to hit particularly hard on the Pyramid Stage
Wow, I mean. That is a big vision, isn't it? Wow wow wow.
Maisie, I'm seeing fireworks
I'll have to double check it's on the setlist. I think it is! But…
If it's not, put it in, you can't skip the classic
Put it in! No, it is a classic. I love John Hughes Movie. It's one of my favourites to do live. That's always the point in the set where I get handed a Pride flag or something. It's always so sweet and wholesome. Psycho too, actually. We're having lots of gay Psycho moments recently.
That was a moment, wasn't it?
It was. I snapped there. I honestly think about it a lot.
The Good Witch is out tomorrow (June 23) via Gingerbread Man/Asylum. Maisie Peters plays Glastonbury's Pyramid Stage June 23.
Images: Alice Moitié
Related Singles and Albums